"I'm looking for a bootable USB drive partition manager which will be able to resize partitions." This is a common need related to the partition manager in the forums. Given that, this article will guide you to create a bootable USB drive partition manager.
Boot EaseUS partition manager software from a USB drive or flash drive
EaseUS Partition Master is the best partition manager for both 32-bit and 64-bit Windows operating systems. It can perform basic and advanced partition operations on your hard drive without data loss, including: resize and move partitions, copy partition, copy disk, copy dynamic volume, convert partition, split partition, merge partitions, etc. Moreover, EaseUS Partition Master can extend NTFS system partition without rebooting and being booted from the USB drive to manage your hard drive partitions.
Create a bootable USB drive partition manager with EaseUS Partition Master
Step 1: Prepare a disc or drive
To create a bootable disk of EaseUS Partition Master, you should prepare a storage media, like a USB drive, flash drive or a CD/DVD disc. Correctly connect the drive to your computer.
Launch EaseUS Partition Master, go to the "WinPE Creator" feature on the top. Click on it.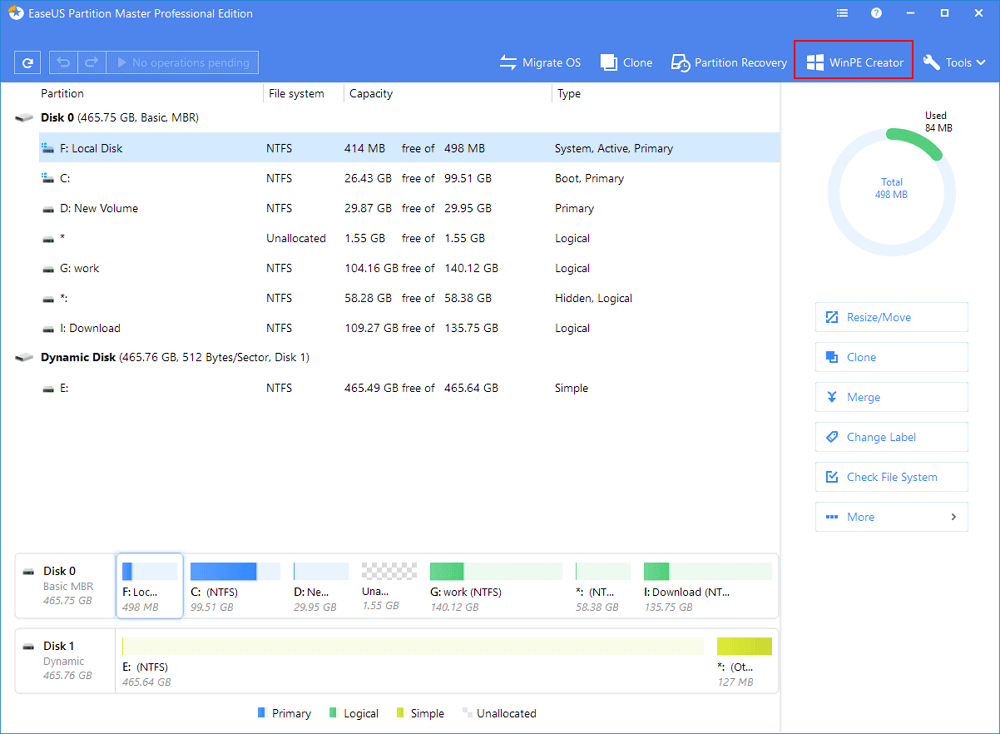 Step 2: Create EaseUS Partition Master bootable drive
You have created an EaseUS Partition Master WinPE bootable disk now. You can manage your hard disks and partitions through the bootable drive whenever the computer fails to boot normally.
If you have RAID drives, load the RAID driver first by clicking Add Driver from the menu bar, which can help you add the driver of your device under WinPE environment, as some specific device cannot be recognized under WinPE environment without drivers installed, such as RAID or some specific hard disk.
Besides partitioning hard drive, RAID, EaseUS Partition Master can also partition USB drive, flash drive, memory card, and other storage devices.