This tutorial article mainly introduces effective solutions or methods to help Windows users fix Windows 10/8/7 etc systems fail to load or start issues with "NTLDR is missing" error message. If your computer cannot boot or fails to load Windows with this error, read this passage and find effective solutions to solve it right now.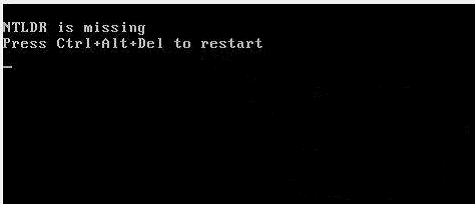 Let's follow these guidelines to fix 'NTLDR Is Missing" error with effective methods now.
What is NTLDR
NTLDR, which is an abbreviation form of NT loader, works as the boot loader for all releases of Windows NT operating systems. NTLDR is typically run from the primary hard disk drive and it can also run from portable storage evices like USB flash drive, CD-ROM etc. NT loader also can load a non-NT-based OS with the appropriate boot sector in a file.
NTLDR contains three major files: ntldr (main boot loader), NTDETECT.COM (required for booting NT-based OS) detects basic hardware information for a successful boot and boot.ini (boot configuration).
Problem: Windows 10/8/7 fails to start, not load with "NTLDR is missing" error
"Update Windows 10 into the latest version, but it failed to load. An error message popped up and warned me "NTLDR is missing". What can I do?"
"My computer just cannot start. I tried several times, an "NTLDR is missing" message just won't disappear. How to fix this problem?"
"It seems that the computer with Windows 8 cannot find the NTLDR, and the system cannot boot. Help!"
Serious problems may occur when Windows cannot load or fail to boot error. You may not be able to work or enjoy wonderful internet life, losing clients, money and even jobs. So it's vitally important to fix Windows 10/8/7 fail to load issue when such a problem occurs to your PC. Don't bother, here below effective methods will help you out.
How to Fix "NTLDR Is Missing" error in Windows 10/8/7
If you are having a similar problem in Windows 10, 8 or 7 and fail to load system when NTLDR is missing in your PC, relax. Here below, you'll find effective methods to fix this problem and get Windows system to be booted normally again.
Method 1. Fix Windows fail to boot with "NTLDR Is Missing" error with bootable disk
This method will be very helpful to help users restart the computer when the system fails to load or boot due to different reasons. And yes, the Windows load issue with ntldr is missing error can also be fixed by this method. But the boot disk shall be created when the system is alright.
All you need is to create a boot disk into a CD or USB drive and boot the computer from the disk when system failure problem happen. So how to create a bootable disk? EaseUS partition manager software - EaseUS Partition Master will do. And you can choose to apply this software to create the bootable disk into a USB drive or CD within simply clicks right now.
Step 1: Prepare a disc or drive
To create a bootable disk of EaseUS Partition Master, you should prepare a storage media, like a USB drive, flash drive or a CD/DVD disc. Correctly connect the drive to your computer.
Launch EaseUS Partition Master, go to the "WinPE Creator" feature on the top. Click on it.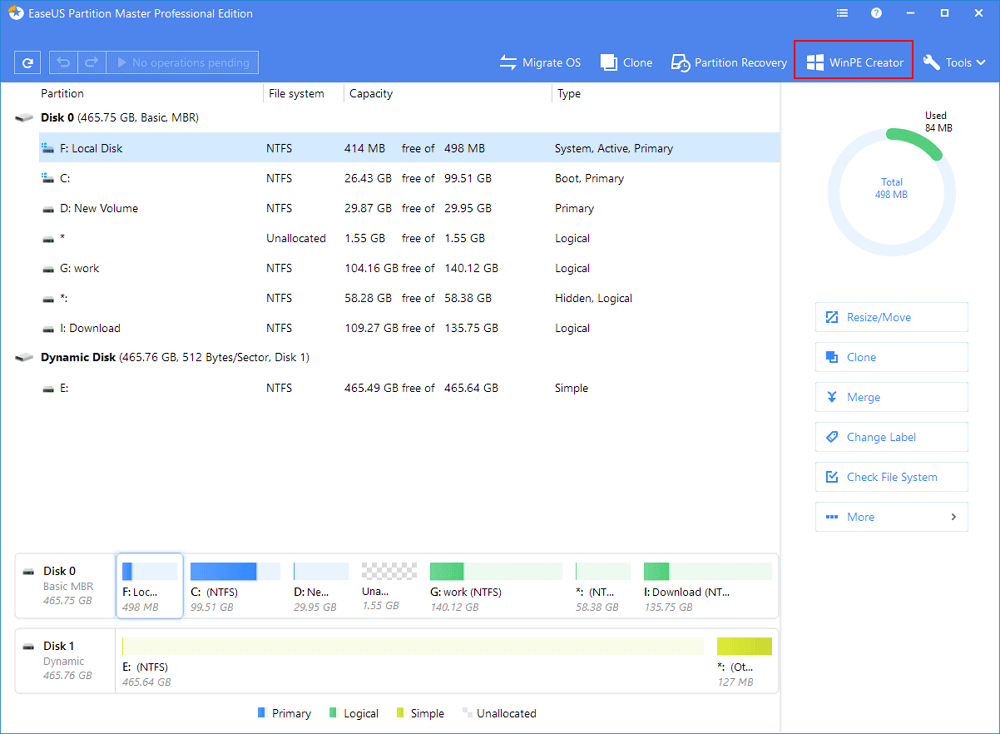 Step 2: Create EaseUS Partition Master bootable drive
You have created an EaseUS Partition Master WinPE bootable disk now. You can manage your hard disks and partitions through the bootable drive whenever the computer fails to boot normally.
If you have RAID drives, load the RAID driver first by clicking Add Driver from the menu bar, which can help you add the driver of your device under WinPE environment, as some specific device cannot be recognized under WinPE environment without drivers installed, such as RAID or some specific hard disk.
Now you can use the EaseUS WinPE bootable disk to restart your computer and fix "the ntldr is missing" error.
1. Insert or connect the bootable disk with a computer and restart the computer.
2. Choose to boot from EaseUS WinPE bootable disk.
Then the computer will boot smoothly.
3. Then you can go to a healthy computer which runs exactly the same Windows system as your computer and copies the Ntldr file, the Ntdetect.com file, and the Boot.ini file to your present system partition in the local hard disk.
Or you can also find copy those files from the boot disk to the system partition in your computer.
Method 2. Fix 'NTLDR is missing' with Windows fail to start error by restarting Windows from Recovery Console
1. Use Windows Setup disk/CD-ROM to restart PC, at the Welcome to the Setup screen, press R to repair Windows installation > Press C to repair Windows installation by using the Recovery Console;
2. Type the Windows installation number and press Enter > Type Administrator password and press Enter > Type map and press Enter.
3. Type: copy drive:\i386\ntldr c:\ and hit Enter > Type: copy drive:\i386\ntdetect.com c:\ and hit Enter.
If you are prompted to overwrite the file, type y, and then press ENTER.
4. Type: type c:\Boot.ini and hit Enter.
5. Later type: exit and hit Enter.
The computer will restart automatically. After this, you'll get a healthy computer with Windows system back.
Method 3. Fix 'ntldr is missing' error in Windows 10/8/7 by Startup Repair
1. Download the Windows 10/8/7 etc ISO files on a working computer. Then you can perform a startup repair to fix the ntldr missing error.
2. Download official IOS media for Windows from Microsoft and save in a USB drive. Then connect it with computer and boot computer from Windows DVD/USB.
You can refer to the Computer manufacturer BIOS manual for options to set the boot priority.
3. Restart the computer by pressing F8.
When the Windows logo appears, try again and wait till the Windows logon prompt appears. Then shut down and restart the computer.
4. Set Language and a keyboard input method and click Next.
5. Set the Username and type your Password and then click OK.
6. Under System Recovery Options, click Startup Repair.
Allow the process to complete and Startup Repair will fix problems in Windows automatically.
7. Click Finish in Startup Repair when the process complete and then restart your computer.
100% of people found this article helpful.
Frequently Asked Questions
Why Choose EaseUS Partition Master?

"I've used Partition Master Professional many times to create, delete, format, move, rename, and resize partitions." —PCWorld

"Partitioning tools have come a very long since the days of complicated command line utilities and EASEUS Partition Master is one of the most advanced programs available." —TECH ADVISOR

"I love that the changes you make with EaseUS Partition Master Free aren't immediately applied to the disks. It makes it way easier to play out what will happen after you've made all the changes." —Lifewire
Will the "Migrate OS" feature transfer the Windows system files only or the whole C drive?

To ensure that the migrated system will boot normally, the Migrate OS feature will transfer all the files in the system and the boot partitions. Generally, the boot partition is the C drive so the transfer will include all the files in C.
Does EaseUS Partition Master license apply to multiple computers?

The license of Partition Master Professional and Server editions can be used on 1 computer only, while that for for the Technician and Unlimited editions can be used on multiple machines.
What is the difference between EaseUS Partition Master Trial version and the Free version?

Free is for home users only, with most basic functions available such as partition resize and clone. While trial can help you understand how this product works and test what a full license can do on a business or server OS machine.
Will it cause any data loss after resizing the partition in EaseUS Partition Master?

Generally, it will not cause any data loss or boot issue by resizing a partition. However, in order to protect your data, we suggest that you backup the partition before resizing, in case of any unexpected situations such as power outages, computer hardware failures, etc. You can use EaseUS Todo Backup to backup the partition and its trial version is fully functioned for 30 days.
What should I prepare before resizing the partition?

On the partition that is going to be operated, there might be some files being occupied by other programs. To ensure a successful operation, we suggest that you close all the unnecessary software before resizing that partition. Otherwise, EaseUS Partition Master will detect the partition being locked by the other software and require a reboot to resize the partition under boot mode.
About EaseUS Partition Master
All-round disk & partition management software for personal and commercial use. Let it manage your storage drive: resize, format, delete, clone, convert, etc.