Need to erase the old SSD drive after getting a new one or want to erase a hard drive in a computer that you are selling or giving away? This page shows you how to securely erase SSD or hard drive with EaseUS free partition software in simple steps.
Even there are many free secure-erase utilities like Secure Erase (HDDErase.exe) and Parted Magic that do work with SSD and HDD, we would like to recommend you EaseUS Partition Master Free, a popular disk partition freeware. It is effective, easy to use and compatible with most modern SSD and hard disk. And compare with other secure-erase programs, except for secure erase features, this utility also allows you to manage disk space for example resize, copy, move, delete, convert partitions on SSD or HDD.
Steps to securely erase SSD or HDD with EaseUS Partition Master Free
1. Launch EaseUS Partition Master Free, select the SSD or hard disk which you want to erase, right click and select "Wipe disk".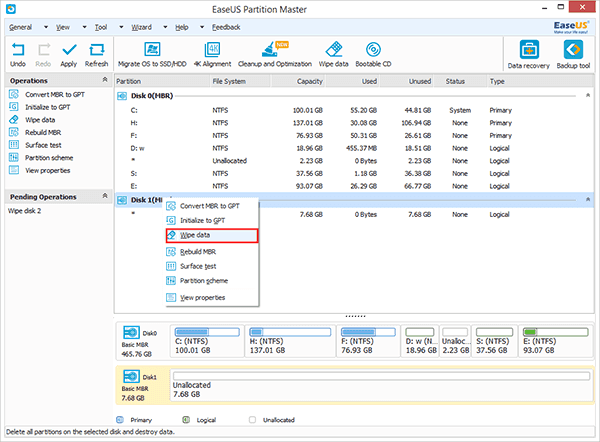 2. Set the number of times (1-10 times) to wipe hard disk and click "OK" to continue. If the hard disk contains system partition, your system will fail to boot after wiping the disk.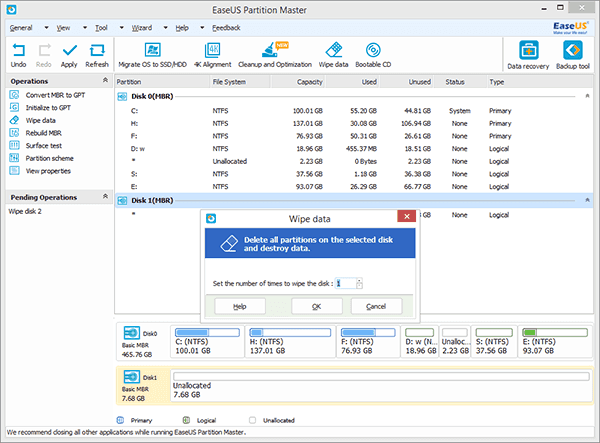 3. A dialog box will pop up as "A computer restart after disk erase is recommended". Just click "OK" and then you will see the wiped hard disk becomes unallocated space on the disk map.
4. Finally click "Apply" to securely erase SSD or HDD.
That's it. Now you know how to quickly, easily, and securely erase your SSD drive using EaseUS Partition Master Free. Just keep the program handy for when you need to wipe the data on SSD or hard drive disk.