How to Secure Erase SSD or HDD for Free
When you attempt you prepare your storage device for a new user, you may need to secure erase the SSD or HDD to protect your private data. What is secure erase and how to do it? Read on and you will know all about it.
What Is Secure Erase
Secure Erase is, in essence, a set of commands that are available from the firmware on PATA/SATA based hard drives. It is a term for a data sanitation method that completely overwrites all of the data on a hard drive by writing a binary one or zero to the sectors on the storage device. That means once you perform a Secure Erase, there will be no chance to recover data from the device. But from a different perspective, Secure Erase is a perfect way to prepare your storage device for reuse or resale.
Can You Secure Erase SSD
Yes, you can. But only with the help of an SSD erasing tool or utility. Since the Secure Erase commands are only available from the hard drive firmware, you can not run the commands as you do in Command Prompt. Therefore, you will need a hard drive erasing tool to help you to secure erase your solid-state drive.
The Tool You Need - Free SSD Erase Tool
The free partition manager - EaseUS Partition Master, can also serve the function of an SSD erasing tool to securely erase an SSD or HDD for you. The "Wipe Data" feature works almost identical to the Secure Erase commands. The only difference is that the free tool erases your data permanently by writing random numbers, not binary one or zero. No matter what the process is, the outcome is the same: your SSD or HDD will be securely wiped out.
How to Secure Erase SSD or HDD
Do make sure you have backed up all the needed files on the hard drive you are going to erase. To back up a whole disk effectively, you can use the free backup software to do it for you. Once it's done, the data stored will be lost forever.
To secure erase an SSD or HDD with the free SSD erasing tool:

EaseUS Partition Master Free
We've set two options for you to wipe data. Choose the one you need.
Option 1.  Wipe Partition
Right-click the partition you want to erase data from, and choose "Wipe Data".
In the new window, set the time for which you want to wipe your partition, then click "OK".
Click the "Execute Operation" button in the top-right corner, check the changes, then click "Apply".
Option 2. Wipe Disk
Select the HDD/SSD. And right-click to choose "Wipe Data".
Set the number of times to wipe data. (You can set to 10 at most.) Then Click "OK".
Check the message. Then click "OK".
Click "Execute the operation" and then click "Apply".
The time it will take to wipe out an SSD or HDD varies, depending on the capacity of your SSD or HDD. Generally, it's longer than simply delete files due to the additional overwriting process. Thus, if you have a large-size disk to wipe, wait patiently for the process to complete.
EaseUS Partition Master is powerful software that will fulfill many of your disk-related needs. With the free software installed, you can:
Resize partitions to allocate your disk space according to your needs
Merge partitions to expand the storage
Create/format/delete partitions to prepare the space of reuse
Convert the disk/partition between primary and logical, MBR and GPT, or from FAT to NTFS
If you upgrade to the Pro version, there will be more useful features available, like OS migration, partition recovery, and bootable disk creation.
 Free Download Windows 11/10/8/7
Knowledge Base: Does Secure Erase Damage SSD
That depends on how many times does the Secure Erase overwrite the cells on the disk. Too many overwrites might lower the lifespan of the SSD. But don't fret. Just wiping the SSD three or five times won't really do much damage to the SSD. Thus, feel free to secure erase the SSD because there is no detrimental effect on the storage device as you may expect.
The Bottom Line
Secure Erase can securely wipe out your SSD or HDD and make the data unrecoverable. Given that, it's a good choice when you want to sanitize the drive and recover its performance. The free SSD erasing tool from EaseUS not only allows you to securely erase your SSD or HDD with simple clicks but also enables you to back up the whole disk quickly before the cleanup when necessary.

Roxanne is one of the main contributors to EaseUS and has created multiple posts on digital devices like PCs, Mobile phones, tablets, Mac, etc. She loves to share ideas with people of the same interest.
I love that the changes you make with EaseUS Partition Master Free aren't immediately applied to the disks. It makes it way easier to play out what will happen after you've made all the changes. I also think the overall look and feel of EaseUS Partition Master Free makes whatever you're doing with your computer's partitions easy.

 Read More

Partition Master Free can Resize, Move, Merge, Migrate, and Copy disks or partitions; convert to local, change label, defragment, check and explore partition; and much more. A premium upgrade adds free tech support and the ability to resize dynamic volumes.

 Read More

It won't hot image your drives or align them, but since it's coupled with a partition manager, it allows you do perform many tasks at once, instead of just cloning drives. You can move partitions around, resize them, defragment, and more, along with the other tools you'd expect from a cloning tool.

 Read More
About EaseUS Partition Master
All-round disk & partition management software for personal and commercial use. Let it manage your storage drive: resize, format, delete, clone, convert, etc.
Video Tutorial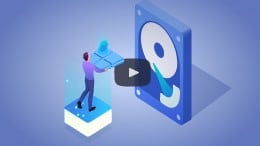 How to Partititon a Hard Drive on Windows 10/8/7
Was This Page Helpful
How Can We Help You
Find answers to common questions below.