
About the Author
Hot Topics in 2022
How to Format iXpand Flash Drive [SanDisk] in Windows 10/8/7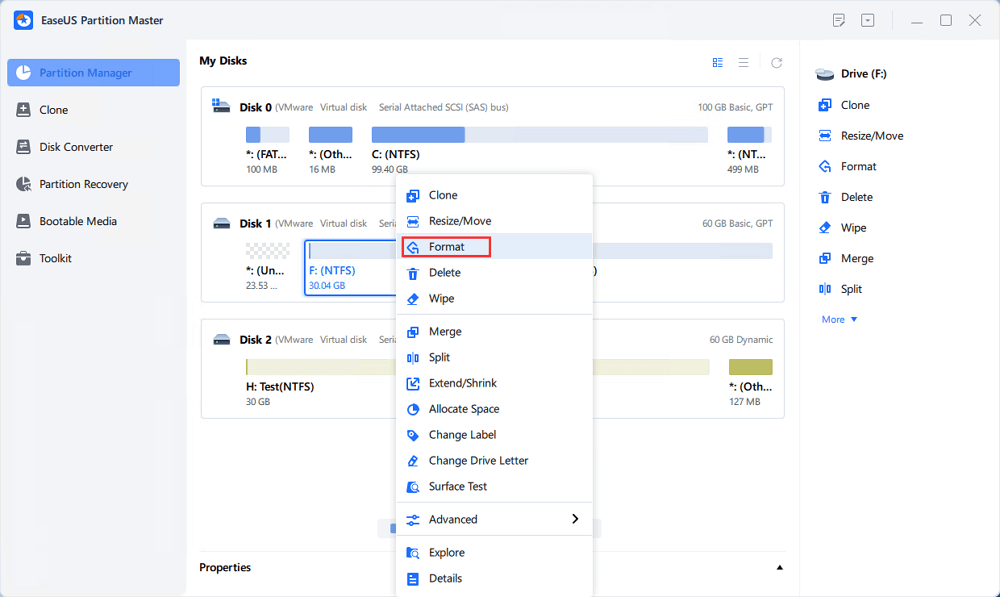 To format SanDisk iXpand flash drive, follow these steps:
Step 1. Connect the USB drive or pen drive to your computer. Select the USB drive to format. 
Step 2. Set the drive letter and file system.
Step 3. Check the warning box.
Step 4. Apply the changes...Read More>>
How Do I Format My iXpand Drive to FAT32 in Windows 10/8/7
SanDisk iXpand flash drive is a device that can be used to backup files or transfer data between iPhone/iPad and Windows & Mac computer. But sometimes, when you connect the iXpand flash drive to one of those devices, it reports some errors because the file system is corrupted, become RAW, or just incompatible with the device. Here is a real case on how to format iXpand flash drive:
"Hi, I am using a Mac and when I try to move a 7GB file onto the drive to put it on the iPhone it gives the unsupported message. Will reformatting solve this issue? Will I be able to transfer bigger files into it? Thanks."

When you run into such a situation, you will be prevented from accessing or using the device. And to fix the error and make the flash drive work normally, you need to format SanDisk iXpand flash drive to fix the file system. Here are four ways to convert the file system to FAT32/NTFS/exFAT.
Fix 1. Format iXpand Flash Drive with Professional USB Format Tool
The SanDisk iXpand unsupported format error occurs because the file system on the SanDisk iXpand drives not formatted to FAT32, such as NTFS, exFAT, or RAW format. Thus, your Mac or iPhone cannot recognize it. 
Even you can find a large number of the USB flash drive format tool when you search online, here we still want to recommend you EaseUS partition tool, a powerful partition magic tool with formatting & disk management features. Its intuitive interface can guide you to format your SanDisk iXpand flash drive to FAT32, a file system that is compatible with iPhone, iPad, Windows, and Mac computer in simple steps without using any technical skills.  
Resize/move, merge, clone partition, and check file system error.
Clone disk, convert to MBR/GPT, convert to dynamic/basic, and even wipe data.
Migrate OS to SSD to speed up Windows without reinstalling.
To format SanDisk iXpand flash drive, follow these steps:
Step 1. Select the USB drive to format.
Connect the USB drive or pen drive to your computer. Download and launch EaseUS partition software. Right-click the USB drive you intend to format and choose "Format".
Step 2. Set the drive letter and file system on USB.
Assign a new partition label, file system (NTFS/FAT32/EXT2/EXT3/EXT4/exFAT), and cluster size to the selected partition, then click "OK".
Step 3. Check "Yes" to confirm formatting USB.
Click "Yes" if you see the Warning window. If you have important data on it, back up the data in advance.
Step 4. Apply the changes.
Click the "Execute 1 Task(s)" button first, and then click "Apply" to format the USB drive.
Fix 2. Format iXpand Flash Drive Using Disk Management
Requirements: USB flash drive must less than 32GB in order to format to FAT32. 
As you know, there is a limitation of Disk Management, which does not support formatting a hard drive or flash drive more than 32GB to FAT32. 
Steps to format iXpand to FAT32:
Step 1. In Windows 10, go to "This PC > Manage > Disk Management".
Step 2. Locate and right-click on your SanDisk USB flash drive, select "Format".
Step 3. Set the USB file system to FAT32, tick "Perform a quick format" and click "OK" to confirm.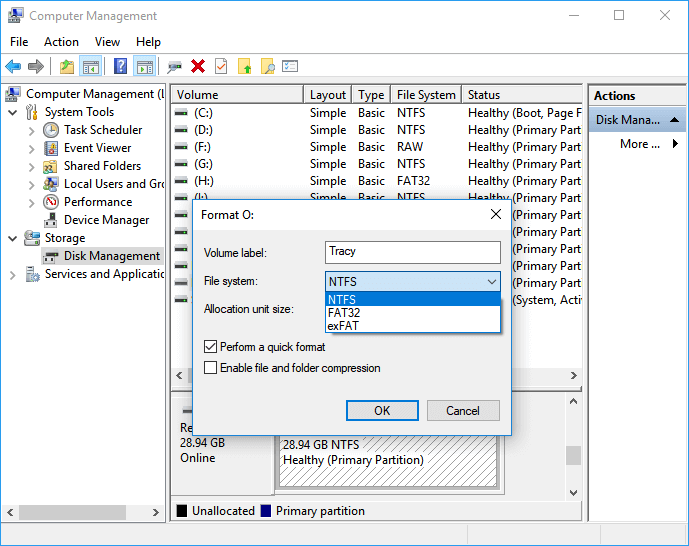 Fix 3. How to Format iXpand USB Flash Drive via File Explorer
Requirements: USB flash drive must less than 32GB. Just like Windows Disk Management, you cannot format a USB drive to FAT32 if it is over 32GB.
To format iXpand USB flash drive under 32GB to FAT32 File System:
Step 1. Connect iXpand USB flash drive to a Windows 10 PC.
Step 2. Open File Explorer, locate and right-click on the iXpand USB drive, select "Format".
Step 3. Set the FAT32 as the target file system, tick "Quick Format" and click "Start" to start the formatting.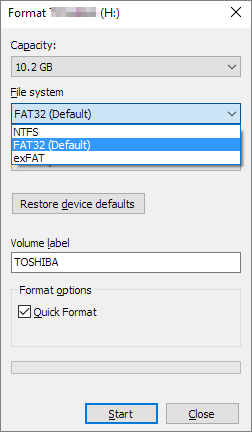 Fix 4. Use Command Prompt to Format iXpand Flash Drive 
Requirements: None
If you are very familiar with Command Prompt, this method is recommended. Follow the steps below to convert an iXpand USB flash drive to FAT32 by CMD.
Step 1. Right-click on the Windows icon, select "Search" and type cmd.
Step 2. Right-click it to run Command Prompt as an administrator, type diskpart, and hit Enter.
Step 3. Type below command lines and hit "Enter" each time:
list disk
select disk 2 (Replace 2 with your USB disk number)
list volume
select volume 10 (Replace 10 with the volume number of the USB drive that you want to format)
format fs=fat32 quick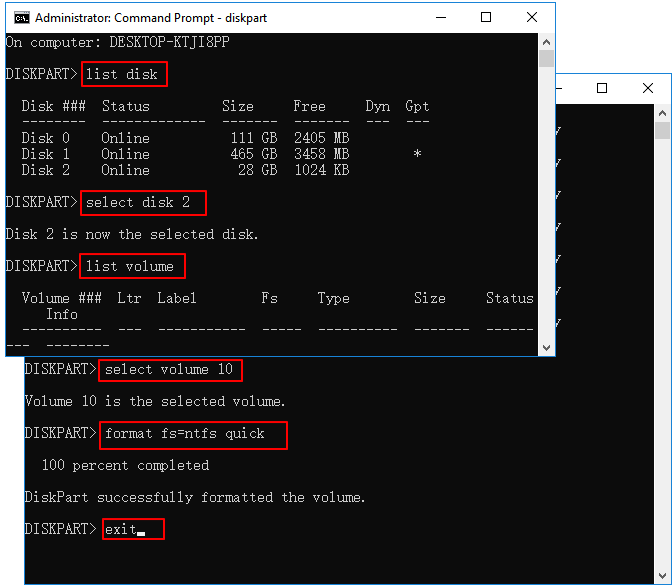 Extra Tip 1 - Common Errors Require You to Format SanDisk iXpand Flash Drive
Usually, you need to format SanDisk iXpand if you receive these error:
iXpand flash drive uses an unsupported format
iXpand flash drive needs to be formatted
iXpand flash drive has a RAW file system
iXpand flash drive is blank and says unrecognized format
iPhone, iPad, etc cannot recognize or detect iXpand flash drive 
Extra Tip 2 - How to Back Up SanDisk iXpand Flash Drive
Formatting iXpand flash drive will erase everything on the device, so make sure that you have backed-up all your important files. You can manually copy files to another drive, or use backup and recovery software. EaseUS Todo Backup makes it pretty easy to back up files to the wanted drive. Here are the steps:
Step 1. Start with selecting the backup contents.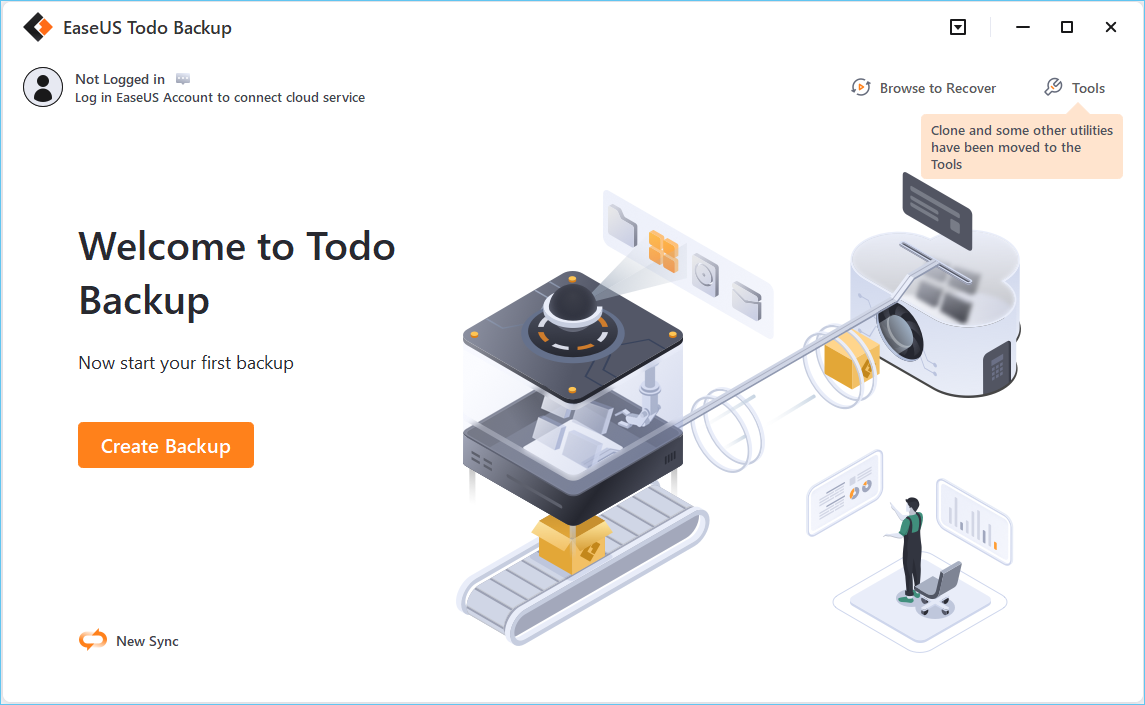 Step 2. There are four backup categories, File, Disk, OS, and Mail, click Disk.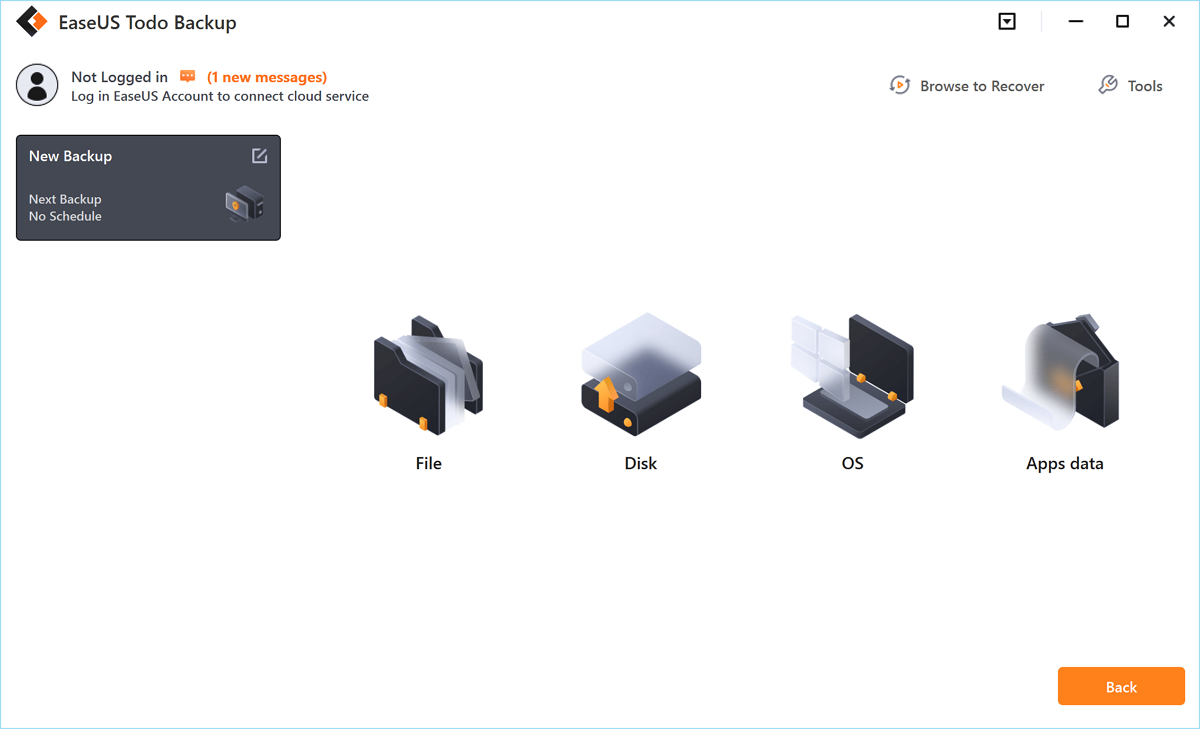 Step 3. It is available to back up a whole disk or a certain partition. Choose the one you need and click OK.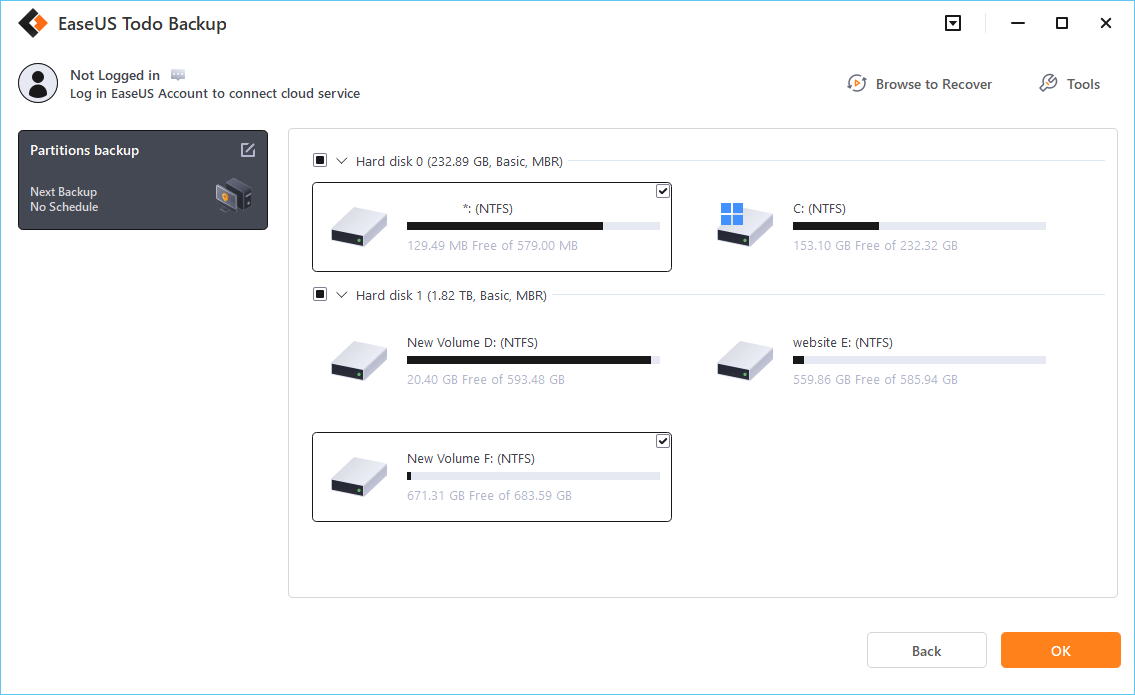 Step 4.  Select the destination where you want to save the backup.
Step 5. For disk/partition backup, you can choose to save the backup to local drive or to NAS.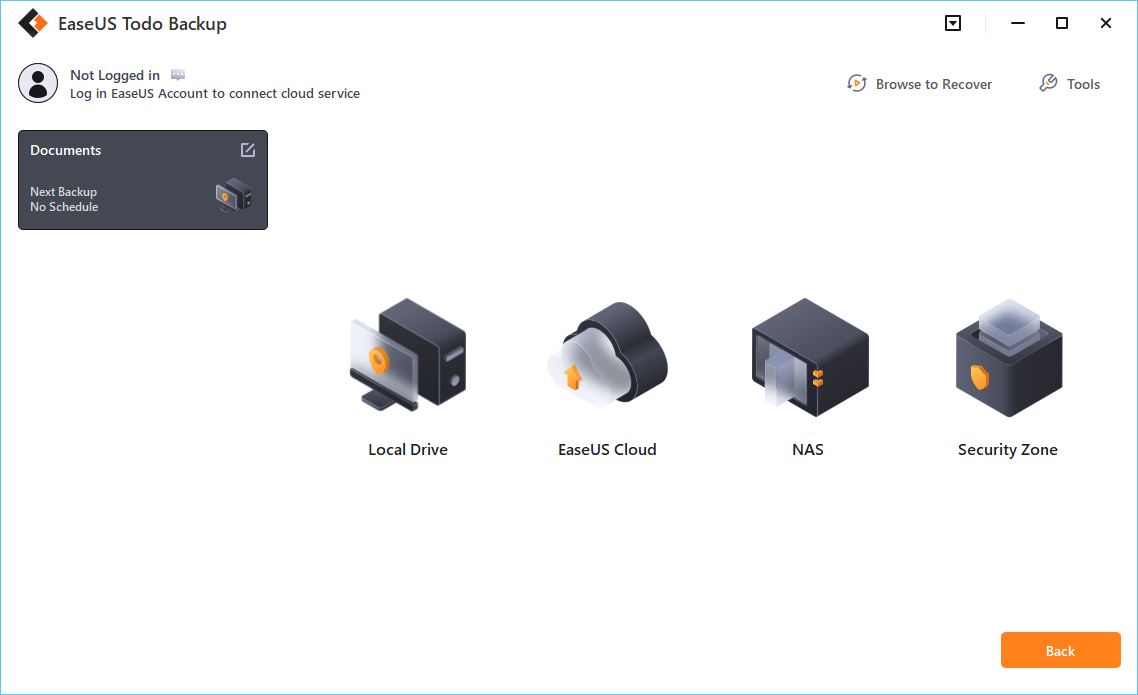 Step 6. After the backup process is completed, your task will be displayed at the left. Right-click any one of the task, you can further manage your backup such as recover it, create incremental backup, etc.
Conclusion
After iXpand format, you can fix the SanDisk iXpand unsupported format error. If you lost data after formatting, you can recover USB flash drive data with EaseUS free data recovery software. If you have a backup, you can restore your files from the backup easily.
SanDisk iXpand Flash Drive Troubleshooting (FAQs)
If you have additional questions about iXpand flash drive, you can read the following questions and answers.
1. How do I format my iXpand drive?
There are at least four ways to format an iXpand flash drive:
Using a USB format tool
Try Disk Management 
Run CMD command
Use File Explorer
2. What is the difference between iXpand and Ixpand mini?
With the iXpand Mini, the company has changed the design of the device compared to its predecessor.
While the earlier iXpand has a hook-like construction at the end that houses the lightning connector, the iXpand Mini has a simple rectangular body.
3. Is SanDisk iXpand compatible with iPhone?
Yes. When used with the iXpand Flash Drive, the iXpand Drive app makes it easy to back up, transfer and manage photos, videos, and files between your iPhone, iPad, and computers.
About the Author
Updated by Tracy King 
Tracy joined in EaseUS in 2013 and has been working with EaseUS content team for over 7 years. Being enthusiastic in computing and technology, she writes tech how-to articles and share technical solutions about Windows & Mac data recovery, file/system backup and recovery, partition management and iOS/Android data recovery.

Roxanne is one of the main contributors to EaseUS and has created multiple posts on digital devices like PCs, Mobile phones, tablets, Mac, etc. She loves to share ideas with people of the same interest.
Product Reviews
I love that the changes you make with EaseUS Partition Master Free aren't immediately applied to the disks. It makes it way easier to play out what will happen after you've made all the changes. I also think the overall look and feel of EaseUS Partition Master Free makes whatever you're doing with your computer's partitions easy.

 Read More

Partition Master Free can Resize, Move, Merge, Migrate, and Copy disks or partitions; convert to local, change label, defragment, check and explore partition; and much more. A premium upgrade adds free tech support and the ability to resize dynamic volumes.

 Read More

It won't hot image your drives or align them, but since it's coupled with a partition manager, it allows you do perform many tasks at once, instead of just cloning drives. You can move partitions around, resize them, defragment, and more, along with the other tools you'd expect from a cloning tool.

 Read More