Why you need to format SanDisk iXpand flash drive?
SanDisk iXpand flash drive is a device that can be used to backup files or transfer data between iPhone/iPad and Windows & Mac computer. But sometimes, when you connect the iXpand flash drive to one of those devices, it reports some errors because the file system is corrupted, become raw or just incompatible with the device. When you run into such a situation, you will be prevented from accessing or using the device. And to fix the error and make the flash drive work normally, you need to format SanDisk iXpand flash drive using third-party USB format tool to fix the file system.
Common errors require you to format SanDisk iXpand flash drive:
iXpand flash drive uses an unsupported format
iXpand flash drive needs to be formatted
iXpand flash drive has RAW file system
iXpand flash drive is blank and says unrecognized format
iPhone, iPad, etc cannot recognize or detect iXpand flash drive
Note: Formatting iXpand flash drive will erase everything on the device, so please make sure that you have backed up all your important files. If you have no backup files, please refer to how to fix iXpand unsupported format error without losing data for a solution.
Format SanDisk iXpand flash drive with EaseUS partition software
Even you can find a large number of USB flash drive format tool when you search online, here we still want to recommend you EaseUS partition tool, a powerful partition magic tool with formatting & disk management feature. Its intuitive interface can guide you to format your SanDisk iXpand flash drive to Fat32, a file system which is compatible with iPhone, iPad, Windows and Mac computer in simple steps without using any technical skills.
To format SanDisk iXpand flash drive, follow these steps:
Step 1. Connect the iXpand flash drive to PC and launch EaseUS partition tool, right-click the flash drive and choose "Format partition".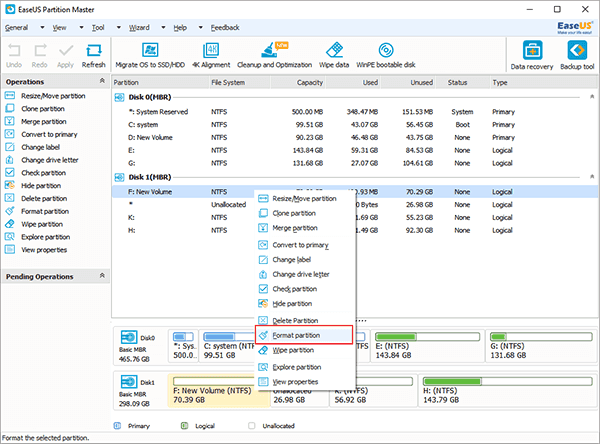 Step 2. Configure the label you want in the Partition Label box and then select FAT32 file system in the "File System" drop-down list for the iXpand flash drive.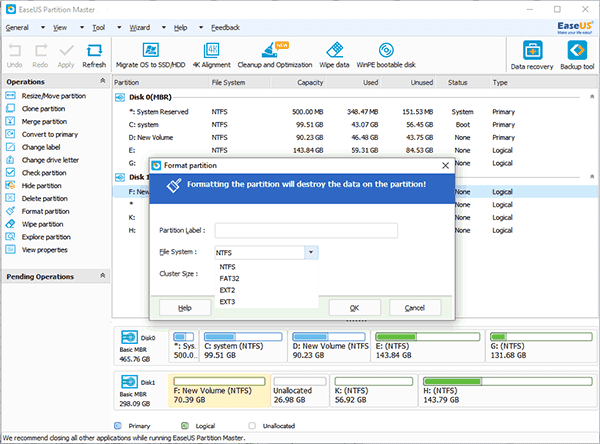 Step 3. Choose the Cluster Size (512 bytes, 1, 2, 4...64KB) in the "Cluster Size" drop-down list and click "OK" to apply the format operation.
Step 4. Click "Apply" to confirm to format iXpand flash drive to FAT32.