
About the Author
Hot Topics in 2022
4 Easy Solutions to Fix 'Unable to Extend C Drive' in Windows 11
| Workable Solutions | Step-by-step Troubleshooting |
| --- | --- |
| Option 1. Delete Volume with Disk Management | Step 1: Open the Win+X menu and choose Disk Management by clicking or tapping on it (diskmgmt. msc)...Full steps |
| Option 2. Shrink Volume with Disk Management | Step 1: In the Windows search box, type and search for Computer Management and select Run as administrator...Full steps |
| Option 3. Merge Non-Adjacent Unallocated Space with EaseUS Partition Master | Step 1. Right-click the partition that next to the unallocated space, select "Resize/Move"; Step 2. Put the mouse...Full steps |
| Option 4. Allocate Space from Another Disk with EaseUS Partition Master | Step 1. Right-click on the D: partition with enough free space and select "Allocate Space"; Step 2. Select the target...Full steps |
Introduction
Regardless of the Windows version or the device you use, you've probably seen that PCs slow down with time if you're a Windows user. That's because, as you keep using the gadget, you'll accumulate more data and files. You'll often find yourself in a scenario where you have plenty of room in other partitions, but you keep seeing pop-ups claiming "you're running out of space", even if you have plenty of capacity in other dividers.
Your computer's performance begins to deteriorate, apps become sluggish, and you're unable to increase the space of your hard disk. Let's look at the reasons you are Unable to Extend C Drive in Windows 11. Then, we will look at the solutions with which you can easily solve this problem!
Why Can't I Extend My C Partition?
You shouldn't be concerned if you cannot extend a volume. For example, you cannot expand a volume in the C drive. Open Windows Disk Management and look at the condition of your disk partition and the explanations given in the section below.
Windows cannot enlarge if the partition is formatted in FAT or another type.
There is no continuous unallocated space or free space available in the area behind the partition you wish to expand.
No unallocated space exists on your computer's hard disk.
The Extend Volume option in Disk Management is only available for partitions formatted as RAW or NTFS. Windows PCs do not support the expansion of FAT or other file system partitions.
The partition capacity has hit the 2TB limit when using an MBR drive.
In any case, Windows will not allow you to enlarge the main partition by using unallocated space in an extended partition or vice versa.
You can learn how to check total hard disk space in windows 10 in this link.
Having determined the reason for the greyed-out status of Extend Volume, we must determine how to activate it or raise the partition size in certain cases.
How to Fix "Unable to Extend C Drive"?
This part of our guide will guide users about the methods they can adopt to fix their Extend C Drive problem. However, before we do that, the users must know about two situations:
1. No Unallocated space - if that's the issue you're facing with your disk, go for option 1 and option 2 to delete or shrink the partition on disk management. However, bear in mind that this can potentially lead to data loss.
2. Has Non-Adjacent Unallocated Space - if you have a non-adjacent unallocated space, it's best to use third-party software, as explained below in option 3.
Option 1. Delete Volume on Disk Management
When you remove a volume or partition from a disk, the previously reserved space for that volume or partition becomes available on the drive. You may then extend another volume/partition on the same disk into this unallocated space to add the unallocated space to the volume/partition that was previously extended.
Step 1: Open the Win+X menu and choose Disk Management by clicking or tapping on it (diskmgmt. msc).
Step 2: When you right-click or press and hold on a partition/volume (for example, "G"), choose to Delete Volume from the context menu that appears.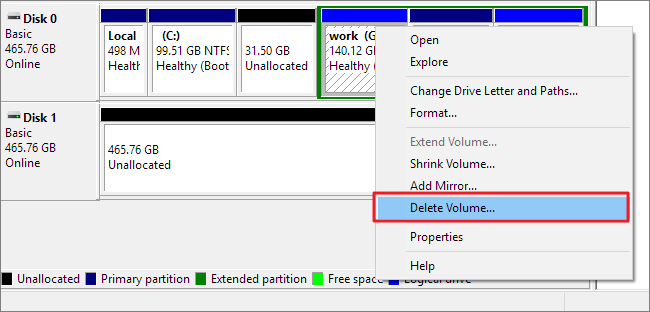 Step 3: To confirm, choose Yes from the drop-down menu.
Note: The volume/partition will now be erased, and the remaining space on the drive will be shown as Unallocated space.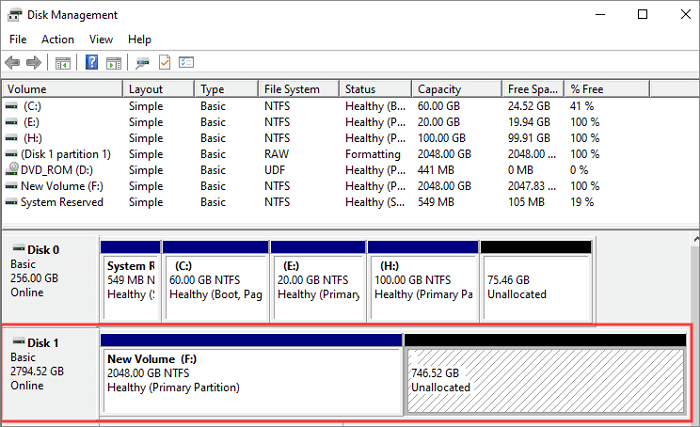 Option 2. Shrink Volume with Disk Management
It is possible to produce fresh disk space from an existing disk by shrinking the volume, and this new space will be an unallocated area.
If you realize that you need an extra partition but do not have any more drives available, you may follow the procedures outlined below to create one on your computer.
Note: Keep in mind that shrinking the partition may cause the data to be lost if the current partition includes data. We strongly advise that you make a backup of your data before reducing the partition.
Step 1: In the Windows search box, type and search for Computer Management and select Run as administrator.
Step 2: Select Disk Management from the Computer Management menu.
Step 3: In Disk Management, right-click the current volume on which you wish to create an extra partition and pick Shrink Volume from the context menu.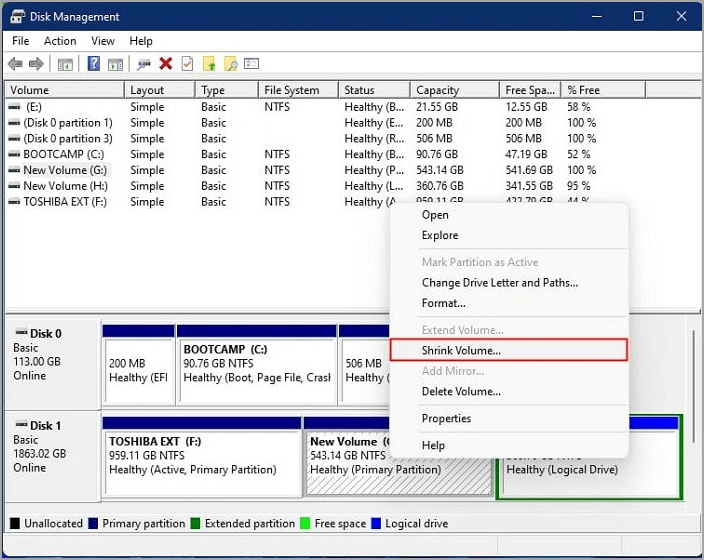 Note: Reduce volume will compute the maximum space that can be reduced automatically.
Step 4: Alternatively, input the size you wish to reduce and click Shrink volume.
Step 5: An unallocated area will be generated in Disk Management after the shrink has been finished. You may utilize the unallocated region to build a new partition after being established.

Option 3. Merge Non-Adjacent Unallocated Space
Disk Management is not without its flaws, and third-party software such as EaseUS Partition Master is intended to compensate. It is compatible with all Windows systems and offers users extra disk management tools.
Among the features that distinguish it as a must-have tool is the ability to "Migrate OS", "resize/move", "Wipe", "Hide", and "Convert between MBR/GPT or Basic/Dynamic", among others. The argument is that, rather than removing all connected partitions and assigning the vacant space into a single partition, you may utilize the "Merge" option to combine two partitions into a single one.
Users face three frequent scenarios when attempting to combine non-adjacent partitions. EaseUS Partition Master may be used in any situation. Installing and launching the program on your PC is simple. We'll go through each stage in detail one by one as we go along.
Main Features of EaseUS Partition Master:
This online converter converts from MBR to GPT or GPT to MBR.
Partitions may be merged without any data being lost.
Transfer the operating system to a solid-state drive.
Partitions may be created, formatted, and deleted.
Steps to Merge:
Step 1. Select the partition next to the unallocated space, select "Resize/Move".
Step 2. Put the mouse on the partition and drag it to the left or right to move the unallocated space.
You can repeat Step 1 and 2 to move the unallocated space to the desired location.
Step 3. Click "Execute Task" and "Apply", it will execute the operations to add the unallocated space into the target partition eventually.
Option 4. Allocate Space from Another Disk
"Allocate Space" is a function in EaseUS Partition Master that allows you to allocate disk space. You may use it to assign the unused space of a specified disk to some other disk on the same hard drive without deleting the space from the chosen partition.
Steps to Allocate Space:
Step 1. Right-click on the D: partition with enough free space and select "Allocate Space".
Step 2. Select the target partition - C: drive and drag the partition panel rightward to add the free space from D: drive to C: drive. Then click "OK" to confirm.
Step 3. Click the "Execute Task" button and click "Apply" to start the process of moving free space from D: drive to C: drive.
Conclusion
If there is no accessible unallocated space on the C drive in Windows 10/11 Disk Management, you will be unable to expand the disk. It is okay to delete a partition to get a sufficient amount of unallocated space. However, the whole procedure is time-consuming. As a result, it is recommended that you choose one of the remedies listed above.
If there is unallocated or unoccupied space, choose between option 1 and 2. Alternatively, if there is no available space, you may use option 3. If the whole system drive is too tiny, you can transfer it to a bigger disk using EaseUS Partition Master, allowing you to replace the disk without having to reinstall Windows or other apps.
About the Author

Roxanne is one of the main contributors to EaseUS and has created multiple posts on digital devices like PCs, Mobile phones, tablets, Mac, etc. She loves to share ideas with people of the same interest.
Product Reviews
I love that the changes you make with EaseUS Partition Master Free aren't immediately applied to the disks. It makes it way easier to play out what will happen after you've made all the changes. I also think the overall look and feel of EaseUS Partition Master Free makes whatever you're doing with your computer's partitions easy.

 Read More

Partition Master Free can Resize, Move, Merge, Migrate, and Copy disks or partitions; convert to local, change label, defragment, check and explore partition; and much more. A premium upgrade adds free tech support and the ability to resize dynamic volumes.

 Read More

It won't hot image your drives or align them, but since it's coupled with a partition manager, it allows you do perform many tasks at once, instead of just cloning drives. You can move partitions around, resize them, defragment, and more, along with the other tools you'd expect from a cloning tool.

 Read More