Summary
How to recover cropped image to original? Or how to revert edited photo to original? If you've accidentally overedited an vital image and want to revert it back to the original state, you can find solutions here. You can learn how to restore edited photos to original on PC, Mac, and iPhone.
PAGE CONTENT:
How to Recover Cropped Image
How to Undo Cropped Photos in Preview on Mac
How to Recover Lost Original Photo After Editing
How to Restore an Edited Photo to Original on iPhone
Q: How can I recover my cropped photos to original?
"Help! I took pictures of my grandmother's 100th birthday on a microdisk and tried to edit those pictures in Photoshop. I cropped and saved a favorite one, but now I need to recover cropped image to original format for a large canvas picture. Can a cropped photo be uncropped?"
We heard people losing precious photos from PC, digital cameras, and phones every day due to all kinds of reasons, such as unintentional removing, SD card keeps deleting files by itself, pictures corrupted, blurred gray box covering on pictures, etc.
But in this article, we'll discuss another photo loss problem, which is mainly caused by unsatisfactory editing, mainly cropping, and clicking Save in Photoshop, Paint, and other popular image editing app for PC. After wrong processing and storing the original image, many users don't know how to revert edited photos to original. Don't worry. Read this how-to-article and help you through it. Besides, if you delete original photos before editing the copies, you can recover original photo by using a great data recovery tool.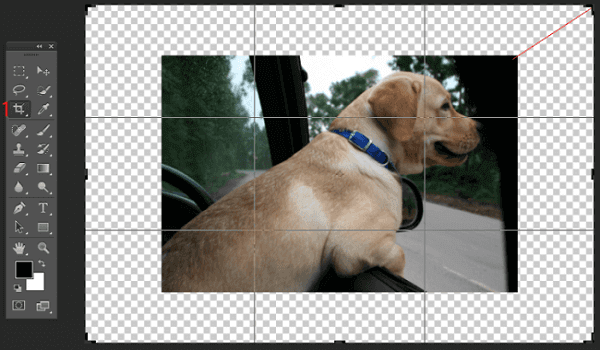 How to Recover Cropped Image to Original
While you edit your photos in an image-editing program, you can undo the modifications by using undo safety nets, such as the Undo, Redo, and Revert to Saved commands.
Use the "Undo" command from the Edit menu. As long as you've saved your original image, you can undo any edits. It takes you one step back in time.
Use the "Redo" command from the Edit menu. Redo can restore the image to the state it was in before you selected "Undo".
Use the "Undo History" palette, which displays your most recent changes. if available on your photo editing software. The "Undo History" tool allows you to undo many edits quite easily.
Use the "Revert to Saved" command to restore your image to the way it was the last time you saved it. If you don't have a "Revert to Saved" command in your software, you can complete the image recovery by closing your photo without saving and reopening the image. The image will look the way it did the last time you saved it.
In addition to the ways above, you can also get the original image from the edited image online with some tools. Search for the keyword "revert edited photo to original online", and you will find some free photo restoring service.
How to Undo Cropped Photos in Preview on Mac
Mac's Preview app is not only a PDF editing tool but also a great image editor. It enables you to crop, resize, rotate, annotate, and tweak images.
However, if you have cropped a photo and saved, but regret your decision soon, how do you recover cropped image to the original?
To revert edited photo to original before you began processing it, click the "File" > "Revert To" > "Browse All Versions". And select the original image version.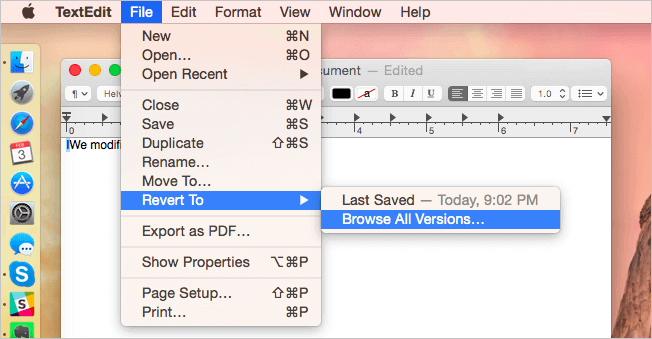 How to Recover Lost Original Photo After Editing
If you've just edited the images copies instead of the original photos, you can recover cropped image to original by using a powerful file recovery program - EaseUS Data Recovery Wizard. This tool allows you to recover deleted or lost photos from HDD, SSD, digital camera, SD card, USB flash drive, pen drive, external hard drive, etc..
Suppose that you've lost the original photos from PC or camera, you can use this tool to recover the images within three steps.
Step 1. Choose the location and start scanning.
Launch EaseUS Data Recovery Wizard, hover on the partition or device you want to recover images from and then click "Scan".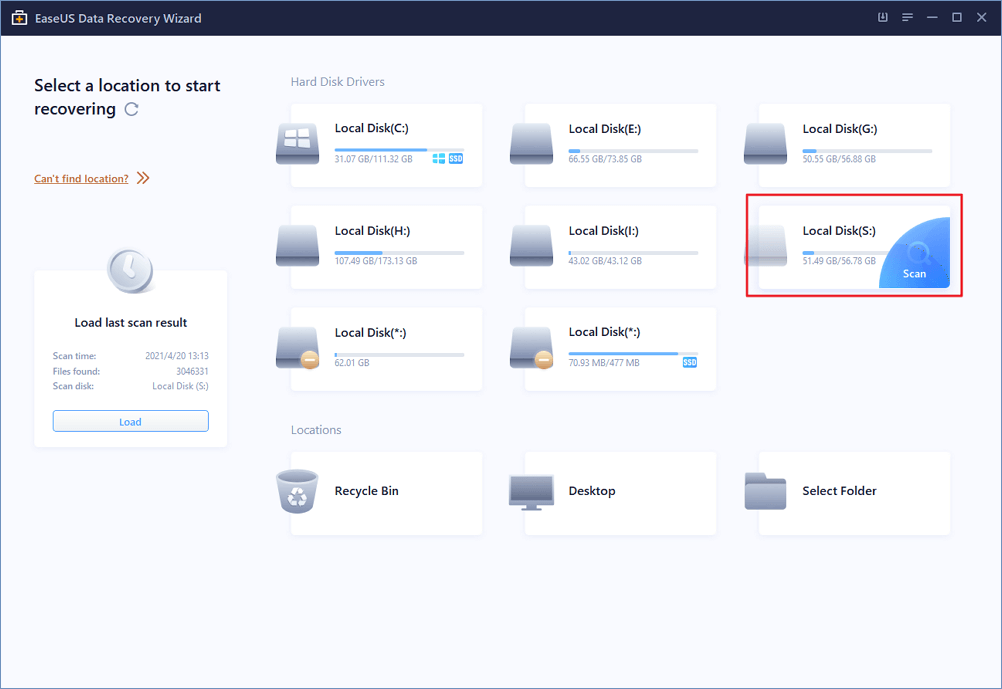 Step 2. Select the photos you want to recover.
Wait until the scanning completes and then select the photos you want to recover. To locate the items faster, click "Filter" > "Pictures" or search for images via the search bar.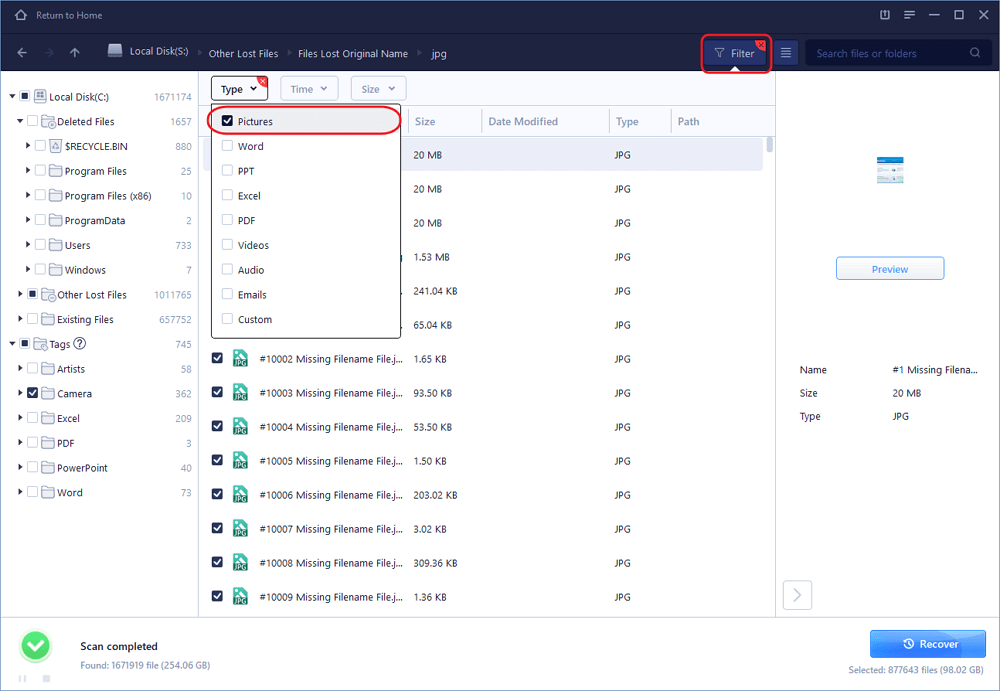 Step 3. Recover photos.
Click "Recover" and choose a location on another disk or device to save the recovered images.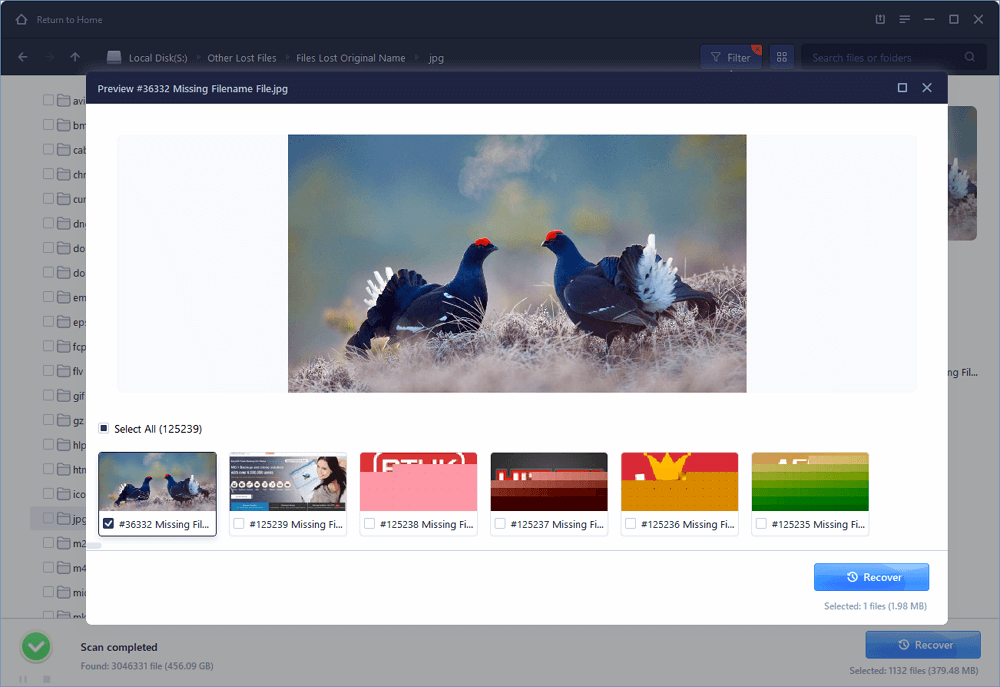 How to Restore an Edited Photo to Original on iPhone
If you happen to edit an important image and save it, like cropping or filtering, but only to change your mind later, no worries. You can undo these operations and revert the edited photo to the original on your iPhone.
1. Open the Photos app. Find the photo you want to return to its original state.
2. Tap on "Edit" at the top right corner of the image you want to revert.
3. As you've edited the image already, you can see the "Revert" option in the bottom right corner of the screen. Tap Revert and select Revert to Original. It will warn that Revert to original will remove all edits made to this photo. This action cannot be undone. You can confirm and re-edit your image later.
100% of people found this article helpful.
Frequently Asked Questions
1. Why choose EaseUS Data Recovery Wizard?

"EaseUS Data Recovery Wizard is the best we've seen. It's far from perfect, partly because today's advanced disk technology makes data-recovery more difficult than it was with the simpler technology of the past, but it's fast and efficient..." —PCMag

"The first thing you'll notice about EaseUS Data Recovery Wizard Pro is that its interface is very clear and uncluttered, with only a small collection of self-explanatory controls. You won't find lots of extra options hidden in a system of hidden menus, either; what you see really is what you get." —techradar

"Recover lost files, even after deleting a partition or formatting your drive." —Macworld
2. Why cannot I recover 2GB data for free?

It is recommended to check the version installed is Free or Trial because they are different versions.

Trial has data preview function but cannot save any files, while the Free version enables to recover 2 GB files. The default free space is 500 MB and you may share the product on social media to get another 1.5 GB.
3. Why cannot the recovered files be opened?

A file is saved as 2 parts on the storage device: directory info (which is comprised by file name, time stamp and size info, etc.) and data content.

If the files with original file names and folder structures cannot be opened, one possible reason is the corrupted directory info. There is still a chance to recover the data content with the RAW Recovery method in our software.
4. Why isn't it suggested to recover the files back to the original drive?

The storage structure of the lost files would be altered or damaged by any changes on the drive. If you save the recovered files back to the same drive, the original data structures and data content would be corrupted or overwritten, which causes permanent data loss. So you should prepare another disk to save the files.
5. How can I check whether my data is recoverable or not before purchase?

The Free version helps you save 2GB files to better verify the recovery quality of our product before purchase.
6. How long does it take to scan the drive?

It strongly depends on the capacity of your hard drive and the performance of your computer. As reference,most drive recoveries can be completed in around 10 to 12 hours for a 1-TB healthy hard drive in general conditions.
About Data Recovery Wizard
It's super easy to recover 250+ types of files after deletion, disk formatting and virus infection. Click the links and compare the difference of each version.