
Table of Contents

About the Author

Reviews and Awards
Are you a PlayStation 5 gamer who is looking for a way to recover your game progress? Let's help you find out how. PS5 is a remarkable console, and it features the best and fastest hardware the series ever had to offer. However, it can be a bit difficult to recover and save your games saves in this console. But that doesn't mean it can't be done.
This article will explain the different ways to recover PS5 game data. We will also discuss how to back up these save games and how they can help you in the future. So, let's get started.
What Is a PlayStation 5 [Overview]
Sony's PlayStation 5 is the latest and greatest video game console to hit the market. It is the best-selling console by Sony since its launch in November 2020 and has been met with critical acclaim. Mainly because of its outstanding features.
The PlayStation 5 offers exclusive games, a powerful processor, and a sleek design that makes it stand out from other consoles on the market. Whether you are a die-hard gamer or just looking for something new to play, the PlayStation 5 is sure to be an exciting addition to your entertainment setup.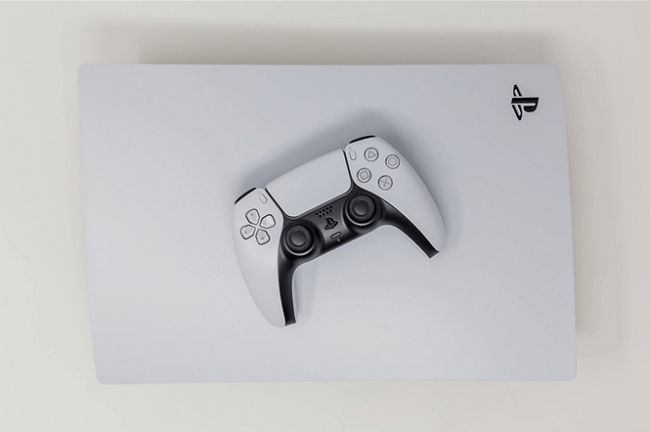 Besides that, it came with NVME Gen 4.0 support, so it is 4x faster than its predecessor, the PS4. The recent release of God of War Ragnarök has spiked sales once more. However, the common problem for many PS5 users is the inability to recover PS5 saved data. Because:
It's not easy to find;
Not many users know how to explore settings;
It doesn't feature simple options.
How to Recover PS5 Game Save
That's why, whether you're playing games such as Spider-Man: Miles Morales, GOW, or Days Gone, you'll need to understand the right way to recover a PS5 game saved. In this video, you can find a few ways to recover PS5 game data, such as:
0:18 - How to recover game save data
0:50 - Recover from cloud storage
1:18 - Download saved data
However, if you find it all difficult to comprehend and need simplified steps, then this article will further explain each step in a linear and easy-to-understand manner. So, let's dive in further to explore each method to recover PS5 data.
Method 1. How to Recover Game Data from PS5 Hard Drive
The first step is to connect your PS5 to a PC or take out the PS5 hard drive and connect it to your PC to recover data. This way, it'll be easier not only to recover the data but also to find the exact game save that you are looking for.
However, once you connect your PS5 or its hard drive to your computer, you're going to need professional data recovery software. That's why you're going to need EaseUS Data Recovery Wizard. It's a professional recovery tool that is revered by many experts around the globe. So, why this particular tool? Let's list a few reasons:
EaseUS HDD Recovery Tool
It's known for recovering lost game data and game saves for platforms such as PS4, PS5, and XBOX.
On PC, it can recover lost game data from Steam, Ubisoft Connect, Rockstar Social Club, etc. 
It can recover deleted files from external hard drives, SD Cards, USB flash drives, cameras, etc.
Besides safe game files, it's known for comprehensively recovering music, video files, documents, etc. Hence, it's not only built for recovery like this, but its options also make it very convenient for the user. That's why you need this tool to restore your lost PS5 game files. But how exactly do you go about using it?
First off, you will have to connect your PS5 hard drive to your PC. Once you have, follow these steps to recover PS5 game saves:
Step 1. Choose and scan the external hard drive
Download and install EaseUS Data Recovery on your PC or laptop. 
Connect the external hard drive to your computer.
Run EaseUS Data Recovery Wizard and choose the external drive from External drives list. Then, click scan for lost data.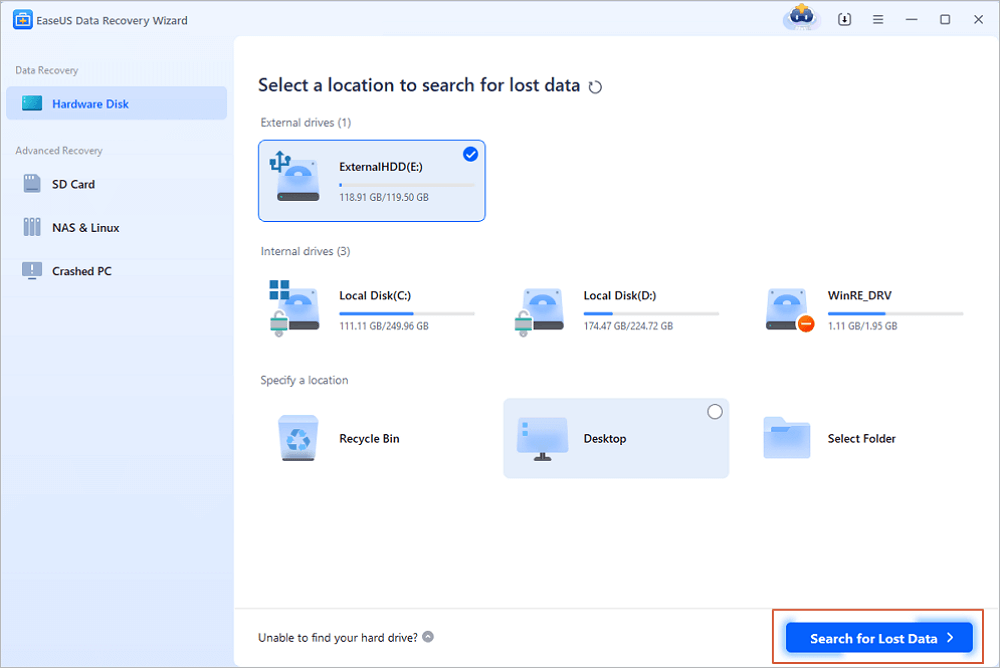 Step 2. Check the scan results
EaseUS data recovery software will immediately scan the selected drive for all data, including deleted, corrupted, and existing data.
You can use the Filter feature to quickly locate the files of one kind, such as Pictures, Word, Excel, PDF, videos, emails, etc.
Step 3. Preview and recover data
Double-clicking a file from the scanned results to preview.
Choose the files you want and click "Recover".
Select a different drive to save the recovered files instead of the original one. 
Method 2. Recover Lost Game Save from PS5 Backup
The second method is to use PS5's own backup to recover your lost saved game data. In this method, you will have to explore PS5 settings to restore the files that you have lost. So, make sure your game is downloaded and ready to run. Once it's ready, use these steps to recover the files:
Step 1. Head into Settings and click on "Saved Data and Game/App Settings".

Step 2. In the games, pick either PS4 or PS5 (depending on whichever save game you're trying to recover).

Step 3. Now pick the game and click on "download to Console Storage".

Step 4. Confirm the replacement if asked.
Once you're through these steps, it'll take a minute or two to download and merge the saved game files with your installed/downloaded game. After that, you will be able to see it in the game's menu.
Method 3. Restore Lost Game Save from PS5 Online Storage
The third method is to restore the saved game data using the same settings. However, the slight change will be in the game type. Instead of downloading from console storage, we'll be downloading from cloud storage. So, here's what you're going to do:
Step 1. Open Settings on your PS5 and scroll down to Saved Data and Game/App Settings.
Step 2. Now, pick either the Saved Data from PS5 or PS4.
Step 3. Then choose "Cloud Storage". In the next options, click on "Download to Console Storage".

Step 4. And pick the game you wish to recover the saved game for.

Step 5. Wait for the download to finish and confirm when prompted.

Once done, you will be able to see the saved game in the game menu. From there, you can easily continue your game from where you stopped.
Bonus Tips: How to Back Up PS5 Data to USB External Hard Drive
In order to ensure that you don't list your important saved files again, you need to back up PS5 game data. If you haven't done that already, then in this bonus tip, we're going to show you how you can ensure a thorough backup of your saved files. So, here's what you'll do:
Head into PS5 settings and click on "Saved Data and Game/App Settings".
Inside the settings, click on "Saved Data (PS5)".
Then click on "Sync Saved Data".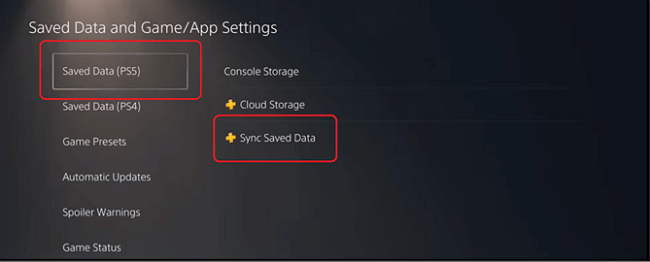 Repeat the same process in Saved Data (PS4). This way, you will create an online backup for your saved files. And, you will find them easier to recover if you lose them next time.
Conclusion
These are some of the key ways to conduct a successful PS5 data recovery. Not only will these steps ensure that your data is recovered easily, but they will also secure them for the future. However, it's important that you need the help of a third-party tool.
Not only to recover data from your PS5 but also to restore deleted files from your PS5 deleted files. So, make sure you follow the steps mentioned in this article and use EaseUS data recovery software to restore your PS5 files.
PS5 Data Recovery FAQs
For any further questions, you will find their answers in this section:
1. How do I recover lost data on PS4?
The recovery of PS4's lost data is slightly different from PS5's. Hence, you need to follow the following steps to recover lost PS4 game files:
Open Settings and head into Application Saved Data Management
Find Saved Data in Online Storage
Then click on Download to System Storage
Then find the game you need the save file for
After that, click on Online Storage
Then click on Download
This will restore your PS4 game files.
2. How do I fix corrupt game data?
Restoring or fixing corrupt game data requires you to head into Safe Mode on your PS4. Here's how you can fix corrupted data on PS4:
Turn off your PS4 completely
Press and hold the power button until you hear two beeps
Connect your PS4 controller with a USB cable, as wireless won't detect
In the safe mode menu, find and click on Rebuild Database
3. Can you recover deleted data on PS5?
Yes, you can. You can head into Saved Data and Game/App Settings and click on Saved Data (PS5). Once there, recover the game files that you wish to, and allow it to restore as it might take a few seconds.
4. Where is saved data stored PS5?
To find the data storage in PS5, head into Saved Data and Game/App Settings and click on Saved Data (PS5). From there, you can either pick the cloud storage or the console storage to see which one is taking up more data.

Brithny is a technology enthusiast, aiming to make readers' tech life easy and enjoyable. She loves exploring new technologies and writing technical how-to tips. On her spare time, she loves sharing things about her favorite singer - Taylor Swift on her Facebook or Twitter.
EaseUS Data Recovery Wizard is a powerful system recovery software, designed to enable you to recover files you've deleted accidentally, potentially lost to malware or an entire hard drive partition.

 Read More

EaseUS Data Recovery Wizard is the best we have seen. It's far from perfect, partly because today's advanced disk technology makes data-recovery more difficult than it was with the simpler technology of the past.

 Read More

EaseUS Data Recovery Wizard Pro has a reputation as one of the best data recovery software programs on the market. It comes with a selection of advanced features, including partition recovery, formatted drive restoration, and corrupted file repair.

 Read More