Corrupted Hard Drive Symptoms
Have you ever come across the problem of a corrupted hard drive? When a hard drive is corrupted, you are no longer able to use it although it does show as a disk. And you also encounter the following typical symptoms:
Invalid media type reading drive.
Abort, Retry, Fail?
The file system is displayed as "RAW".
Windows may ask if you want to format the drive by warning "disk not formatted. Do you want to format now?"
File names contain "weird" characters.
"Sector not found" messages.
A corrupted hard drive always contains essential files and folders, how to get data back from it? Is there a useful method to repair hard disk without losing data? Yes. Send it to a specialist shop, and it is going to cost you a bomb to retrieve, save, recover and extract all your data. So the best choice is to recover files from the corrupted drive with data recovery software. The hard disk recovery software - EaseUS Data Recovery Wizard can recover files from cases of deleted, formatted and corrupted hard drive.
How to Recover Files from a Corrupted/Crashed Hard Drive
EaseUS Data Recovery Wizard has a user-friendly interface for you to recover files from the corrupted hard drive, including all the popular brands like SanDisk, Samsung, Western Digital, etc. If you cannot boot computer after the hard drive was corrupted, you can create WinPE bootable CD/DVD of EaseUS Data Recovery Wizard to recover lost data.
This software also supports all Windows such as Windows 10/8/7 etc., allowing you to fully restore lost Windows files such as to recover deleted files from Windows 8.
How to start hard drive recovery with EaseUS hard drive recovery software:
Step 1. Choose a location to scan.
Make sure that all hard drives were correctly connected and recognized by the software. Refresh an external hard disk if necessary.
From which drive was data lost? Choose the relevant hard drive partition by left-clicking on it.
Click the Scan button.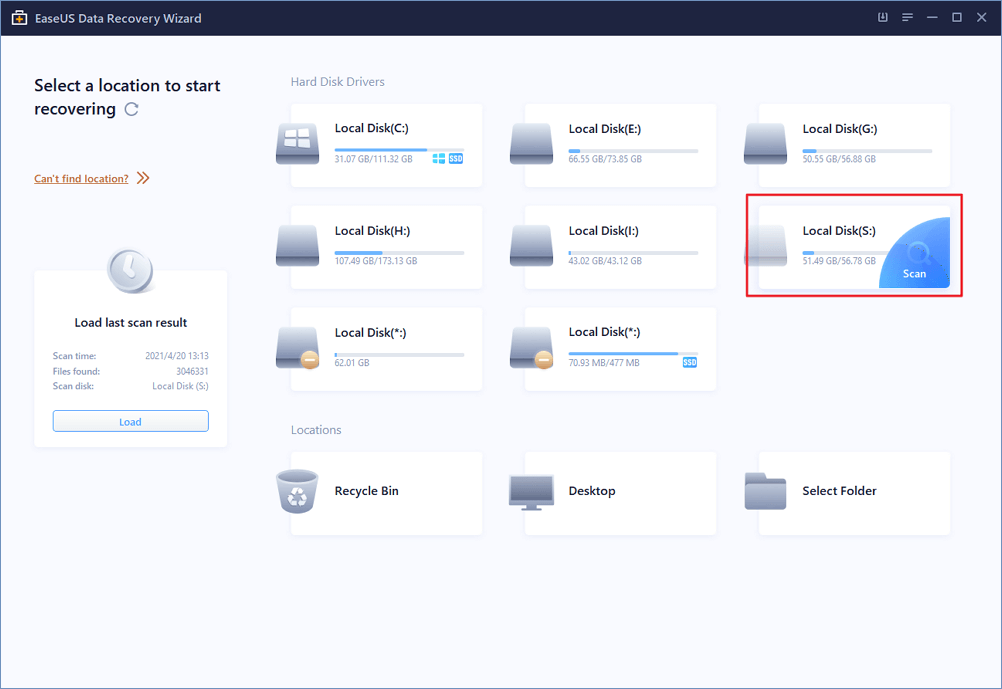 Step 2. Wait for the scanning results.
It takes a while for EaseUS Data Recovery Wizard to complete the scan, all depending on how much disk space is used on the selected hard drive.
As you see, the "Deleted files" result would come our first, later it's all lost data result.
You can try to recover lost data as soon as it shows up even though the scanning process has not finished yet.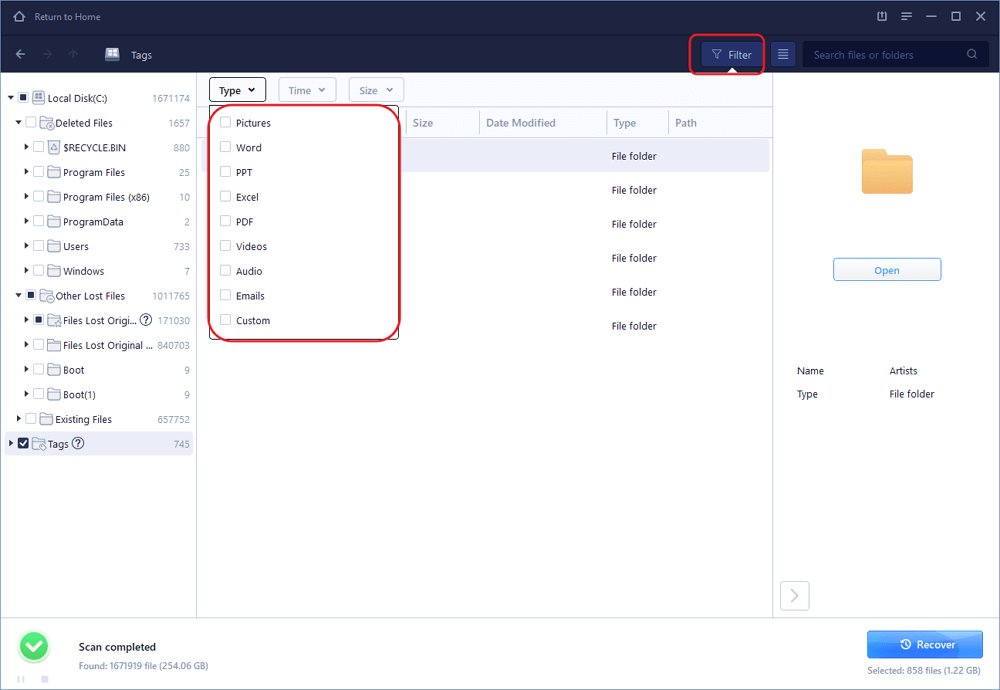 Step 3. Filter the result and recover data.
There are multiple ways for you to find the target files. Anyway, choose the quickest method.
Lost Partition Files: more lost data are going to be found on your selected partition and put in this section if it was formatted or deleted in early time.
Extra Files: a deep-scan result for raw files even though the file names and file paths have been lost.
Filter: extremely useful when you're looking for a specific type of files such as pictures, documents, music, videos, etc.
Select files and click the Recover button. (You can always choose to preview files before purchasing a license code for a full hard drive data recovery. )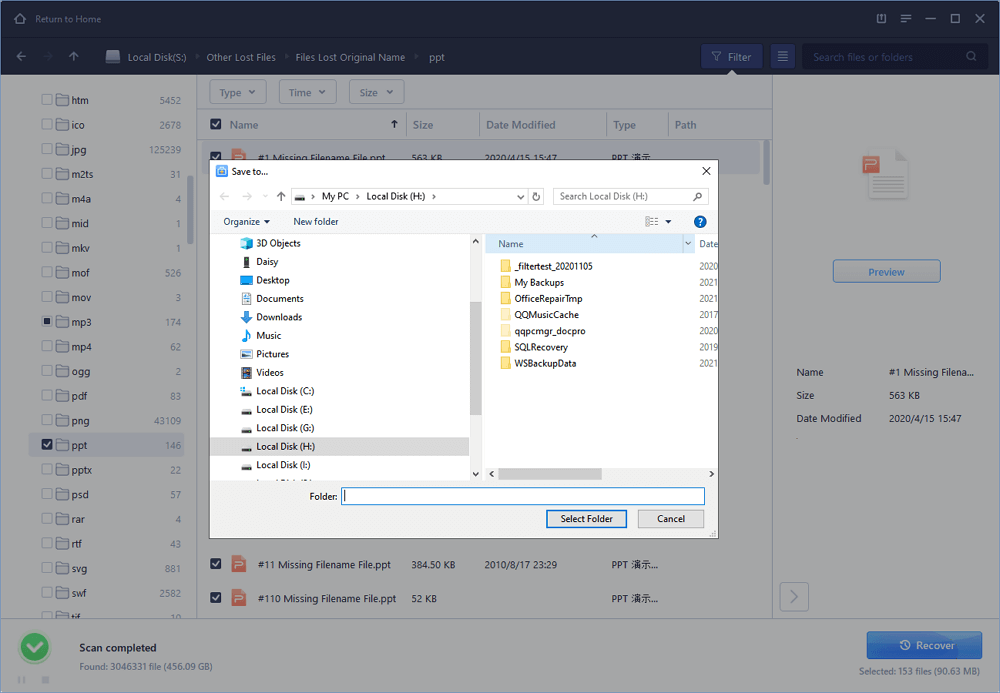 How to Fix or Repair Corrupted Hard Disk Drive
After restoring lost files from the corrupted hard disk drive, how to deal with the corrupted hard disk? Let it go? Just give it up? Nope! Here below, we'll provide you a few tips for you to try and repair corrupted hard disk drive:
Tip 1. Run CHKDSK to Repair Corrupted Hard Disk Drive
If the hard disk drive has bad sectors or internal errors, the hard disk can corrupt very easily. And if you know how to run CHKDSK command in your PC, it will be effortless for you to fix hard disk corrupted issue. Let's see how to run CHKDSK and repair corrupted hard disk drive now:
Press Win + X, select Command Prompt (Admin);
Click Yes to launch Command Prompt as Administrator;
Type: chkdsk and hit Enter to check errors in the corrupted hard drive;
Type: chkdsk D: /f /r/x to let CHKDSK fix the drive; (D is the drive letter of your corrupted hard drive);
If the target drive is a boot disk, the system will ask you if you want to run the command before the next boot. Type: yes and hit Enter to restart the computer. The command will run before the operating system loads, allowing it to gain full access to the disk and repair corrupted drive.
Tip 2. Run a Thorough Disk Check to Fix Corrupted Hard Disk
Open This PC or Computer, right-click the hard drive and select Properties;
Click Tools > Tab Error checking > Click Check now;
Select Check local disk and click Start;
Close all running and open programs, select the option to let system check upon the next boot;
After this, restart PC.
If it reports that your drive has 'bad sectors or clusters', don't worry. CHKDSK command in Tip one will fix this issue.
Tip 3. Repair Corrupted System Drive from Control Panel
Press Win + X, select Control Panel;
Click System and Security > Tab Action Center > Expand Maintenance and click Run Scan;
Click Restart;
Tip 4. Use File Manager to Fix Corrupted Non-System Drive
Press Win + E to open File Manager, right-click the appropriate drive from the left pane;
Select Properties and click Tools > click Check under Error Checking;
Click Repair This Drive when the scan completes fixing the drive errors.
After all these steps, you've successfully recovered data from the corrupted hard drive and fix the corrupted hard disk issue. Now you can reuse the hard disk drive to store and save data again. If you are facing a similar problem on your corrupted hard drive, external hard drive or USB, etc. storage devices, don't worry. Just follow this article to get your problem fixed without losing any data now.