Page Content:
File History is a built-in utility for Windows users to back up different versions of files in folders such as Libraries, Desktop, Documents, and Contacts. Every created backup will be saved to a selected backup drive. And once set up, File History will start to save copies of selected content on a regular time base.  
Although it is a Windows-designed feature, File History is not perfect. Some users report that they have received error messages while using the File History. In this article, we will collect several of the very common File History not working problems and show you how to fix them by yourself.
File History Not Working with Various Error Messages
Before going into the solutions, let's check what kinds of File History problems you may encounter. You might see one of the following error messages or notifications:
"File History is not backing up because backups are turned off in your privacy settings."
"We couldn't back up some files and we'll try again soon.  No changes were made to your backup."
"File History couldn't back up these files. Please try again later: (list of file names)."
"File History is turned off." 
"Windows 10 File History service cannot be started"
"Could not enable File History the system cannot find the path specified"
...
When you see any of the error messages or notifications above, it means that File History is not working properly on your computer. And you will have to troubleshoot the problem to get File History back to normal. Other error messages are more direct, the error messages themselves have already indicated the problem. For example, you might receive error messages like  "File History doesn't recognize the drive", "File History element not found", etc.  
Why You Receive File History Error?
The reasons for File History not working can be various. Either a connection problem or backup drive space insufficient can be the culprit of File History not working. Here we will list several common reasons for File History not working problem. You could check whether it is the reason why you can't use File History.
1. Bad connection between File History backup drive and the computer
2. There is not enough space on the backup drive for File History to back up content
3. Windows updating issue
First of all, a bad connection can represent a variety of situations. First, your computer cannot recognize the connected backup disk. Second, your computer can recognize the backup disk but you cannot write to it. Third, the backup disk is damaged or not connected. Either situation can be called a bad connection, and you need to find out which one is the cause.
Secondly, File History would save different copies of content on a regular base. If the backup frequency you set is too high or the backup content is too large, and the File History backup file is not set to be deleted regularly, after a long period of use, your backup disk may have insufficient space to store any one of the new back-ups.
The last reason is not your fault, nor the File History's. Quite a few users have reported that after updating the Windows system, File History cannot be used normally. This is just a bug brought by the Windows update, you don't have to worry about it. Maybe this issue could be solved after another update. But we're responsible to tell you a truth: Microsoft has gradually led its users to third-party Windows backup and recovery software for backups of not only files but also the operating system. As one of all the possbile solutions on this page, we'll cover the best File History alternative's benefits for you, as the last fixing method.

What Is the Best Free Backup Software in 2022
Choosing the best backup software is not an easy task, you should not only consider the backup quality but also take the interface and the convenience of restoring a backup file into account...
How to Fix File History Not Working
In this part, we will give solutions to the corresponding issues. You could check and try the one that suits your situation.
Solution 1. Restart File History
This solution can fix most of the hardware issues. If your backup drive works fine and has sufficient storage space, you could try this method to reboot File History.
Step 1. Open the Start Menu and type "services.msc" into the search box.
Step 2. Find the "File History Service" in the list of services and right-click on it and select "Restart".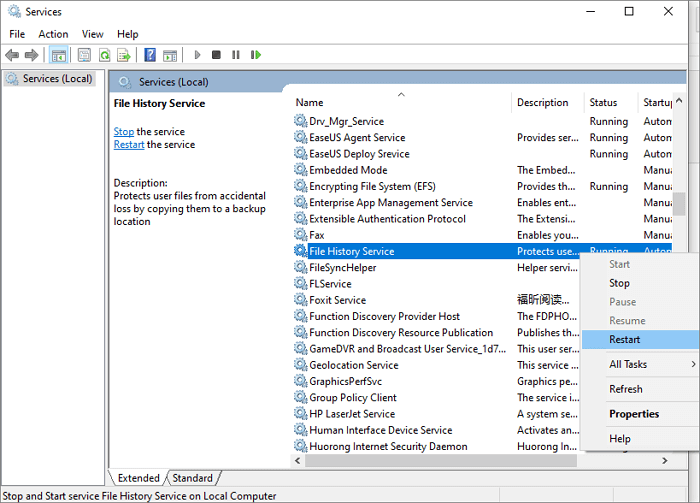 Step 3. Restart your computer, and go to File History to see if it can run normally.
Solution 2. Check and Change a New File History Drive
This solution is suited for the situation where your File History backup drive is full.
Step 1. Go to Disk Management or File Explorer, and check how many used spaces are there in your File History drive.
Step 2. If there isn't enough space, stop using the current drive as the backup drive.

Step 3. Connect a new backup drive to your computer, and reset the File History backup.
You could also delete old File History backups. After clicking "Stop using drive", go to your backup drive and delete the "FileHistory" Folder.
Solution 3. Recheck File History
This solution works in the case that users didn't find any backup version of the covered folders in Libraries. It seems that File History is not backing up all files they added in.
There are a few workarounds for this problem.
First, you can try turning off File History and turning it on again. This will give File History a force restart.
Second, try removing the folder(s) from the included list and adding them back again. 
Solution 4. Decrypt Bitlocker Drive Encryption
Sometimes File History not working is because your PC is protected by Bitlocker Drive Encryption, but your file History drive is not. To solve this problem, you have to turn off BitLocker for your computer.
Step 1. Go Start > Control Panel > System and Security > Bitlocker Drive Encryption.
Step 2. Find the drive you want to decrypt, and click the Turn off Bitlocker option.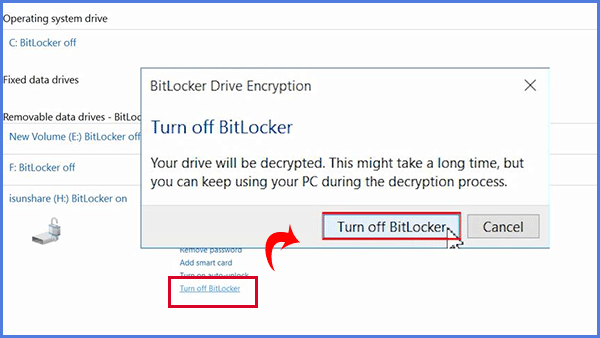 Step 3. Input your password to unlock this drive or use a smart card to unlock it.
Solution 5. Turn to File History Free Alternative
Before arriving at the part of the solutions, we mentioned that Microsoft has admitted the File History's shortcomings compared with third-party reliable backup software. First of all, it's only for files/folder backup that is associated with your user account; second, it consumes disk space as it creates full backups; third, it supports backing up to Network, however, not to the cloud, which is the popular backup location choice in recent years.
With all the shortcomings combined with the tricky problems of File History not working quite often, it's imperative for us to introduce EaseUS Todo Backup for you. If you can not decide to download it or not, try the free version after exploring the highlighted features here:
Back up OS, disk/partition and all types of files
Support full, incremental and differential backup for fast backup and recovery speed with the least disk space consumption
Create bootable rescue media so that you can back up or restore PC even when it cannot boot
Automatic backup schedule on daily, weekly, monthly or based upon an event
Allow users to save backups to a physical hard drive, Network drive, NAS, Tape as well as Cloud drive
It's always recommended by top reviews from authoritative websites and on YouTube
Check: Best free backup software of 2022 from Techradar.com
Check: [2022] Top 5 Best Free Windows Backup Software on YouTube
Final Thought
This is all about how to fix File History not working properly. There are 5 available ways for you to try to solve the problem. You can try them one by one until you find the File History is back to normal. Due to the limits of File History could help you protect your computer, never hesitate to give EaseUS free backup software a try!

Jean has been writing tech articles since she was graduated from university. She has been part of the EaseUS team for over 5 years. Her special focuses are data recovery, disk partitioning, data space optimization, data backup and Mac OS. By the way, she's an aviation fan!
Written by Gemma
Gemma is member of EaseUS team and has been committed to creating valuable content in fields about file recovery, partition management, and data backup etc for many years. She loves to help users solve various types of computer related issues.