Updated by
Jean
on Sep 22, 2022
Is your old dual boot OS drive getting old and you want to replace it with a new one? Do you need a reliable guide to help you migrate dual boot OS and upgrade the dual boot OS drive to a new HDD/SSD? 
If yes, stay here. You'll get a complete guide that you can follow to upgrade and migrate dual boot OS to your HDD or SSD with ease. Let's see:
Applies to: Clone Windows 10/7, Windows 10/8, Windows 8/7; Windows 7/XP, etc. to a new disk.
Is It Possible to Upgrade Dual Boot OS to HDD/SSD
Dual boot OS is popular among Windows professionals and advanced computer users. And, the popular dual boot OSs are Windows 10/7, Windows 10/8, Windows 8/7, Windows 7/XP.
As time goes by, dual boot OS users may find that the OS drive is too small or the computer slows down. To get a faster dual boot OS, users are now trying to find a way to clone and upgrade dual boot OS to a new HDD or SSD. 
Here is the question: is it possible for us ordinary users to clone and upgrade dual boot OS drive to HDD/SSD? Sure! Follow the complete guide and learn how to upgrade your two operating systems to a new hard drive or SSD now.
#Preparation: Make Everything Ready for Dual Boot OS Migration
Before you start, here are two things that you should prepare for dual boot OS migration:
#1. Initialize New HDD/SSD
Step 1. Connect or install the new HDD/SSD to your computer correctly.
Step 2. Right-click"This PC/My Computer", click "Manage" and click "Disk Management".
Step 3. Right-click the not initialized new HDD/SSD and select "Initialize Disk".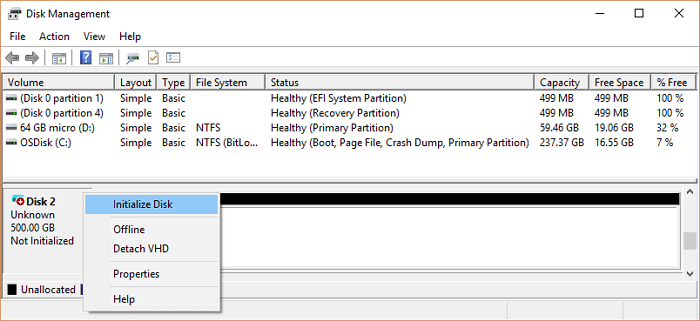 Step 3. Set "MBR" or "GPT" for HDD/SSD, and click "OK" to confirm.
Make sure that your new HDD/SSD shares the same partition style as the source OS disk.
#2. Download Reliable Dual-Boot OS Clone Software
Here, EaseUS file backup software - Todo Backup with its System Clone and Disk Clone features can help. It simplifies the dual boot OS migration process that anyone can use to upgrade the OS disk.
#Start: Migrate and Clone Dual Boot OS Disk to New HDD/SSD
After installing the new disk and EaseUS Todo Backup, you can now follow the guide below to upgrade and clone the dual boot to a new disk now.
 Notice:

Note that the below guide is about to clone dual boot OS with one drive to another new HDD/SSD.
If you are installing dual boot OS with two drives, you'll need to do the OS disk cloning operation two times:
1. Boot PC from the first OS disk, clone OS disk to a new drive.
2. Then reboot the PC from the second OS disk, clone the second OS disk to another new HDD/SSD.
Step-by-Step Guide to Clone Dual Boot OS Disk to HDD/SSD:
Step 1. On the main page, find and click "Tools". You can see clone and other utilities.
Step 2. Choose the source disk or partition, click "Next".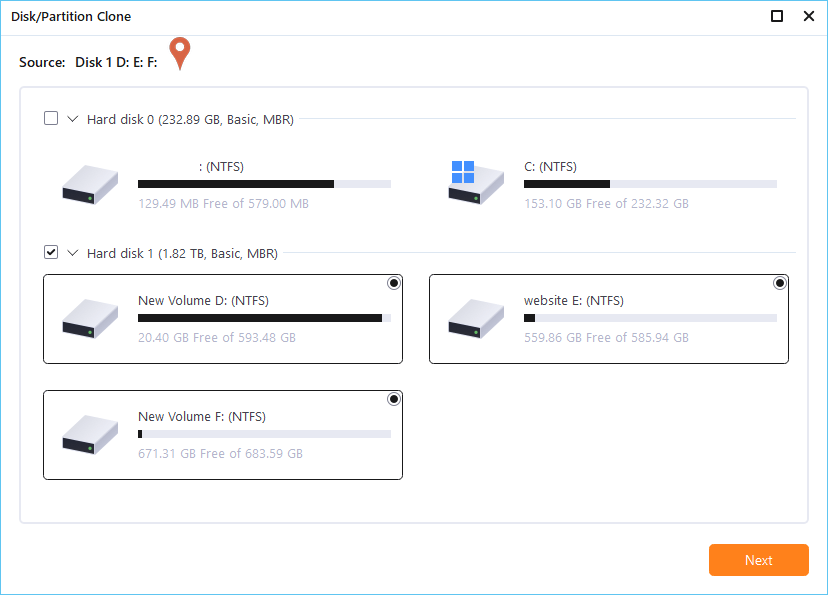 Step 3. Then you need to choose the target disk. Make sure the target disk is larger than the source disk or partition.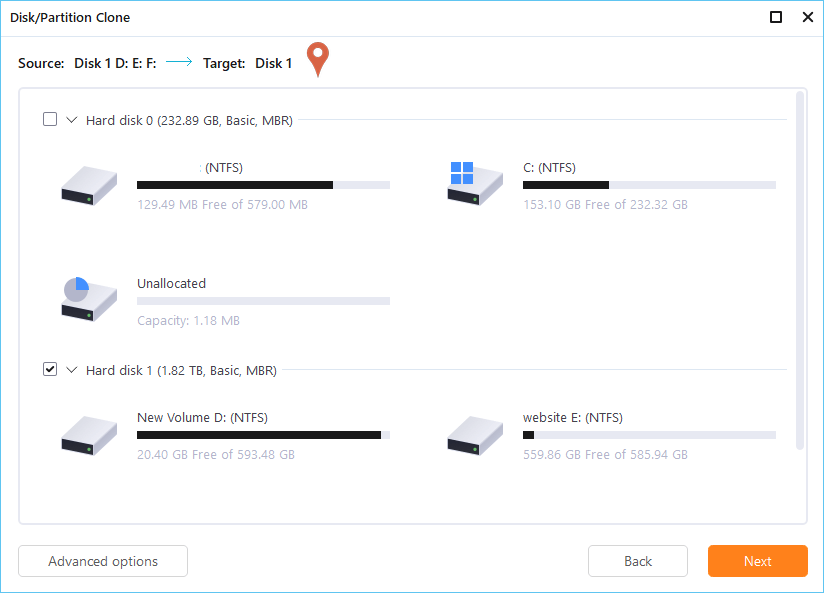 Step 4. A warning window will inform you that clone would permanently wipe out all data on the target disk/partition, if you want to start clone, click "Continue."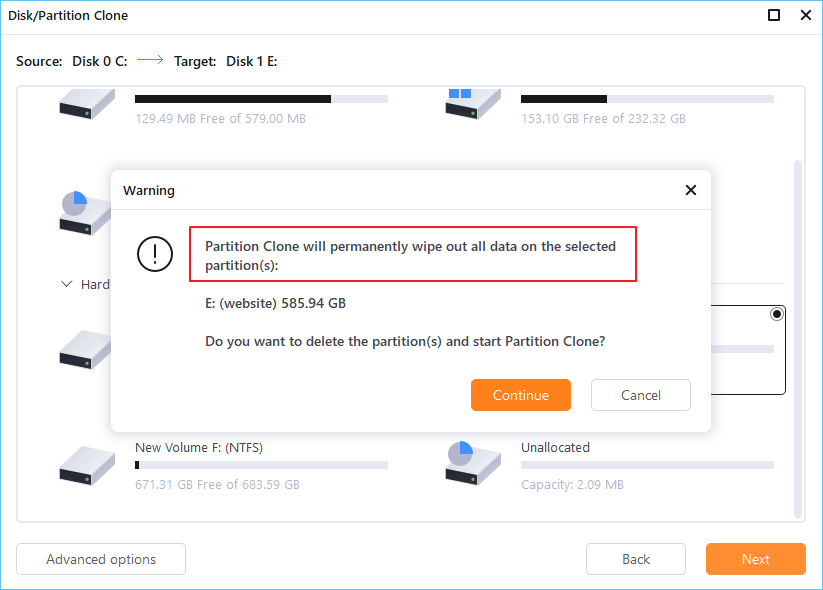 #Follow-Up: Add Boot Option in BIOS for Dual Boot OS
It's not the end yet. After the OS disk cloning process, you still have some follow-up operations to execute:
#1. Set New Drive as Boot Drive
Step 1. Restart the computer, press F2/F8/F11, or Del to enter BIOS. 
Step 2. On the boot menu, enter the Boot Priority section and set the new disk as the boot drive.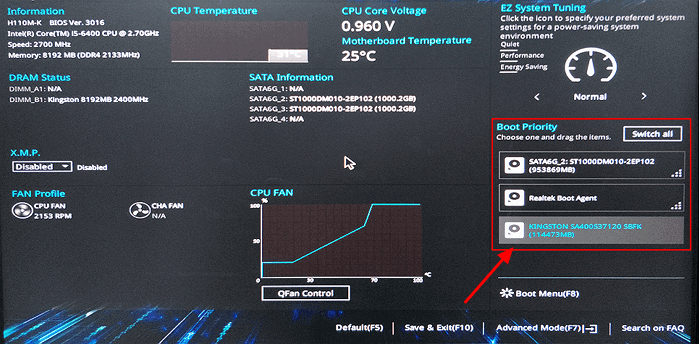 Step 3. Save the changes and reboot the PC.
Step 4. Select the desired Windows on the Choose an operating system window boot up.
 Tip

 If you saved dual boot OS on two new disks, set the major OS disk as the boot drive. Save the changes and exit BIOS, your computer will automatically boot Windows from the new OS disk. 
#2. Add Boot Options to BIOS
If some of you found that the second OS is not bootable as no boot option is detected in BIOS, you'll need to add one to BIOS. 
To do so, you have two ways out:
1. Turn to the Microsoft support team for help.
You can contact them by visit: support.microsoft.com.
2. Customize EaseUS Tech Support Help.
Do You Need Specialized Tech Support Services?
You may need further help for a tough dual boot OS boot failure issue after upgrading its OS disk to a new HDD/SSD. Consult with EaseUS Experts for cost-efficient one-on-one manual service.
They could offer customized services to help you resolve the PC not booting issue after upgrade the dual boot OS drive to another disk. You may also request the following services:
1. Unformat the drive

2. Repair the RAID, RAW disk, or operating system

3. Recover lost partition (the one that cannot be recovered by software)
Take Steps, You Can Have a New Dual Boot OS Drive
To clone and migrate dual boot systems into a new disk is no longer a special skill for advanced Windows users and administrators anymore. Ordinary users just like you and I can also do the job. How?
Follow this page, you'll get a complete guide to clone and upgrade the dual boot OS drive to a new HDD/SSD with the help of EaseUS Todo Backup.
Though it's a bit complex, think about the faster reading and writing speed, and bigger storage space on your computer. It's worth a try.

Jean has been writing tech articles since she was graduated from university. She has been part of the EaseUS team for over 5 years. Her special focuses are data recovery, disk partitioning, data space optimization, data backup and Mac OS. By the way, she's an aviation fan!
Written by Tracy King 
Tracy joined in EaseUS in 2013 and has been working with EaseUS content team for over 7 years. Being enthusiastic in computing and technology, she writes tech how-to articles and share technical solutions about Windows & Mac data recovery, file/system backup and recovery, partition management and iOS/Android data recovery.
Taking everything into consideration, we can say that EaseUS Todo Backup Home can offer you a little extra sense of security with a set of advanced tools. The interface provides quick adaptation, every process guiding you all the way through so you don't get stuck or further damage your system rather than keeping it safe.

 Read More

EaseUS Todo Backup Free lets you create backups of your important files or your entire computer through its streamlined interface. Just choose the backup type you'd like to get started, and let the program do the reset.

 Read More

EaseUS includes all the features I expect from backup software like versioning, incremental backups, and scheduling. For more advanced users, EaseUS allows you to install a pre-boot environment onto your hard drive so you can use it to restore files without burning a CD or putting it on an external USB drive.

 Read More

EaseUS Todo Backup
Smart backup tool for your files and entire computer in Windows 10/8/7.
Install Windows on Multiple Computers at Once? No Problem!
Learn how to install Windows 11/10/7 and special programs/software on a batch of computers. Use 10 minutes to do the 10 hours work without making a single mistake!
Get Free Solution!