Overview of HDD to SSD cloning
Compared with a traditional hard drive, SSD offers faster speed for data reading/ writing/transfer, safer way to protect data and privacy, better performance in serious environment. Thanks to all the advantages, SSD is becoming increasingly popular and more and more users are deciding to upgrade their old HDD to SSD. This job would be easily done by cloning HDD to SSD which allows to migrate Windows system like Windows 10, 8, 7 or other previous versions as well as all the install applications and personal data from the hard drive to SSD.
How to fix boot failure issue while cloning GPT HDD to SSD
However, you may have trouble to manage it when your old hard drive is GPT partitioned but the new SSD is coming with MBR partition table. That's because when you migrate OS to SSD/HDD by disk cloning, both of the source disk being cloned and the destination disk receiving the clone have to be either MBR disk or GPT disk. Otherwise, you may suffer boot failure issue after disk clone. Then how to avoid cloned SSD won't boot issue while cloning GPT HDD to SSD is quite important. The easiest way to work it out is to convert MBR to GPT disk first. The solution is also available to fix the same issue that might happen when you are trying to clone MBR disk to GPT disk/SSD.
How to clone GPT HDD to SSD in Windows 10/8/7
After fixing the boot failure issue that might occur during the GPT HDD to SSD cloning process, next you need to find a reliable HDD to SSD clone software that allows you to manage the disk clone job. EaseUS Todo Backup is recommended here. It can help you deal with various complex disk cloning jobs such as clone GPT disk to smaller SSD, clone UEFI disk to SSD, clone UEFI GPT disk.
To clone GPT HDD to SSD, follow these steps:
Step 1. Connect GPT HDD and the SSD to PC, launch EaseUS cloning software and click "Clone". It will pop up the below window and choose the source disk partition (here the GPT HDD) you want to clone. And then click "Next" to continue.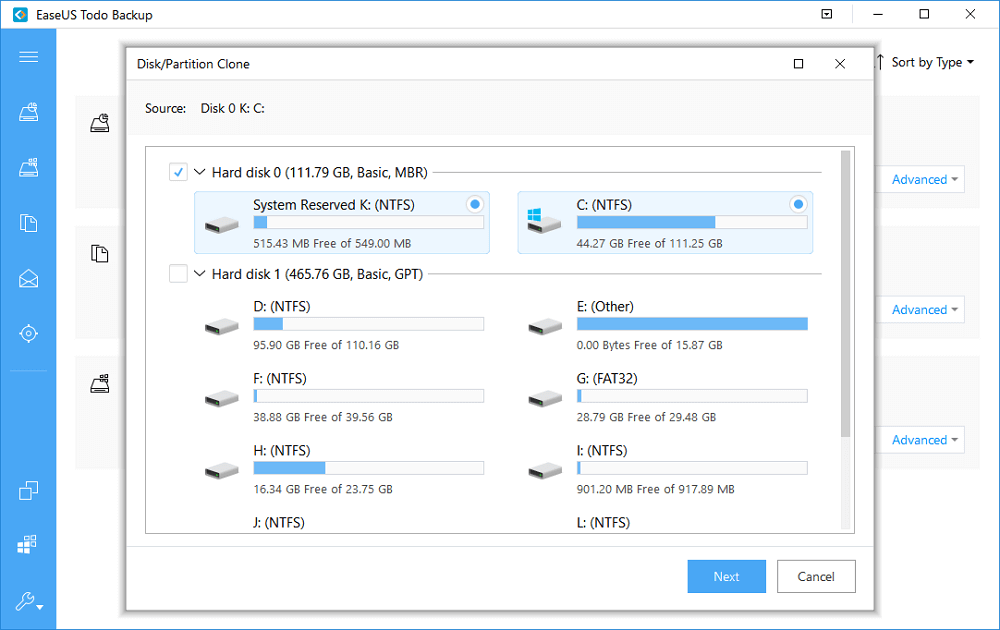 Step 2. Choose the destination disk or partition (here the SSD). Tick "Sector by sector clone" in Advanced options, with it, you can clone all sectors from source disk to the destination disk. You are allowed to preview the disk layout in advance, then click "Proceed" to clone GPT HDD to SSD.