Updated by
Larissa
on Jan 16, 2023
Backup software is a necessary essential for any small business. So, which one is the best for them?
Backup software is an important utility for any business or PC user today. In today's world, when data losses are more common than ever, businesses and small corporations look for ways to secure their important documents, images, or data of all kinds.
So, the only viable option they could think of was backup software. On an enterprise level, securing the files is even more important; hence, they need a reliable option.
In this article, any small business owner will find a few important suggestions to help you create viable data backup software for small business. So, let's dive right into it.
Data backup is the process of creating copies of electronic data to be restored if there is a data loss or other problem. This is not a one-time project; it needs to be done periodically to ensure your data are safe.
The frequency of backups should depend on the importance and size of the data, as well as how often they are accessed. That's why, to tend to these issues, small businesses or computer users on all scales employ data backup software.
These tools/utilities allow users to create viable backups without hassle. That's why they are an important essential for any small business today. It can secure their data and give them peace about their important documents, files, etc.
So, let's keep digging to find out which tools are the best in 2022.
You may be interested:
Features to Consider while Choosing Backup Software for Small Business
When looking for backup software, make sure you don't pick the first one you see. That's usually a bad deal in any scenario, not only in backup software. Instead, you should explore the options and pick the best one.
However, some ways can help you make it easier to pick the better choice. While you're going to get five of the best backup software in this list, it's still important to know what you're looking for. So, always look for tools that have features such as:
The price that's suitable for your need. Remember, tools come at different prices, and you should consider the price-to-performance ratio the most as a business.
Compatibility is the second thing you need to look for. For instance, many outdated backup tools don't work well on Windows 10 or 11 PCs. So, make sure the software you pick is compatible.
Some backup tools are only good for backing up a few gigabytes at a time. For a personal user, they are ideal, but for a business, they are far from it. That's why you need to pick a tool that offers adequate storage—preferably Cloud storage.
Lastly, it's important to pick a tool that's easy to use and doesn't cause any hassle in the backup. So, pick the one that's easiest and simplest in terms of usage.
You need to look for these common things when picking backup software. So, consider these features before you make your final decision.
Featured 5 Best Backup Software for Small Business
Now that the intricacies are out of the way, all that's left is to talk about the software that you need in today's world. So, these are the five best backup software that we've picked for you:
1. EaseUS Todo Backup Enterprise
EaseUS Todo Backup for Enterprise is one of the leading and perhaps the most efficient software that any small business could ask for. Providing an array of intriguing options, this tool is just the right blend of functions and features that allow swift backup.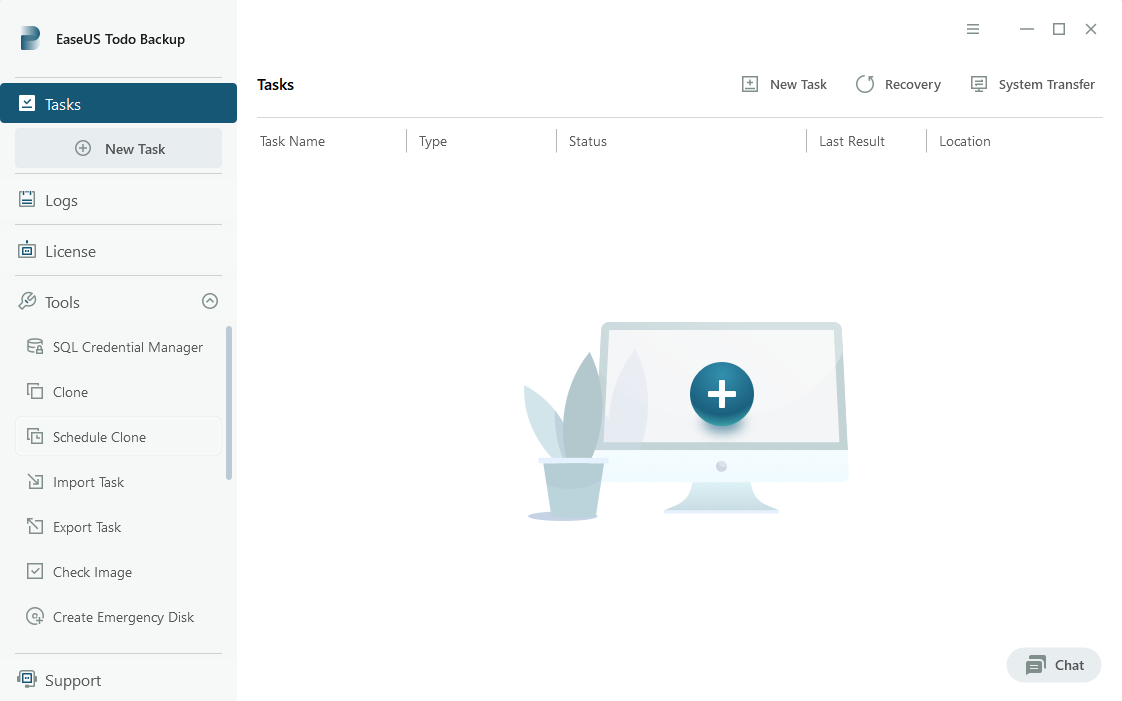 It supports all sorts of Windows, from 7 until 11. And it offers a 30-day money-back guarantee. So, if you end up not liking it, you can get your money back. However, it's highly unlikely as this backup software has an excellent rating on Trustpilot—making it the best option for small businesses today.
Price Plans:
Workstation – $49 per year
Server – $199 per year
Advanced Server – $299 per year
Pros
Supports backup SQL databases and exchange emails
Creates a centralized backup point
Very affordable in terms of features and price
Automatic cloning of your work hard drive, systems, files, emails
Offers a free trial
Cons
You need to use the email account to sign in
2. Acronis Cyber Backup
Acronis Cyber Protect or Backup is another intriguing option for small businesses. Offering a unique dashboard, this tool is ideal for all sorts of data protection for smaller businesses and corporations. While this tool offers a complete cyber protection suite, the backup and recovery section should intrigue you.
This tool will safeguard all your important data by allowing you to create file and disk-image backups. From there, it's your choice to place it on external devices, NAS servers, or cloud storage. Making it one of the best options available today.
Price Plans:
Essentials – $65
Standard – $85
Advanced – $129
Backup Advanced – $109
Pros
Supports up to 20 platforms
Very quick in recovery
Effective ransomware protection
Malware blockage
Cons
Difficult to configure
Backup isn't the leading utility
Cloud dashboard can act up sometimes
3. Altaro VM Backup
Altaro VM backup is made for VMware-based machinery and allows thorough backup and control of recovery. Besides that, it's a replication software for Hyper-V computers that provide a very simple design and dashboard to help create your backups.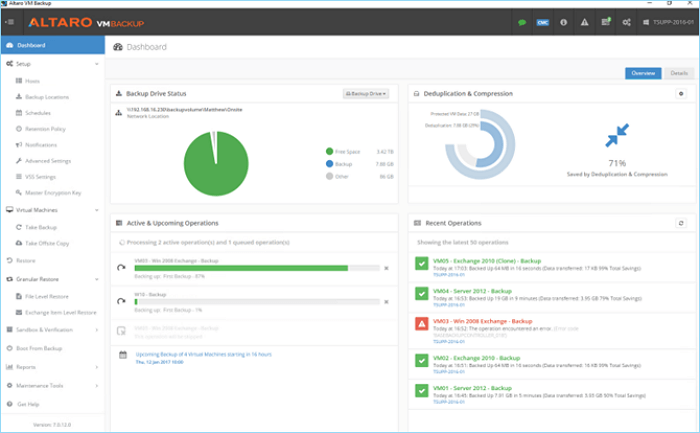 The tool offers easy backup options, and Boot VM integration allows you to boot from any device if the primary data drive fails. This ensures that your small business continues operating even in hardware failure.
Price Plans:
Free version
Standard – $595 per host
Unlimited – $695 per host
Unlimited Plus – $875 per host (Unlimited VMs per host)
Pros
High-quality VM control
An ideal dashboard to control everything
Boot from backup
Cons
Very difficult to use for a beginner
A bit on the expensive side
4. Macrium Reflect 8 Workstation
Macrium Reflect Workstation is another intriguing and outstanding option for Small Businesses. While some might consider this tool a bit of an overkill, it's ideal for those who prefer higher security over prices or ease of usage.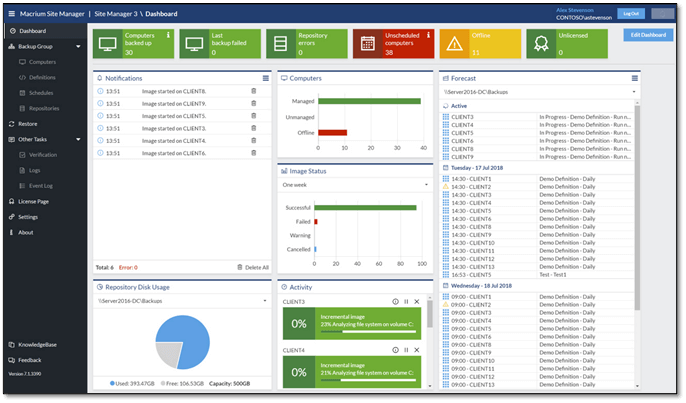 It offers the user to create incremental and differential backups. Moreover, it allows virtual booting through images in case of operating system corruption or hardware issues. Making it yet another alluring option for businesses.
Price Plans:
Workstation – $75 per year
Server – $299 per year
Server Plus – $599 per year
Pros
Very strong data security
Rapid boot recovery
Creates physical and virtual partitions for backup
Cons
Extremely difficult to use
Lack of cloud storage
5. Carbonite Backup for Small Businesses
Carbonite is one of the leading names in backup business, and its tool for small businesses stands out as a viable option. It's one of the easiest and most convenient recovery tools for users, offering unique and affordable plans.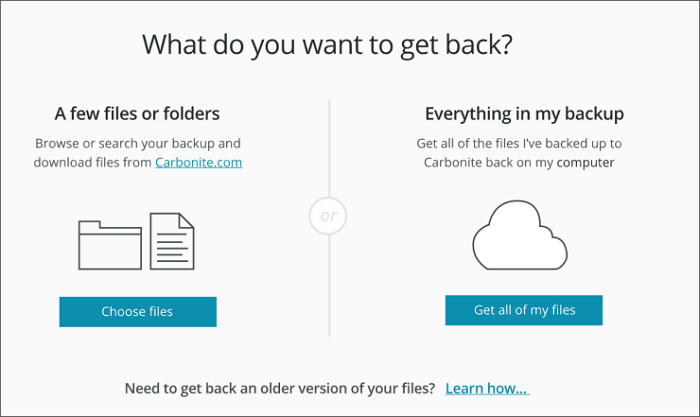 It offers protection for all devices within a small enterprise, such as laptops, desktops, servers, and even external storage. Making it another convenient and reliable option for small businesses around the globe.
Price Plans:
One-Three Computers – $6 per month
Over 25 Computers – $24 per month
Computers and Servers – $50 per month
Pros
Simple to use
Easy to create backups
Offers backup for up to 25 PCs at a time
Ransomware protection
Cons
The dashboard is not very thorough
The recovery process can be simplified a bit further
The Bottom Line
These are some of the most dependable and viable backup software for small businesses today. Remember the criteria mentioned in this article earlier and pick the option you like the best.
So, keeping that in mind, EaseUS Todo Backup Enterprise hits that sweet spot and stands out as the most reliable, affordable, and best option for small businesses today.
FAQ on Small Business Backup Software
This section will address your further questions and queries.
1. What is the best backup solution for a small business?
According to the standard we talked about; EaseUS Todo Backup Enterprise is the best option a small business can use today.
2. What is the 3-2-1 backup rule?
The 3-2-1 data backup rule means that you have one working copy of your data and 2 backup copies. That way, you will be able to recover data from one of the three options in case of a data loss.

Updated by Larissa
Larissa has rich experience in writing technical articles. After joining EaseUS, she frantically learned about data recovery, disk partitioning, data backup, and other related knowledge. Now she is able to master the relevant content proficiently and write effective step-by-step guides on computer issues.
Taking everything into consideration, we can say that EaseUS Todo Backup Home can offer you a little extra sense of security with a set of advanced tools. The interface provides quick adaptation, every process guiding you all the way through so you don't get stuck or further damage your system rather than keeping it safe.

 Read More

EaseUS Todo Backup Free lets you create backups of your important files or your entire computer through its streamlined interface. Just choose the backup type you'd like to get started, and let the program do the reset.

 Read More

EaseUS includes all the features I expect from backup software like versioning, incremental backups, and scheduling. For more advanced users, EaseUS allows you to install a pre-boot environment onto your hard drive so you can use it to restore files without burning a CD or putting it on an external USB drive.

 Read More

EaseUS Todo Backup
Smart backup tool for your files and entire computer in Windows 10/8/7.
Install Windows on Multiple Computers at Once? No Problem!
Learn how to install Windows 11/10/7 and special programs/software on a batch of computers. Use 10 minutes to do the 10 hours work without making a single mistake!
Get Free Solution!