Summary
If you get stuck while using the deep scan in Recuva, don't worry. Three methods to fix Recuva deep scan stuck are provided. The 100% working way is to try the alternative data recovery software of Recuva, which will help to recover whatever you've lost with simple clicks. Free download it and get your lost data back right now.
Issue: Recuva Deep Scan Stuck
Some Recuva users are saying that running Recuva deep scan on a hard disk, USB flash drive or a memory card sometimes gets stuck or frozen. It does not complete when goes to 0%, 16%, 25% or even 100%. According to a user of Recuva from forum.piriform.com:
"I am running Recuva deep scan on an external hard drive of about 600GB. After running for an hour or so, it finds tens of thousands of files but still says that the scan is 0% complete and that it won't be finished until 8 days from now...How long does Recuva deep scan take? I am thinking that the Recuva deep scan is stuck."
Recuva, as one of the best data recovery software for Windows, is the choice of many users who have suffered data loss on their storage devices like hard drives, USB flash drives, SD cards, digital cameras, and more. Like any other existing program, Recuva is also at the risk of being stuck or frozen while running, especially when performing a deep scan.
What Is Recuva Deep Scan
A deep scan, sometimes called full scan, is a feature on almost all data recovery software, not existing exclusively on Recuva. Another feature that generally appears together with the deep scan is called "quick scan". For a better understanding of the concept, I will explain both.
A quick scan is the simplest way to search for files on the selected drive because it only looks for deleted files only by searching for entries that are marked as deleted.
A deep scan contains the quick scan phase and the process of searching for lost files in the unallocated cluster by their headers and footer. Simply speaking, a deep scan can find more files, including existing files, RAW files (files without specific name or path), and more.
Given that, if users fail to find their wanted files after a quick scan, they will switch to a deep scan instead.
How Long Does Recuva Deep Scan Take
There is no specific answer to the question "How long does Recuva deep scan take?" Why? The time a deep scan will take varies according to the size of the select partition/disk, the amount of the files stored, and the hard drive condition. Therefore, it's actually common for a deep scan to take hours on a large disk, and, in some extreme cases, it may take days for the data recovery software to complete the scanning.
Why Is Recuva Deep Scan Stuck
If you are scanning a large disk with lots of files, you can consider waiting for a longer time since hours of scanning is normal in such a case. To check whether Recuva is running properly, go to Task Manager and check the values of "CPU", "Memory", and "Disk". If these values are changing, Recuva is working, not stuck.
While if Recuva deep scan takes an unusually long time, still stuck at stage 1 after hours, or you are sure it's stuck, it may suggest that the software is stuck due to overload or there are some issues with the disk or partition, e.g. bad sectors.
How to Fix Recuva Deep Scan Stuck
Based on the possible causes, there are three solutions for you to fix the Recuva deep scan stuck issue.
Method 1. Force Quit Recuva and Reconnect the Hard Drive
Refreshing the software is the easiest way to fix the stuck issue.
Step 1. Right-click any space on the taskbar and choose "Task Manager".
Step 2. Click "Recuva" > "End task".
Step 3. Reconnect the device you attempt to scan and make sure Windows can recognize the device. (If the hard drive is not recognized, fix the problem first.)
Step 4. Launch Piriform Recuva and reinitiate the deep scan.
Method 2. Fix the Disk Corruption and Restart Deep Scan
The bad sectors on a disk will inevitably slow down the deep scan. The more the bad sectors on the disk, the slower the deep scan will be. Thus, repair the bad sectors and then scan the disk will speed up the scanning process accordingly.
However, there are two types of bad sectors, logical bad sectors and physical bad sectors. The former can be repaired using utilities like chkdsk. The latter, unfortunately, can only be blocked using some third-party software.
Method 3. Choose Recuva Alternative
The last working solution is to apply the Recuva alternative, the hard drive recovery software - EaseUS Data Recovery Wizard. EaseUS data recovery software outranks its equivalents in scanning speed, recovery quality, and success rate. Here is the result of five popular data recovery tools scanning the same disk on the editor's computer.
| Product Name | Recover My Files | Recuva | Disk Drill | Stellar Data Recovery | EaseUS Data Recovery Wizard |
| --- | --- | --- | --- | --- | --- |
| Scanning Time | 1h | > 1h | > 1h | 37min | 27min |
| Files Found | 321,297 files | 111,213 files | 2,254 files | 414,170 files | 784,741 files |
| File Size | 13.80GB | no size shown | 1.92GB | 19.84GB | 38.53GB |
As you can see, EaseUS Data Recovery Wizard takes the least time to finish the deep scan and finds the most files. Isn't it a good alternative when Recuva deep scan is stuck or frozen?
When you select a drive to scan is EaseUS Data Recovery Wizard, it will start a quick scan first and then initiate the deep scan automatically. Unlike Recuva, you can recover files during the scanning process whenever you want with EaseUS software. Besides, you can stop the deep scanning anytime.
Three Steps to recover files:
Step 1. Select a location and start scanning.
Launch EaseUS Data Recovery Wizard, hover on the partition where you lost data, then click "Scan".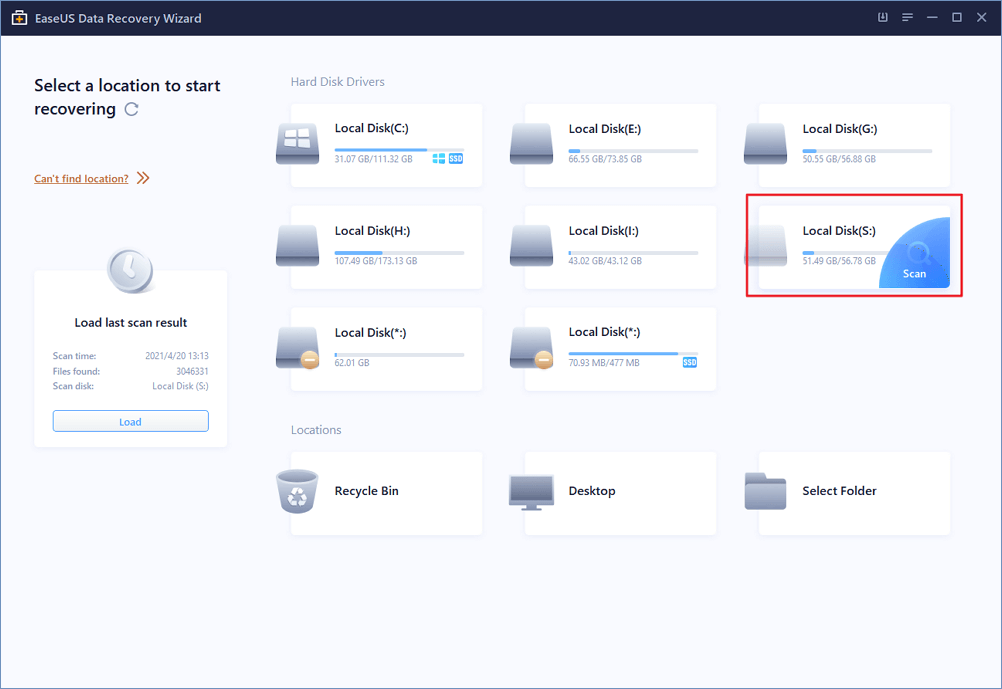 Step 2. Preview and select the files.
Wait until the scanning completes. If you need to double-click the item to preview the file, then select the data you attempt to recover.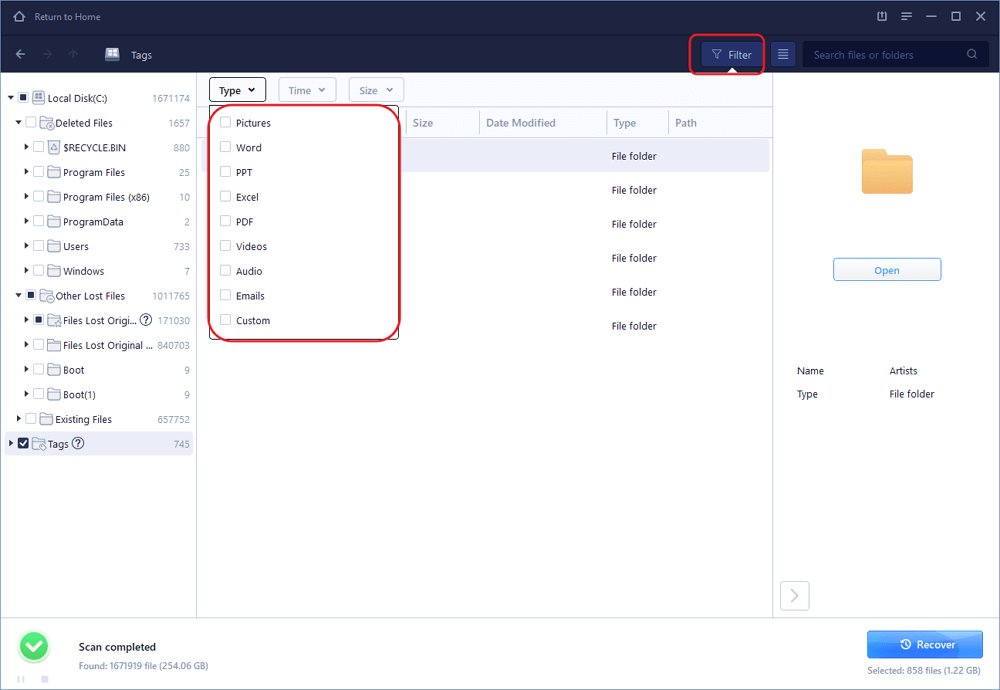 Step 3. Recover lost data.
Click "Recover", choose a location to save the recovered data, then click "OK". You should store the data in another place instead of the original one.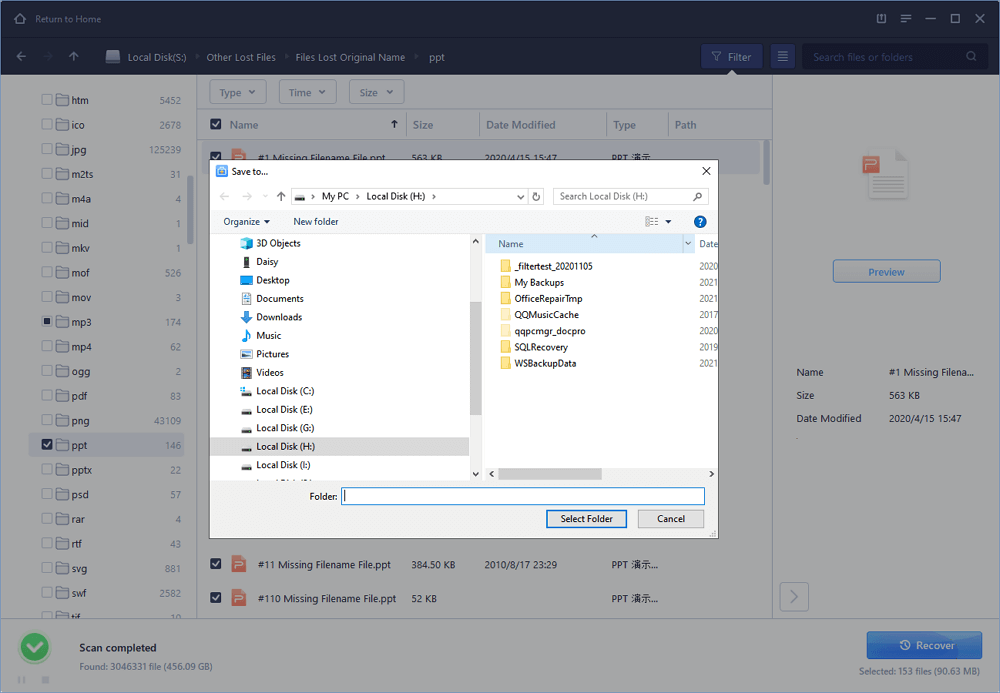 If EaseUS Data Recovery Wizard also is stuck during the deep scan, you can follow the related guide to fix the problem or contact our support team (support@easeus.com) for help.
The Bottom Line
When Recuva deep scan is stuck, you first need to figure out it's a real stuck or just a normal sign of scanning a large drive. If it is really frozen, you have three ways available to cope with the problem. When the first two methods fail or you find Recuva not working, don't hesitate to try the Recuva alternative and enjoy a new experience.
100% of people found this article helpful.
Frequently Asked Questions
1. Why choose EaseUS Data Recovery Wizard?

"EaseUS Data Recovery Wizard is the best we've seen. It's far from perfect, partly because today's advanced disk technology makes data-recovery more difficult than it was with the simpler technology of the past, but it's fast and efficient..." —PCMag

"The first thing you'll notice about EaseUS Data Recovery Wizard Pro is that its interface is very clear and uncluttered, with only a small collection of self-explanatory controls. You won't find lots of extra options hidden in a system of hidden menus, either; what you see really is what you get." —techradar

"Recover lost files, even after deleting a partition or formatting your drive." —Macworld
2. Why cannot I recover 2GB data for free?

It is recommended to check the version installed is Free or Trial because they are different versions.

Trial has data preview function but cannot save any files, while the Free version enables to recover 2 GB files. The default free space is 500 MB and you may share the product on social media to get another 1.5 GB.
3. Why cannot the recovered files be opened?

A file is saved as 2 parts on the storage device: directory info (which is comprised by file name, time stamp and size info, etc.) and data content.

If the files with original file names and folder structures cannot be opened, one possible reason is the corrupted directory info. There is still a chance to recover the data content with the RAW Recovery method in our software.
4. Why isn't it suggested to recover the files back to the original drive?

The storage structure of the lost files would be altered or damaged by any changes on the drive. If you save the recovered files back to the same drive, the original data structures and data content would be corrupted or overwritten, which causes permanent data loss. So you should prepare another disk to save the files.
5. How can I check whether my data is recoverable or not before purchase?

The Free version helps you save 2GB files to better verify the recovery quality of our product before purchase.
6. How long does it take to scan the drive?

It strongly depends on the capacity of your hard drive and the performance of your computer. As reference,most drive recoveries can be completed in around 10 to 12 hours for a 1-TB healthy hard drive in general conditions.
About Data Recovery Wizard
It's super easy to recover 250+ types of files after deletion, disk formatting and virus infection. Click the links and compare the difference of each version.