Summary
If your external hard drive is slow to open files or takes forever to load, Do not worry. We will show you how to fix the external hard drive slow to open files issue effectively. To ensure you can fix the error without data loss, it is a good choice for you to use the professional data recovery software, EaseUS Data Recovery Wizard, to recover all your files on the hard drive elsewhere in advance.
PAGE CONTENT:
Reasons: Why Is the External Hard Drive Slow to Open Files
Preparations: Recover Data from the External Hard Drive in Advance
Solutions: How to Fix External Hard Drive Slow to Open Files
Why Is External Hard Drive Slow to Open Files
"I've got an old hard drive that I've been using for three or four years. It used to work perfectly fine until a few months ago. Whenever I plugged the hard drive in and double-clicked the files to open some files, it ran really really slow to open files and took a long time to load. I am tired of seeing the loop. It is really a waste of my time to wait. Can anyone help me? Thanks."
Whether it is your external hard drive slow to open or taking forever to load, the causes are quite similar. Generally speaking, the reasons that make your external hard drive take a long time to load include virus infection, disk fragmentation, bad sectors on the disk, full space, or damaged disk. Luckily, each cause has its corresponding solution. But before you try the tips below to fix your external hard drive, you'd better ensure the data on it is 100% safe.
Before the Fix - Recover All Files from External Hard Drive
To make sure you can fix your external hard drive successfully without losing any data, you are highly recommended to recover all the files from your external hard drive to somewhere else, for example, the local hard drive on your computer. When your external hard drive seems like taking forever to load, the drive is still accessible, which means you can use hard drive recovery software - EaseUS Data Recovery Wizard to scan and recover all the data on it to a safe place. By doing so, you can not only prevent data loss that may happen during the fixing process but also rescue your data when the hard drive fails and can't be fixed.
To keep all the files on your external hard drive safe:
Step 1. Choose the external hard drive
Since you're going to recover data from the external hard drive, run EaseUS Data Recovery Wizard and under the External Devices tab, choose the exact drive where you lost data. Click Scan.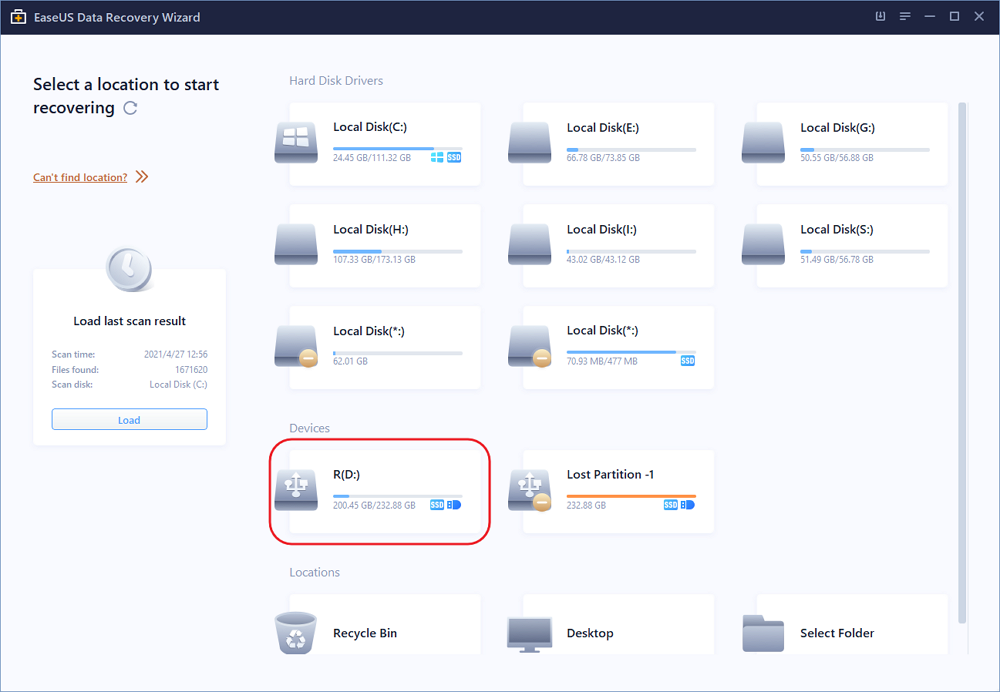 Step 2. Scan for lost data
The software will start immediately to scan all over the selected drive for all lost data. During the scan, you could see more and more data showing up in the results.
Step 3. Preview and recover data
After the scan is over, check the scan results for the desired data. You can preview the file by double-clicking on it. Click Recover and choose another location to save the recovered data.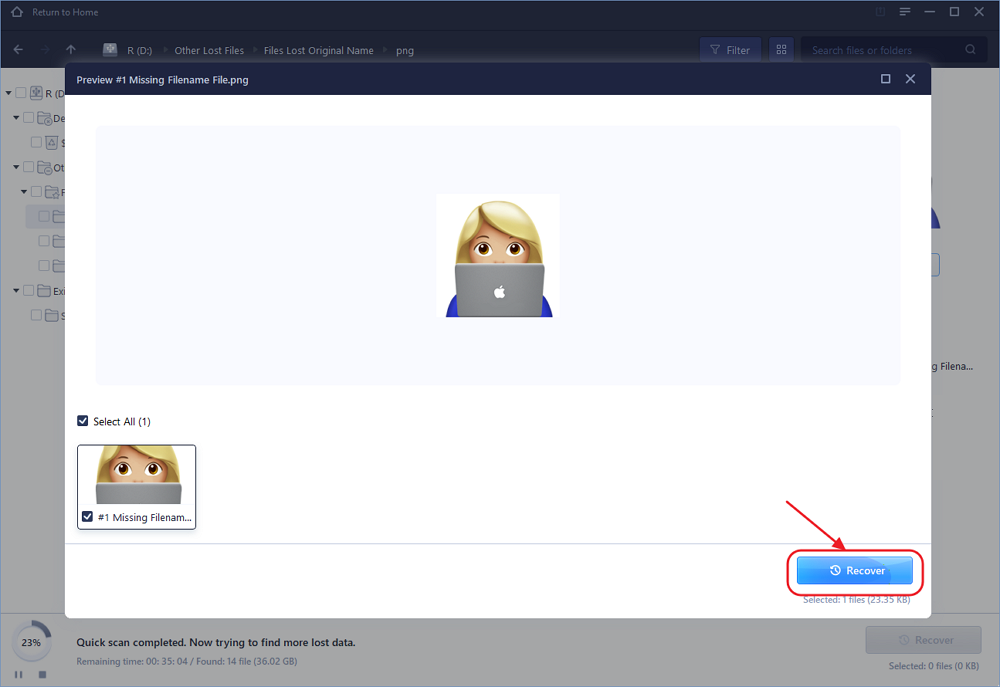 When you're faced with a slow external hard drive, let it be a Western Digital one or other brands such as SanDisk, Toshiba, Kingston or Samsung, the best way to access data on an external hard drive that can hardly open is using EaseUS Data Recovery Wizard. It's the most proficient hard drive recovery software that takes only three steps to help users find all the data they want and export them to another device.
How to Fix External Hard Drive Slow to Open Files
It is certainly tiresome when you are faced with this kind of situation, especially when you don't want to waste your time. How to handle this situation? Read the solutions below to deal with it.
Solution 1. Scan the External Hard Drive and Check for Virus
If your external hard drive takes a long time to open files, the first thing you need to do is to check whether there is a virus on it.
You can ask for help from the built-in Windows Defender or some reputable third-party antivirus software (i.e. McAfee, Symantec, Kaspersky, Avast...) to scan hard drive viruses, or simply try to remove virus without using antivirus software, instead, using cmd.
Run the Windows Command Prompt with the Admin privilege.
Type the command: attrib g:*.* /d /s -h -r -s and hit Enter. (Replace the drive letter g with your own external hard drive's drive letter.)
Manual input of the command line is suitable for computer professionals since wrong commands can cause more severe problems. Therefore, for security and usability, we strongly recommend you try an automatic command line alternative. EaseUS Tools M is a practical tool that enables you to check and fix files system error, enable/disable write protection and system update with one-click instead of typing intricate command lines.
Follow the simple steps below to show hidden files with this 1-click-fix software.
Step 1.  DOWNLOAD EaseUS Tools M for Free.
Step 2. Start EaseUS Tools M, choose "File Fixing" on the left pane. Next, choose the target drive and keep the "Show hidden files." selected. Then, click the "Fix" button to start the progress.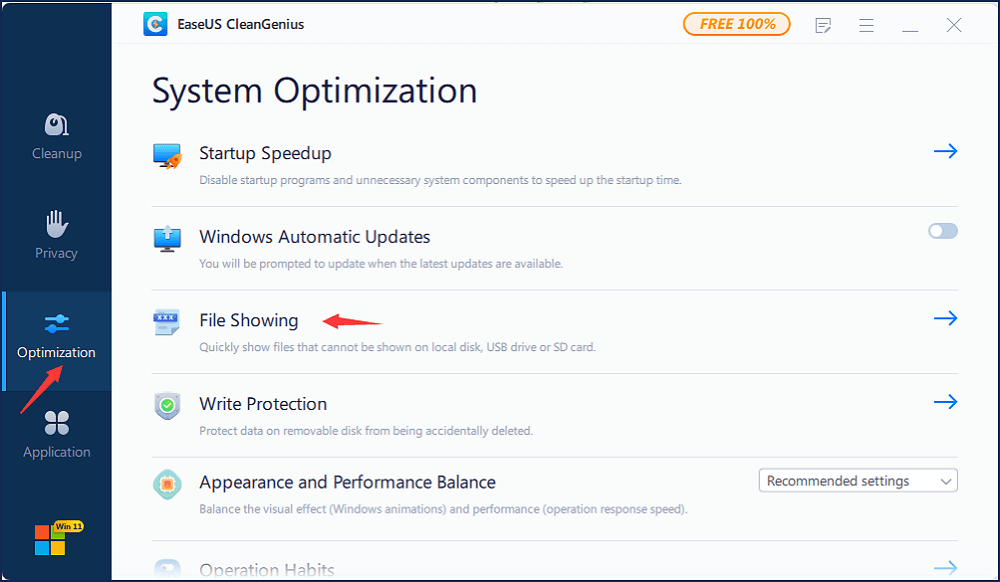 Step 3. After the operation completes, click the View button to check the hidden files.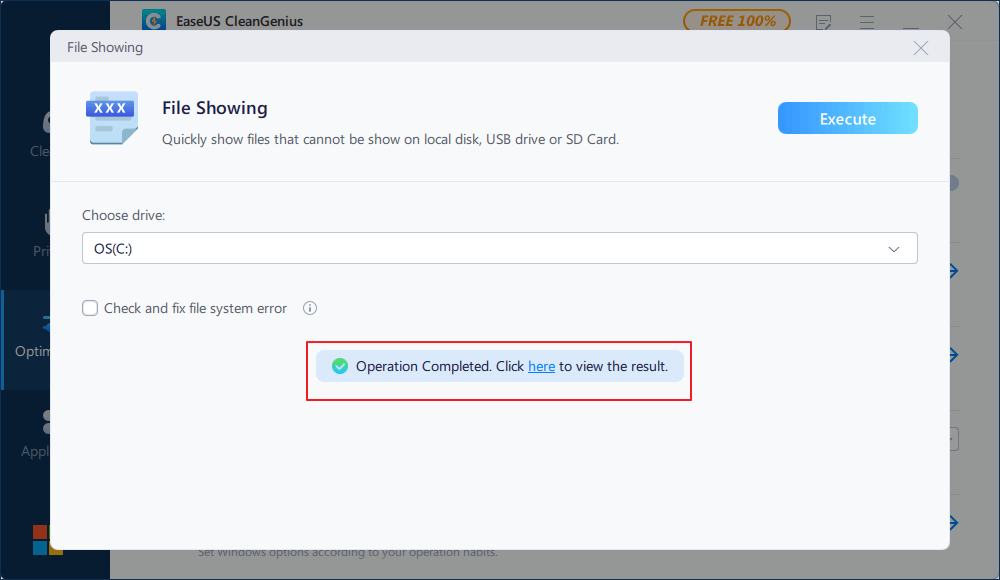 Solution 2. Perform Disk Defragmentation
Defragmenting your disk is helpful to optimize the disk by consolidating fragmented files on the user's hard drive and further improve the performance of your external hard drive. You can defragment your hard drive either with the inbuilt tool in Windows or with convenient third-party software. To check to details, refer to the article about how to defragment a hard drive in Windows 10.
Solution 3. Repair Bad Sectors
Bad sectors are the sectors that are defective and can't be read. It may be caused by physical damage that can't be repaired or software errors that can be fixed. When there are bad sectors on your external hard drive, it's no doubt that it will influence your hard drive performance. When your hard drive is slow to open files, you can first check whether there are bad sectors on your devices and then, if any, fix them. learn how to repair bad sectors in Windows 10/8/7 here.
Solution 4. Free Up Disk Space
If your storage device is almost full, that may be the main reason why your external hard drive is slow to open files. If that's the case, you can use free backup software to back up all the files on it, which will compress the backup, and then remove the biggest disk occupier from your hard drive.
Solution 5. Check for Physical Damage
When your external hard drive takes a long time to open files, it's likely that your external hard drive is damaged. You can check it through observing the LED light, the sound it emits, and more. If the culprit is a damaged hard drive, you'd better first rescue the data and then get a new hard drive.
Other Solutions: Extra Tips to Fix "External Hard Drive Slow to Open Files"
Of course, there are other reasons that may lead to a slow external hard drive. Thus, if the tips below don't work, you can try the extra tips below to take a chance.
Change the SATA cable.
Change the USB 2.0 port to USB 3.0 port.
Send the external hard drive to the hard drive repair center or simply replace the slow hard drive with a new one.
100% of people found this article helpful.
Frequently Asked Questions
1. Why choose EaseUS Data Recovery Wizard?

"EaseUS Data Recovery Wizard is the best we've seen. It's far from perfect, partly because today's advanced disk technology makes data-recovery more difficult than it was with the simpler technology of the past, but it's fast and efficient..." —PCMag

"The first thing you'll notice about EaseUS Data Recovery Wizard Pro is that its interface is very clear and uncluttered, with only a small collection of self-explanatory controls. You won't find lots of extra options hidden in a system of hidden menus, either; what you see really is what you get." —techradar

"Recover lost files, even after deleting a partition or formatting your drive." —Macworld
2. Why cannot I recover 2GB data for free?

It is recommended to check the version installed is Free or Trial because they are different versions.

Trial has data preview function but cannot save any files, while the Free version enables to recover 2 GB files. The default free space is 500 MB and you may share the product on social media to get another 1.5 GB.
3. Why cannot the recovered files be opened?

A file is saved as 2 parts on the storage device: directory info (which is comprised by file name, time stamp and size info, etc.) and data content.

If the files with original file names and folder structures cannot be opened, one possible reason is the corrupted directory info. There is still a chance to recover the data content with the RAW Recovery method in our software.
4. Why isn't it suggested to recover the files back to the original drive?

The storage structure of the lost files would be altered or damaged by any changes on the drive. If you save the recovered files back to the same drive, the original data structures and data content would be corrupted or overwritten, which causes permanent data loss. So you should prepare another disk to save the files.
5. How can I check whether my data is recoverable or not before purchase?

The Free version helps you save 2GB files to better verify the recovery quality of our product before purchase.
6. How long does it take to scan the drive?

It strongly depends on the capacity of your hard drive and the performance of your computer. As reference,most drive recoveries can be completed in around 10 to 12 hours for a 1-TB healthy hard drive in general conditions.
Related Articles
Daisy / 2016-08-03
About Data Recovery Wizard
It's super easy to recover 250+ types of files after deletion, disk formatting and virus infection. Click the links and compare the difference of each version.