Windows 10 error: disk partitions not showing up in disk management
"I have a 3 TB hard drive and partitioned it into two parts, which were E: and F: on Windows 7 computer. The two partitions are created for keeping personal data, files, and some entertaining programs. Very strangely, after the automatic upgrade from Windows 7 to Windows 10, partition F: just disappeared showing as "unallocated", and the contents inside become inaccessible. How did this error occur? I tried to resume the drive letter in Windows disk management, but it failed as almost all the options are grayed out. I desperately want partition F: back, so is there any other way to fix disk partition not recognized by Windows 10? "
"Disk partition not recognized by Windows 10" is actually a controversial issue which needs more research to be done. Some doubt that Windows 10 upgrade made it, during which Windows 10 wiped the partition and removed the drive letter; while some suggest using DISKPART command to solve the problem.
The lost partition stores perhaps their favorites like music library, high-definition movies, games, or even very important files like family photos, business information, contracts and so on. But for average users who are with limited technological knowledge, it seems impossible to get the lost partition back if without a powerful and useful Windows 10 partition management tool.
Windows 10 upgrade may delete a partition, which we can hardly resist. So the lost partition on the unallocated space has forever gone? Not exactly. In this case, we introduce people the most viable way to recover lost or deleted the partition with EaseUS free partition manager.
How to solve partition not recognized by Windows 10 with EaseUS Partition Master
EaseUS Partition Master Free is featured with Partition Recovery Wizard, which aims to help recover deleted or lost partitions due to hardware or software failure or Windows errors. The Windows 10 error which results in disk partition not recognized or showing up as "unallocated" can be completely fixed by the magic utility, and the whole partition with the drive letter is very likely to appear again.
1. Free download EaseUS Partition Master Free and install it on your Windows 10 machine. On the wizard-intuitive main window, click Wizard > Partition recovery wizard, and then you will see the following window.
2. Click "Next" to continue, there are two recovery modes: Automatic and Manual.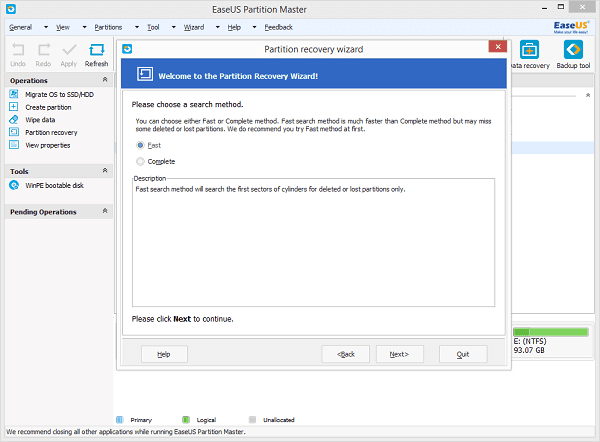 Automatic recovery mode is easy to use and requires minimal effort.
Manual recovery mode allows for full control of the recovery process.
Now follow the video guide below to learn how to fix the disk partition not recognized by Windows 10 and get the lost partition back to normal with automatic recovery mode.