
About the Author
Hot Topics in 2022
Change GPT Disk to MBR Disk Without Formatting
"I have a computer that is over 5 years old - essentially a stock Dell Studio XPS 8100 (desktop). And recently I tried to install Win 7 x64 on my SSD partition but failed because it's a GPT disk, and Win 7 can only install on an MBR disk. But I don't want to format the entire disk. Can I change the GPT disk to MBR disk without formatting it? I really don't want to take the risk of data loss."
Is Changing GPT to MBR without Formatting Possible?
Usually, there are three steps for you to change a GPT disk to an MBR one. First, you should format the hard disk to delete all the partitions. Second, convert the disk from GPT to MBR. Finally, create new partitions and reformat the hard disk. But during the process, you may lose your hard drive data. Obviously, it is no the best way to do the converting task. At this moment, many users may ask how can I convert GPT to MBR without data loss? Is there any way that allows changing a GPT disk to an MBR disk without formatting it? Actually, in the past, it is impossible to do it. Because there is no tool that is capable of converting a disk with partitions from GPT to MBR. But now it is not the case.
Change GPT to MBR without Format with EaseUS Partition Master
EaseUS Partition Master can help you easily change a GPT disk to an MBR disk. It is a professional partition management tool that enables users to resize/move/create partitions, convert GPT to MBR and vice versa without data loss.
With this tool, you don't need to format the hard drive during the converting process, which means you won't lose any files and folders. Get the 100% secure tool installed on your computer and follow the steps to convert GPT to MBR with EaseUS Partition Master.
Click "Disk Converter" on the left menu. Select "Convert GPT to MBR" and click "Next" to continue.
Select the GPT disk that you want to convert and click "Convert".
Wait for the process completes.
Change GPT to MBR with Disk Management
If you have already make a full backup of all the data in your hard drives, you can have a try on another way to change from GPT to MBR. On Windows 11/10/8/7 computers, the Disk Management enables users to manage the computer partitions and change the partition type manually. Once again, this method involves data erase, if you want to apply this method, please remember to make a backup.
Step 1. Right-click "This PC" and choose "Manage" to open Computer Management.
Step 2. Choose Disk Management.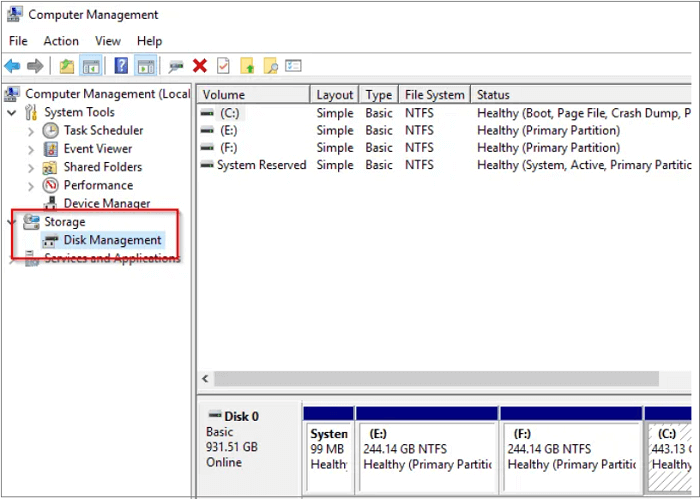 Step 3. To convert GPT to MBR, you need to first delete every volume. Right-click one volume and choose "Delete Volume". Repeat the operation to delete all volumes.
Step 4. Right-click the deleted volume and choose "Convert to MBR Disk".
Now your GPT disk is converted to the MBR disk. You need to create new partitions in the MBR disk before storing files and folders. 
The Bottom Line
EaseUS Partition Master is a reliable partition management software tool that is trustworthy, powerful, fast, safe, and easy-to-use. As you can see from the steps above, you can successfully change a hard disk from GPT to MBR with this program with simple clicks. All the process will take less than five minutes. You can also convert from an MBR to a GPT with EaseUS Partition Master. Don't hesitate to give it a try.
FAQs About Convert GPT to MBR
If you still have questions on converting GPT to MBR, follow the listed questions and find desired answers below:
1. How to change GPT to MBR without losing data?
Launch EaseUS Partition Master, click "Disk Conversion", select "Convert to MBR".
Select the target disk you tent to convert and select "Convert".
Wait for the process to finish and you won't lose any data.
2. How to convert GPT to MBR without operating system?
Open Diskpart and type the following command lines one by one and hit Enter each time:
list disk
select disk 1
clean
list disk
select disk 1
convert MBR
exit
For more detailed steps, you may follow this page for help: How to Convert GPT to MBR without Operating System. 
3. Why convert GPT to MBR?
The reasons of why converting GPT to MBR could be various and here is a list of possible reasons why people want to switch their disks from GPT to MBR:
The computer only supports Legacy BIOS boot mode.
The disk space is 2TB or even smaller.
The operating system is old or it's a 32Bit Windows OS.
About the Author
Updated by Tracy King 
Tracy joined in EaseUS in 2013 and has been working with EaseUS content team for over 9 years. Being enthusiastic in computing and technology, she writes tech how-to articles and share technical solutions about Windows & Mac data recovery, file/system backup and recovery, partition management, data transfer, Windows update issues, etc.
Daisy is the Senior editor of the writing team for EaseUS. She has been working in EaseUS for over ten years, starting from a technical writer to a team leader of the content group. As a professional author for over 10 years, she writes a lot to help people overcome their tech troubles.
Product Reviews
I love that the changes you make with EaseUS Partition Master Free aren't immediately applied to the disks. It makes it way easier to play out what will happen after you've made all the changes. I also think the overall look and feel of EaseUS Partition Master Free makes whatever you're doing with your computer's partitions easy.

 Read More

Partition Master Free can Resize, Move, Merge, Migrate, and Copy disks or partitions; convert to local, change label, defragment, check and explore partition; and much more. A premium upgrade adds free tech support and the ability to resize dynamic volumes.

 Read More

It won't hot image your drives or align them, but since it's coupled with a partition manager, it allows you do perform many tasks at once, instead of just cloning drives. You can move partitions around, resize them, defragment, and more, along with the other tools you'd expect from a cloning tool.

 Read More