PAGE CONTENT:
Unlock SD card/USB drive
Remove write protection from SD card or USB drive
Free Erase/Format the SD card or USB drive
"Why did I receive 'The disk is write-protected' notice when I tried to move data into my memory SD card? What happened?"
"My USB drive resists to storing new data by prompting me to write protection warming. And I cannot even format it. What can I do?"
"I can access the memory card and even read data on it. And I even can delete data on it. But when I reconnect it with my computer, deleted data appear again. It's said that I have to unlock the card and format/erase the memory card. Please help."
When your SD card, pen drive or USB drive etc become inaccessible with write protection, you'll not be able to use it to store new data or transfer data normally. Basic functions such as to install new data, delete data or move data from one drive to a new one will all being shut down by then. How to fix such a problem? The direct solution is to remove the write protection on SD card or USB drive etc storage devices. Read the following recommended solutions, you'll know how to directly unlock storage devices and then free erase/format SD card or USB drive.
1. Unlock SD card/USB drive
The very first thing that you need do is to check whether the SD card or USB drive is locked.
Go and check whether the SD card or USB drive have switches, if the switch is locked, please unlock it.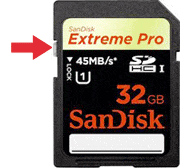 2. Remove write protection from SD card or USB drive
Here we'll offer you two options to remove or break write protection from SD card or USB drive:
Option 1:
If you are not professional in computing management and not familiar with command lines, don't worry. EaseUS R&D team has promoted a fresh kit for helping you resolve the write-protection issue on your hard drive, external hard drive, USB or SD card, etc., devices.
EaseUS Tools M is a practical computer fixing tool that is safe and light-weighted. It's a perfect alternative to the command line.
Use this one-click tool to solve the write-protection issues on your own:
Step 1:  DOWDLOAD and install EaseUS Tools M for free.
Step 2: Run EaseUS Tools M on your PC, choose "Write Protection" mode.
Step 3: Select the device which is now "Write-Protected" and click "Disable" to remove the protection.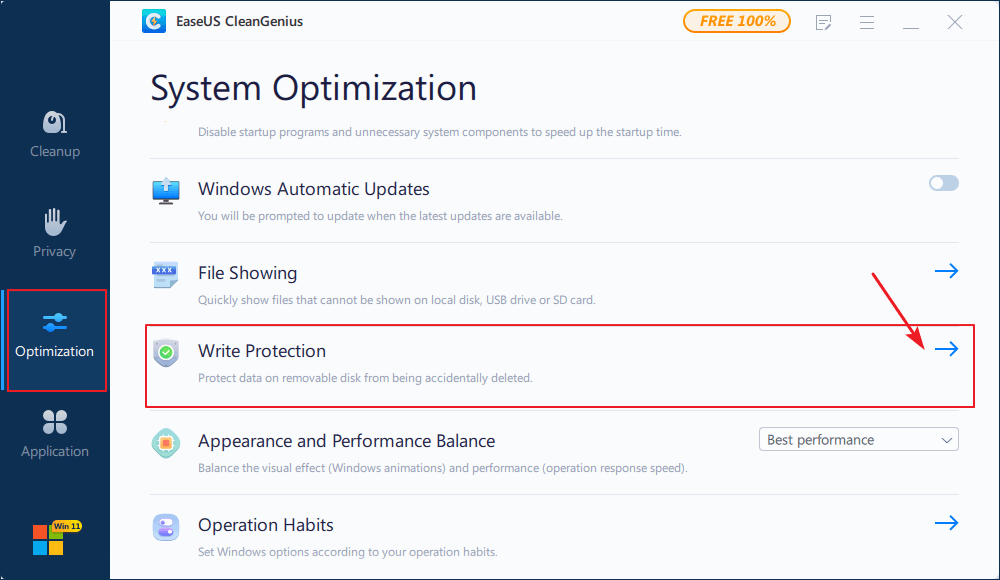 Option 2:
Go to My Computer, click Devices with Removable Storage > right click SD card or USB drive and choose Properties > choose to Remove write-protection.
Option 3:
Connect SD card or USB drive with PC, click Start.
Type regedit in the search bar and click it.
Select "HKEY_LOCAL_MACHINE" and click "System".
Find "Current Control Set" and click "Control"
Check whether there is a key named "Storage Device Policies" to change the digit in the "DWORD value" box into "0" and press "OK" to save the change.
Note: if you cannot find the key named "Storage Device Policies", you are supposed to create a one: right click "Control" to create a new key and name it as "Storage Device Policies" > right click this new key to open "DWORD Value" and name it as "write protect" > Double click it to change number.
 Notice:

If you are unable to remove the write protection on your SD card or memory card, you cannot format the SD card. EaseUS's free format tool is unable to format a write-protected device directly.
3. Free Erase/Format the SD card or USB drive
After removing the write protection, you will be able to access the SD card or USB drive. And you can even move data on it. Then you are highly recommended to move all the data on it first and format it.
But if you still cannot access SD card or USB drive, or you need a more direct solution, you can use EaseUS Partition Master Free to thoroughly format it.
Step 1:

Select the USB drive to format.

Connect the USB drive or pen drive to your computer. Download and launch EaseUS partition software. Right-click the USB drive you intend to format and choose "Format".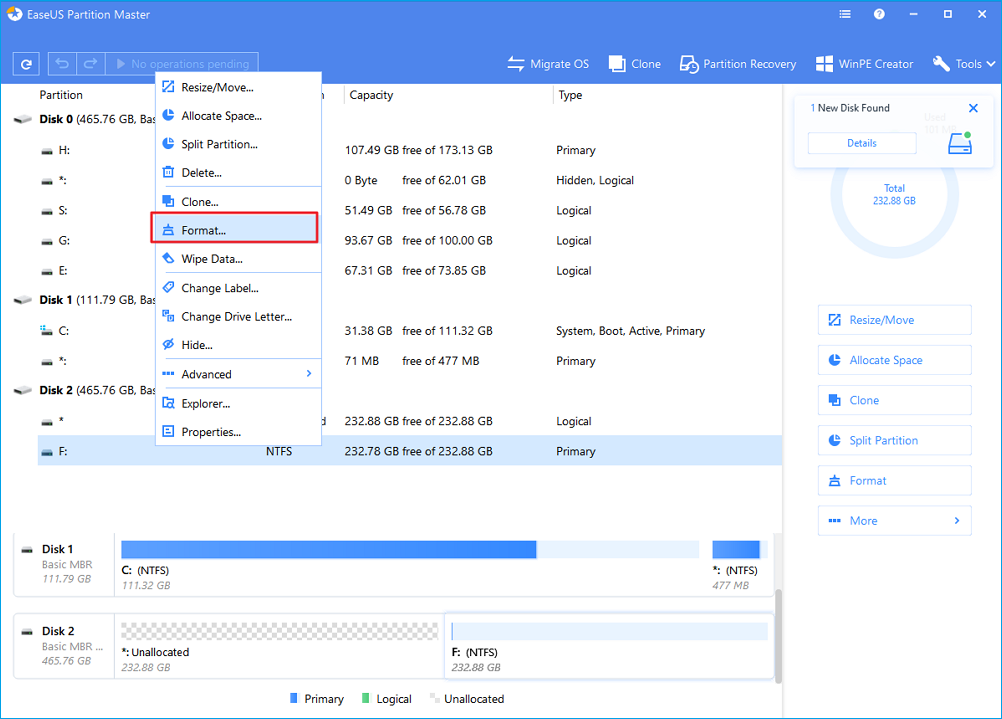 Step 2:

Set the drive letter and file system.

Assign a new partition label, file system (NTFS/FAT32/EXT2/EXT3), and cluster size to the selected partition, then click "OK".
Step 3:

Check the warning box.

Click "OK" if you see the Warning window. If you have important data on it, back up the data in advance.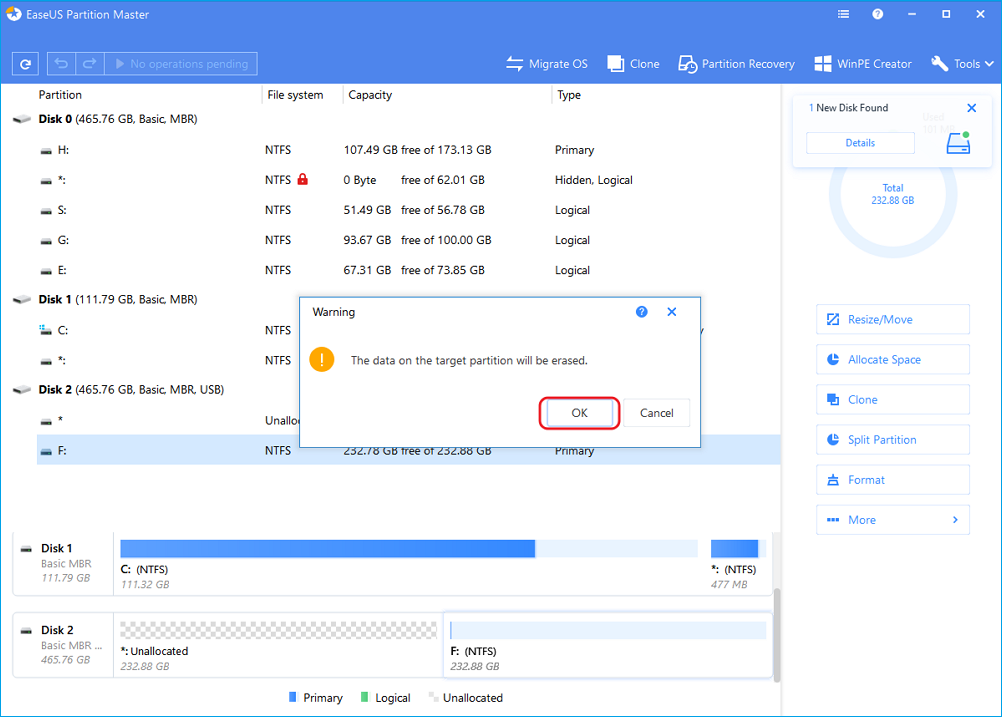 Step 4:

Apply the changes.

Click the "Execute operation" button first, and then click "Apply" to format the USB drive.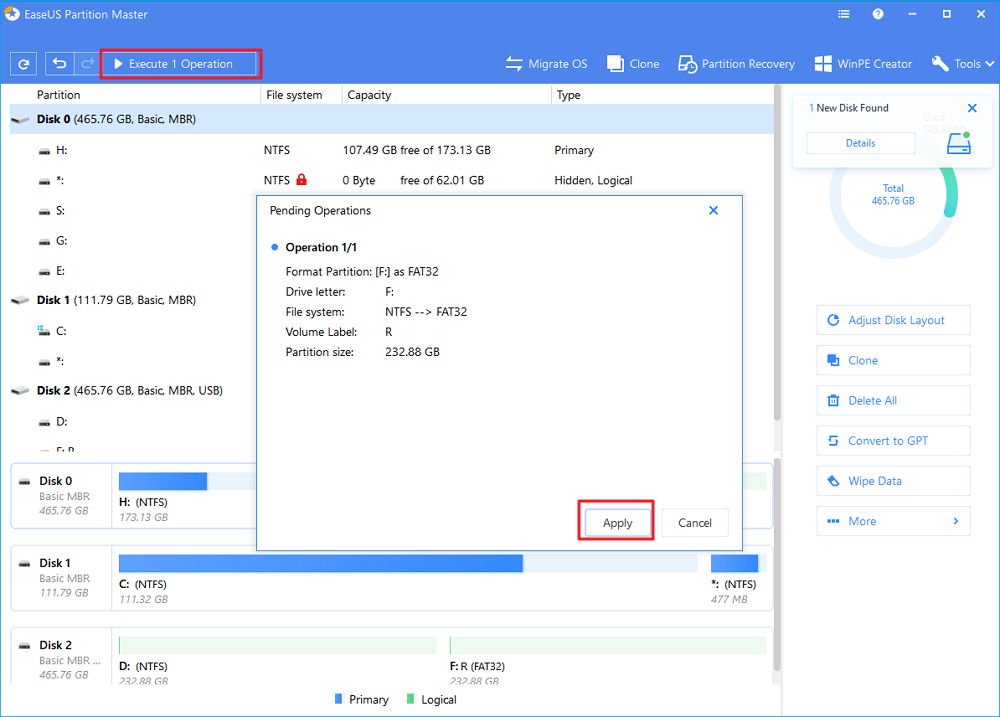 100% of people found this article helpful.
Frequently Asked Questions
Why Choose EaseUS Partition Master?

"I've used Partition Master Professional many times to create, delete, format, move, rename, and resize partitions." —PCWorld

"Partitioning tools have come a very long since the days of complicated command line utilities and EASEUS Partition Master is one of the most advanced programs available." —TECH ADVISOR

"I love that the changes you make with EaseUS Partition Master Free aren't immediately applied to the disks. It makes it way easier to play out what will happen after you've made all the changes." —Lifewire
Will the "Migrate OS" feature transfer the Windows system files only or the whole C drive?

To ensure that the migrated system will boot normally, the Migrate OS feature will transfer all the files in the system and the boot partitions. Generally, the boot partition is the C drive so the transfer will include all the files in C.
Does EaseUS Partition Master license apply to multiple computers?

The license of Partition Master Professional and Server editions can be used on 1 computer only, while that for for the Technician and Unlimited editions can be used on multiple machines.
What is the difference between EaseUS Partition Master Trial version and the Free version?

Free is for home users only, with most basic functions available such as partition resize and clone. While trial can help you understand how this product works and test what a full license can do on a business or server OS machine.
Will it cause any data loss after resizing the partition in EaseUS Partition Master?

Generally, it will not cause any data loss or boot issue by resizing a partition. However, in order to protect your data, we suggest that you backup the partition before resizing, in case of any unexpected situations such as power outages, computer hardware failures, etc. You can use EaseUS Todo Backup to backup the partition and its trial version is fully functioned for 30 days.
What should I prepare before resizing the partition?

On the partition that is going to be operated, there might be some files being occupied by other programs. To ensure a successful operation, we suggest that you close all the unnecessary software before resizing that partition. Otherwise, EaseUS Partition Master will detect the partition being locked by the other software and require a reboot to resize the partition under boot mode.
About EaseUS Partition Master
All-round disk & partition management software for personal and commercial use. Let it manage your storage drive: resize, format, delete, clone, convert, etc.