Compared with a basic disk, the dynamic disk has many advantages but two typical disadvantages.
1. If you convert a basic disk to dynamic, you cannot convert the dynamic disk back to basic without data loss by Windows built-in disk management, as you need to delete all dynamic volume first before converting.
2. In most conditions, the dynamic volume still cannot be extended, especially for System volume, Boot volume, Mirrored Volume. And many people would encounter this problem if they need to extend mirrored dynamic disk.
Here we will introduce you how to resize dynamic disk: use EaseUS partition management software to convert dynamic disk to basic or directly resize the mirrored volume.
Extending mirrored volume can only be available when there is unallocated space behind the mirrored volume. If there is no such available space for your choice, you can choose the second solution below to extend mirrored volume by converting dynamic disk to basic.
Solution 1: Extend Mirrored Volume by Converting Dynamic Disk to Basic
1. Right-click "My Computer" and choose "Manage" -> "Storage" -> "Disk Management".
2. Right-click the mirrored volumes and choose "Break Mirrored Volume" to break mirrored volumes or choose "Remove Mirror" to remove the mirror.
If the boot/system partition is in the mirrored volumes, you can only choose "Remove Mirror" to remove the mirror. Please backup your important data before this operation.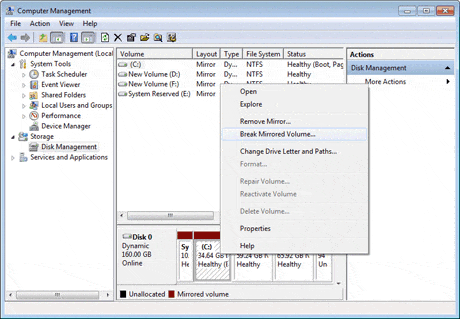 3. Choose right edition of EaseUS Partition Master and install it.
Step 1: Install and open EaseUS Partition Master on your Windows computer by clicking the download button.
Step 2: Select dynamic disk which you want to convert to basic. Right-click it and choose "Convert to Basic".
Step 3: Click "OK" on the pop-up window and you will add this conversion to the pending operations.
Step 4: Click the "Execute 1 Operation" button at the top-left corner and "Apply" to begin to convert dynamic to basic disk. After that, you can also use this partition manager to resize/move, clone, merge, format, and delete the partitions.
After EaseUS Partition Master applies these changes, you will see the dynamic disk has become basic disk in Windows Disk Management. And then you can use "Resize/Move partition" feature of EaseUS Partition Master to resize partitions on the basic disk.
Step 5: After the dynamic disk with the mirrored volume being converted to basic and the volumes are resized, you can convert it back to dynamic.
Solution 2: Directly Resize Mirrored Volume by EaseUS Partition Master
EaseUS Partition Master allows you to directly resize the mirrored volume as you wish. You are free to extend or shrink the mirrored volumes.
Step 1: Locate the volume
Step 2: Resize the volume
On the new pop-out window, use your mouse to drag one of its ends into unallocated space. Click "OK".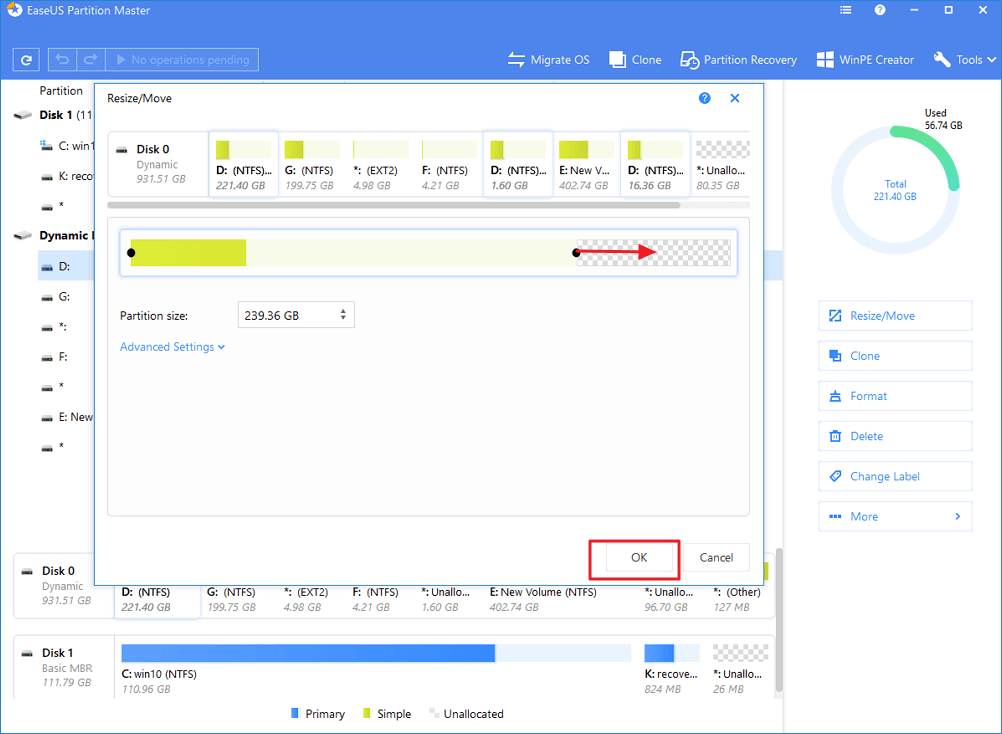 Step 3: Apply changes
The selected volume has been decreased. To save the changes, click "Execute Operation" and then "Apply".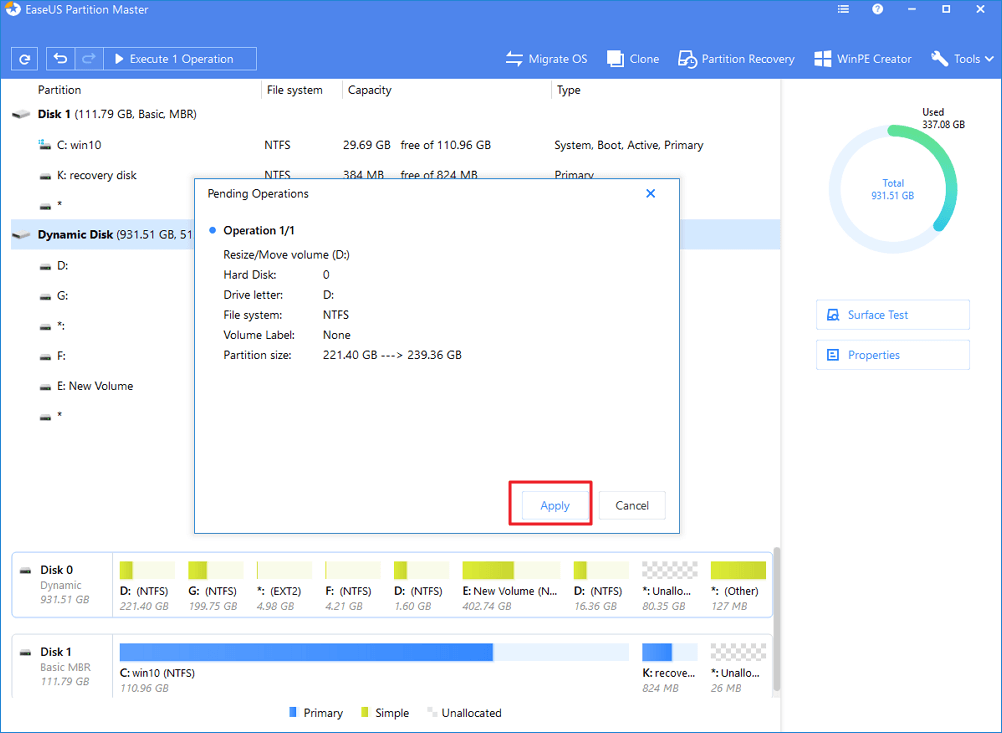 To extend a volume, for example, you need to follow the three steps to decrease a volume for unallocated space first. Next, use the same "Resize/Move" feature to drag your mouse to merge the unallocated space into the volume you wish to enlarge.