
About the Author
Hot Topics in 2022
How to dual boot Windows 11/10 with Windows 8 or 7?
Most computers ship with a single operating system, but it's possible to have multiple operating systems installed on a single device. Having two operating systems installed and choosing between them at boot time. This process is known as "dual-booting." If you like to try Windows 11/10 but don't want to give up current Windows 8 or 7, you can install two operating systems on your computer. And this page will tell you how.
Keep reading and check more on how to dual boot Windows 11/10 with Windows 8 or 7.
PAGE CONTENT:
How to Dual Boot Windows on the Computer
When dual booting a computer, it would be better to install the different systems in two separate partitions. If you don't have an external hard drive, you can create a partition on your computer for Windows installation. Here we will introduce how to create a partition on the hard disk first, then show you how to install Windows 11/10 on the newly created partition.
Part 1. Create a Partition for Windows 11/10 installation
The easiest and safest way to dual boot is to buy and install a new hard drive for the new operating system on a computer. But if you have a large enough hard disk, you can also repartition the hard disk to make space for the new Windows installation. 
To make it easy, we recommend you to choose the free EaseUS Partition Master to repartition your Windows 8 or 7 hard disk.
EaseUS Partition Master is a professional partition management tool that enables users to create, resize, clone, move, merge, and format partitions. This tool is trusted by over 10 million users for more than 17 years and works well on Windows 11/10/8/7/Vista/XP.
Now download EaseUS Partition Master for free and follow the guide below to create a dual boot partition.
Step 1. Launch EaseUS Partition Master. On the main window, right-click on the unallocated space on your hard drive or external storage device and select "Create".
Step 2. Adjust the partition size, file system (Choose the file system based on your need), label, etc. for the new partition and click "OK" to continue.
Step 3. Click on the "Execute 1 Task(s)" button and create a new partition by clicking "Apply".
Watch the following video tutorial and learn how to create a partition in NTFS, FAT, or EXT file system.
EaseUS Partition Master will do the changes, and partition F is created to install Windows 11/10.
Part 2. Install Windows 11/10 on the New Partition
After creating the new partition, it's time for the easy part: Installing Windows 11/10 on your new partition. Insert your Windows 10 installation DVD and reboot your computer (you'll need to have enabled booting from your DVD drive in your system BIOS).
Step 1. Click"Install Now".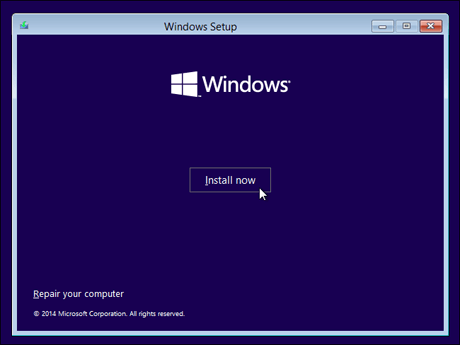 Step 2. Windows starts to install automatically. When you're choosing the installation type, be sure to select "Custom (advanced)".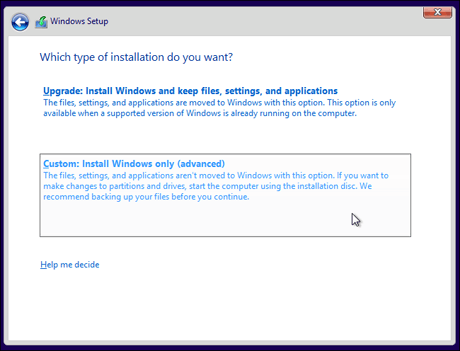 Step 3. Be careful here. Choosing the wrong partition could wipe your other Windows installation altogether. Make sure you pick the new partition created for Windows 11/10 installation in the first step. Choose Partition F to continue.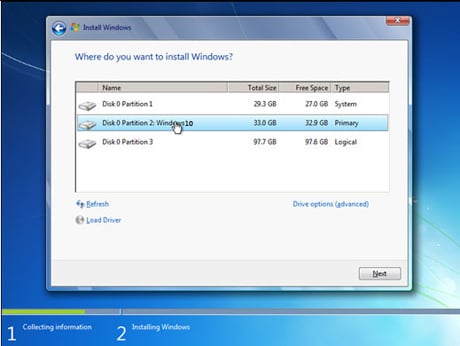 Step 4. After a few times of restart in the process, you'll be prompted to set up your account, enter your license key, and set up Windows.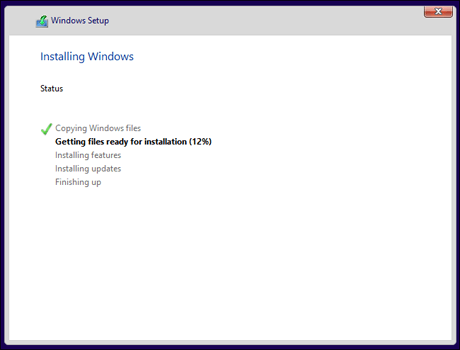 Step 5. Congratulations! You should now have a new entry for Windows 11/10 on your boot screen when you first start up your computer. You've now got all the tools necessary to dual-boot Windows 11/10 and Windows 8 or 7, or even to triple-boot Windows 11/10, 8, and 7.
Step 6. Choose between Windows 11/10 and Windows 7 or 8 when you boot your computer.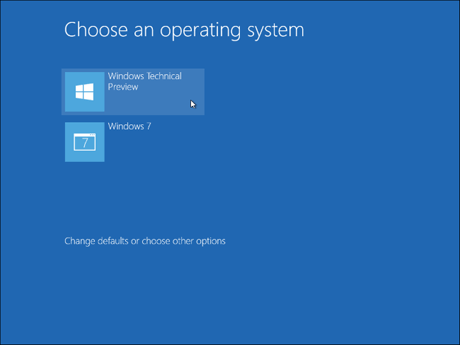 Click the "Change defaults or choose other options" to change the options. From here, you can choose the Windows operating system you want to boot by default and control how long the operating system selection will appear before it automatically boots the default Windows version.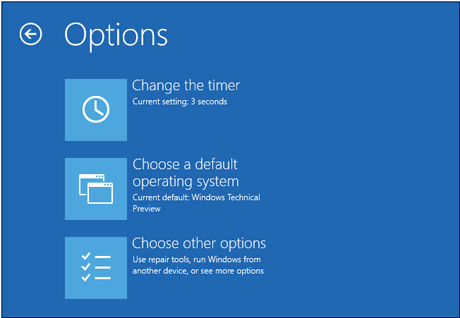 Dual Boot Software Recommend
Besides creating the dual boot operating system manually, there are many third-party tools that could help people dual booting into numerous operating systems. Among which EasyBCD is the most popular one. 
EasyBCD is a program developed by NeoSmart Technologies to configure and tweak the Boot Configuration Data. It can be used to set up multi-boot environments for computers on which Windows, Linux, BSD, and Mac OS X can be simultaneously installed. If you want to get more detailed information about EasyBCD, please go to its official website.
Conclusion
As you can see, when you dual boot Windows 11/10 and Windows 8/7, EaseUS Partition Master Free is your good helper. But what EaseUS Partition Master can do is more than that. For example, when your C drive is out of space, EaseUS Partition Master can help you extend C drive in a few clicks. No matter you are a beginner or an expert, you can handle your partition management without a hassle using this tool.
About the Author
Updated by Tracy King 
Tracy joined in EaseUS in 2013 and has been working with EaseUS content team for over 7 years. Being enthusiastic in computing and technology, she writes tech how-to articles and share technical solutions about Windows & Mac data recovery, file/system backup and recovery, partition management and iOS/Android data recovery.
Product Reviews
I love that the changes you make with EaseUS Partition Master Free aren't immediately applied to the disks. It makes it way easier to play out what will happen after you've made all the changes. I also think the overall look and feel of EaseUS Partition Master Free makes whatever you're doing with your computer's partitions easy.

 Read More

Partition Master Free can Resize, Move, Merge, Migrate, and Copy disks or partitions; convert to local, change label, defragment, check and explore partition; and much more. A premium upgrade adds free tech support and the ability to resize dynamic volumes.

 Read More

It won't hot image your drives or align them, but since it's coupled with a partition manager, it allows you do perform many tasks at once, instead of just cloning drives. You can move partitions around, resize them, defragment, and more, along with the other tools you'd expect from a cloning tool.

 Read More