
About the Author
Hot Topics in 2022
How to Convert Primary to Logical or Logical to Primary in Windows 11 [2023 Guide]
| Workable Solutions | Step-by-step Troubleshooting |
| --- | --- |
| Method 1. Convert with EaseUS Partition Master  | Step 1. Download and run EaseUS Partition Master; Step 2. Right-click the partition you want to convert...Full steps |
| Method 2. Convert with CMD | Step 1. Go to Start and Run Command Prompt (CMD) as an admin; Step 2. Now put all these commands...Full steps |
Is Logical Partition Better than Primary? Primary vs. Logical 
Primary Partition 
In Primary Partition, you can divide the disk into up to 4 partitions. One is a Primary Partition, and three are Secondary. Still, you can install Windows in any Partition. But, always keep the boot files in the Primary Partition. 
Logical Partition
A Logical Partition is also known as LPAR. It is the Hard Drive's extended portion that is further divisible into numerous logical partitions. Therefore, a single PC can have multiple logical Partitions. And each would have a different OS and Hardware for utility. In businesses, these partitions also serve as hosts for multiple Server Environments inside a single large unit. 
Primary Vs. Logical Partition
Allocation: Most systems allocate Primary Partitions as the first few alphabets like Drive C and D. For the rest of the alphabets like E, F, and G; it uses Logical Partitions. 
Boot: Primary can partitions can boot the Operating System. In contrast, the Logical Partition does not support any Operating System. 
Number of Partitions: You can only make up to four Partitions in the Primary Partition, but you can create unlimited partitions with Logical Partition. Still, the HDD's memory is the only limit. 
Purpose of Using Logical and Primary Partition
Concluding, Primary Partition is for Booting and Operating Systems. Therefore, you should keep a good storage size in Primary Partitions for the best performance. Still, if you have an HDD with 500 GB or 1 TB storage, you can divide its storage into further partitions. But, it is not recommended for users with a small-sized HDD. Having numerous Partitions should directly affect the computer performance. 
How Do I Change My Primary Drive to Logical or Logical to Primary in Windows 11?
To convert primary to logical or logical to primary, Windows 11 has two different methods. 
#2. Using CMD
If you have important data and want to convert its type without losing any data, you should go with Method 1. It is one of the most secure and trusted solutions for converting primary to logical partitions without losing data. 
In contrast, using can Method 2 has a few limits. CMD can not convert a Logical to a Primary Partition or a Primary to a Logical Partition. Instead, it deletes the old partition and creates a new partition of your choice. 
Still, we have shared both methods to convert primary to logical or logical to primary Windows 11 offers, and you should go with the one that suits you the most. 
Method 1. Convert Primary to Logical or Logical to Primary with Partition Converter Software 
EaseUS Partition Master is a free tool to convert Primary to Logical or Logical to Primary in Windows 11. It converts Partition type without formating data and works on all Windows versions from 7-11. Above all, it has a user-friendly design for your ease. 
So, for converting Primary to logical or Logical to Primary, you need to follow these simple steps, and it will change your Partitions type. 
Step 1. Download and run EaseUS Partition Master and go to Partition Manager.
Step 2. Right-click the partition you want to convert and click "Advanced", choose the convert option:
1. Primary to Logical
2. Logical to Primary
Step 3. Click the "Execute 1 Task" button and then choose "Apply" to begin the conversion. 
0:00 - 0:30 Convert Primary to Logical; 0:31 - 0:50 Convert Logical to Primary.
The useful features of EaseUS Partition Master are listed below: 
Delete, and Format Partitions
Partitions Type Conversion without Losing Data
Supports up to 8 TB HDD Capacity (on the free version)
Method 2. Convert Primary to Logical or Logical to Primary Using CMD
If you want to convert primary to logical or logical to primary, windows 11 has a simple process. You only need admin access and follow these steps. But, you would have to delete the original Partition and create a new Partition with your chosen type. This way, you will lose all your data stored in that Drive.
Therefore, you should make its backup in another Drive or save it on Cloud to ensure you do not lose important data. 
Step 1. Go to Start and Run Command Prompt (CMD) as an admin.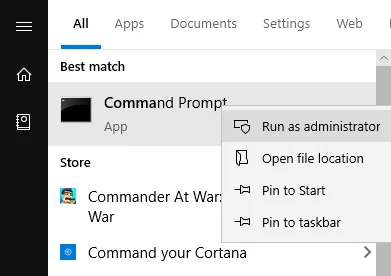 Step 2. Now put all these commands in the same Command Prompt. Make sure you do not change its sequence. 
Diskpart - This command will give you access to further commands.
List Disk - It will show you all disks with their total size and free space.
Select Disk X - In this command, X refers to the number of disks you want to convert. 
list Partition - It will show you all partitions and their partition types.
Select Partition X - In this command, X refers to the number of Partition numbers of primary or logical Partition you wish to convert. 
Delete Partition - It will delete all data inside the selected Partition. 
Create Partition Primary/Logical - Enter "Create Partition Primary" to convert the selected Partition from Logical to Primary. And for converting Primary to Logical, enter "Create Partition Logical".
After that, your Partitions are converted successfully. From the above steps, you can create and delete primary and create a logical partition, or vice versa.
Conclusion
Using any of Command Prompt and EaseUS Partition Master are effective methods to convert Primary to Logical or Logical to Primary in Windows 11. But, using Command Prompt will make you lose your crucial data, and even if you make a backup, it will be an added step. Plus, it does not have a user-friendly interface. In contrast, EaseUS Partition Master features a user-friendly interface and makes sure you do not lose any data. Moreover, you can also use it to merge partitions and reformat Windows 10. Therefore, if you are looking for a secure and efficient solution, you are highly recommended to use EaseUS Partition Master.
About the Author

Updated by Sherly
Sherly joined EaseUS in 2022 and she has always loved writing articles and enjoys the fun they bring. She receives professional training here, focusing on product performance and other relative knowledge.

Roxanne is one of the main contributors to EaseUS and has created multiple posts on digital devices like PCs, Mobile phones, tablets, Mac, etc. She loves to share ideas with people of the same interest.
Product Reviews
I love that the changes you make with EaseUS Partition Master Free aren't immediately applied to the disks. It makes it way easier to play out what will happen after you've made all the changes. I also think the overall look and feel of EaseUS Partition Master Free makes whatever you're doing with your computer's partitions easy.

 Read More

Partition Master Free can Resize, Move, Merge, Migrate, and Copy disks or partitions; convert to local, change label, defragment, check and explore partition; and much more. A premium upgrade adds free tech support and the ability to resize dynamic volumes.

 Read More

It won't hot image your drives or align them, but since it's coupled with a partition manager, it allows you do perform many tasks at once, instead of just cloning drives. You can move partitions around, resize them, defragment, and more, along with the other tools you'd expect from a cloning tool.

 Read More