
About the Author
Hot Topics in 2022
Complete Guide - How to Combine Two SSD Drives
SSD drives are rapidly replacing HDD drives as they are far more superior. They greatly increase your PC's efficiency by increasing boot time, file opening speed, and program running speed. They also utilize less power and are more durable. The only disadvantage is their high cost. Generally, getting an SSD drive with a large storage capacity is very expensive. Fortunately, you can overcome this issue by simply purchasing two cheaper SSD drives and combining them into one! This will save some of your hard-earned dollars while also getting the job done. You must obviously be wondering about how to combine two SSD drives into one now. Simply read our guide which includes detailed explanations on how to combine two SSDs and some important tips and tricks to do this.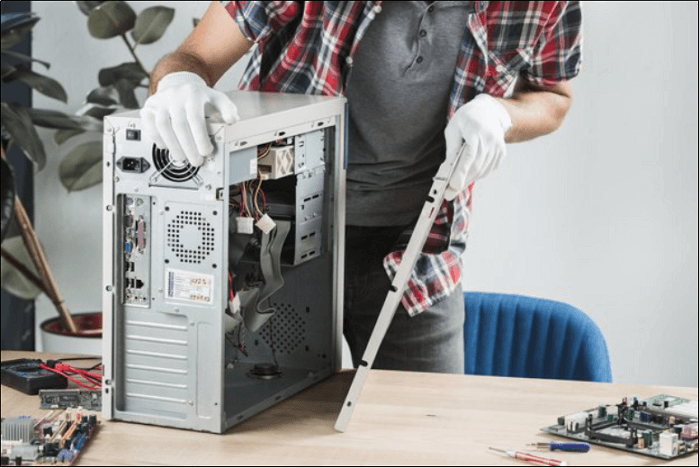 Requirements to SSDs Combination
There are some important prerequisites that you must know before combing your SSD's regardless of which method you use to combine the drives. We have mentioned all of them down below.
Combining external disks and devices is undoable. 
You can only merge your internal drives and disks.
In order to merge disks, there should be some unallocated space available.
If you are looking to increase the C drive space across your drives by combining them, this is not possible.
Both SSD drives should be converted from basic to dynamic before you begin merging them. 
How to Combine Two SSD Drives with EaseUS Partition Master
EaseUS Partition Master allows users to resize, clone, create, merge and format partitions and drives. The main advantage of using this software is that you won't have to delete your data to combine your disks or make any changes to them. 
The software can perform a number of tasks like resizing, merging and moving partitions. If you want to combine two disks using the software, you need to purchase the premium version which is also not very expensive. EaseUS Partition Master will help you in transferring free space from one drive to another, checking system errors, cloning partitions, converting basic disks to dynamic ones and much more.
Follow the steps to combine two disks with EaseUS Partition Master.
Step 1. Convert Basic into Dynamic
Click "Disk Converter" and select "Convert Basic to Dynamic". Click "Convert" to continue.
Confirm the disk conversion from the Basic to Dynamic.
Select the other disk (with at least 1M free space at the end of the disk) and convert it to a dynamic disk in the same way.
When both of the disks have been converted into dynamic disks, as shown below, you can follow Step 2 to merge free space from one disk to another now.
Step 2. Merge Two Disks into One Disk
Note: The other dynamic must be unallocated space. If it's not, use EaseUS Partition Master to delete all the partitions on it. What's more, you cannot merge a system partition even if you have converted it to dynamic.
Select the full disk, right-click on it and choose "Resize/Move".
Use your mouse to drag the partition panel rightward or leftward to extend partition size.
Sometimes, the unallocated space is on the left of the partition you want to extend. If you want to move unallocated space, just drag the left partition handle leftwards to the size you want.
Click "Execute 1 Task(s)" and "Apply".
How to Combine Two SSDs with Disk Management
Windows built-in tool, Disk Management, can create partitions and delete or merge them. It can also combine two SSD drives into a single volume. This volume can be of two types; Spanned and Stripped. The former is used to combine files that are of different sizes, and it uses the drives sequentially by filling up the first SSD before utilizing the second one. The latter, Stripped Volume, is used when your SSD drives have the same size, and it uses both of them simultaneously to increase read and write performances. You can choose between either of them based on which ones meet your requirements; opt for a new spanned volume if you want to combine two drives that have different volumes but use a new striped volume if you want faster performance.
 
Follow the steps given below to combine your SSD drives into one using Disk Management.
Step 1. Press Win+R on your keyboard. Type diskmgmt.msc to open Disk Management.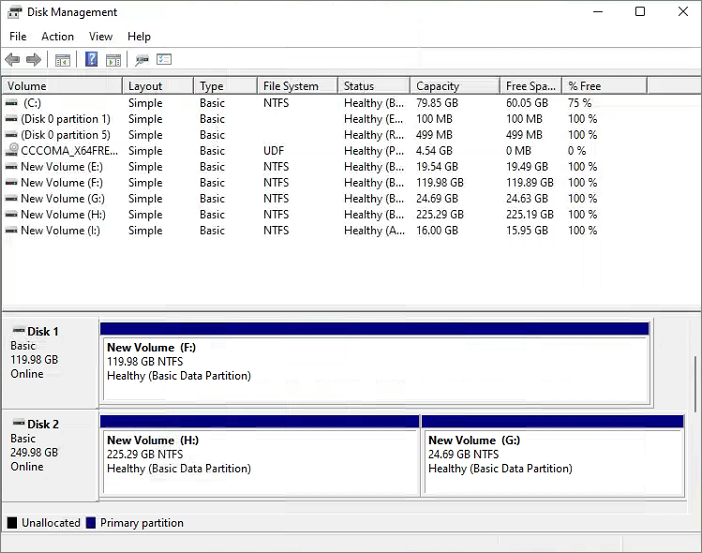 Step 2. Right-click the disk and select "Convert to Dynamic Disk".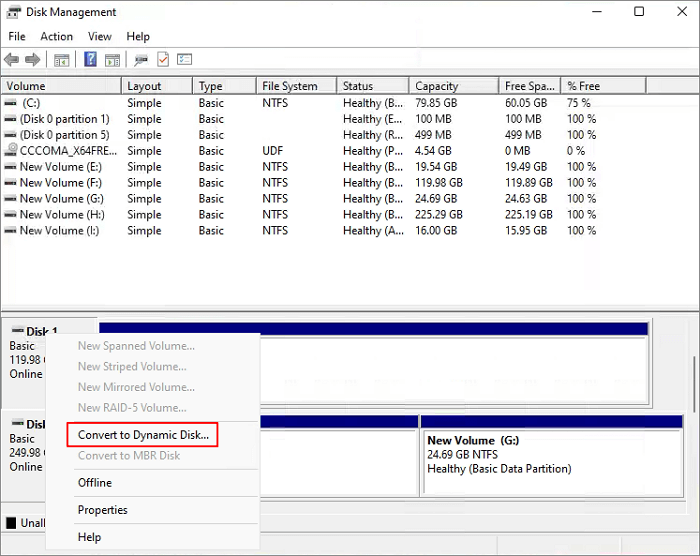 Step 3. You can convert multiple disks to dynamic disks at the same time.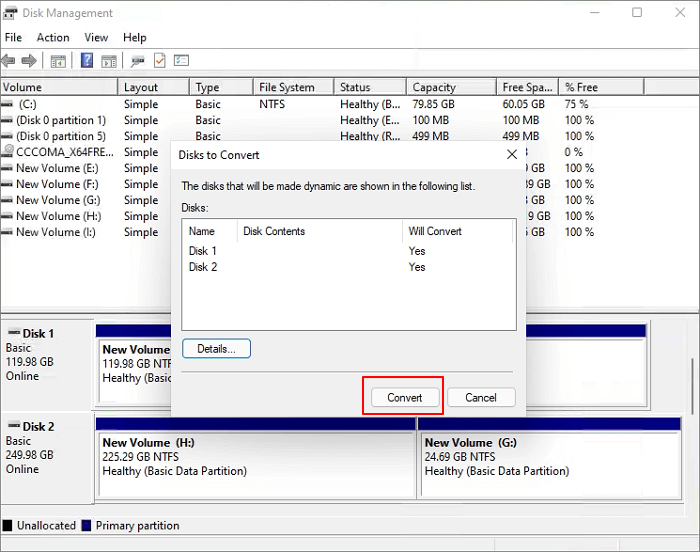 Step 4. A warning box could pop up telling you that you are going to convert the basic disks to dynamic disks. Click "Yes".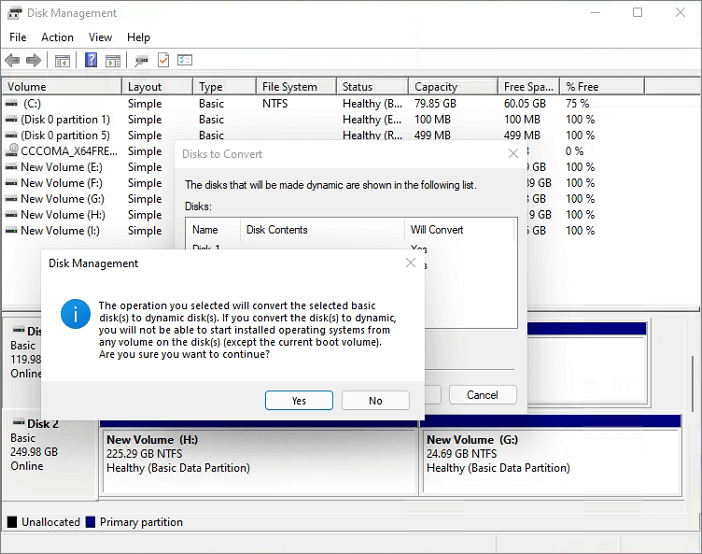 Step 5. Select one of the disk, for example, Disk 2. Right-click the disk and select "Delete Volume" to create unallocated space.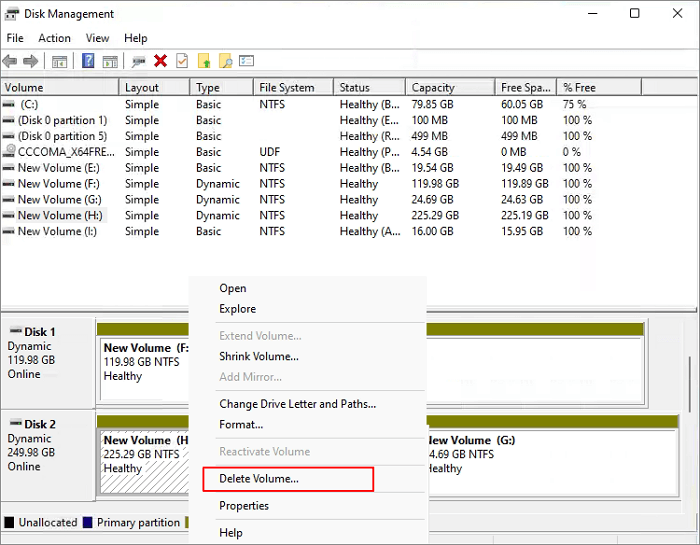 Step 6. When you delete all the partitions on Disk 2, right-click Disk 1 and select "Extend Volume".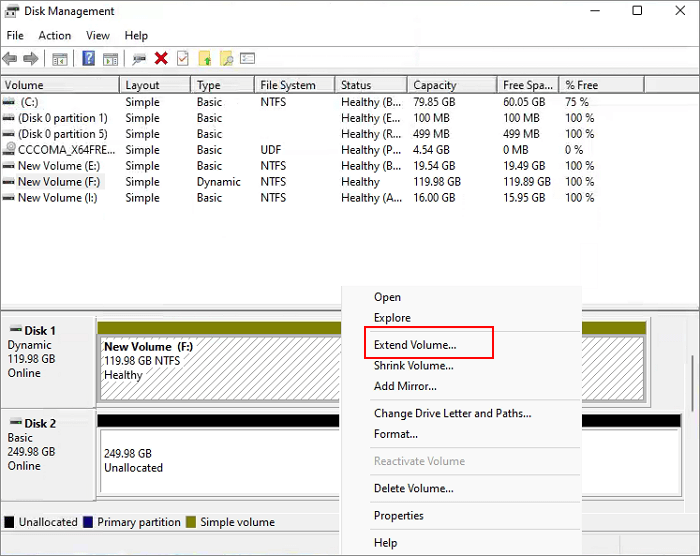 Step 7. In the next window, choose the available space and click "Add".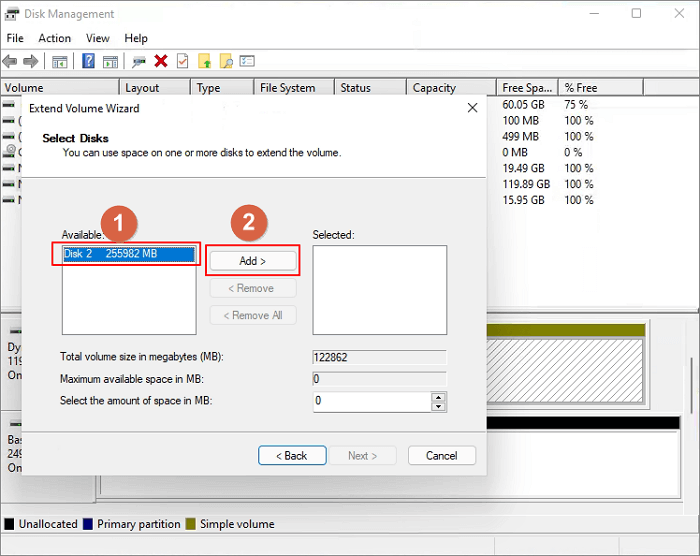 Step 8. Then, click "Finish" to make sure that you want to combine two disks.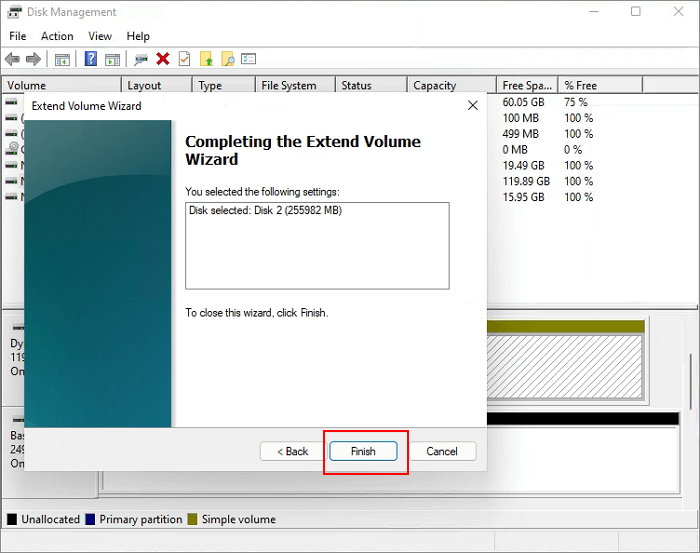 Step 9. Finally, your two disks are merged as one disk with Disk Management.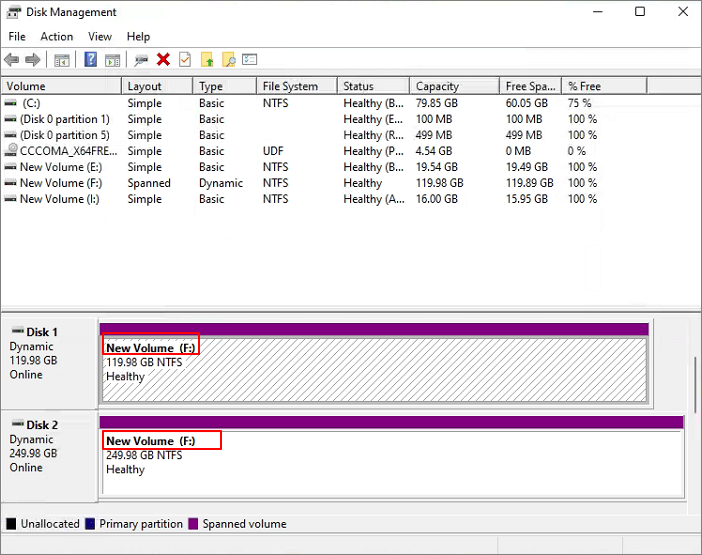 Conclusion
By combining two SSD drives, you will be able to overcome the major issue associated with SSDs i.e. the high costs of large storage capacity SSD's. You can either use the premium version of EaseUS partition master to do this which will make the task a lot easier or opt for the free Disk Management method. Both the methods will help you get your job done quickly!
About the Author
Updated by Tracy King 
Tracy joined in EaseUS in 2013 and has been working with EaseUS content team for over 7 years. Being enthusiastic in computing and technology, she writes tech how-to articles and share technical solutions about Windows & Mac data recovery, file/system backup and recovery, partition management and iOS/Android data recovery.

Brithny is a technology enthusiast, aiming to make readers' tech life easy and enjoyable. She loves exploring new technologies and writing technical how-to tips. On her spare time, she loves sharing things about her favorite singer - Taylor Swift on her Facebook or Twitter.
Product Reviews
I love that the changes you make with EaseUS Partition Master Free aren't immediately applied to the disks. It makes it way easier to play out what will happen after you've made all the changes. I also think the overall look and feel of EaseUS Partition Master Free makes whatever you're doing with your computer's partitions easy.

 Read More

Partition Master Free can Resize, Move, Merge, Migrate, and Copy disks or partitions; convert to local, change label, defragment, check and explore partition; and much more. A premium upgrade adds free tech support and the ability to resize dynamic volumes.

 Read More

It won't hot image your drives or align them, but since it's coupled with a partition manager, it allows you do perform many tasks at once, instead of just cloning drives. You can move partitions around, resize them, defragment, and more, along with the other tools you'd expect from a cloning tool.

 Read More