Reasons for SD card not showing full capacity
Similar cases can happen on other storage devices like USB flash drive, pen drive, hard drive, memory card, etc. Why is my SD card not showing its full capacity? How can I restore the SD memory card to the full size? Users always ask questions when they encountered such strange events.
Usually, SD card not showing full capacity happens because some card readers or host devices are not compatible with the larger SDHC and SDXC cards. If the reader or host is not compatible with the larger capacity, the card will be repartitioned to a size that is supported. For example, if your card reader or camera is compatible with an SDHC card with a maximum capacity of 32GB using this reader or camera to format a 64GB SDXC card will result in the card being repartitioned to 32GB (~27GB usable capacity). And SD card not showing full capacity can also occur due to invisible shadow files, formatting overhead, hidden recovery partitions, and unallocated space.
If you're experiencing similar issues to the SD card not showing full capacity, don't worry! Here is a solution. You can use a reader or host that supports the full capacity of the card and use a third-party SD card format tool to restore full capacity on SDHC/SDXC cards with ease. What's more, use the Diskpart command to repair it.
Method 1. Restore SD card full size with EaseUS partitioning tool
To help you reclaim lost or unallocated space and restore SD card to full capacity/original size safely and easily, here we recommend you EaseUS Partition Master, a powerful disk management tool that allows you to format hard drives and conventional removable storage devices. Now you can try the following guide to reformat SD card and restore SD card to full capacity with this tool in simple steps.
Step 1: Launch EaseUS Partition Master, right-click the partition on your external hard drive/USB/SD card which you want to format and choose the "Format" option.
Step 2: Assign a new partition label, file system (NTFS/FAT32/EXT2/EXT3), and cluster size to the selected partition, then click "OK".
Step 3: In the Warning window, click "OK" to continue.
Step 4: Click the "Execute Operation" button in the top-left corner to review the changes, then click "Apply" to start formatting your external hard drive/USB/SD card.
Additional tips for choosing a proper file system for your SD card:
FAT32 – Suitable for 2-32GB memory card. (Optimal choice)
NTFS – Suitable for almost all sizes of SD cards, under 2TB.
Method 2. Repair SD card showing less space via Command Prompt
The introduced SD card formatter shall hopefully help you regain the original size of the memory card. Though this is the easiest and most powerful way to deal with a removable hard disk that is showing less disk space than actual, there is still an alternative way to do this. Windows Command Prompt, which requires a higher level of computer skills than using the third-party automated tool, doesn't need to download and install. It's a built-in Windows native tool for everyone with administrator privilege to use.
To troubleshoot the SD card, of which some precious storage was lost somehow, you can use the DISKPART command lines to recreate a new volume by carefully following each step.
Step 1: In Windows 10, for example, type cmd in the search box, you can get the best match called Command Prompt. Right-click on it and choose "Run as administrator".
Step 2: On the Command Prompt black window, type diskpart and press "Enter".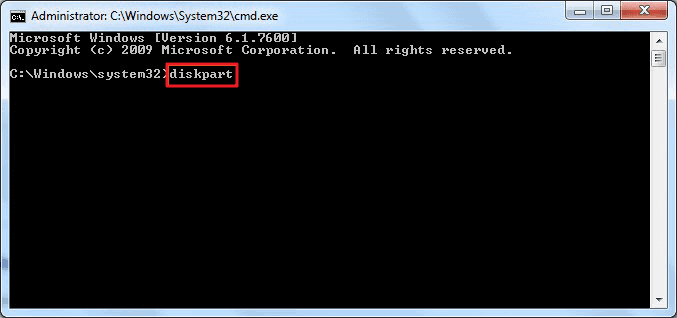 Step 3: Now type list disk and press "Enter". All the disk drives will be listed, including your SD card connected to the computer.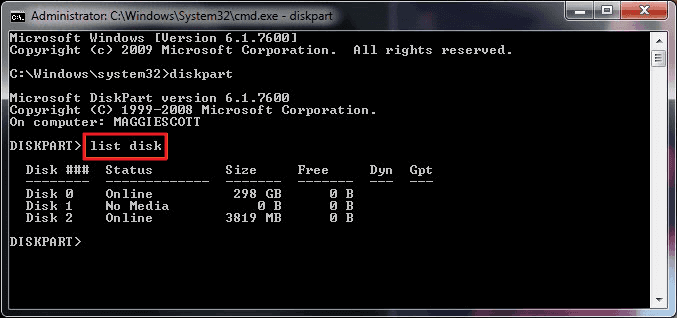 Step 4: Refer to the list disk information, type select disk + disk number, for example, select disk 2 and press enter. You're telling diskpart to format disk 2.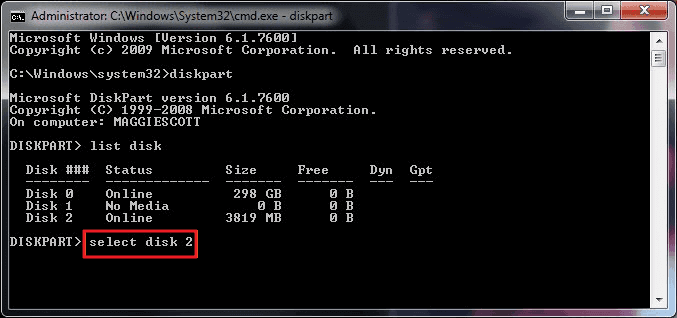 Step 5: Go on to type clean. This step starts to clean up all files and folders on the selected hard disk.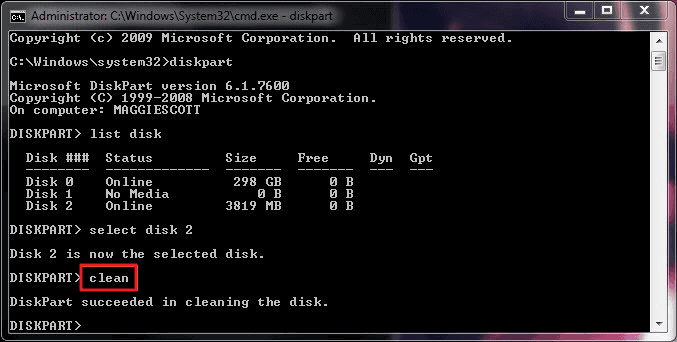 Step 6: Type create partition primary and press "Enter".
Step 7: After diskpart successfully created the specified partition, type format fs=ntfs (or format fs=exfat) and press "Enter". You're telling diskpart to format the drive with a file system, let it be NTFS, exFAT, etc.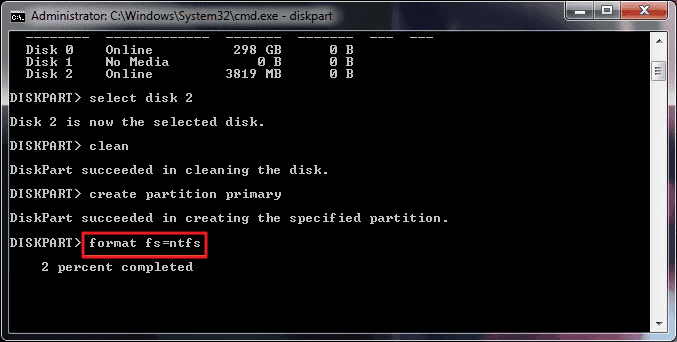 Step 8: At last, assign a drive letter to the newly created partition by typing assign.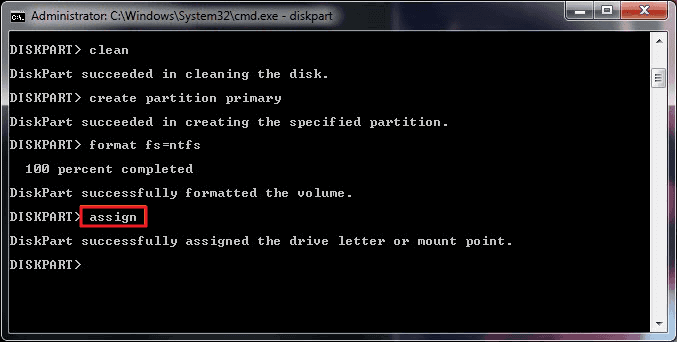 Additional tips for running Diskpart without a hitch:
You must run Diskpart as administrators. Otherwise, Windows will forbid you to run it properly. There is another access to open Windows Command Prompt: Windows + X keys -> Command Prompt (Admin).
Here's how to deal with the other common error: Diskpart has encountered an error access is denied.
100% of people found this article helpful.
Frequently Asked Questions
Why Choose EaseUS Partition Master?

"I've used Partition Master Professional many times to create, delete, format, move, rename, and resize partitions." —PCWorld

"Partitioning tools have come a very long since the days of complicated command line utilities and EASEUS Partition Master is one of the most advanced programs available." —TECH ADVISOR

"I love that the changes you make with EaseUS Partition Master Free aren't immediately applied to the disks. It makes it way easier to play out what will happen after you've made all the changes." —Lifewire
Will the "Migrate OS" feature transfer the Windows system files only or the whole C drive?

To ensure that the migrated system will boot normally, the Migrate OS feature will transfer all the files in the system and the boot partitions. Generally, the boot partition is the C drive so the transfer will include all the files in C.
Does EaseUS Partition Master license apply to multiple computers?

The license of Partition Master Professional and Server editions can be used on 1 computer only, while that for for the Technician and Unlimited editions can be used on multiple machines.
What is the difference between EaseUS Partition Master Trial version and the Free version?

Free is for home users only, with most basic functions available such as partition resize and clone. While trial can help you understand how this product works and test what a full license can do on a business or server OS machine.
Will it cause any data loss after resizing the partition in EaseUS Partition Master?

Generally, it will not cause any data loss or boot issue by resizing a partition. However, in order to protect your data, we suggest that you backup the partition before resizing, in case of any unexpected situations such as power outages, computer hardware failures, etc. You can use EaseUS Todo Backup to backup the partition and its trial version is fully functioned for 30 days.
What should I prepare before resizing the partition?

On the partition that is going to be operated, there might be some files being occupied by other programs. To ensure a successful operation, we suggest that you close all the unnecessary software before resizing that partition. Otherwise, EaseUS Partition Master will detect the partition being locked by the other software and require a reboot to resize the partition under boot mode.
About EaseUS Partition Master
All-round disk & partition management software for personal and commercial use. Let it manage your storage drive: resize, format, delete, clone, convert, etc.