What's 3DS SD Card Format?
Are you planning to upgrade the standard micro SD card that came with your 3DS handheld to a bigger one, like 16GB to 32GB? 32GB to 64GB? Then it's extremely important to know your 3DS SD card format, because so far, Nintendo products including New Nintendo 3DS, New Nintendo 3DS XL, Nintendo 3DS, Nintendo 3DS XL, Nintendo 2DS only support SD/microSD memory cards up to 2GB, SDHC/microSDHC memory cards up to 32GB that pre-formatted with FAT32 file system.
The overall requirements of 3DS are summed up into 1. memory cards with a capacity equal or less than 32GB; 2. formatted to the FAT32 file system. That is to say, SDXC and fast-transfer UHS-type memory cards are not compatible, to make 3DS system read SD card over 32GB, you have to reformat 3DS SD card to FAT32.
As Nintendo console needs the FAT32 format for SD and SDHC cards, you must be very clear about what your memory cards come pre-formatted and whether it needs to be formatted out of the box. Memory cards are formatted with the following standards:
| | | |
| --- | --- | --- |
| SD/microSD | 2GB or lower | FAT16 |
| SDHC/microSDHC | 4GB to 32GB | FAT32 |
| SDXC/microSDXC | 64GB or higher | exFAT |

How to Reformat 3DS SD Card with High Capacity to FAT32?
Those microSD cards have been tested to work seamlessly with the Nintendo 3DS
1. SanDisk Extreme microSDHC
16GB: SDSDQXL-016G-A46A
32GB: SDSDQXL-032G-A46A
2. SanDisk Extreme PLUS microSDHC
16GB: SDSDQX-016G-A46A
32GB: SDSDQX-032G-A46A
3. SanDisk Extreme PRO microSDHC
16GB: SDSDQXP-016G-A46A
32GB: SDSDQXP-032G-A46A
8GB: PFM008U-1DCK
...
No matter you got a memory card under 32GB or beyond the capacity, you can adjust it and make it workable on the handheld console. All you need is the help of EaseUS Partition Master. On the one hand, SD cards under 32GB with NTFS file system can apply to 3DS by converting NTFS to FAT32; on the other hand, SDXC memory cards between 64GB and 128GB can also go compatible with 3DS provided it is somehow formatted to FAT32.
Follow the guide below to use EaseUS free partition manager format SDXC card with high capacity to FAT32, making it possible to work on 3DS as SD cards and SDHC cards.
Step 1. Insert SDXC card into a computer (Windows 10/8.1/8/7/XP/Vista all supported) and launch EaseUS Partition Master Free.
Step 2. Right-click the SDXC card and choose "Format partition".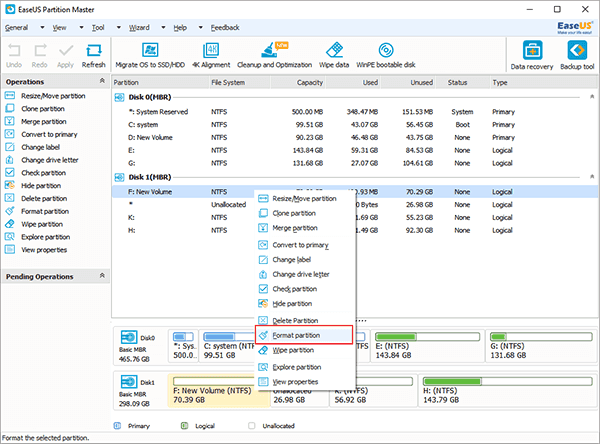 Step 3. A mini window pops out, on which you can edit the partition label and choose a file system. Here you should choose FAT32. Click "OK".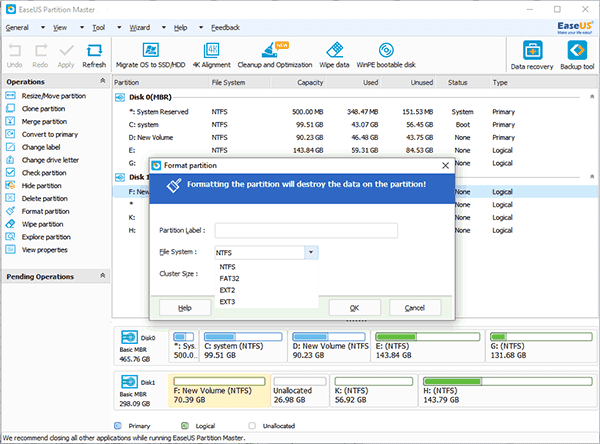 Step 4.Click Apply.