
About the Author
Hot Topics in 2022
What is CHKDSK(Check Disk)? All You Should Know about CHKDSK
What is CHKDSK?
Most of us don't possess the technical knowledge of computers, and due to the lack of knowledge, we waste our crucial time backing up data to disks only to realize that your disk is corrupted. What if we tell you that you can avoid this quite easily! All you need to do is run a command called chkdsk, and it will fix all your problems.
Now, what exactly is chkdsk, you ask? Chkdsk is a utility tool provided to you by windows, whose complete form is a check disk. This command allows you to fix almost any error that may exist on your storage disk (except if your hard disk is physically dying, then there is nothing this diagnostic tool or any other can do). It will display a status report of your disk and then correct the logical errors in it. Thus, running this command is a foolproof method of tackling disk corruption and saving time.

What Can You Do with CHKDSK?
The CHKDSK command is meant to diagnose any issues with your hard drive. Then, if you use specific parameters (like /f, /r, etc., which have been explained below), the command will resolve the issues:
1. It works by analyzing the file system on your disk and checking its integrity (it also contains the metadata).
2. If any data is corrupt or incorrect, timestamps and file sizes, the command will fix it.
3. It also scans for poorly written data (soft bad sector) and physical disk damage.
4. It restores the former entirely and recovers any information possible from the latter to have minimum data loss.
Specific CHKDSK Commands
You can run several commands with chkdsk, and you should be aware of each one to know which one meets your needs. For example, some controls allow you to diagnose issues. Some will enable you to fix errors, while others will allow you to recover corrupted data and much more. Mentioned below is a detailed list of all chkdsk commands and their description.
List of Commands to be run with CHKDSK

Command
Function
< volume >
This parameter specifies the volume name or drives letter.

[[< path >]< filename >

It only can be used with (FAT) and FAT32 file allocation tables. It will specify the location as well as the name of the file that needs to be checked. If you want to run chkdsk for multiple files, make use of it? And * wildcard characters.
/f
Running this command will fix the errors present on your disk. You must lock the disk to allow chkdsk to fix it.
/r
Running /r with chkdsk will locate the bad sectors on the disk and recover all possible information. Thus, when you run this command, you will check for logical errors and physical ones.
/x
First of all, the drive will be dismounted. Additionally, this command also includes the functionality of the /f command.
/v
This command will allow chkdsk to display the names of every file present in every directory while checking the disk.
/i
You can only use it with the NTFS file system. However, it reduces the chkdsk run time by performing index entries check less vigorously.
/c
This command can also only be used with NTFS. It decreases chkdsk run time by skipping check cycles within the folder structure.
/L: size
You can change the size of the log file to your desired size by running this command. Again, this is an NTFS-specific command.
/b
This NTFS command will remove bad clusters present on your hard drive and rescan the allocated and free clusters for errors.
/?
Use this command if you need help at the command prompt.
Now that you know all the commands that can be used with chkdsk, here is the complete syntax for it:
chkdsk [< volume >[[< path >]< filename >]] [/f] [/v] [/r] [/x] [/i] [/c] [/l[:< size >]] [/b]
You can skip out on any parameter that you don't want to use by simply not typing it in!
How to Run CHKDSK Command?
You can run chkdsk in various ways that have been mentioned with great detail down below, using the /f command as an example.
Method #1- Run chkdsk in Command mode
Here is how to run chkdsk in command mode
Open the command prompt on your device by holding down the Windows key.
Then, type in 'cmd' and click enter.
Next, right-click on 'Command Prompt' (present at the top left of the search window) and then select Run as Administrator.'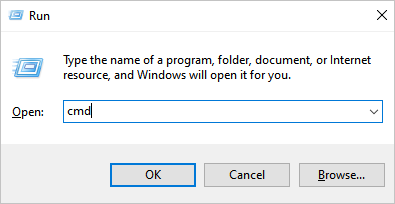 Type in your chkdsk command syntax where you see C:\WINDOWS\system32> written. For example, when you want to fix errors, type in the following command
chkdsk c: /f
Where c: is the name of your drive that you want to check. Your hard disk drive can also be saved as disk d, in which case you will replace c with d.
The chkdsk command will now scan your disk and fix the errors.
 Notice:

Based on your windows version, opening the command prompt may be done differently. In some versions, you may also be required to enter your administrator password. Thus, be sure to search up how to open the command prompt on your windows if this method of opening it doesn't work for you. However, the command syntax remains the same regardless of the version of your windows.
Method #2- Running chkdsk from Properties
You can also run this command on Windows quite easily using the method given below.
Open the File Explorer window by pressing down on the Windows key along with the E key (or click on the File Explorer icon)
Click on This PC.
Right-click on the drive that needs to be checked.
Now click on Properties.
A pop-up window will appear. Click on the Tools tab in this window which is present on the top.
Under the error checking section, click on Check.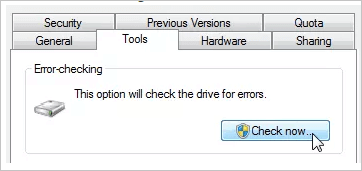 If everything is in Check, a pop-up window telling you that everything is okay and you don't need to run a scan will appear. However, you can still run chkdsk if you wish by clicking on the scan drive option in the pop-up window. It will run the chkdsk command.
If errors are found on the disk, a pop window with a repair drive option will appear. Clicking on this option will run the chkdsk command and fix the mistakes present on the disk.
Method #3- Running chkdsk from Windows Powershell
You can also use Windows PowerShell to run chkdsk. Here is how to do this.
Type in Powershell after clicking on the search button.
Right-click the PowerShell and select 'Run as Administrator.'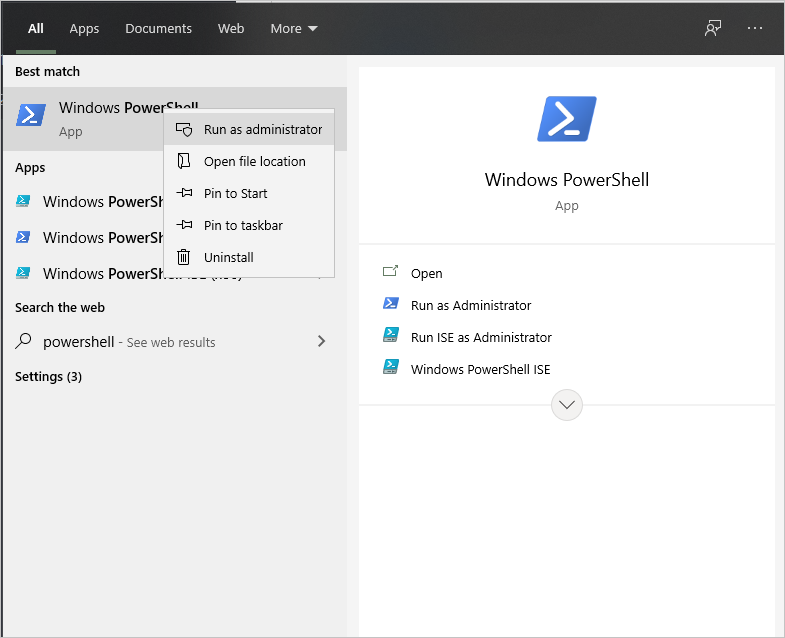 Type in the following after C:\WINDOWS\system32> to fix disk errors.
chkdsk c /f
Where c stands for the name of your drive.
Conclusion
Every time you use a disk drive, we recommend running chkdsk to ensure no errors on the disk. It will help keep you and your computer safe. Honestly, this command is a lifesaver that can fix any and every logical error on your drive. However, it does take quite a long time, depending on the size of your industry, so make sure that you've scheduled the Check for a time when you don't need to use your PC. It is essential because stooping the Check-in between can result in more damage to your disk! So be cautious and keep your data and drives corruption-free using this simple command!
About the Author

Roxanne is one of the main contributors to EaseUS and has created multiple posts on digital devices like PCs, Mobile phones, tablets, Mac, etc. She loves to share ideas with people of the same interest.
Daisy is the Senior editor of the writing team for EaseUS. She has been working in EaseUS for over ten years, starting from a technical writer to a team leader of the content group. As a professional author for over 10 years, she writes a lot to help people overcome their tech troubles.
Product Reviews
I love that the changes you make with EaseUS Partition Master Free aren't immediately applied to the disks. It makes it way easier to play out what will happen after you've made all the changes. I also think the overall look and feel of EaseUS Partition Master Free makes whatever you're doing with your computer's partitions easy.

 Read More

Partition Master Free can Resize, Move, Merge, Migrate, and Copy disks or partitions; convert to local, change label, defragment, check and explore partition; and much more. A premium upgrade adds free tech support and the ability to resize dynamic volumes.

 Read More

It won't hot image your drives or align them, but since it's coupled with a partition manager, it allows you do perform many tasks at once, instead of just cloning drives. You can move partitions around, resize them, defragment, and more, along with the other tools you'd expect from a cloning tool.

 Read More