[2021 Tips] How to Remove Ubuntu from Dual Boot
"I have absolutely no experience with Linux, and I desperately need to get my computer back and running again with Windows. How do I remove Ubuntu and reinstall Windows?"
How to Remove Ubuntu from Dual Boot (2 Steps)
If you have installed Linux on its own partition in a dual-boot configuration, there's usually no easy uninstaller that will remove it for you. Instead, you need to delete its partitions and repair the Windows boot loader manually. Here are the steps to uninstall Ubuntu from dual boot.
Workable Solutions
Step-by-step Troubleshooting
Step 1 - Delete the Linux Partition

Press Windows + R
Locate and right-click the Linux partition
Choose "Delete Volume". ...Full steps

Step 2 - Fix the Windows Boot Loader

Insert CD/DVD into DVD-ROM 
Click "Control Panel" on the computer screen
Click "Backup and Restore (Windows 7)"...Full steps
How You Install Ubuntu on Your Computer
How you uninstall Linux depends on how you've installed it. If you installed Linux as the only operating system, you have to reinstall Windows over Linux to get your Windows system back. Suppose you install Ubuntu with Wubi. You can easily uninstall it from Windows:
Boot into Windows and go to "Control Panel > Programs and Features".
Find Ubuntu and select "Uninstall".
If you installed Linux to its own partition in a dual-boot configuration, you need to follow the steps below to remove Ubuntu.
Step 1 - Delete the Linux Partition (Two Methods)
To remove Ubuntu from dual boot, you need to delete the Linux partition first. There are two ways to make it: using Disk Management or a disk management tool.
Method 1. Delete Your Linux Partition with Disk Management
To run Disk Management, you need to boot into Windows 10/8/7. 
Step 1. In Windows 10/8/7, press Windows + R keys to bring up the Run box, type diskmgmt.msc, and hit "Enter". Windows Disk Management window will show up.
Step 2. Locate and right-click the Linux partition and choose "Delete Volume".
Step 3. Select "Yes" to let the system complete the removing partition process.

Method 2. Delete Your Linux Partition with Software
Here is a reliable way to help do this job in just a few simple clicks with the help of professional partition manager software - EaseUS Partition Master. This software allows you to delete and remove all Ubuntu-related system partitions with Windows OS running on your PC.
EaseUS Partition Master
Transfer free disk space from one drive to another directly.
Resize/move, merge/combine partitions, and check file system error.
Migrate OS, increase partition space, and more.
Manage dynamic disks without difficulty.
Convert GPT to MBR or MBR to GPT.
Download, install this software, and activate it for deleting Ubuntu from your computer but keep Windows OS now:
Step 1. Launch EaseUS Partition Master on your computer.
Step 2. Select to delete partition or delete all partitions on hard drive.
Delete single partition: right-click on a partition that you want to delete and choose "Delete...".
Delete all partitions: right-click a hard drive that you want to delete all partitions, and select "Delete All...".
Make sure that you've backed up the important data on the selected partition because this manner will compeletely remove data.
Step 3. Click "OK" to confirm the deletion.
Step 4. Click "Execute xx Operation" on the top menu and then click "Apply" to save the change.
0:00 - 0:39 Delete single volumes; 0:39 - 1:09 Delete all partitions.
Step 2 - How to Fix the Windows Boot Loader
After deleted the Ubuntu partition, you need to use a Windows installer disc to overwrite the Linux boot loader with the Windows boot loader. If you don't have a Windows installer disc, you can create a Windows repair disc and use it.
Step 1. Insert CD/DVD into DVD-ROM or connected external DVD drive.
Step 2. Click "Control Panel" on the computer screen, then click "Backup and Restore (Windows 7)".
Step 3. Click "Create a system repair disc" from the left column to open the repair disc creation window. Follow the on-screen instructions to create a system repair disc.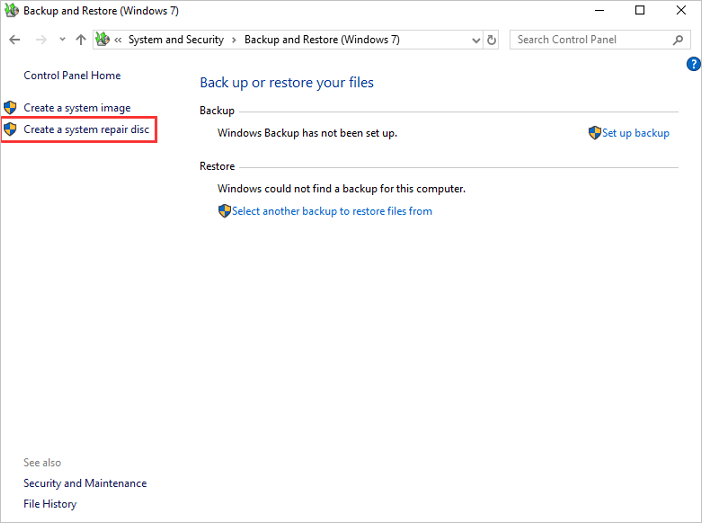 Step 4. Insert the Windows installer or recovery disc into your computer, restart your computer, and let it boot from the Windows installer disc.
Step 5. After booting from your installation or recovery disc, skip the initial languages screen, and then click the "Repair your computer" option on the main install screen.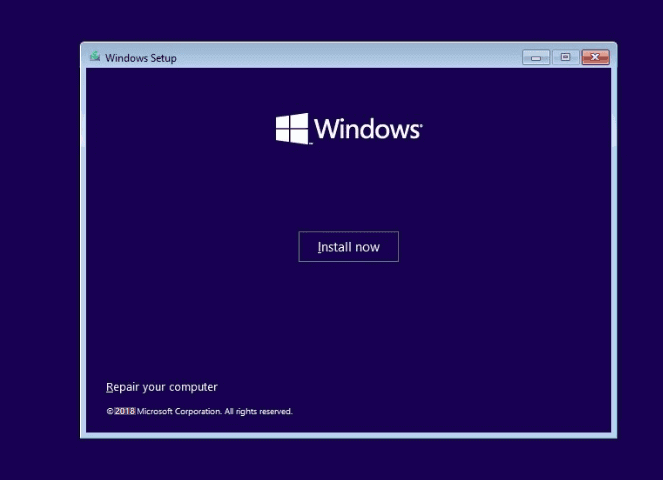 Step 6. On the Choose an option screen, click "Troubleshoot > Advanced options > Command Prompt".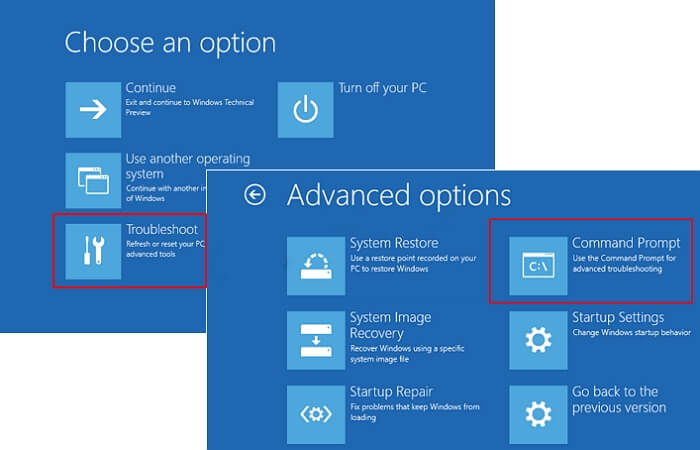 Step 7. Type the command below and then press "Enter".
bootrec /fixmbr
bootrec /fixboot
bootrec /scanos
bootrec /rebuildbcd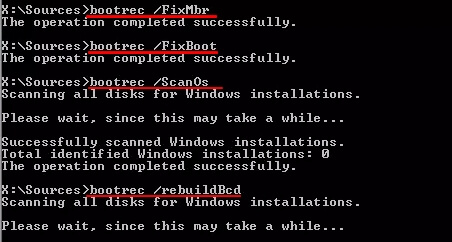 You can now restart your computer. It will boot from its hard drive, starting the Windows operating system. If you are not familiar with CMD, you can repair MBR with software.
Bonus Tip - How to Back Up Ubuntu Data Without Booting into System
If you have important data, how can you make a backup without booting into Linux? You can run EaseUS Todo Backup. With it, you can back up files without OS. Follow the steps below to back up important data:
Step 1: Download and Install EaseUS Todo Backup on the working computer. Click "Tools" - "Create Emergency Disk".
Follow the tool to create a Windows bootable media. You are suggested to add disk, RAID, and network card driver to avoid Todo backup have trouble recognizing your hard disk or network drive in the WinPE environment.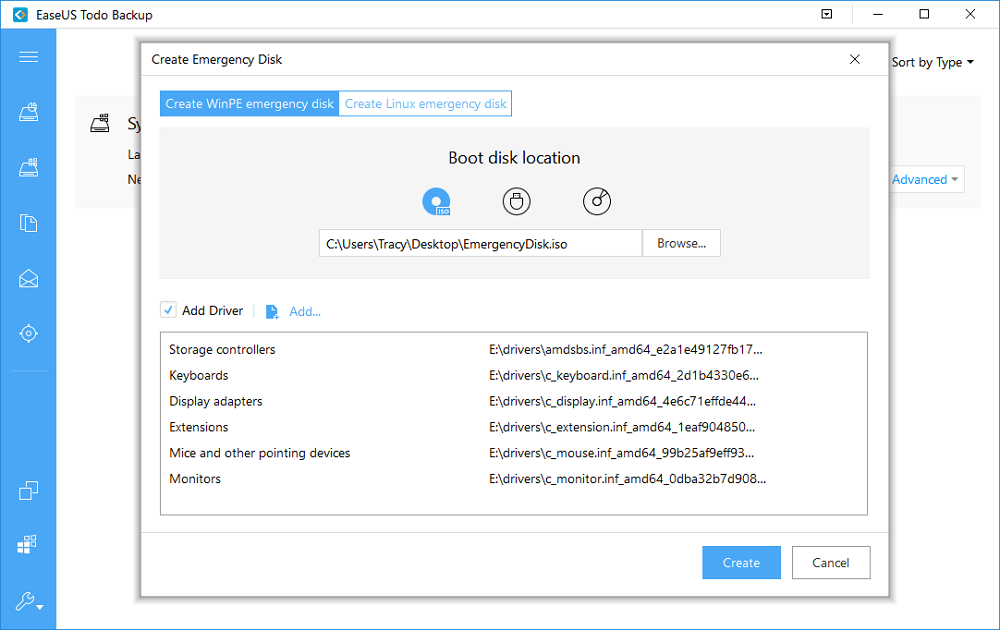 Step 2: When it's done, insert this emergency disk to the computer that needs backing up.
Restart the PC, and Press F2/DEL to enter BIOS. Change the boot sequence, and then start the computer and run EaseUS backup software from the bootable disk.

Step 3: On the main window, click "File" and choose the files or data you want to back up.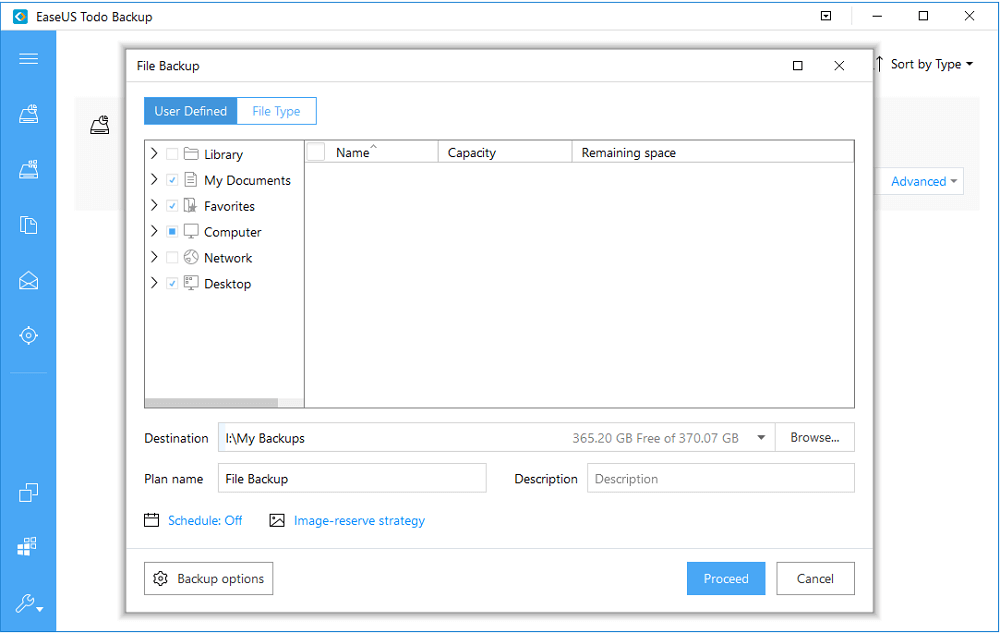 Step 4: Click "Browse" to select a destination to save your backup file.
It's recommended to save the backup file to external storage media or cloud drive. 
 Product News

EaseUS Todo Backup now supports users to back up files to the cloud. All you need to do is sign up with an EaseUS account, then you could enjoy a large cloud storage space. More advantages of backing up to the cloud include accessing backup files anytime and anywhere, saving file copies offsite, so you don't need to worry about virus attacks or computer failures, and easier and faster backup and recovery operations.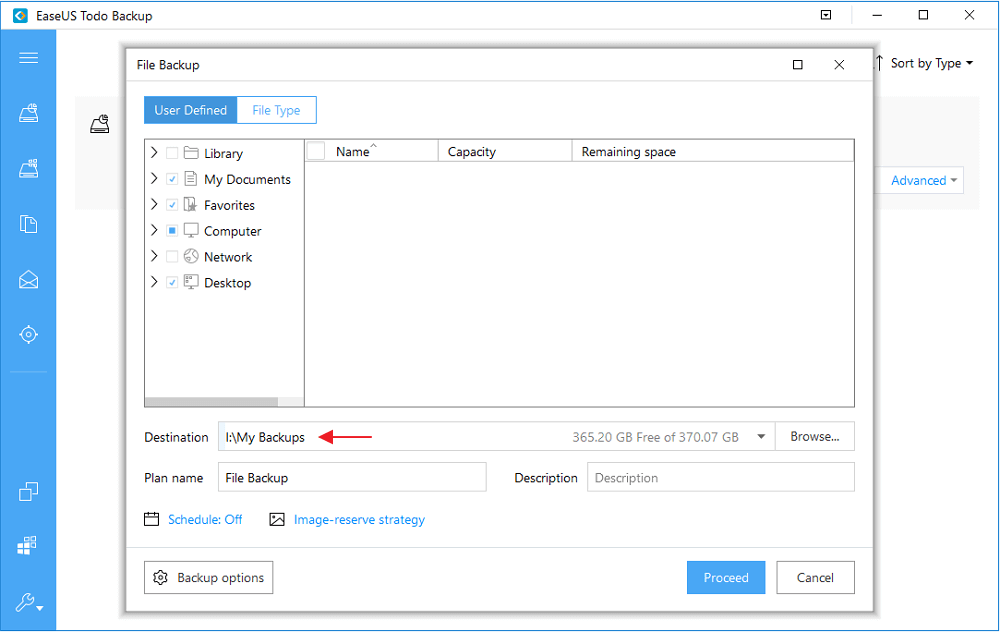 Step 5: Click "Proceed" to execute your operation.
Conclusion
You can fix the error if installing Ubuntu on Windows PC as a dual-boot didn't go so well. If you still have problems, you can contact EaseUS to get additional help.
Updated by Tracy King 
Tracy joined in EaseUS in 2013 and has been working with EaseUS content team for over 7 years. Being enthusiastic in computing and technology, she writes tech how-to articles and share technical solutions about Windows & Mac data recovery, file/system backup and recovery, partition management and iOS/Android data recovery.
I love that the changes you make with EaseUS Partition Master Free aren't immediately applied to the disks. It makes it way easier to play out what will happen after you've made all the changes. I also think the overall look and feel of EaseUS Partition Master Free makes whatever you're doing with your computer's partitions easy.

 Read More

Partition Master Free can Resize, Move, Merge, Migrate, and Copy disks or partitions; convert to local, change label, defragment, check and explore partition; and much more. A premium upgrade adds free tech support and the ability to resize dynamic volumes.

 Read More

It won't hot image your drives or align them, but since it's coupled with a partition manager, it allows you do perform many tasks at once, instead of just cloning drives. You can move partitions around, resize them, defragment, and more, along with the other tools you'd expect from a cloning tool.

 Read More
About EaseUS Partition Master
All-round disk & partition management software for personal and commercial use. Let it manage your storage drive: resize, format, delete, clone, convert, etc.
Video Tutorial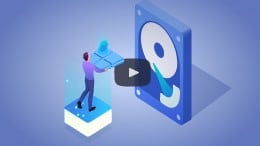 How to Partititon a Hard Drive on Windows 10/8/7
Was This Page Helpful
How Can We Help You
Find answers to common questions below.