Solutions to fix the system and compressed memory high disk usage:
System and Compressed Memory Cause High Disk Usage
"Hey, I have been getting 100% disk usage in windows 10, and the system and compressed memory is taking 100%"
System and compressed memory is a process responsible for various functions related to system and memory. This process is mostly responsible for the compression of files and folders and the management of RAM.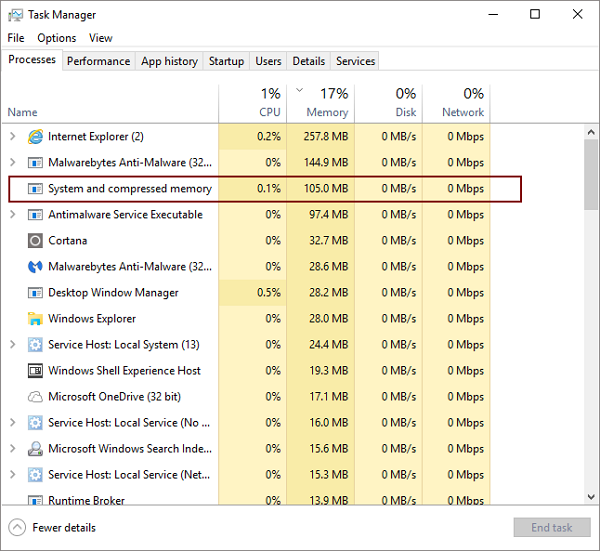 Windows 10 users have long been reporting to see this service occupies tons of memory, disk and CPU usage when they check Task Manager. But there is no need for you to worry about this. If this amount of memory, CPU and disk usage is really bothering you, here are something that you can do to fix the system and compressed memory high disk usage on Windows 10.
Solution 1. Check Your Partition to Fix System Errors and Optimize Disk
Usually, when the system and compressed memory cause high disk usage, the first thing you need to do is to check your partition to find out the system error and fix it as soon as possible.
Here you may try a free but professional partition manager software which allows you to effortlessly check and fix system errors with ease. And the junk file cleaning up feature also allows you to thoroughly find and clean out all useless files. You can free download EaseUS Partition Master Free and follow the steps to fix system error, clean up junk files and optimize PC now:
Check and fix system error to solve system and compressed memory high disk usage problem
1. Launch EaseUS Partition Master Free and right-click the partition(system partition for preventing system errors) that you want to check by clicking "Check partition".
2. Choose the way that you want to use to check partition: Check Partition Properties, Call Windows Chkdsk to fix errors, Surface Test.
Click OK.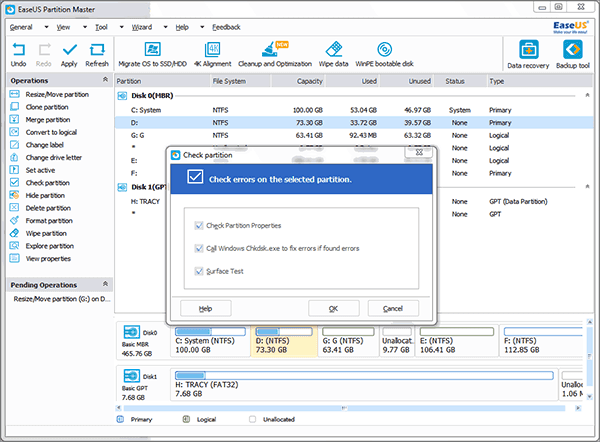 3. Let EaseUS Partition Master Free automatically check hard disk partition errors and repair errors for you. Click OK to finish the process.
Clean up junk files and optimize Windows to speed up your computer
You can use the Cleanup and Optimization feature in EaseUS Partition Master to effortlessly clean up all useless junk files and even optimize disk with ease. after this, you 'd better restart your computer to see whether it works or not.
Solution 2. Disable the System and Compressed Memory
If the first solution does not work well for you. Don't worry! You can simply try the second solution to get system and compressed memory high disk usage problem fixed with ease. Here are the details:
Press the Windows Key + X. Choose Control Panel. Click Administrative Tools and choose Task Scheduler.
In the Task Scheduler, double-click on Task Scheduler Library in the left pane to expand its contents.
Double-click on Microsoft in the left pane to expand its contents. Double-click on Windows in the left pane to expand its contents.
Click on MemoryDiagnostic in the left pane to have its contents displayed in the right pane.
In the right pane, locate and right-click on a task named RunFullMemoryDiagnosticEntry. Click on Disable in the contextual menu.
Close the Task Scheduler and restart your computer. Check to see if the issue persists once your computer boots up.
Solution 3. Stop the Superfetch to Fix System and Compressed Memory High Disk Usage
SuperFetch decreases the boot time and make must-load programs more efficiently. However, it has been identified as a potential cause of disk performance issues in Windows 8 and later versions of Windows, including Windows 10. Here's how to stop this service:
Method 1. Disable Superfetch with "Run" Command
Just press Windows + R and type "services.msc" command.
Now find "Superfetch".
Edit Superfetch clicking on the property.
Now "Stop" from stopping the Superfetch service.
Superfetch to be Disabled and click OK
If this method does not work very well, directly go to the second method.
Method 2. Disable Superfetch with Command Prompt
1. Click on Start and search for Command Prompt, right-click on it and click Run as administrator then click Yes to continue.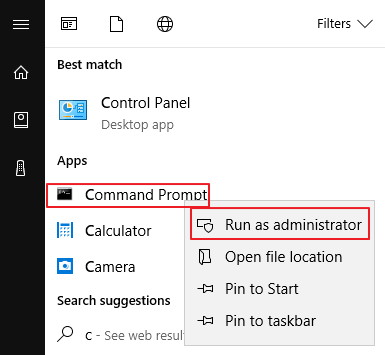 2. Type the following command: net.exe stop Superfetch. Press the Enter key on your keyboard
3. Wait for a few minutes to see if changes can be seen in your computer's performance.
If you want, you can also run a disk check by typing the following command: chkdsk.exe /f /r and press the Enter key on your keyboard.
Then type Y to confirm the disk check.
Last Solution: Scan for Possible Virus
It is reported that many viruses or malicious programs could cause System and compressed memory high CPU usage problem. It is strongly suggested that you use the trusted antivirus programs to scan your system thoroughly for any possible viruses. If you find any file or programs suspicious, delete them or uninstall them totally from your computer. Then you can restart your PC to Check if your System and compress service are still taking high disk usage.