What's the best way to partition a 1TB HDD
"I bought a new 1TB Seagate HDD, and I'm confused about how to partition it. What I want is three partitions on it. For example, C(250GB or less) for Windows 10 OS and applications; D(around 500GB) for games, movies, and media; E(remaining) for files, documents, and setups(as backups). So, what's the best way to make it happen in Windows 10?"
It's necessary to know how to partition a new hard drive, external HDD or SSD in Windows 10 into several volumes. For many of us using Windows computers, typically, we have two to four hard drive partitions, such as C:, D:, E: & F:, and we use each of them for different purposes. C:, also known as the system drive, is for Windows OS installation and system files, the rest are usually data partitions, which we may use them to store a specified type of data.
Partitioning 1TB hard drive in Windows 10 can be done in two ways, either with Disk Management or third-party disk and partition software.
How to Partition a 1TB HDD/SSD in Windows 10
Comparing the two hard drive partitioning utilities regarding ease of use, efficacy, and popularity, we decided to recommend EaseUS Partition Master, the third-party free partition manager that comes with the best solution to partition a 1TB HDD/SSD in Windows 10/8.1/8/7/XP/Vista.
You're going to utilize two features of the recommended software to make hard drive partitioning happen.
Since the way to resize or move a partition has been detailed already, the following steps will show you how to create a partition on unallocated space only.
 Notice:

If you want to create a partition on an empty USB, SD card or external hard drive, connect it to your PC in advance.
Step 1: Launch EaseUS Partition Master
On the main window, right-click on the unallocated space on your hard drive or external storage device and select "Create".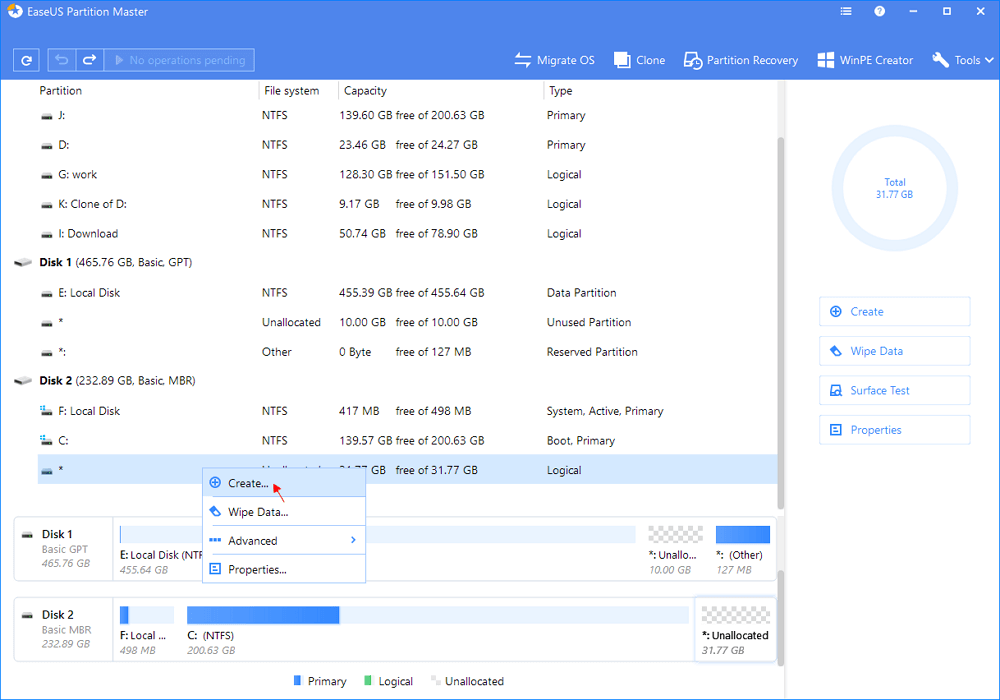 Step 2: Adjust the new partition size, file system, label, etc.
Set the size, partition label, drive letter, file system, etc. for the new partition and click "OK" to continue.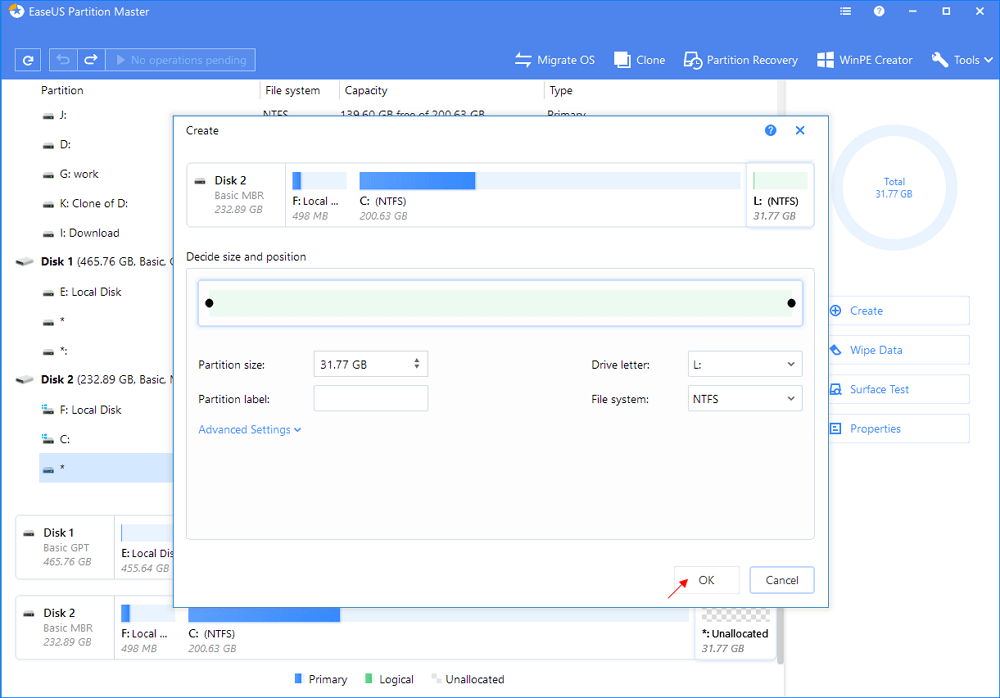 Step 3: Confirm to create a new partition
This guide shows you how to use EaseUS Partition Master to partition a 1TB hard drive in Windows 10. If you need two more disk volumes on a hard drive, repeat the steps above.