Quick Ways On How To Extend C Drive In Windows 11 Without Formatting
Why Need to Increase C drive in Windows 11 
"How can I get more space on my C drive without losing data? Recently, a 'low disk space' pop-out balloon has been showing in the Systray, warning me to extend the size of the C drive. I can't see either format the C drive or delete other partitions since I have data saved on all of them. So, how can I make more space on my C drive without formatting or removing partitions?"
The speed with which an operating system runs on a Windows computer is primarily determined by the amount of free space on the C drive. However, as the number of installed software and its related data storage on the C drive increases, your system partition will run out of space, and your computer's performance will decrease.
Usually, more than 90% of users desire to extend C drive space because the free space is approaching the 200MB, 80MB, and 50MB thresholds. You may have tried to free up space on the C drive by deleting unnecessary files, uninstalling applications, or cleaning out the recycle bin. However, these are ultimately temporary fixes. It won't take long before your C drive is completely full. So, how can you increase C drive space and totally solve the C drive low data storage problem? If you eagerly want to know, then read this guide carefully!!
1 - How to Increase C Drive Without Formatting with Partition Management Software
EaseUS Partition Master is an all-in-one partitioning utility that works with Windows 11 and all lower versions. With this tool, you can easily extend the C drive with or without unallocated space.
When there is free space on your system disc, just resize the C drive to make additional room. When your hard disc has no unallocated space, you can use the EaseUS partition manager to increase the C drive with free space on other partitions.
With the EaseUS disk management tool, you may do the following hard drive management without losing any data or exerting any effort.
Features of EaseUS Partition Master:
To safeguard privacy, resize/move partitions, create, format, delete, and merge partitions, and wipe disc data.
Copy and clone an entire drive to another, and migrate the operating system to SSD to speed up Windows without reinstalling.
Convert a logical partition to a primary partition or a primary partition to a logical partition, FAT to NTFS partition, MBR disk to GPT, or GPT disk to MBR.
Method 1. Increase C Drive by Allocating Space from D Drive to C Drive 
Moving free space from one partition to another would be simple if the two partitions were on the same disc. For example, if you wish to move the free space from the D drive to the C drive or move the free space from any partition to another disc, you can do so using these simple methods.
The EaseUS partition magic tool is all you need. It has an Allocate Space feature that allows you to move unused space from one partition to another on the same disc.
Following the installation of the EaseUS disc management program, proceed with the instructions to allocate free space to another drive. As an example, let's look at D and C drives.
Step 1. Right-click on the D: partition with enough free space and select "Allocate Space".
Step 2. Select the target partition - C: drive and drag the partition panel rightward to add the free space from D: drive to C: drive. Then click "OK" to confirm.
Step 3. Click the "Execute Operation" button and click "Apply" to start the process of moving free space from D: drive to C: drive.
If you have unallocated disk space, you can shift it to the desired hard drive by resizing hard drive partitions with EaseUS Partition Master.
Method 2. Increase C drive by Merging Partitions in Windows 11 
When there is no space on your disk, and you do not want to remove or format the hard drive, you can use EaseUS partition management software to enlarge the C drive and its "Resize/Move partition" option.
Option 1. Extend System C drive with unallocated space
1. Right-click on the System C: drive and select "Resize/Move".
2. Drag the system partition end into the unallocated space so to add it to the C: drive. And click "OK". 
3. Click "Execute Operation" and "Apply" to execute the operations and extend the C drive.
Option 2. Extend System C drive without unallocated space
1. Right-click a big partition with enough free space on the system disk, select "Allocate Space".
2. Select the system drive at the Allocate Space From (*) To section, and drag the end of System C drive into the unallocated space. Click "OK" to confirm.
3. Click "Execute Operation", it will list the pending operations, and click "Apply" to save the changes and extend the C drive.
0:00-0:32 Extend System Drive with Unallocated Space; 0:32-1:00 Extend System Drive without Unallocated Space.
2 - How to Increase C Drive Without Formatting in Disk Management
Disk Management is included with Windows 11 and lower versions and is regarded as a handy tool for assisting users in resolving partition and disc issues. You can perform the following steps to extend the partition.
Step 1: First open Disk Management. To do so: Open the WinX menu by pressing  Win + X, and then click to open the Disk Management.
Step 2: In Disk Management, the system (main) partition is navy-blue, whereas the unallocated partition is black. Select "Delete Volume" from the context menu when you right-click on the adjacent partition. Then, to confirm this action, click "Yes."

Step 3: Right-click on the system partition (C:) and select the "Extend Volume" option to examine if an unallocated space has been generated to the right of partition C.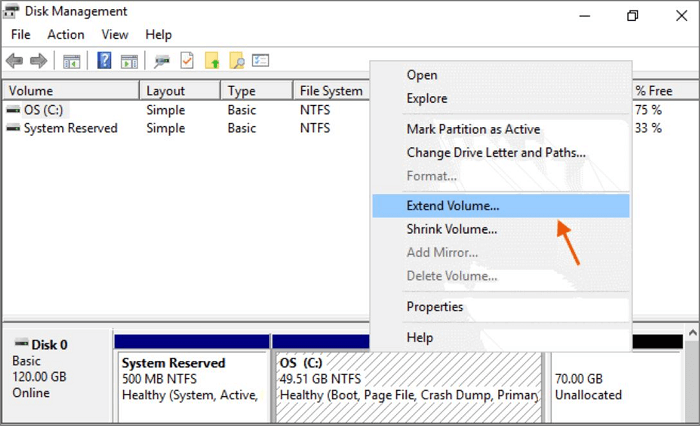 Step 4: The Extend Volume Wizard will appear; click "Next" to complete the process.
Quick things to keep in mind:
If the Extend Volume option in Windows Disk Management is greyed off, use the Delete partition or Delete partition override command instead.
If there is no unallocated space, the user must erase the C disk's adjacent partitions to extend the C disc.
Before erasing a partition, always make a backup of your files.
Conclusion
This page discusses all of the efficient ways to expand C drive space in Windows 11. EaseUS Partition Master is highly recommended for optimizing your hard disk and partitions to improve computer performance.
In this process of extending drive, the EaseUS disc management application is very useful. Furthermore, it can merge partitions, move operating systems, and convert MBR to GPT without data loss. Download this software if you are having disk management issues.
FAQ's
1. Can we extend the C drive?
You can, indeed. In Windows 11, you may quickly enlarge your C drive by using third-party tools or Disk Management. Our recommendation is the EaseUS partition program. It allows you to fast and conveniently extend any drive.
2. How do I add storage from D to C?
Allow EaseUS partition software to assist you. Launch EaseUS Partition Master and navigate to the target partition you want to extend. Use the "Resize/Move" tool to enlarge the partition if there is still unallocated space on your drive. If your disc has no unallocated space, utilize the Allocate Space feature to extend the appropriate partition.
3. Why extend volume grayed out windows 11?
When using Disk Management to expand C drive space, right-click "Computer," select "Manage," and then type "Disk Management." If the Extend Volume option on your computer is greyed out, it signifies that there is no unallocated space on your hard disk.
Updated by Tracy King 
Tracy joined in EaseUS in 2013 and has been working with EaseUS content team for over 7 years. Being enthusiastic in computing and technology, she writes tech how-to articles and share technical solutions about Windows & Mac data recovery, file/system backup and recovery, partition management and iOS/Android data recovery.

Roxanne is one of the main contributors to EaseUS and has created multiple posts on digital devices like PCs, Mobile phones, tablets, Mac, etc. She loves to share ideas with people of the same interest.
I love that the changes you make with EaseUS Partition Master Free aren't immediately applied to the disks. It makes it way easier to play out what will happen after you've made all the changes. I also think the overall look and feel of EaseUS Partition Master Free makes whatever you're doing with your computer's partitions easy.

 Read More

Partition Master Free can Resize, Move, Merge, Migrate, and Copy disks or partitions; convert to local, change label, defragment, check and explore partition; and much more. A premium upgrade adds free tech support and the ability to resize dynamic volumes.

 Read More

It won't hot image your drives or align them, but since it's coupled with a partition manager, it allows you do perform many tasks at once, instead of just cloning drives. You can move partitions around, resize them, defragment, and more, along with the other tools you'd expect from a cloning tool.

 Read More
About EaseUS Partition Master
All-round disk & partition management software for personal and commercial use. Let it manage your storage drive: resize, format, delete, clone, convert, etc.
Video Tutorial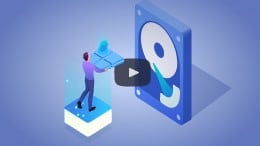 How to Partititon a Hard Drive on Windows 10/8/7
Was This Page Helpful
How Can We Help You
Find answers to common questions below.