
About the Author
Hot Topics in 2022
How to Fix USB Shows Read Only Windows 11? [Solved]
| Workable Solutions | Step-by-step Troubleshooting |
| --- | --- |
| Solution 1. Remove Write Protection | Step 1. Right-click on the file and select Properties. You can also access it by left-clicking once and opening...Full steps |
| Solution 2. Clear Read-only by Diskpart | Step 1. Press the "Win + R" buttons, type "cmd", and press Enter. Then type "Diskpart" in the cmd window and press...Full steps |
| Solution 3. Fix Disk Error by CHKDSK | Step 1. Press "Win + R" to open the "Run" dialog, type "cmd" in the search box, press Enter, right-click on the...Full steps |
| Solution 4. Format Read-only USB as Another File System | Step 1. Right-click the external drive or USB you intend to format and choose "Format"; Step 2. Set the Partition label...Full steps |
USB Shows Read Only Windows 11
If the files on the USB drive are set to read-only, the user cannot delete or format the drive. However, this is only for PCs, so you can do anything by plugging the USB into your Mac or Linux machine.
When you try to format the drive, it may be "write protected." It means that the USB drive is in a read-only state. If you need to change this setting to edit the drive's contents, you can use the command prompt to change the status of the USB drive on Windows systems.
Why USB Read Only on Windows 11?
Typically, if a USB drive has a read-only error (also known as write-protected), you cannot change the USB drive and prevent others from modifying your data. 
The reason for the read-only behavior is the filesystem format. As more consumers use NTFS on their computers, many storage devices, such as USB drives and external hard drives, are pre-formatted with NTFS.
A windows upgrade might also cause your folder to keep reverting to read-only. Many users complain that they had to face this error when they upgraded their system.
If your folder keeps reverting to read-only, it could be due to a recent Windows 10 upgrade.
Many users have reported that they encountered this error when upgrading their system to Windows 10.
Solution 1. Remove Write Protection on Windows 11
You must clear the read-only attribute to remove the write protection. It is entirely possible for files, folders, and entire storage devices. It is straightforward to get the file out of read-only mode. It's as easy as opening the file's properties and clearing the read-only check box.
Step 1. Right-click on the file and select "Properties". You can also access it by left-clicking once and opening the three-dot menu from the top of the file explorer.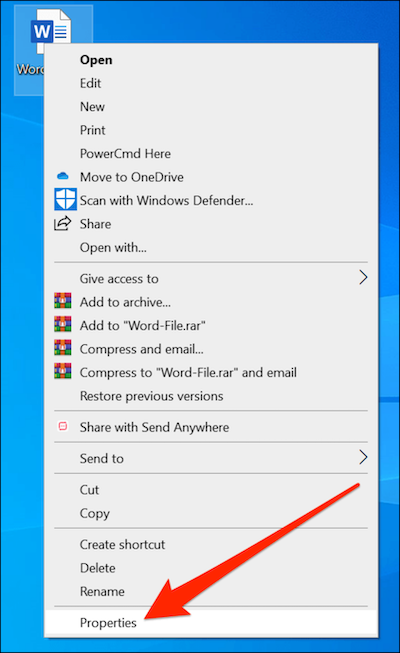 Step 2. Select "Read Only" to clear the box.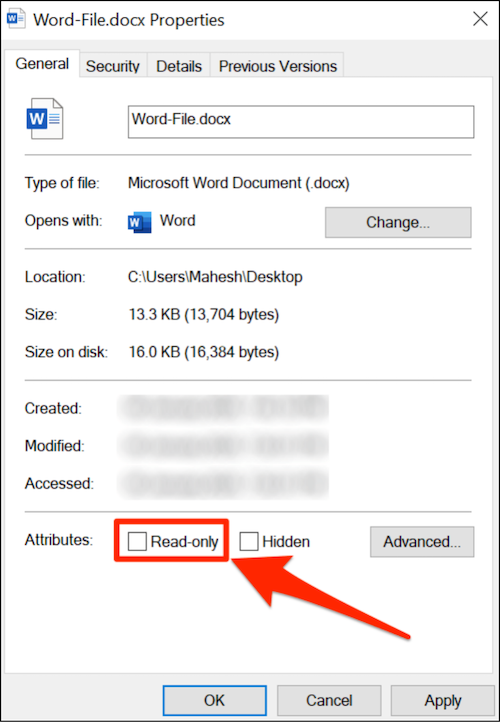 Step 3. Choose "OK" to save changes.
You can use another method to remove write protection in Windows 11. You can edit the registry key to disable write protection.
Step 1. Press the "Win + R" buttons to open the "Run" dialog and enter "Regedit".
Step 2. Go to the next track. "PC\HKEY_LOCAL_MACHINE\SYSTEM\CurrentControlSet\Control\StorageDevicePolicies"
Step 3. Double-click WriteProtect and then change the value from 1 to 0.
Step 4. Close Regedit and restart your computer. If you reconnect the USB drive, you will see that it is no longer read-only.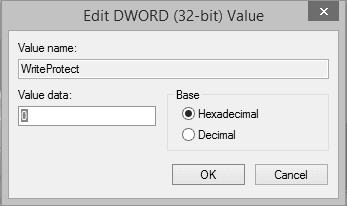 Solution 2. Clear Read-only with Diskpart
Devices and media are usually characterized as read-only mode, which can be changed to read-write by the user for further usage. If the USB flash does not have a key lock, you can use Diskpart to clear the read-only attribute. You can use the steps mentioned below:
Step 1. Press the "Win + R" buttons, type "cmd", and press Enter. Then type "Diskpart" in the cmd window and press Enter.
Step 2. Type "list disk" and press Enter to see a list of all disks on your Windows computer.
Step 3. Type selects disk # and press Enter. "#" is the number of the USB drive. Here, select Disk 2.
Step 4. Type Disk Attributes Clear Read-Only and Press Enter to remove write protection from the USB drive.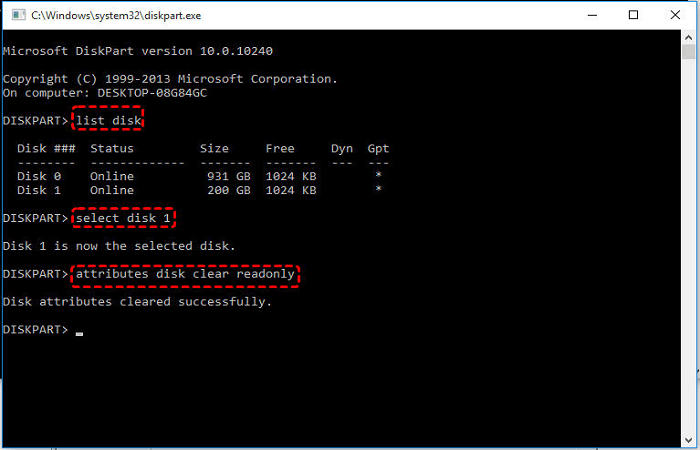 Solution 3. Fix Disk Error by CHKDSK
If the USB goes into read-only mode due to a disk error, you can use the CHKDSK.exe tool to check and correct any errors on the USB drive.
Step 1. Press "Win + R" to open the "Run" dialog, type "cmd" in the search box, press Enter, right-click on the Command Prompt icon on the screen and select "Run as administrator" to do so.
Step 2. In the Command Prompt Screen/Window that pops up, type "CHKDSK g: /f /r /x" to check and fix any errors you find.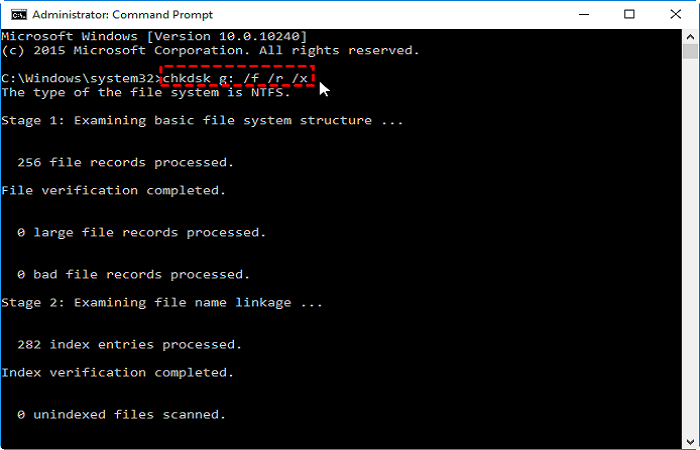 Solution 4. Format Read-only USB as Another File System
All the methods described will help you remove the write protection from the USB drive. You can format a USB drive without getting an error message in many cases. The disk is write-protected. However, you may not be able to configure it using File Explorer or Disk Management. In this case, we recommend you to try EaseUS, a free and powerful partition manager.
EaseUS Partition Master free is one of the best software used for erasing or wiping partitions or hard drives. It helps to completely erase all hard drives or external storage information, including programs, malware, viruses, and even your data. The program uses military-grade wiping technology that will overwrite your data several times to ensure that your data can not be recovered again, even if the most sophisticated tool is used.
The application helps you erase partitions, and entire disks from the computer or shred files, without any annoyance. In just some simple steps, you can get your job done. All you need to do is follow the on-screen instructions. The main window of the EaseUS Partition Master displays the three main functions in a simplified manner. You can choose from disk partitions, wiping disks, or shredding files.
Right-click the external drive or USB you intend to format and choose "Format".
Set the Partition label, File system (NTFS/FAT32/EXT2/EXT3/EXT4/exFAT), and Cluster size, then click "OK".
Click "Yes" to continue.
Click the "Execute 1 Task(s)" button and click "Apply" to format the hard drive partition.
Many storage devices like USB hard drives, pen drives, floppy disks, SD cards, and external hard drives are pre-formatted with specific file systems that may not be compatible with Windows PCs and Macs. Only other files can be read instead of writing new data. So, in this case, you can fix the disk read-only issue by converting the incompatible file system to one recognized by Windows, Steam, or the specific device.
EaseUS Partition Master Free Edition is a solid recommendation for a powerful and easy-to-use disk management tool that is just so happening to be free. The familiar layout, complete user guide, comprehensive help resources, and CD-ROM maps will help get you a good start. Partition Master Free can format, copy, resize, move and manage disk partitions as efficiently as the advanced competitors. It also supports removable drives and RAID devices.
You can download EaseUS Partition Master, a reliable and free partition manager, to reformat the disk to your desired file system, such as NTFS, FAT16/32, EXT2/3/4, etc. Some other features of EaseUS Partition Master:
Easy to use interface
Erase, copy, explore and partition discs
Dynamic volume management
Conclusion
Read-only, also known as write-protection, is a file system permission that allows a user to only read or copy stored data, and not be able to write new information or edit existing data. you can make the entire disc read-only to prevent accidental formatting. Above, five different methods are introduced to help you solve the "USB drive read-only" issue in Windows 11. we hope you resolve your issue with ease. However, if you cannot fix your problem through these steps, you can always buy a new USB flash drive for your convenience. 
Lastly, EaseUS Free Edition partition management software is a solid recommendation for a powerful and easy-to-use disk management tool that happens to be free.
About the Author

Roxanne is one of the main contributors to EaseUS and has created multiple posts on digital devices like PCs, Mobile phones, tablets, Mac, etc. She loves to share ideas with people of the same interest.
Product Reviews
I love that the changes you make with EaseUS Partition Master Free aren't immediately applied to the disks. It makes it way easier to play out what will happen after you've made all the changes. I also think the overall look and feel of EaseUS Partition Master Free makes whatever you're doing with your computer's partitions easy.

 Read More

Partition Master Free can Resize, Move, Merge, Migrate, and Copy disks or partitions; convert to local, change label, defragment, check and explore partition; and much more. A premium upgrade adds free tech support and the ability to resize dynamic volumes.

 Read More

It won't hot image your drives or align them, but since it's coupled with a partition manager, it allows you do perform many tasks at once, instead of just cloning drives. You can move partitions around, resize them, defragment, and more, along with the other tools you'd expect from a cloning tool.

 Read More