
About the Author
Hot Topics in 2022
How to Convert MBR to GPT Without Reinstalling Windows
Partition Table is described as a master table that describes on disk. If the disk partition table is lost, users are unable to read disk data and write new data on it. There are two types of Partition Table - Master Boot Record(MBR) and GUID Partition Table (GPT)— that are supported by Windows. While MBR is an old format, GPT is a new format that adheres to the rules of security and offers more flexibility that is needed in the current scenario.
What is MBR?
Master Boot Record (MBR) is a 512-byte boot sector that is present in all partitioned media that use the Master Boot Record partitioning scheme. It supports 4 major partitions, and if one wants more, it uses the Extended Partion, so users are not limited.
Pros:
MBR is simple and easy to maintain
Works on all the systems
Useful when you need a limited number of partitions.
Cons
The data integrity check is not possible.
Less Secure
Not supported by most of the modern OS.
What is GPT?
GPT or GUID Partition Table is a new type of partition table since the invention of MBR (Master Boot Record). It supports all the features of MBR, but instead of 4, you can go for 128 partitions. It is also secure compared to MBR as all important data is hidden. It is used by the latest version of Windows and is supported by most modern Motherboards.
Pros
Secure
Data integrity check
Supports more number of partitions.
Cons
It cannot be used on an older system because of compatibility issues.
Needs UEFI for complete support.
Why do you convert to GPT?
While it is apparent that GPT has its advantage, let's list it down and then decide:
More robust than MBR. It can span up to 128 partitions.
Stores cyclic redundancy check (CRC) that makes sure data is intact.
Compatible with old MBR tools.
GPT stores multiple copies of this data across the disk.
That said, one of the prominent reasons to convert MBR to GPT is that requirement of the operating systems is getting stringent. One such situation is Windows 11 Upgrade.
When upgrading to Windows 11, you need to make sure you have a UEFI-based system, supports TPM 2.0, and the partition table is GPT. In the future, you will need to move from MBR to GPT, and one of the biggest trouble will be doing it without reinstalling the Operating System.
Windows 10 support will end in a couple of years for a general user, and with Windows 11, you will eventually need to upgrade from MBR to GPT. It's a good idea that you stay prepared.
Is there a way to convert MBR to GPT without reinstalling OS?
Installing Windows is time-consuming, and followed by reinstalling every app and activating software is a major downside. One of the biggest problems when using the standard method to convert MBR to GPT is that you need to delete the partition, recreate it using GPT. Then you need to install Windows, and all the software needs to be reinstalled, which is never an option for many users.
That's where EaseUS Partition Master comes into the picture. The software doesn't delete or format the partition before MBR to GPT converting process. Here is the list of features and functions of the software
Easily Resize or Move Partition using the slider feature
Create, Format, Merge, Wipe and Delete Partitions.
Clone, Rebuild MBR, Convert to GPT.
Surface Test and 4K alignment.
One thing you should be aware that MBR to GPT works on the disk level and not on the partition level. So if you need to convert, you need to convert the disk into GPT.
Step 1. Download and launch EaseUS Partition Master on your computer.
Step 2. Go to Disk Converter, select "Convert MBR to GPT" and click "Next" to continue.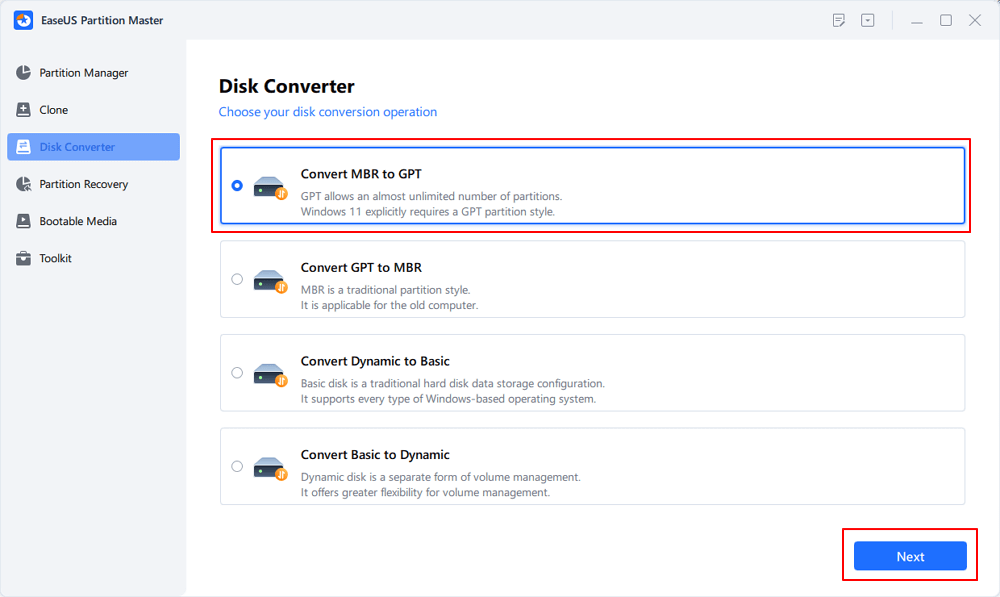 Step 3. Select the target MBR disk that you tend to convert to GPT, and click "Convert" to start the conversion.
Using EaseUS Partition Manage is easy, and all you need to do to convert is right-click on the disk and then choose to convert into GPT. Make sure the disk is not already converted to GPT. The label next to its listing in the software should help you identify.
Conclusion
Both MBR and GPT have their own place, and MBR may stab back for a couple of years. However, as new security implementations are becoming mandatory, the adaptation will speed up. Some of the biggest advantages of using GPT are large hard disk size support, more number of partitions, and security.
That said, EaseUS Partition Manager makes it possible to upgrade or convert from MBR to GPT easily. It will make sure you don't have to reinstall Windows and the rest of the software. While it works, it is always a good idea to make sure you have a backup in place.
Along with Conversion, the software also offers complete disk management tools, which are better compared to the Windows built-in tool. The ability to use the slider to increase or decrease the disk drive size is fantastic and saves a lot of time.
About the Author

Brithny is a technology enthusiast, aiming to make readers' tech life easy and enjoyable. She loves exploring new technologies and writing technical how-to tips. On her spare time, she loves sharing things about her favorite singer - Taylor Swift on her Facebook or Twitter.
Product Reviews
I love that the changes you make with EaseUS Partition Master Free aren't immediately applied to the disks. It makes it way easier to play out what will happen after you've made all the changes. I also think the overall look and feel of EaseUS Partition Master Free makes whatever you're doing with your computer's partitions easy.

 Read More

Partition Master Free can Resize, Move, Merge, Migrate, and Copy disks or partitions; convert to local, change label, defragment, check and explore partition; and much more. A premium upgrade adds free tech support and the ability to resize dynamic volumes.

 Read More

It won't hot image your drives or align them, but since it's coupled with a partition manager, it allows you do perform many tasks at once, instead of just cloning drives. You can move partitions around, resize them, defragment, and more, along with the other tools you'd expect from a cloning tool.

 Read More