
About the Author
Hot Topics in 2022
How to Convert FAT32 to NTFS Windows 10 Without Losing Data in 3 Ways
FAT32 and NTFS are the two most common file systems that Windows users have to deal with. And you might need to convert between FAT32 and NTFS tons of times for certain reasons if you often use USB flash drives or external drive. To make the job safe and easy, in this tutorial, we will show you how to convert FAT32 to NTFS Windows 10 without losing data in three methods. Read the details.
How to Convert FAT32 to NTFS Windows 10 Without Losing Data 
Using a professional FAT32 converter is the easiest and most secure option to convert FAT32 to NTFS when compared with other methods, like using the Command Prompt or Disk Management.
EaseUS Partition Master is a versatile disk management tool that provides you with a comprehensive partition converter and wizards:
Convert file system from FAT32 to NTFS
Convert disk style from MBT to GPT or from GPT to MBR without data loss
Convert partition from primary to logical and vice versa
Convert dynamic disk to basic disk or change basic disk to dynamic disk
Except for disk partition converting, EaseUS Partition Master also has other one-stop disk partition features, such as resize/move partition to solve low disk space issue, clone disk, merge partitions, create/delete/format partition, wipe data, migrate OS to SSD, and so on.
Now you can download this ultimate disk manager and follow the steps below to convert FAT32 to NTFS without formatting and losing data.
Step 1. Install and launch EaseUS Partition Master on your computer.
Step 2. Select a FAT32 partition, right-click on it and select "Convert to NTFS". If you need to convert a storage device such as SD card or USB flash drive to NTFS, insert it into your PC first and repeat the previous operation.
Step 3. Click "OK" on the pop-up dialog box to continue.
Step 4. Now the converting process will start automatically. Wait until the operation process is finished.
Convert FAT32 to NTFS in Windows 10 Using CMD
If you don't like to use a third-party FAT32 converter to change the FAT32 file system to NTFS, you can refer to Command Prompt to finish the work.
Command Prompt, is the built-in command-line interpreter on Windows operating system. It can help users to manage disk partition through running different commands, such as creating partition, formatting partition, deleting partition, etc..
To convert FAT32 to NTFS in Windows 10 with Command Prompt, follow the instructions shown below.
Step 1. Click the Search button, then type CMD. Right-click Command Prompt and then click "Run as administrator".
Step 2. In the Command Prompt, type convert drive letter: /fs: ntfs and press "enter". For example, if you want to convert drive E: so you type convert e: /fs:ntfs.
Step 3. In the next screen, you will be asked to type the current volume label of the drive (you should enter the existing name of the drive or else the conversion process will be aborted).
After entering the label name, the conversion process will start. Once it gets completed, you will get a message in the command prompt saying conversion complete.
 Notice:

1. Command Prompt requires you to manually enter the command lines for changing the file system, and if you accidentally input the wrong command lines, there will be a high risk of data loss. So, be careful.

2. Once you convert the drive to NTFS, you cannot convert it back to FAT32. If you try to convert NTFS to FAT32, use EaseUS partition converter.
Convert FAT32 to NTFS Windows 10 by Formatting
Disk Management is another utility you can use to convert FAT32 to NTFS on Windows 10. But it changes file system by formatting, which will lead to data loss. Therefore, back up your files in advance.
Step 1. Press Windows + R to start Run. Type diskmgmt.msc and click OK. Right-click the partition you want to convert and select "Format…".
Step 2. Type the volume label, select NTFS. By default, perform a quick format. Then click "OK".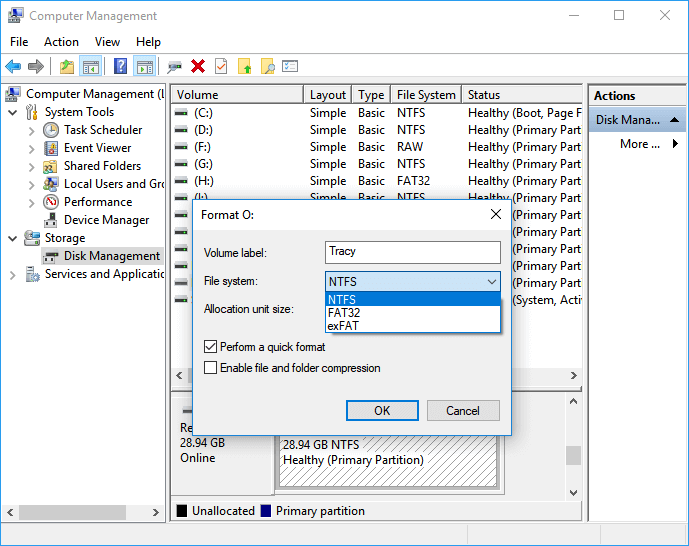 What's the Best Way to Convert FAT32 to NTFS Windows 10
You have three ways to convert FAT32 to NTFS Windows 10:
1. EaseUS Partition Master: this partition and disk converter enables you to convert FAT32 to NTFS or convert NTFS to FAT32 without formatting and data loss. What's more, it has full-around disk management functions to organize your hard drive efficiently and enhance system performance.
2. Command Prompt: you can convert FAT32 to NTFS with CMD, no extra programs needed. But the biggest drawback to this approach is that it only allows changing file system from FAT32 to NTFS, and does not allow reverse conversion.
3. Disk Management: this is a very useful pre-installed tool for disk management in Windows 7/8/10. It can convert FAT32 to NTFS by formatting. If you don't back up data at first, you will run the risk of losing data.
FAT32 VS NTFS Windows 10
The FAT32 file system is a traditional file system that is readable and writable in Windows, Mac OS X, and Linux. But Windows now recommends NTFS over the FAT32 file system because FAT32 can't handle files larger than 4 GB. NTFS is a popular file system for Windows computer hard drive. But it isn't great for flash drives or external hard drives that need to interface with Mac and Linux since Mac and Linux can only read NTFS drives - not write to them.  
So you need to convert the file system from FAT32 to NTFS first when you have a hard drive or USB flash drive formatted with the FAT32 file system and try to copy large files such as most full-length movies and anything really large, like a virtual machine to it. Otherwise, you will encounter an error.
Convert FAT32 to NTFS Windows 10 FAQs
Here are the relevant questions to FAT32 to NTFS converting. If you also have these problems, check the brief answers.
How can I format FAT32 to NTFS in Windows 10?
Quick steps to convert FAT32 to NTFS Windows 10 with CMD:
1. Find the letter of the drive you want to convert. Open File Explorer, and in the left pane, look for the drive under "This PC" or "Computer."
2. Press the Windows logo key + R to open the Run dialogue box.
3. Enter cmd to open the command prompt window.
4. At the command line prompt, type convert drive: /fs:ntfs. 
Can I convert FAT32 to NTFS?
You can easily convert FAT32 to NTFS Windows 10 with the EaseUS partition management tool:
1.Download and install EaseUS Partition Master. If you want to convert a USB flash drive, or SD card, connect the device to your computer.
2.Select a FAT32 partition, right-click on it and select "Convert to NTFS".
3. Click "OK". Go to the upper left corner, click the "Execute Operation" button and you will see the operation details. Click "Apply" and "Finish" when the process completes.
Does Windows 10 use FAT32 or NTFS?
Windows 10 mainly use the NTFS file system. By default NTFS is the file system used by Windows operating systems. For removable flash drives and other forms of USB interface-based storage, you can use FAT32. But the removable storage larger than 32 GB we use NTFS you can also use exFAT your choice.
The FAT32 file system is perfect for storage devices like flash drives but you'll need to make sure you don't have an individual file larger than 4GB. 
About the Author
Daisy is the Senior editor of the writing team for EaseUS. She has been working in EaseUS for over ten years, starting from a technical writer to a team leader of the content group. As a professional author for over 10 years, she writes a lot to help people overcome their tech troubles.

Roxanne is one of the main contributors to EaseUS and has created multiple posts on digital devices like PCs, Mobile phones, tablets, Mac, etc. She loves to share ideas with people of the same interest.
Product Reviews
I love that the changes you make with EaseUS Partition Master Free aren't immediately applied to the disks. It makes it way easier to play out what will happen after you've made all the changes. I also think the overall look and feel of EaseUS Partition Master Free makes whatever you're doing with your computer's partitions easy.

 Read More

Partition Master Free can Resize, Move, Merge, Migrate, and Copy disks or partitions; convert to local, change label, defragment, check and explore partition; and much more. A premium upgrade adds free tech support and the ability to resize dynamic volumes.

 Read More

It won't hot image your drives or align them, but since it's coupled with a partition manager, it allows you do perform many tasks at once, instead of just cloning drives. You can move partitions around, resize them, defragment, and more, along with the other tools you'd expect from a cloning tool.

 Read More