How to Change File Type in Windows 10
PAGE CONTENT:
What is File Type and Can You Change File Type in Windows 10?
Fix 1. How to Change A File Type Windows 10 via File Explorer
Fix 2. How to Edit File Type with Online Tool
Using CMD to Change Type for Multiple Files?
Can't Change File Type Windows 10? Fix Disk Error Now!
What is File Type and Can You Change File Type in Windows 10?
Right-click the file and select Properties on the menu. You can see the type of file on the panel. The extension is a name give to the stored file, such as .doc, .xlsx, .pptx, etc. Setting file extension is easy to open files with specific programs, such as the .xlsx will be open with Microsoft Excel.
Can the file type be modified? Yes, you can change the file type by rename option. But it is not a panacea. Some files created in the wrong way can not be open after shifting to a new extension.
In this article, we will show you two fast ways to change the file type in Windows 10.
Fix 1. How to Change A File Type Windows 10 via File Explorer
1 - Making File Type Visible on Windows 10
Step 1. Type Control Panel in the search box and click to start.
Step 2. Click on Appearance and Personalization.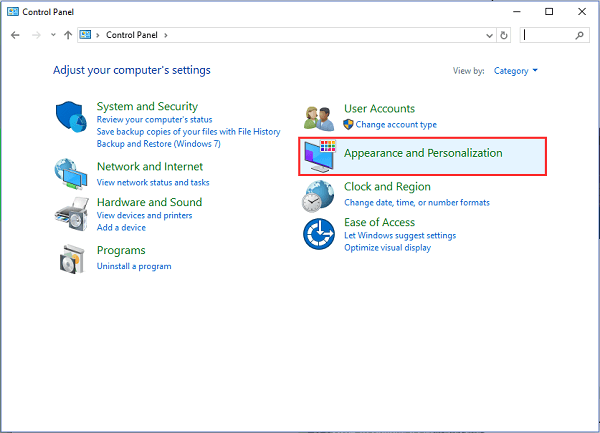 You can find this by clicking Control Panel on the location path.
Step 3. Select the File Explorer Options on the panel.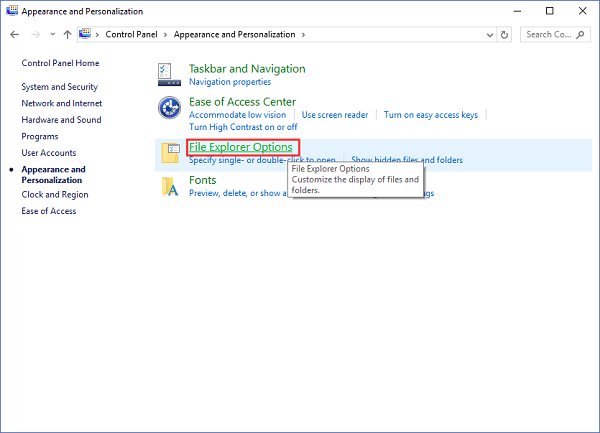 Step 4. Go to the View tab. And then go to the Advanced setting below. Uncheck Hide extensions for known file types.
Scroll down the list and you can see "Hide extensions for known file types".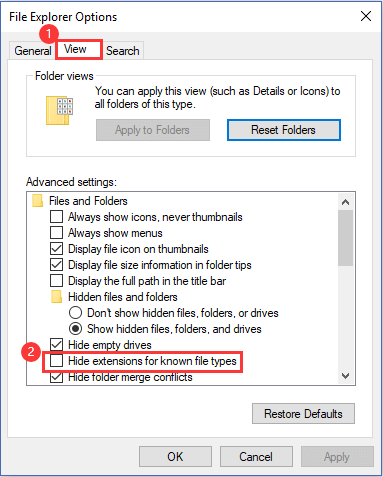 Step 5. Click Apply button and click OK.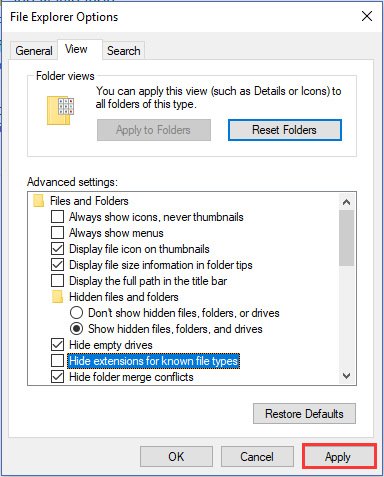 2 - Change File Type
Step 1. Open the File Explorer. Find the targeted file you want to change its extension.
Step 2. Right-click the file and select the Rename from the drop-down menu.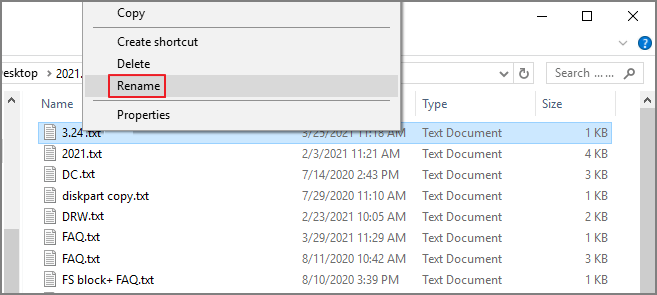 Step 3. Type the new file extension to replace the old extension. And then press Enter on the keyboard or click the blank space on the panel to save the new changes.

Step 4. After typing the new extension, you can see the warning message.
Rename windows will warn you that if you want to change a file type, the file might fail to use again. Select Yes if you want to continue.

Once it is done, you can see the file type has shifted. If it works, the file icon will be recognized by existing programs to open it. For example, if you choose to replace .txt with .doc, once it is confirmed, your new doc file can open with Microsoft Word. However, if it does not work, for data security, you'd better return the extension to the previous type.
Read also:
Fix 2. How to Edit File Type with Online Tool
If the Rename option is no good for you, the wise method is to use an online file converter to transform the file format. Download the transformed file to the right location and delete the old one. Try a safe website to protect your data.
Set cloudconvert.com as an example: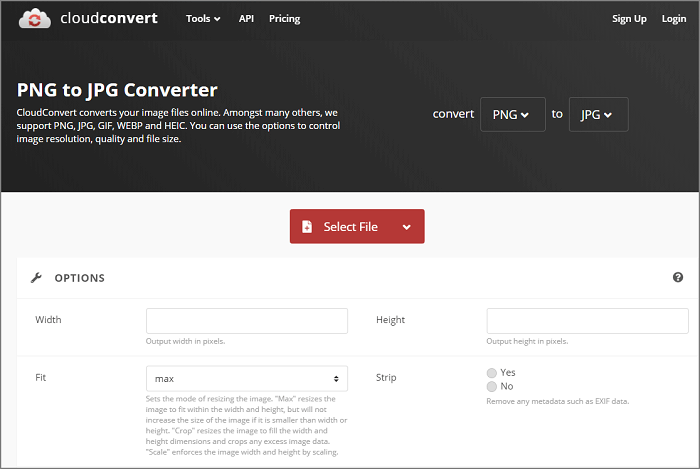 Using CMD to Change Type for Multiple Files?
As we tested, fix 1 is capable of replacing file type. However, you can only edit the extension one by one. Does any way to change the icon in bulk? We found many users asked how to change the file extension in Windows 10 using CMD. And some articles do offer the corresponding command line (like ren *.png *.jpg). Unfortunately, it doesn't work all the time. We got nothing but a message that the folder is not recognized as an internal or external command, operable program, or batch file.
If you still curious about CMD and like to try it, see as follows:
Holding the Shift key and right-click the folder. Choose the Open command window here. (If you can not see the options, don't waste your time.)
Type the storage path stored targeted files and type the command line and press Enter: ren *.(current file type) *.(new file type)
Can't Change File Type Windows 10? Fix Disk Error Now!
The culprit behind "Can't change file type" might relate to an unknown disk partition error. So we gonna introduce a partition manager tool, EaseUS Partition Master Free, to check disk errors for smooth utilize. It is possible to apply the "Check File System" function. Once the function is confirmed, it will fix the hard drive error it found.
Moreover, if you want to replace the old hard drive with a new one, you also need partition manager software to create, resize, merge, format partition, or migrate OS to another disk.
Download the EaseUS Partition Master Free and follow the step-by-step guide to check the file system:

EaseUS Partition Master Free
Step 1. Open EaseUS Partition Master on your computer. Then, locate the disk, right-click the partition you want to check, and choose "Advaned" > "Check File System".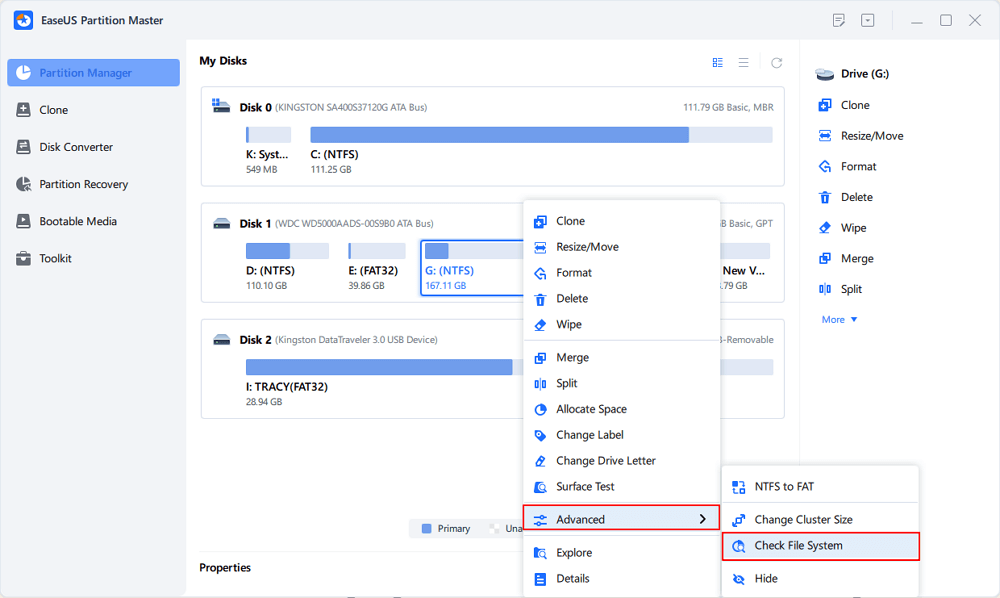 Step 2. In the Check File System window, keep the "Try to fix errors if found" option selected and click "Start".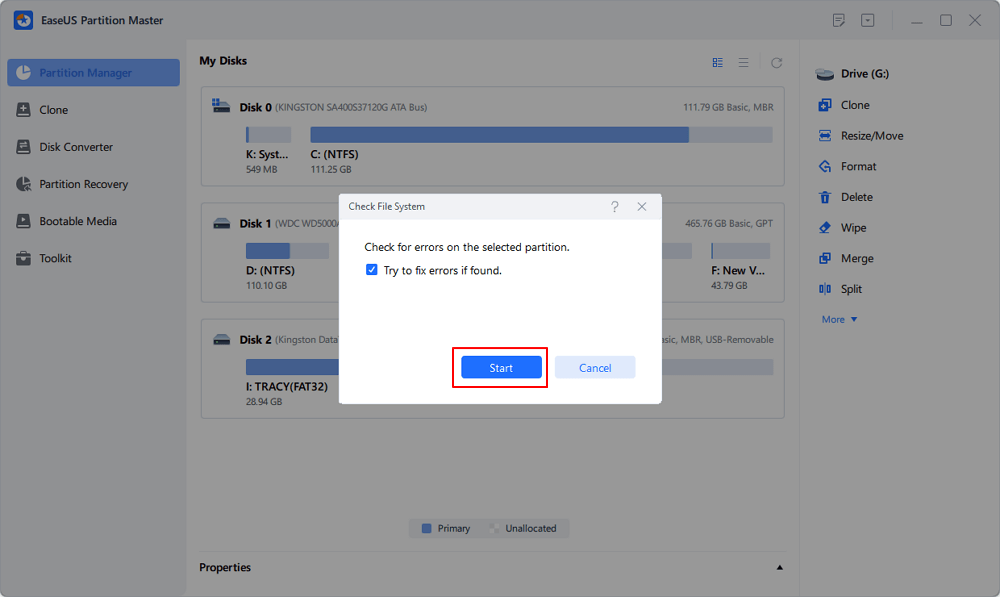 Step 3. The software will begin checking your partition file system on your disk. When it complets, click "Finish".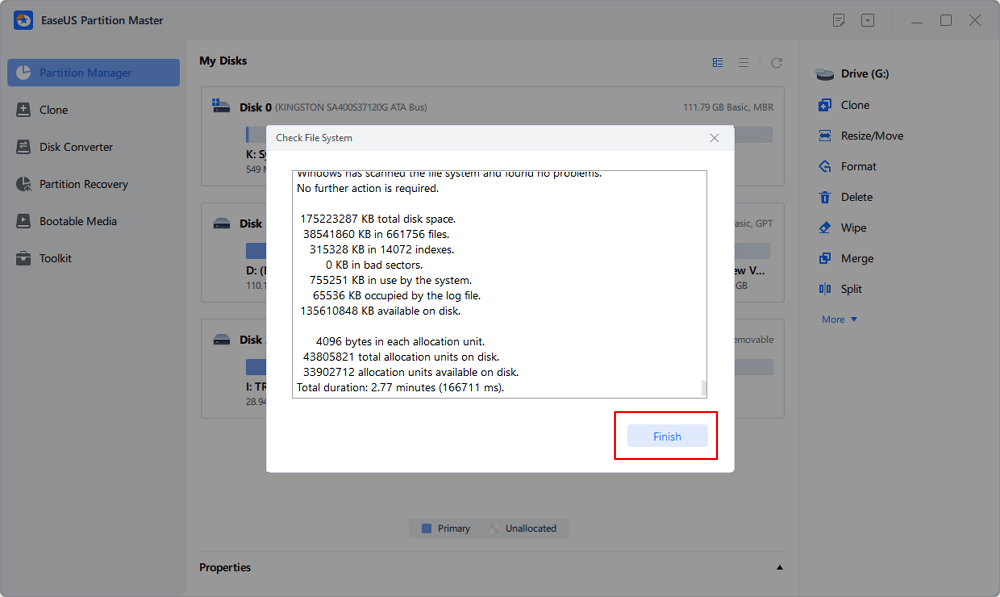 To Sum Up
That is all the content we listed in the article. Two fast ways and one third-party program for checking disk errors. Hope it can help you to the greatest extent. If you get any reliable solutions with CMD, we are likely to hear from you. Any technical questions, please contact [email protected]

Roxanne is one of the main contributors to EaseUS and has created multiple posts on digital devices like PCs, Mobile phones, tablets, Mac, etc. She loves to share ideas with people of the same interest.
I love that the changes you make with EaseUS Partition Master Free aren't immediately applied to the disks. It makes it way easier to play out what will happen after you've made all the changes. I also think the overall look and feel of EaseUS Partition Master Free makes whatever you're doing with your computer's partitions easy.

 Read More

Partition Master Free can Resize, Move, Merge, Migrate, and Copy disks or partitions; convert to local, change label, defragment, check and explore partition; and much more. A premium upgrade adds free tech support and the ability to resize dynamic volumes.

 Read More

It won't hot image your drives or align them, but since it's coupled with a partition manager, it allows you do perform many tasks at once, instead of just cloning drives. You can move partitions around, resize them, defragment, and more, along with the other tools you'd expect from a cloning tool.

 Read More
About EaseUS Partition Master
All-round disk & partition management software for personal and commercial use. Let it manage your storage drive: resize, format, delete, clone, convert, etc.
Video Tutorial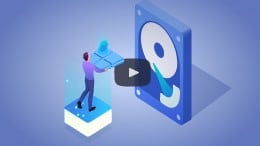 How to Partititon a Hard Drive on Windows 10/8/7
Was This Page Helpful
How Can We Help You
Find answers to common questions below.