Summary
If folders suddenly turn into shortcuts on your computer hard drive, external hard drive or USB, your device is infected by the shortcut virus. There are three ways that you can try to remove shortcuts from folders - antivirus software, attrib cmd and show hidden files. If saved files are lost, EaseUS data recovery software will restore them for you in 3 steps.
PAGE CONTENT:
Phrase 1. Remove Shortcut Virus [3 Ways]

Phrase 2. Restore Data After Removing Shortcuts
Are you experiencing the same issue that the folders saved on your computer hard drive, external hard drive, USB or SD card suddenly turned into shortcuts?
When you open your USB or hard drive partition in Windows Explorer, folders suddenly turn into shortcuts and saved files become inaccessible, your device has been infected with the Shortcut virus.

Overview of Shortcut Virus Infection
Shortcut virus is a triggered issue. Once your device gets connected to the shortcuts virus, its malware will creep into your PC, USB pen drive, memory card or other removable storage devices. And then it will immediately create a shortcut of your folders with the same names, hiding the real folder and files.
You can neither open the shortcut folder nor access the saved files. What's worse, the virus will request money for decryption the folder.
If you suddenly find your folders turned into shortcuts, please take it easy! It is not horrible. Many users who have had a similar experience have found a solution. Next, we will show you how to fix folders turned into shortcut without losing data in two phrases.
Phrase 1. Remove Shortcut Virus [3 Ways]
There are three ways that you can apply to restore encrypted folders from shortcuts. You can try any one of the provided methods listed here to convert the shortcut file into the original file with ease.
Method 1. Clear Shortcut Virus with Antivirus Software
Yes, the most effective and easiest method to remove shortcut virus is to apply Antivirus software for help.
Here is a list of highly ranked antivirus software that can clear this virus from your PC and storage devices:
Shortcut Virus Remover
Shortcut Virus Fixer
USBFix
Hitman Pro
You can also search online to find reliable software to remove this virus from your device.
Method 2. Run attrib Command
When you ask for help on how to fix folders changed into shortcuts, many experienced users will mention the CMD command prompt as a solution. And at most times, it does work to remove the shortcut virus and recover data.
Step 1: Create a Notepad document on the Desktop of your computer.
Step 2: Copy these content into the Notepad and save the file.
Step 3: Close the notepad document and rename it as "UPAN.cmd". (.cmd is the file extension.)
Copy the file to the device where your folders became shortcuts.
Step 4: Double-click the .cmd file and run it. Wait for the process to complete.
After this, the shortcuts will be removed and you should be able to access the folders and saved files again.
Method 3. Show Hidden Files
By changing the File Explorer settings, you will be able to view the files and folder that have been hidden by the shortcut virus:
Option 1. Show Hidden Files and Folder in File Explorer
Step 1: Connect the device with the folder turned into shortcuts to your PC.
Step 2: Open Windows File Explorer and open the USB or hard drive partition with shortcut folders.
Step 3: Go to the "View" tab and uncheck "Hidden items".
Option 2. Show Hidden Files with Windows Control Panel
Step 1: Open Windows Control Panel, locate and right-click on "File Explorer Option", and select "Open".
Step 2: At the View tab, under Hidden files and folders section, check "Show hidden files, folders and drivers".
Step 3: Click "OK" to confirm.
After this, you will be able to view all hidden files and folders on your device.
Phrase 2. Restore Data After Removing Shortcuts
After removing the shortcuts from your device, you can open the folders to check if the data are securely saved there.
If the data are still inaccessible, or you can't see any saved data, don't worry. Read on, you'll learn how to recover lost data after removing the shortcut virus.
First, download professional data recovery software
EaseUS file recovery software is a popular tool which enables users to fully scan and restore lost files due to deletion, formatting and even virus attack.
It also supports you to restore files that have been hidden or removed by the shortcuts virus.
Next, perform full data recovery
It will only take 3 steps to restore data from the device after removing shortcuts folders by using EaseUS Data Recovery Wizard:
Step 1. Select a location to start finding data
Launch EaseUS Data Recovery Wizard, please select a location where you lose your data and start to scan, like Desktop, Libraries, hard drive, external storage devices or lost partitions.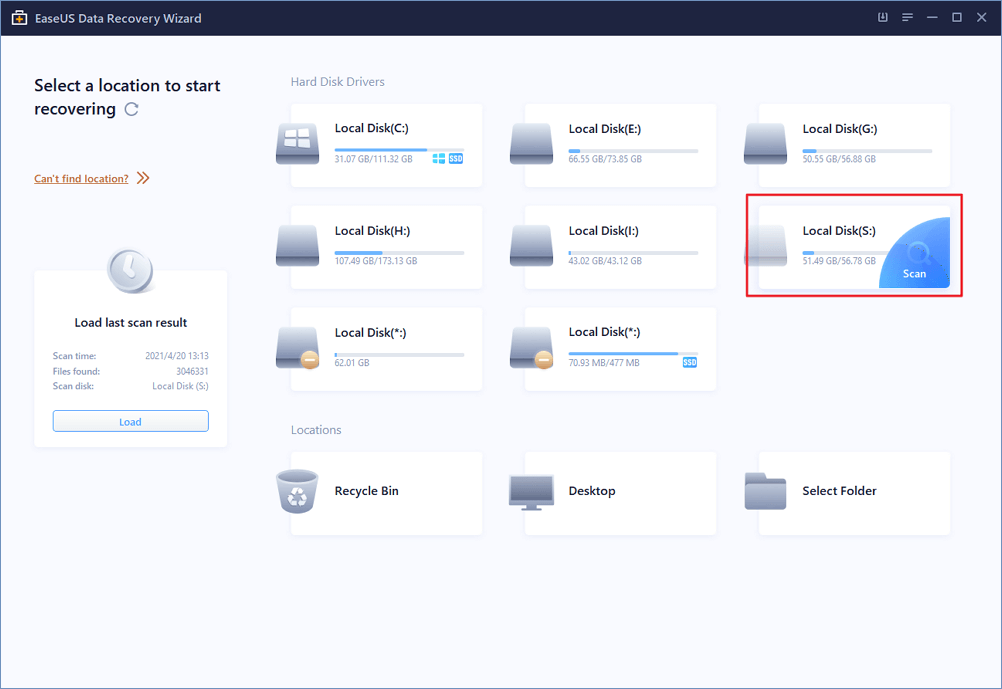 Step 2. Scan your partition
Click the "Scan" button and the software begins to scan your partition to find as much lost data as possible.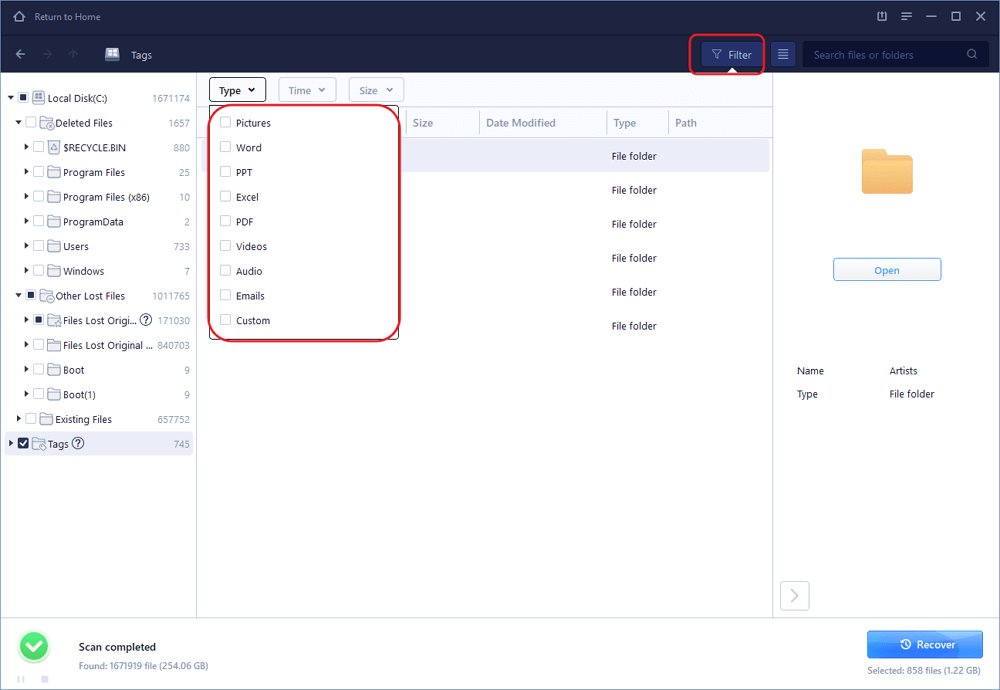 Tips for finding wanted data
Extra Files: find files that lost names or paths
Filter: a quick way to your wanted files
Search: e.g. file name/file extension
Step 3. Preview and recover lost files
EaseUS Data Recovery Wizard allows you to preview specific recoverable files. After the preview or file filtering, you can target the tracked files and press the "Recover" button to get everything you want back.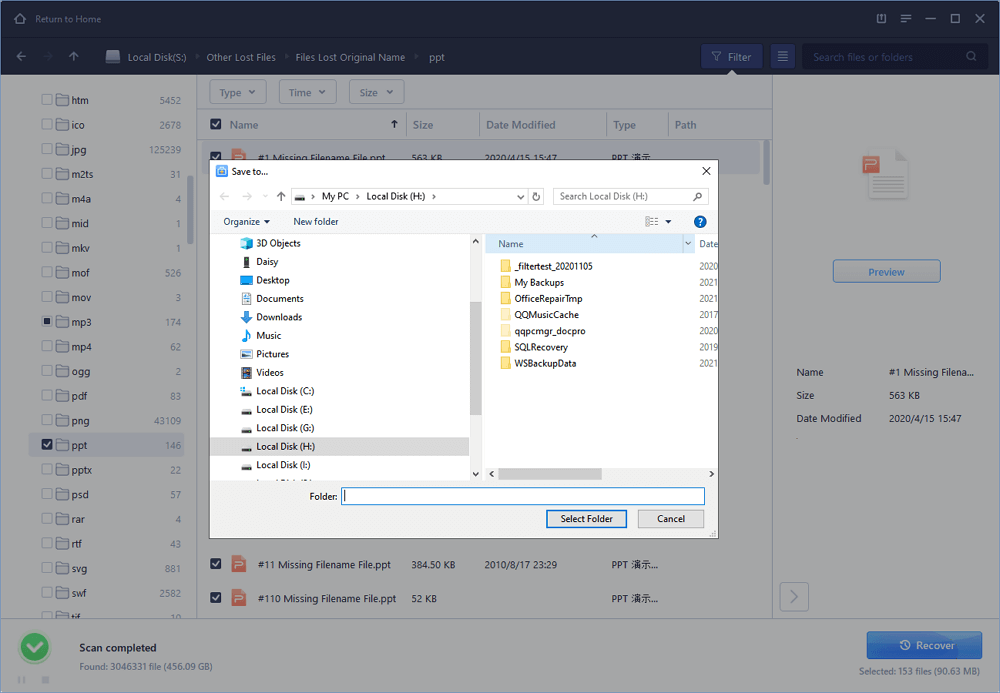 100% of people found this article helful.
Frequently Asked Qusetions
1. Why cannot I recover 2GB data for free?

It is recommended to check the version installed is Free or Trial because they are different versions.

Trial has data preview function but cannot save any files, while the Free version enables to recover 2 GB files. The default free space is 500 MB and you may share the product on social media to get another 1.5 GB.
2. Why cannot the recovered files be opened?

A file is saved as 2 parts on the storage device: directory info (which is comprised by file name, time stamp and size info, etc.) and data content.

If the files with original file names and folder structures cannot be opened, one possible reason is the corrupted directory info. There is still a chance to recover the data content with the RAW Recovery method in our software.
3. Why isn't it suggested to recover the files back to the original drive?

The storage structure of the lost files would be altered or damaged by any changes on the drive. If you save the recovered files back to the same drive, the original data structures and data content would be corrupted or overwritten, which causes permanent data loss. So you should prepare another disk to save the files.
4. How can I check whether my data is recoverable or not before purchase?

The Free version helps you save 2GB files to better verify the recovery quality of our product before purchase.
5. How long does it take to scan the drive?

It strongly depends on the capacity of your hard drive and the performance of your computer. As reference,most drive recoveries can be completed in around 10 to 12 hours for a 1-TB healthy hard drive in general conditions.
About Data Recovery Wizard
It's super easy to recover 250+ types of files after deletion, disk formatting and virus infection. Click the links and compare the difference of each version.