Can I Recover Files from Windows.old Folder
"I decided to reinstall Windows 10 after a sudden crash of My PC. And all of my files are in the windows. old folder and they are still taking up space. My games on steam are showing up in the folder but I cannot launch them from steam. I was just wondering if there is a way to restore files from Windows.old folder."
After upgrading an old version of Windows to another, you have a Windows.old folder automatically created on your computer. It is a folder that contains all of the operating system files and personal data files of your previous version. If you do not like the new Windows version, you can restore it from Windows.old folder. Usually, we don't recommend you remove this folder because it is quite helpful if you want to get some files back.
If you lost the Windows.old files, we will show you how to manually or automatically retrieve files from Windows.old folder. 
Note: You can try to restore Windows.old folder with special recovery software if you deleted it by mistake. 
Method 1. Manually Windows.old Restore (Easy Steps)
Step 1. Open up the Computer panel and go to the system partition.
Step 2. Double-tap or double-click the "Windows.old folder > Users folder > your username".
Open the folders that contain the files you want to retrieve.
Step 3. Copy and paste the files that you want from each folder to a folder in Windows 10.
Repeat step 2 for each user account on your PC.
Method 2. Automatically Windows.old Restore
Even you can manually retrieve files from Windows. old folder by navigating to C:\Windows.old\Users\username folder and cut-pasting the Documents, Pictures, etc folders into your desired location, it is a little bit complicated. Here is an easier way: run the recover personal files troubleshooter to automatically retrieve your files from Windows. old folder and copy them back to their original location. 
Method 3. Recover Deleted or Lost Data Without Windows.old Folder
Sometimes, you might get some important files lost due to accidental deletion, disk formatting, virus attack, software crash, partition loss, raw error, etc without Windows. old folder. When it happens, how will you get back your lost data? Actually, it is not so difficult as you have expected as long as you find powerful data recovery software.
Here you can try EaseUS Data Recovery Wizard. It is popular recovery software that can deal with all data loss situations to effectively retrieve lost files from hard drive, USB flash drive, SD card, memory card, digital camera, and many other storage devices. The EaseUS Data Recovery Wizard process just takes 3 simple steps.
Step 1. Run EaseUS Data Recovery Wizard on your computer. Choose the drive where you lost files and click "Scan". If your lost files were on an external storage device, connect it to your computer firstly.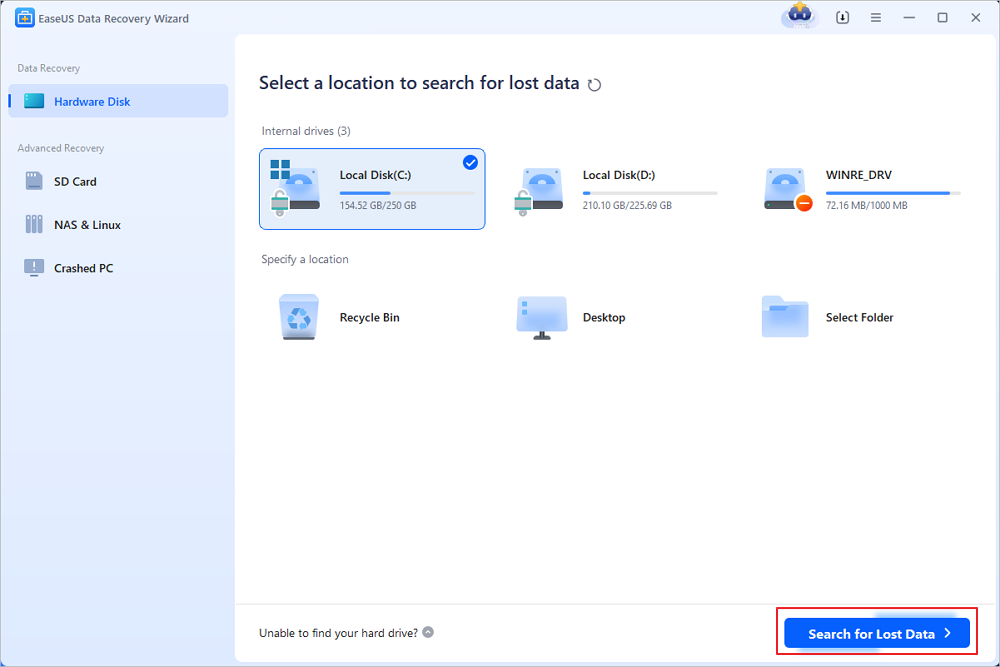 Step 2. The software will quickly scan the deleted files immediately, and then automatically perform a deep scan to find more lost files. After the scan is completed, you can use "Filter" to quickly filter specific file types.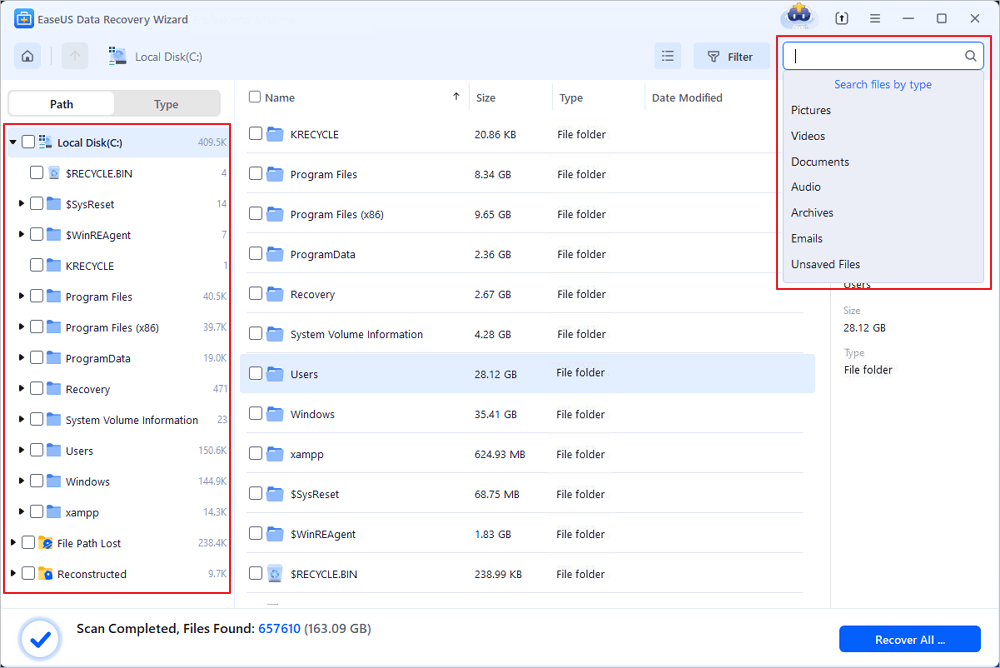 Step 3. Click the "Preview" button or double-click on a file for a full preview. Finally, select the desired files, click "Recover" and choose another safe location to save all the files at once.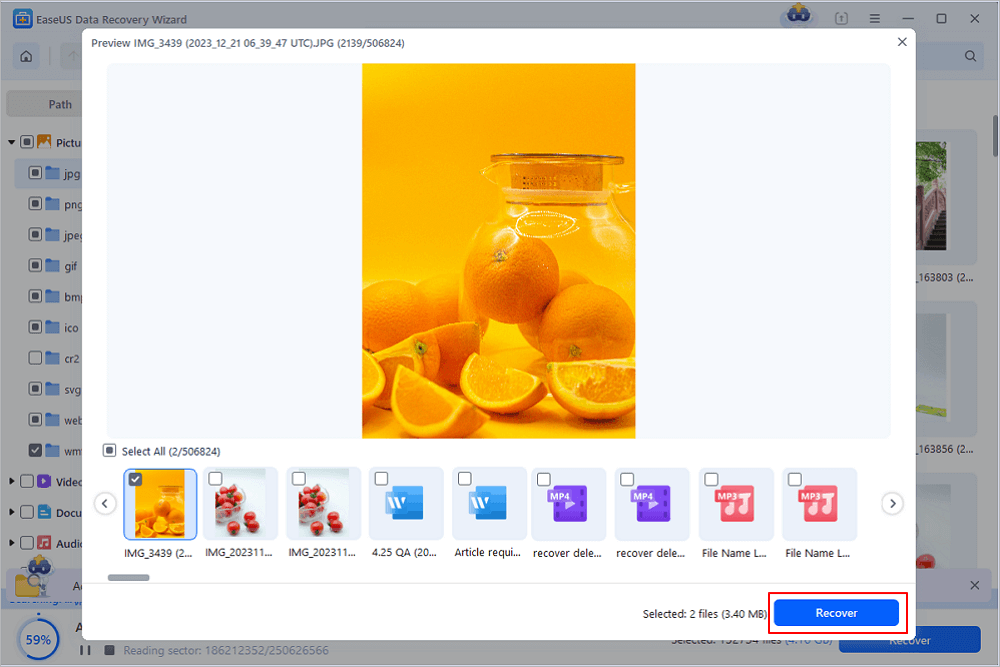 If you have any problems, you can watch this video for more help!
Extra Tip: Downgrade to the Previous Version
As mentioned above, you can downgrade from the new version to the older one with the Windows.old folder. Go to "Settings > Update & Security > Recovery", you'll see a "Get Started" button under "Go back to Windows 7/8.1/10.
Click it and Windows will restore your old Windows operating system from the Windows.old folder.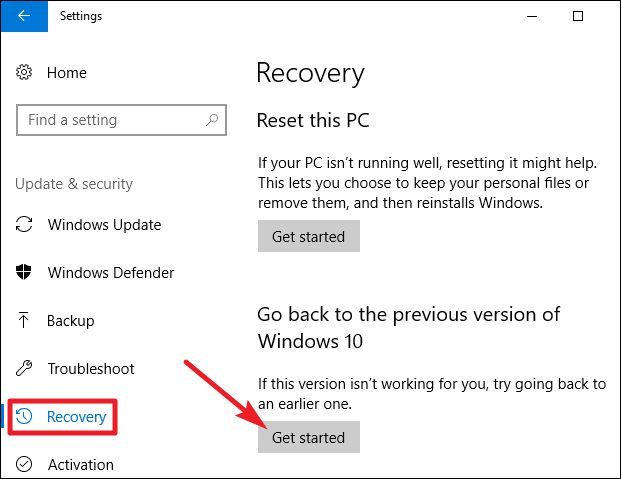 Cedric Grantham is one of the senior editors of EaseUS who lives and works in Chengdu, China. He mainly writes articles about data recovery tutorials on PC and Mac and how-to tips for partition management. He always keeps an eye on new releases and loves various electronic products.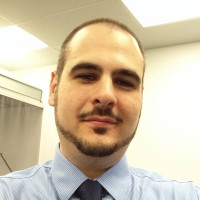 Approved by Evan Galasso 
Evan Galasso is a digital forensics and data recovery engineer with over 10 years of experience in the field. He presents opinions on the current state of storage media, reverse engineering of storage systems and firmware, and electro-mechanical systems of SSDs and HDDs.