Looking to recover deleted files Windows 10? There are numerous methods you can use to get data back, including EaseUS file recovery software. Windows also has its own built-in file recovery tools. We'll show you the best approach to take in different data loss situations.
It is, unfortunately, all too easy to accidentally delete files in Windows 10. Microsoft has included a safety net in the form of the Recycle Bin, but this does not always help – sometimes you can accidentally delete data permanently. Holding the Shift key while deleting a file, for instance, bypasses the Recycle Bin so data cannot be easily recovered, and the Recycle Bin is also limited in capacity. Not only can it hold a certain amount of data, but it will also house files up to a certain size. Try to delete files when the Bin is full, and data will simply be wiped out.
But all is not lost. There are things you can do to get back files you thought you would never see again. Join us as we show you how to restore permanently deleted files in Windows 10, using built-in tools and third-party options.
Recover Deleted Files Windows 10 Using Undo Delete
Many users know a quick way to restore recently deleted files, that is using Ctrl+Z deleted files recovery. Or, You can right-click the folder where it was located and clicking "Undo Delete".
Here are the steps to undelete files with Undo Delete feature:
Step 1. Right-click the folder where the file was lost.
Step 2. Click "Undo Delete" to restore the file to its original location.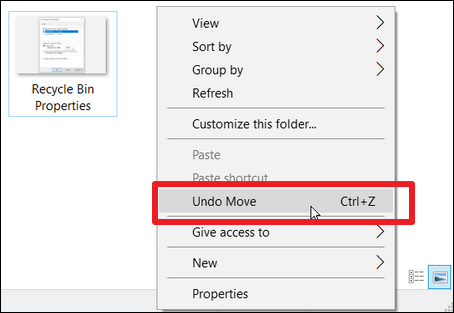 Step 3. Or, press "Ctrl+Z" directly to restore the lost files.
Keep in mind that ctrl+z or Undo Delete will only work if the file or folder was deleted recently. This method is not useful if you restart your computer after file loss, After a
Restore Deleted Files Windows 10 from Recycle Bin
If you delete a file by hitting the "Delete" button on your keyboard or simply drag it to the Recycle Bin, then the steps to undelete files in Windows 10 are easy.
Step 1. Open the "Recycle Bin" from the desktop or Start menu and then locate the deleted files you are interested in.
Step 2. Browse through the content of the Recycle Bin to locate the files you need. You can also perform a search for a specific file, or use the column headings to identify files based on size, date of modification, and more.
Step 3. Select the file you would like to get back and then right-click them. 
Step 4. Click "Restore" to recover the deleted files.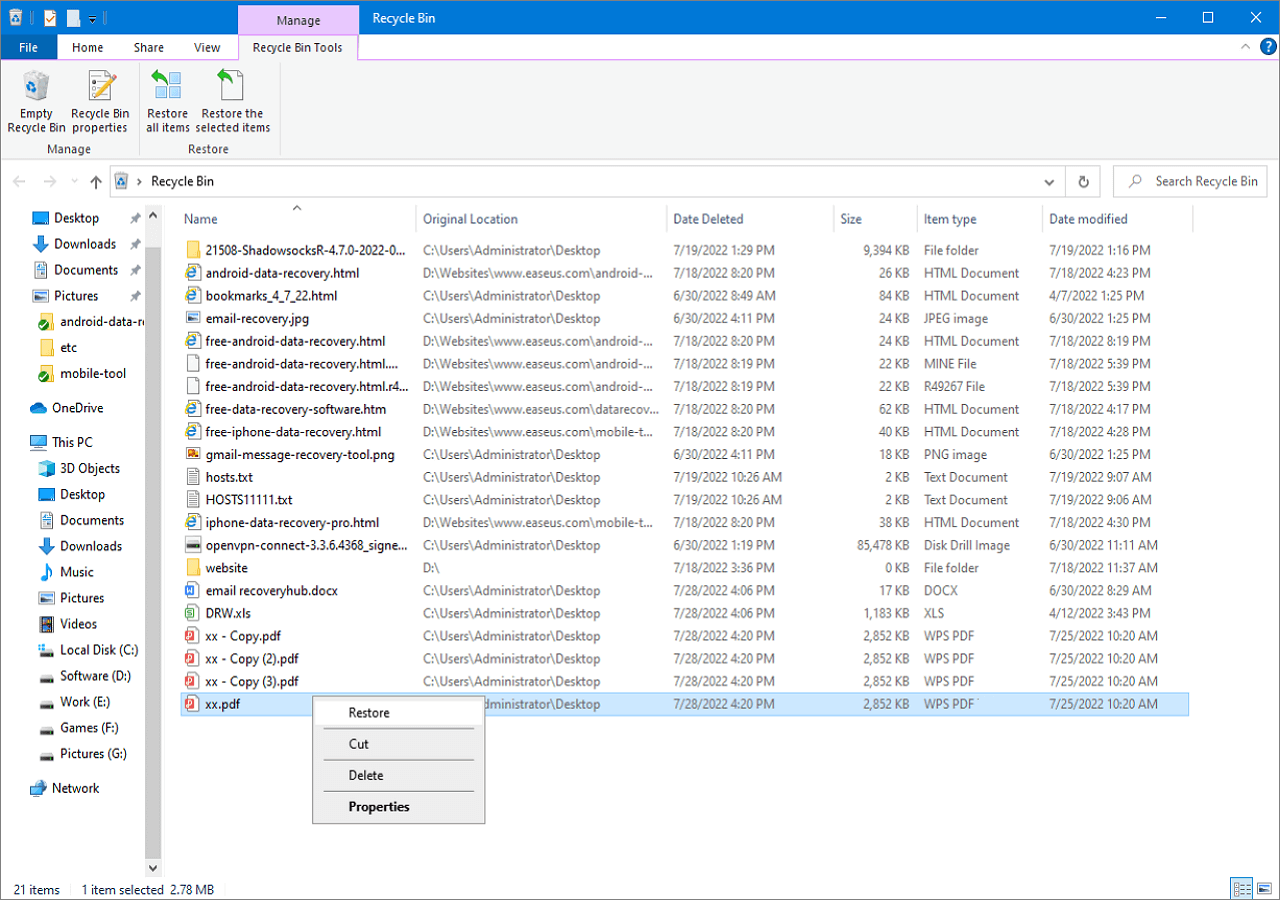 There are, however, limitations to this method. It will only work if you haven't emptied the Recycle Bin, and if you have not bypassed the Bin by holding the Shift key while deleting data. If you can't find what you are looking for in the Recycle Bin, it is possible that your files have been permanently deleted; you can try the following methods for Recycle Bin recovery.
How to Recover Permanently Deleted Files Windows 10 with Data Recovery Software
Perhaps the most reliable method of getting back deleted files is to use dedicated data recovery software. One such tool is for Windows 10 and macOS is EaseUS Data Recovery Wizard that has a high success rate and remains easy to use.
It does not matter if you have a backup available or not, the program will almost certainly be able to recover your deleted data for you.
EaseUS File Recovery Windows 10 
Recover lost or deleted files, documents, photos, videos, audio, music, and emails effectively
Recover deleted files from hard drive, emptied recycle bin, memory card, flash drive, digital camera, and camcorders
Support data recovery for accident deletion, formatting, inaccessible drives, virus attack, system crash under different situations
You can download the EaseUS files recovery software for free from the link above, and then use the following steps to recover your deleted files.
Note: To guarantee a high data recovery chance, install EaseUS data recovery software on another disk instead of the original disk where you lost files. 
Step 1. Launch EaseUS Data Recovery Wizard on your Windows 11, Windows 10, Windows 8, or Windows 7 computer. Select the disk partition or storage location where you lost data and click "Scan".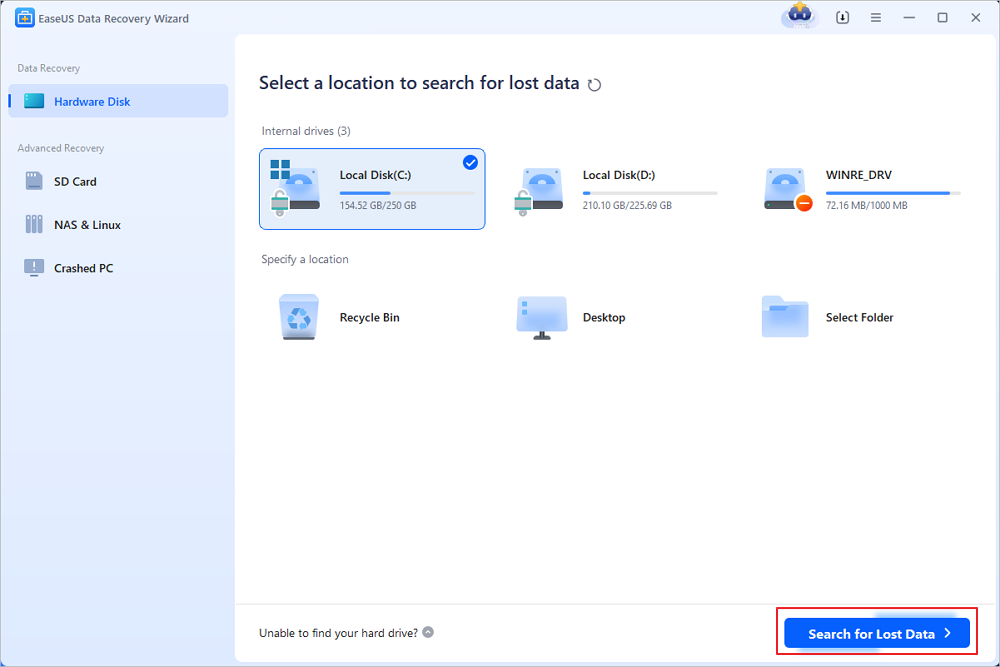 Step 2. This recovery software will start scanning the disk to find all lost and deleted files. When the scan process completes, click "Filter" > "Type" to specify lost file types.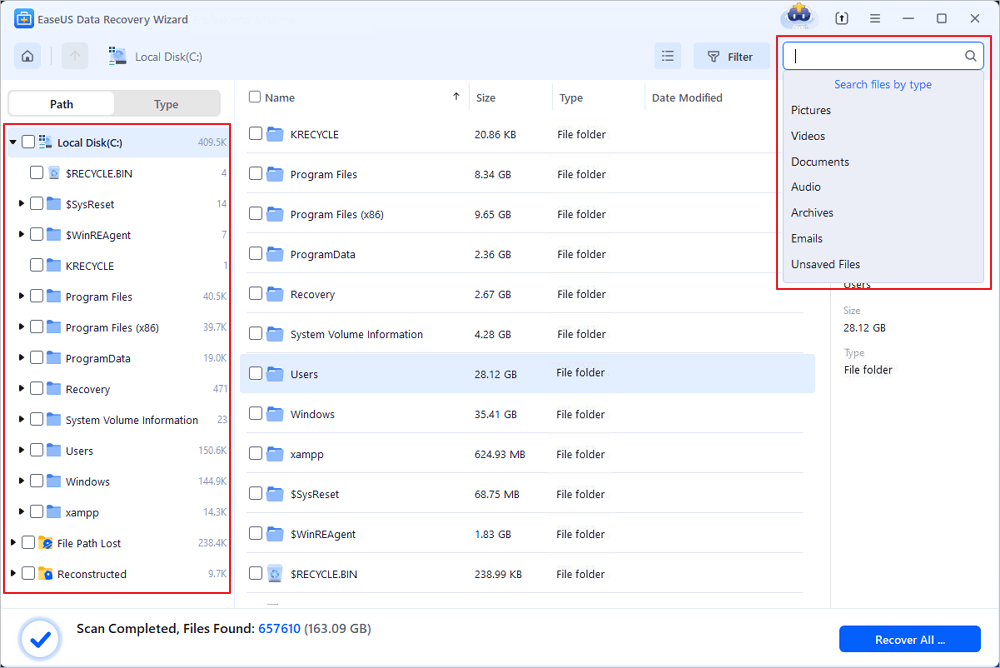 Step 3. Preview and restore lost Windows files. You can double-click to preview the scanned files. Then, select the target data and click the "Recover" button to save them to another safe spot in the PC or an external storage device.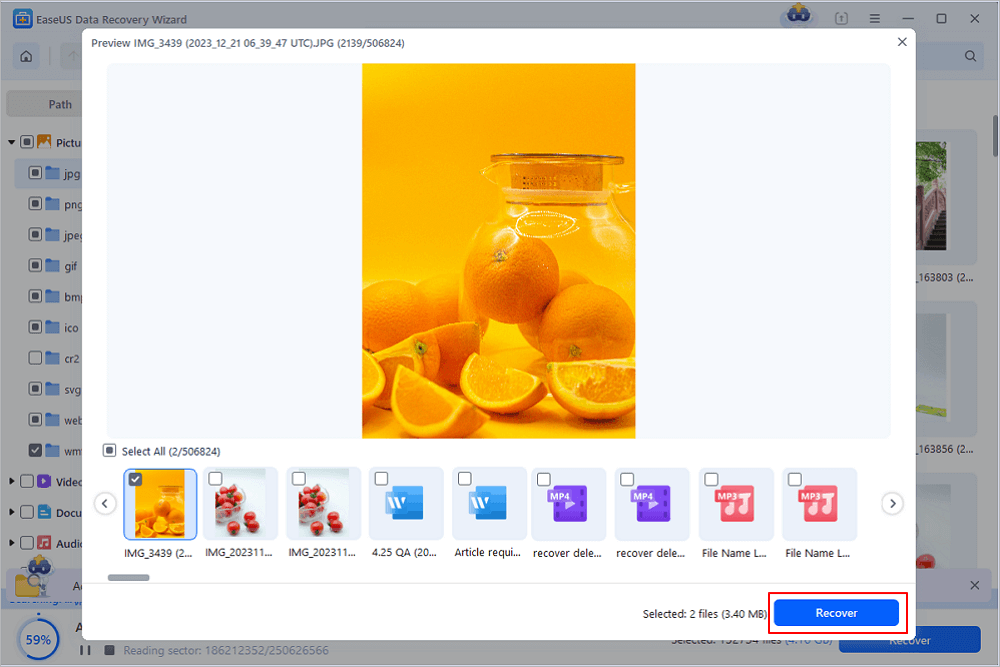 What is essential to remember, however, is that time is of the essence when it comes to data recovery. The sooner you can start the process of locating and recovering data, the greater your chances of successful data recovery. Leave things for too long, and it is possible that recovery will be impossible due to data being overwritten, or a problem arising on the drive you are trying to recover data from.
Restore Deleted Files Windows 10 Using Windows File Recovery
As long as you have at least Windows 10 May 2020 Update (Windows 10 2004) installed, you have access to Windows File Recovery – although you will need to install it from the Microsoft Store. This is Microsoft's own free data recovery tool, but it is very different from programs like EaseUS Data Recovery Wizard because it is a command-line tool. This means that rather than using a familiar system of icons and menus, it is text-based and therefore not something that everyone will be comfortable with.
Because of the potential for things to go wrong, Windows File Recovery is only really recommended for slightly more experienced computer users.
Before you get started with Windows File Recovery, there are two things you need to prepare: there are a couple of conditions you should know:
You need a secondary drive to recover data – this can be a regular hard drive or an external USB drive.
You need to know the exact location that your deleted files where originally stored in.
How to use Windows File Recovery to restore deleted files in Windows 10
Step 1. Open the "Microsoft Store" app and search for Window File Recovery. Now download and install the app by clicking the "Get" button.
Step 2. Open Windows File Recovery from the Start menu shortcut.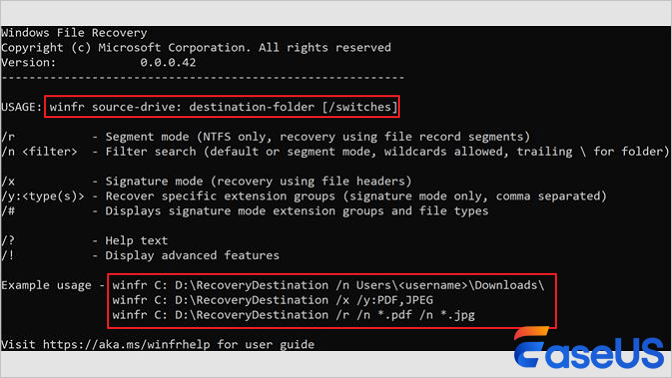 Solution source: https://www.microsoft.com/en-us/p/windows-file-recovery/9n26s50ln705?activetab=pivot:overviewtab from Microsoft official website
Step 3. Use the syntax indicated below to start the process of recovering deleted files. The basic command line is:
winfr source-drive: destination-drive: [/switches].
For example:
winfr C: D: /n \Users\Documents\test.docx
This particular command will recover a deleted Word document named test that had been stored on the C: drive, saving it to the D: drive.
Step 4. You can then follow the on-screen instructions to finishing restoring deleted files.
This method of data recovery is not going to be suitable for everyone because of the fact that different commands are needed for every single scenario. It's also worth noting that it is not going to be able to help you out in every instance. For example, it will not be able to recover files following a virus attack or lost partition. In these cases, it is better to look to EaseUS Data Recovery Wizard as outlined above.
Recover Permanently Deleted Files Windows 10 from File Backup
This solution only work when you set up a backup or open the File History function before the data loss happens. If there is no backup available, you still need EaseUS Data Recovery Wizard to recover permanently deleted files on Windows 10.
Go to check your recent backups and follow steps to get deleted files back from a Windows backup:
Step 1. Open "Settings" from the Start menu and head to "Update & Security". Click the "Backup" section to the left.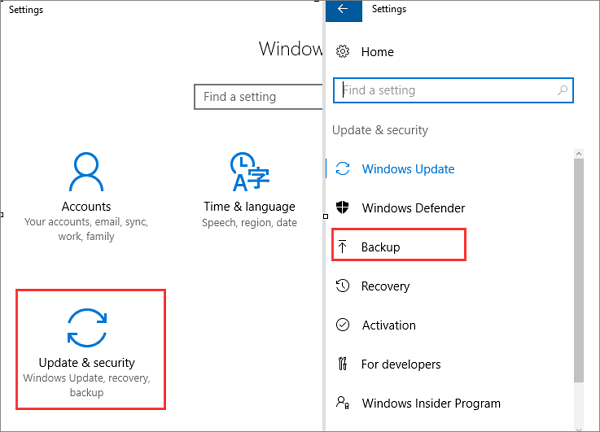 Step 2. Select "Backup and Restore (Windows 7)". Click "Restore my files" > "Browse for files" or "Browse for folders" to select the previously created backup.
Step 3. Choose where to save your files. In the case of a naming conflict, Windows will warn you. Choose "Copy and Replace", "Don't copy" or "Copy, but keep both files" according to your needs and then wait for the restoring process to complete.
Recover Deleted Files in Windows 10 from Previous Versions
You can also recover Windows 10 files by using the "previous versions" function – but you must already have enabled this feature in order for it to work. To ensure that this is an option that is available to you, you need to have set up File History to back up files automatically.
Assuming you have already configured this feature of Windows, you can use the following steps to restore permanently deleted files:
Step 1. Look for and right-click on the folder that contained the permanently deleted files.
Step 2. Click "Restore previous versions".
Step 3. Select the files you are interested in, and click "Restore".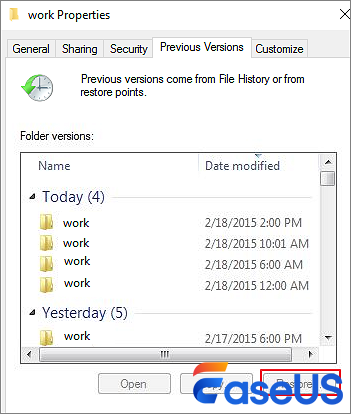 If Windows warns you that it already contains a file or folder with the same name, select "Replace the file in the destination" to overwrite it, or select a new file name.
What's the Best Way to Recover Permanently Deleted Files in Windows 10
As you can see, there is more than one way to get back files you have deleted in Windows 10. The one that works best for you will very much depend on your circumstance and the way in which files were deleted.
The table below compares the various recovery methods available to you, helping you to weigh up the advantage and disadvantages of each.
| Comparison | Recycle Bin | Data Recovery Software | Windows File Recovery | File Backup & Previous Versions |
| --- | --- | --- | --- | --- |
| Easy of use | Easy | Easy | Hard | Medium |
| Deleted recovery | Yes | Yes | Yes | Yes |
| Permanently deleted recovery | No | Yes | No | Yes |
| Formatted recovery | No | Yes | No | Yes |
| Recycle Bin emptying recovery | No | Yes | No | Yes |
| Need backup  | No | No | No | Yes |
| Platform | Windows | Windows + Mac | Windows  | Windows  |
| Recovery rate | Low | High | Low | Very low  |
| Price | Free | free data recovery software or Paid | Free | Free |
All of the methods and techniques outlined in this article can be used to help get your data back. But it is the specialist recovery software EaseUS Data Recovery Wizard that gives you the greatest chance of success in the wide range of circumstances.
Recover Deleted Files FAQs
Read futher information on how to restore permanently deleted files in Windows 10.
1. Can I recover permanently deleted files from my computer?
In most cases, yes. However, there are a few factors that will affect your chances of success, such as the type of file that was deleted and how long ago it was deleted. If you have recently deleted a file and emptied it from your computer's Recycle Bin, you may still be able to recover it using a deleted file recovery program.
2. How to recover permanently deleted files Windows 10 using CMD?
The Windows Command Prompt can be a powerful tool for disk and file management. You can use CMD to recover hidden files with the attrib command lines. But these commands can't restore deleted files.
Step 1. Type cmd in the Search box. Right-click on Command Prompt and select Run as administrator.
Step 2. Type ATTRIB -H -R -S /S /D X:*.* and hit Enter. Replace "X" with the letter of your hard drive.
3. How to recover deleted files Windows free?
One option to restore deleted files for free is using a free deleted file recovery software - EaseUS Data Recovery Wizard Free, which will scan your hard drive and attempt to recover any deleted files. You can recover up to 2GB of data for free with this tool.
Step 1. Download and run EaseUS Data Recovery Wizard Free.
Step 2. Scan a disk for deleted files.
Step 3. Preview and recover lost files.
4. How can I recover deleted files in Windows 10 without software?
A few ways are available to recover deleted files without using any third-party software. One way is to check the Recycle Bin to see if the file you accidentally deleted is still there. If it is, simply right-click on the file and select Restore.
If the file is not in the Recycle Bin, then you can try restoring it from a previous version. To do this:
Step 1. Open File Explorer and navigate to the folder where the deleted file was located.
Step 2. Right-click on the folder and select Properties.
Step 3. Under the Previous Versions tab, select the most recent version of the folder that contains the deleted file and click Restore.
5. How to restore permanently deleted files from Recycle Bin?
You can use third-party file recovery software to recover permanently deleted a file from your Recycle Bin.
Step 1. Install and launch EaseUS Recycle Bin recovery software.
Step 2. Click Recycle Bin option under the Locations section and click Scan.
Step 3. Select the file you need, preview and restore it.
6. How can I recover permanently deleted files in Windows 10 without backup?
If you have accidentally deleted a file and do not have a backup, then you will need to use dedicated Windows 10 data recovery software to recover it. There are a number of different file recovery programs available, and EasedUS data recovery software is a popular one.
Once you have chosen and installed a file recovery program, simply run it and follow the prompts in order to attempt to recover your permanently deleted files.

Brithny is a technology enthusiast, aiming to make readers' tech life easy and enjoyable. She loves exploring new technologies and writing technical how-to tips. On her spare time, she loves sharing things about her favorite singer - Taylor Swift on her Facebook or Twitter.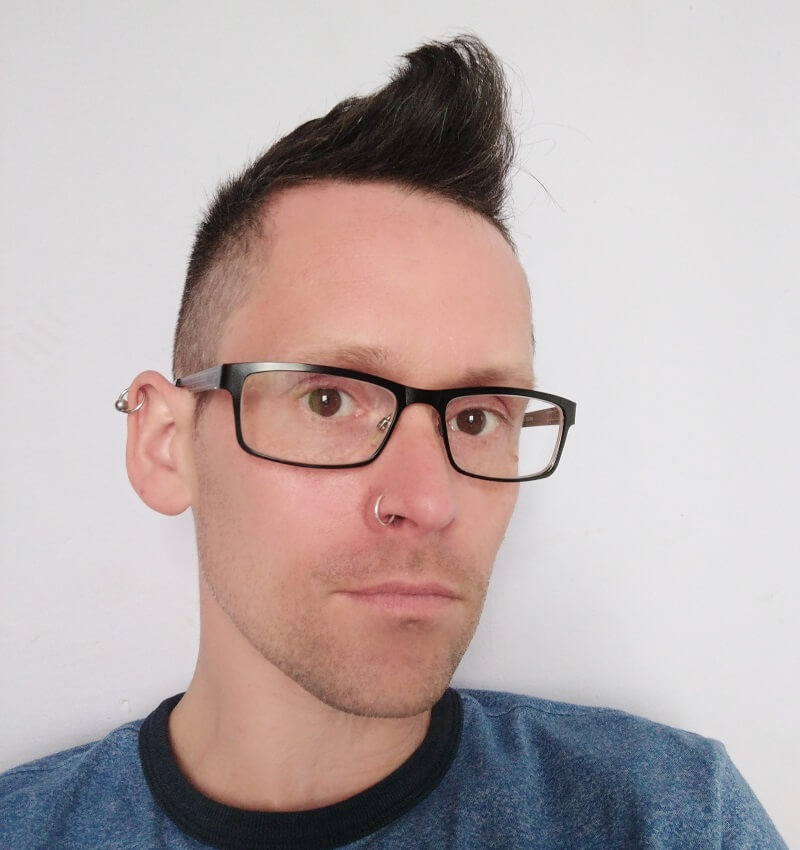 Approved by Mark Sofia 
Mark Sofia is a tech journalist who's been writing about software, hardware and the web for nearly 20 years – but still looks as youthful as ever! After years writing for magazines, life moved online and remains fuelled by technology, music and nature.