Summary
Now readily recover deleted files in Windows 10 with five comprehensive solutions within this page, including using Windows system standard tools and third-party data recovery services. You can utilize each method of the five to recover permanently deleted files in a Windows 10 computer desktop, laptop, hard drive, USB flash drive, pen drive, SD card, etc.
"How do I recover deleted files Windows 10"? Are you bringing along the same question while reaching this page? Glad you're here. We will effortlessly assist you with full file recovery so that you can recover the deleted photos, Office documents, school papers, or some influential project contracts in Windows 10 and other Windows versions. Deleting wrong files is nothing more than an individual's thing, but one of the most common scenarios that throw people to endless headaches. Though the consequence is nothing different, the ways of deleting files are far from one kind.
Quick Navigation:
How Do We Delete or Recover Files in Windows 10?
Accidental deletion, for example, is an inevitable human error that should be responsible for over half of the data recovery request all over the globe. There are a few ways in Windows that are supposed to delete a file or folder.
In general, we use the keyboard "Del"/"Delete" button or right-click a file or a bunch of files by choosing the "Delete" option. Data deleted in these ways are straightly sent to the Windows recycle bin, and you can directly use one mouse click to get it back.
Follow steps to restore deleted files in Windows 10 recycle bin:
Step 1. Locate the recycle bin icon, right-click on it and choose "Open".
Step 2. Press Ctrl+F1 to expand the ribbon of Recycle Bin Tools. It will allow you to either restore all items or restore the selected items. To restore selected items, you can hold the Ctrl key to select one more file at one time.
The restored files will return to their original hard drive partition. To change the locations, you need to cut the files and paste them to an appointed place.
Can We Recover Permanently Deleted Files in Windows 10?
The primary Windows 10 recycle bin settings can save you out of stock data loss problems, but not always. Some behavior of deletion can't guarantee safety. Once you execute a permanent deletion order like in the following examples, you need to ask help from a real-time Windows backup, or third-party data recovery software.
Instead of a simple deletion, you use the "Shift+Delete" keys to delete files.
Delete the files in the recycle bin, or emptied the recycle bin for once.
Due to the recycle bin properties, files are too large to fit the recycle bin.
Use "Ctrl+X" keys or the "Cut" option to re-place files other than "Copy".
Unexpected system shutdown swallows your desktop files and folders after a reboot.
Notorious malware or virus infection removes files to nowhere or turns data to shortcuts.
How to Recover Permanently Deleted Files in Windows 10
As you've learned in advance, deleted file recovery needs preparatory treatment, and it's entirely necessary. The good news is that over 89.7% of victims who unintentionally deleted files have successfully brought the loss back, by taking measures of the upcoming five methods. To improve efficiency, go straight to the data recovery software solutions, in number 3~5, in case you don't create any backup with the built-in Windows 10 Backup and Restore programs or Windows 10 File History.
Method 1. Use Windows Backup
If you have a backup, you can check your recent backup and restore permanently disappeared files from your Windows backup. Follow steps to restore files or folders from a Windows backup:
Step 1. Open "Control Panel", go to "System and Maintenance" >"Backup and Restore (Windows 7)". Click "Restore my files".
Step 2. Click "Browse for files" or "Browse for folders" to select the previously created backup.
Step 3. Customize a path to save your files.
If there's a conflict, choose "Copy and Replace", "Don't copy" or "Copy, but keep both files" according to your needs. Then, wait for the restoring process to complete.
Method 2. Restore Previous Versions
Also, you can recover Windows 10 files by using the previous versions. Before you try this method, you must be sure that you have set up File History to automatically back up files. If you haven't turned on this feature, give up this method. Follow steps to recover previous files or folders:
Step 1. Right-click on the folder that contained the permanently deleted file(s).
Step 2. Click "Restore previous versions".
Step 3. Select the wanted files and click "Restore"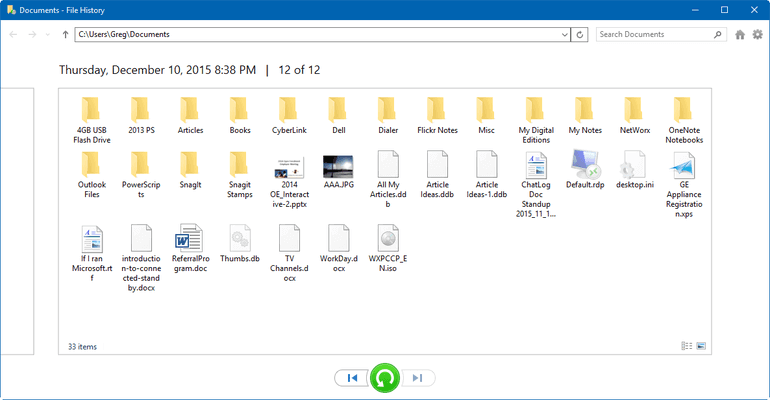 If the computer warns you that it already contains a file or folder with the same name, select Replace the file in the destination to get your permanently deleted files back right now.
Method 3. Use Free Data Recovery Software
In a vast sea of data recovery software over the globe, which is the best one coming to your mind? Consy history, reputation, and the software's ability to accelerate the data scanning speed and high-success-rate with the least time required, EaseUS Data Recovery Wizard is a qualified candidate.
The Windows version comes with both a totally free download version and a fee-paying trial version. For deleted files recovery under 2GB in total, the open file recovery software version is sufficient for you to compensate for the loss. Follow steps to recover permanently deleted files using software:
Step 1. Run EaseUS Data Recovery Wizard. Choose the specific device and drive where you have permanently deleted files. Then, click "Scan" to find lost files.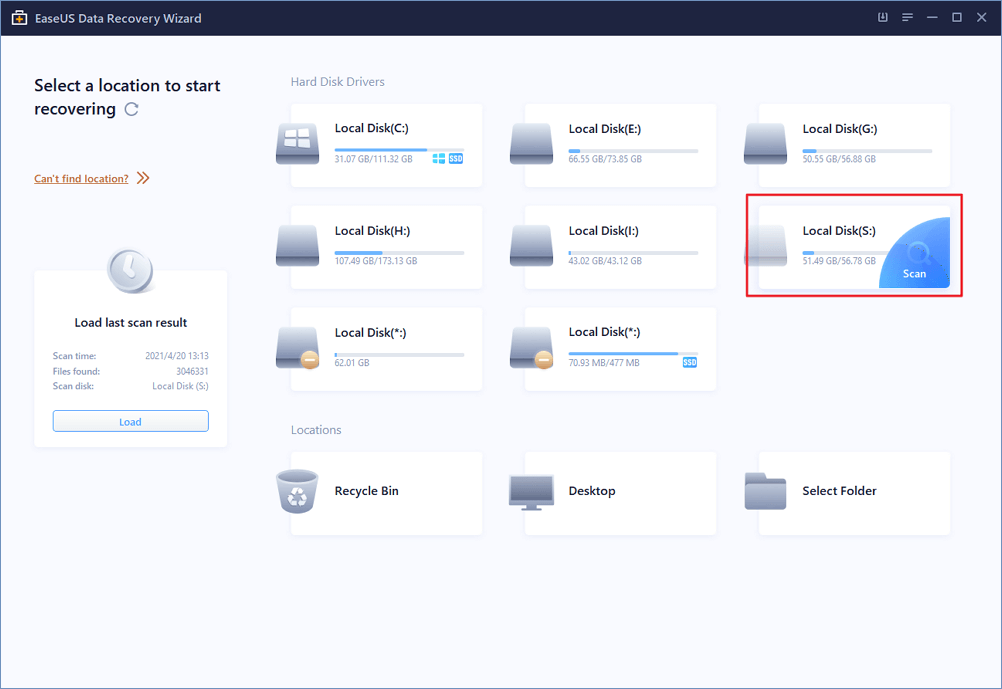 Step 2. The software will automatically start scanning all over the selected drive. Soon, a quick scan result comes out and displays in "Deleted Files" under the drive/disk.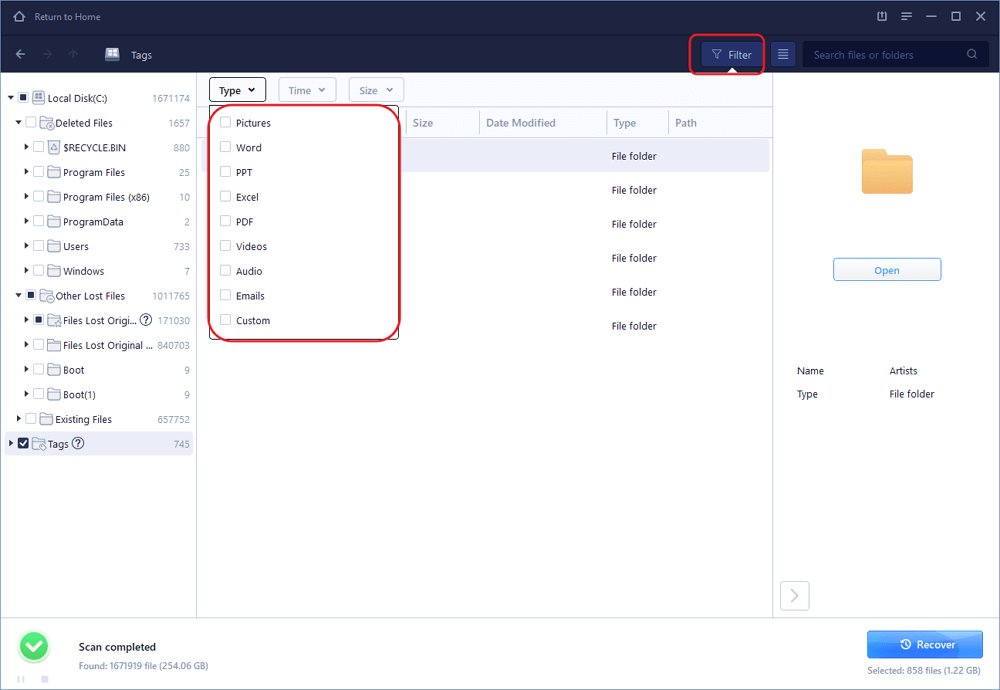 Step 3. Preview and select the wanted files. Next, click "Recover" to save them to another secure location or device.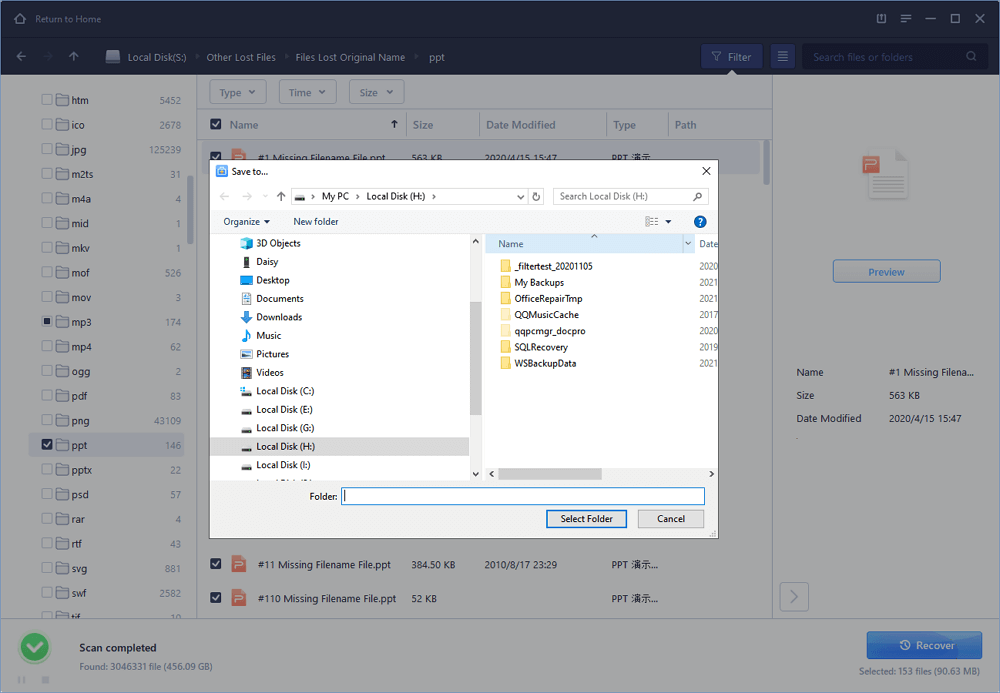 Method 4. Download Professional Data Recovery Software
The paid version is more versatile in retrieving an incalculable amount of lost files, with no limit for file types. You can freely recover everything, like deleted photos, videos, emails, financial sheets, tax bills, etc. as the way you want. It's well-praised hard disk data recovery software on trustpilot.com that helps you recover Windows 10 files in three clicks.
Some highlighted features:
Recover files after a permanent deletion, disk formatting, partition loss, OS crash, virus attack, and more.
Restore more than 1000 types of files, including photos, documents, videos, audio, emails, compressed files, etc.
Featured with bootable recovery. Boot with a downloadable WinPE when your system fails to start or crashes.
Support a wide range of file systems, such as FAT, NTFS, ext2/3/4, HFS+, ReFS, and more.
Allow you a full view of recoverable files after a thorough scan. It lets you preview the file integrity before deciding to pay for a full recovery.
Method 5. Consult Data Recovery Specialists
Are you astonished to see how EaseUS data recovery software works in analyzing files and eventually finding the files with important information? But the reality is, no matter how intelligent the data recovery software is, there are occasions it cannot go over with sophisticated manners of destroying files not once, in fact, many times.
In the event that the file name, structure, signature and content separate from each other, or some of them have been corrupted, or recovered files won't open, the last workable resort should be a manual fix. On top of providing portable and DIY data recovery software, EaseUS has its own in-house data recovery specialists who can assist you remotely with a hand-operated recovery. It's the least expensive manual data recovery service for people who have a limited budget but are eager to have deleted files back.
Do You Need Specialized Data Recovery Services?
You may need further help for tough data loss situations like reformatting drive, RAW disk, partition loss, repartition failures and system boot error. Consult with EaseUS Data Recovery Experts for cost-efficient one-on-one manual recovery service. They could offer the following services after FREE diagnosis:
1. Unformat the drive

2. Repair the RAID, RAW disk or operating system

3. Recover lost partition (the one that cannot be recovered by software)
Deleted File Recovery FAQs
For the sake of keeping the lost files' integrity and maintaining the best data recovery result, it's significant to learn some basic knowledge about the chance of data recovery from various storage media, and data loss situations. Read the most frequently asked questions by Windows users and get the right answers.
1. Can I restore deleted files from removable hard drives?
You can regain deleted data from all physical storage devices, say it your PC, laptop, HDD, flash drive, pen drive, memory card, but not including cloud storage drives, such as Google Drive, DropBox, OneDrive, etc. You need exceptional help to recover permanently deleted files from Google Drive. For SSD data recovery, if the TRIM is on, it's little possible to let any tool to recover abandoned data on it.
2. Why is flash drive data not in the Windows recycle bin?
Removable hard disks that connected to your Windows computer or laptop, are not associated with the recycle bin. You deleted files there, and they'll immediately disappear for good. Software is the only way to solve this kind of external hard drive recovery.
3. Where do permanently deleted files go?
Deleted files are not meant to substantially disappear because they are still invisibly buried in the hard drive sectors with full directories, except that their space has been occupied by new data. So, stop using the system or the affected drive immediately after data loss.
4. How do we recover deleted files from C drive?
Raise attention to files from the system disk, i.e., the desktop files on the C drive. On the one hand, you remember not to save new data. On the other hand, turn off the system as soon as possible to prevent automatic system processing. Try to boot your computer to a WinPE environment, and use the bootable data recovery software to recover deleted C drive files. It is the best way to maximize an unimpaired file recovery without the overwriting issue.
5. How to recover permanently deleted files in Windows 10 without software?
If you're Command Prompt capable, the CMD data recovery is the other way for you to recover permanently deleted files in Windows 10 without software.
Conclusion
Do you now acquire access to restoring deleted files in Windows 10 after scrolling all the way down? To sum it up, there are handy tools, and altogether five ways for you to take prompt actions when stumbled upon data loss events.
Windows backup and recovery programs, the mentioned Backup and Restore and File History, are the most guaranteed way of a worry-free and flawless file recovery. At this point, you should notice the importance of a regular backup, no matter it's about file recovery or system restore, you cannot omit the backup routine any longer. If you prefer a more versatile and user-friendly free backup software for Windows, EaseUS Todo Backup won't let you down.
Further on, we introduced data recovery software, which comes seamlessly to help you out of trouble when you don't have an existing backup. The free software lets you recover up to 2GB files without paying a penny, while the trial version gives you a full display of recoverable files, without restricting all the functions as the upgraded version. Additionally, you start to know a cost-effective manual data recovery service, which does a better job of salvaging damaged files after deletion.
100% of people found this article helpful.
Frequently Asked Questions
1. Why choose EaseUS Data Recovery Wizard?

"EaseUS Data Recovery Wizard is the best we've seen. It's far from perfect, partly because today's advanced disk technology makes data-recovery more difficult than it was with the simpler technology of the past, but it's fast and efficient..." —PCMag

"The first thing you'll notice about EaseUS Data Recovery Wizard Pro is that its interface is very clear and uncluttered, with only a small collection of self-explanatory controls. You won't find lots of extra options hidden in a system of hidden menus, either; what you see really is what you get." —techradar

"Recover lost files, even after deleting a partition or formatting your drive." —Macworld
2. Why cannot I recover 2GB data for free?

It is recommended to check the version installed is Free or Trial because they are different versions.

Trial has data preview function but cannot save any files, while the Free version enables to recover 2 GB files. The default free space is 500 MB and you may share the product on social media to get another 1.5 GB.
3. Why cannot the recovered files be opened?

A file is saved as 2 parts on the storage device: directory info (which is comprised by file name, time stamp and size info, etc.) and data content.

If the files with original file names and folder structures cannot be opened, one possible reason is the corrupted directory info. There is still a chance to recover the data content with the RAW Recovery method in our software.
4. Why isn't it suggested to recover the files back to the original drive?

The storage structure of the lost files would be altered or damaged by any changes on the drive. If you save the recovered files back to the same drive, the original data structures and data content would be corrupted or overwritten, which causes permanent data loss. So you should prepare another disk to save the files.
5. How can I check whether my data is recoverable or not before purchase?

The Free version helps you save 2GB files to better verify the recovery quality of our product before purchase.
6. How long does it take to scan the drive?

It strongly depends on the capacity of your hard drive and the performance of your computer. As reference,most drive recoveries can be completed in around 10 to 12 hours for a 1-TB healthy hard drive in general conditions.
About Data Recovery Wizard
It's super easy to recover 250+ types of files after deletion, disk formatting and virus infection. Click the links and compare the difference of each version.