Using the combination of Command + R, your Mac may enter Recovery Mode and do various tasks, including reinstalling macOS, changing the admin password, formatting the hard drive for Mac, factory resetting Mac, and much more.
However, if your Mac Recovery Mode is not working, you will see the standard login window or a blank screen instead of the "macOS Utilities" window. Perhaps you cannot enter the Mac Recovery Mode through your keyboard, or your mouse does not work. Worse, there is something wrong with your admin password. Thus, your Mac Recovery Mode Command R not working.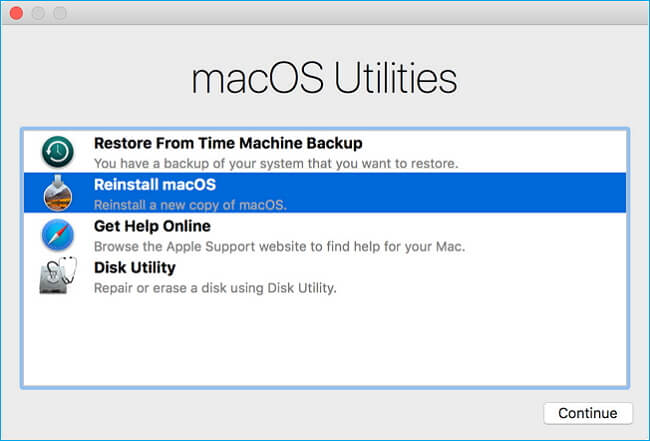 Why Is Mac Recovery Mode Not Working
Before learning the reason why you can't activate Mac Recovery Mode, ensure that you followed the correct steps:
Step 1. After pressing the Power button, hold down the "Command + R" keys.
Step 2. Let off the keys when you see the Apple logo(the login screen).
Step 3. Then, type the password.
Step 4. If the macOS Utilities appeared, you successfully accessed Mac Recovery Mode.
When you carefully follow the instructions, your Mac Recovery Mode and "Command + R" still do not work, and you can refer to the following reasons to check your Mac device.
Reason 1. New ways for M1 Mac to launch Recovery Mode.
Suppose your Mac is the Mac with an Apple M1 chip, one of the new Macs that have been available since November 2020 and that feature an Apple-developed processor rather than an Intel one. Thus, you attempt to enter the M1 Mac Recovery Mode using the method applied to Intel Mac, and you might fail to launch it. The article will discuss the different ways below.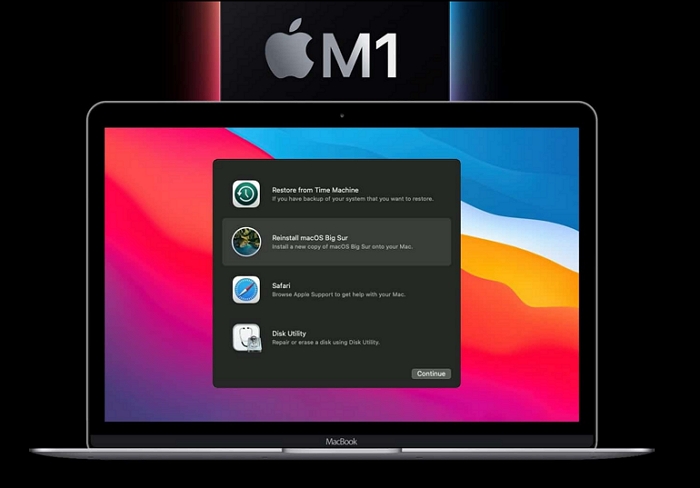 Reason 2. The keyboard might be faulty
If you are using a Bluetooth keyboard, it's potential that the keyboard is not linked to your Mac. And the keyboard is defective, so you cannot launch the Mac Recovery Mode by pressing "Command + R".
Reason 3. Mac Recovery Mode not working because of the old macOS version
Your Mac won't have a recovery partition if it's old and running Mac OS X Snow Leopard or an earlier version. Because of this, you cannot open Recovery Mode by pressing "Command + R".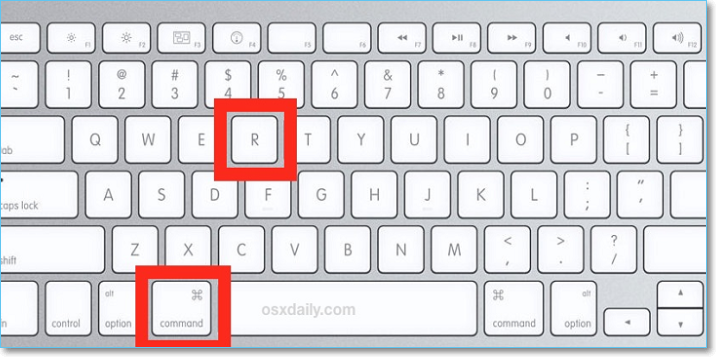 Reason 4. The recovery partition is missing or damaged
Your recovery partition might have been damaged by your misoperating, or you could have unintentionally erased the partition when changing your hard drive. Once the partition is corrupt, you cannot run your Mac Recovery Mode as usual.
Recover Data from a Mac with a Failed Recovery Mode
Accidents can happen even when Macs are sufficiently advanced. The Mac Recovery Mode not working issue can signal an OS breakdown, resulting in irreversible data loss.
As we mentioned above, there are several reasons for the Mac Recovery Mode not working issue. Whatever the cause, a problem with your Mac prevents you from launching Recovery Mode. In such a situation, data loss on your Mac is entirely possible. Therefore you should be conscious of your data security.
EaseUS Data Recovery Wizard for Mac, an exclusive and safe data recovery software, helps users recover permanently deleted files on Mac. The software's user-friendly interface makes file recovery straightforward, even for beginners.
EaseUS Data Recovery Wizard for Mac
Recover lost or deleted files, documents, photos, audio, music, and emails effectively
Recover files from formatted hard drives, emptied Trash Bins, flash drives, and digital cameras
Support data recovery for sudden deletion, formatting, hard drive corruption, virus attack, and system crash under different situations
If you have a problem with data loss after failing to access the Mac Recovery Mode, the techniques listed below will help you.
Step 1. Select the location and scan
Launch EaseUS Data Recovery Wizard for Mac and choose the disk where you lost data. Then, click "Search for lost files" to start scanning.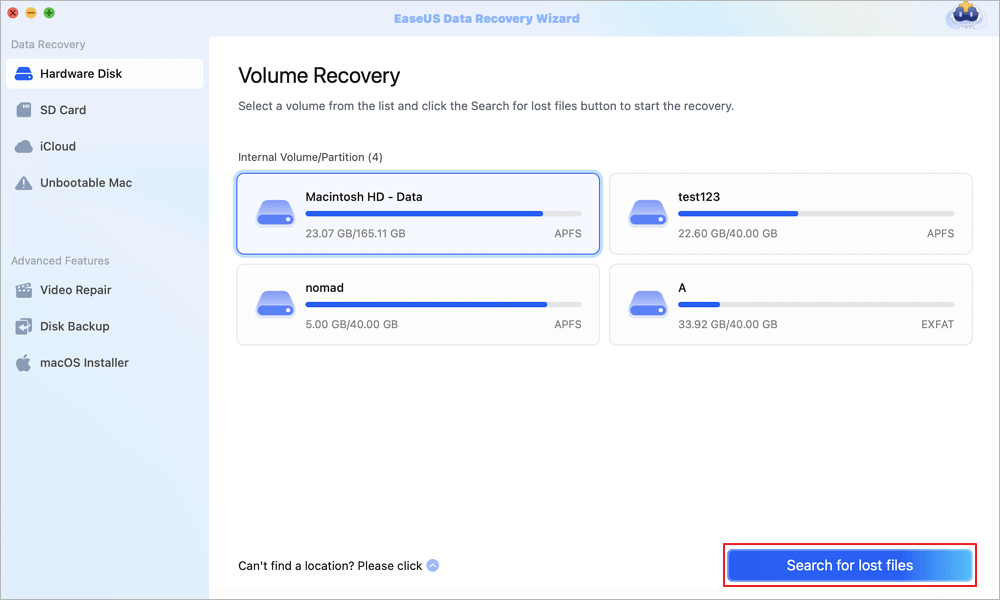 Step 2. Filter and preview lost files
After the scan, use the file format filter on the left or upper right corner to find the deleted files you need.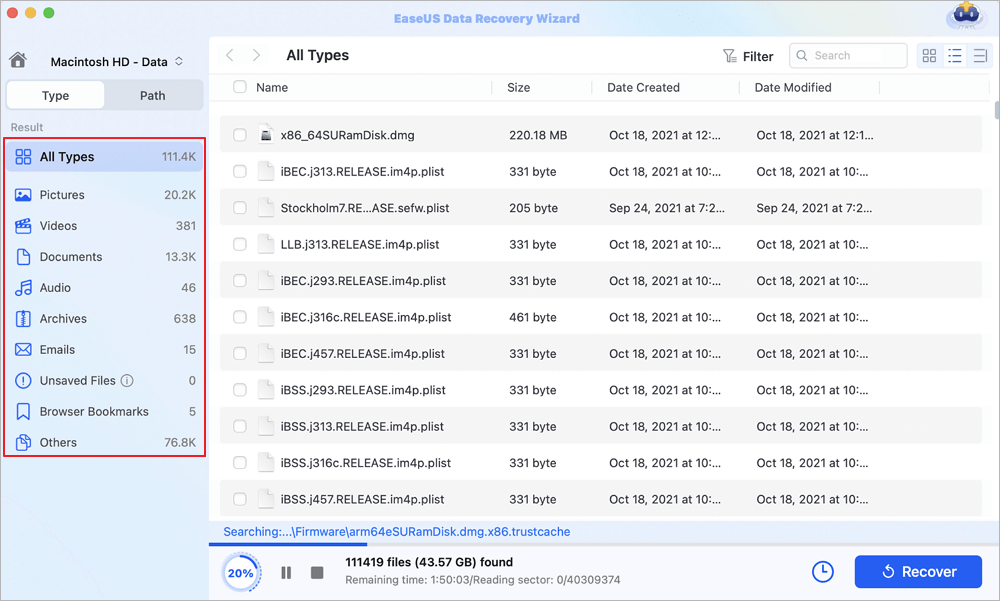 Step 3. Recover lost data or files
You can double-click a file to preview its content, or choose multiple files to recover them at once. Click "Recover" to restore the lost data to a local or cloud drive.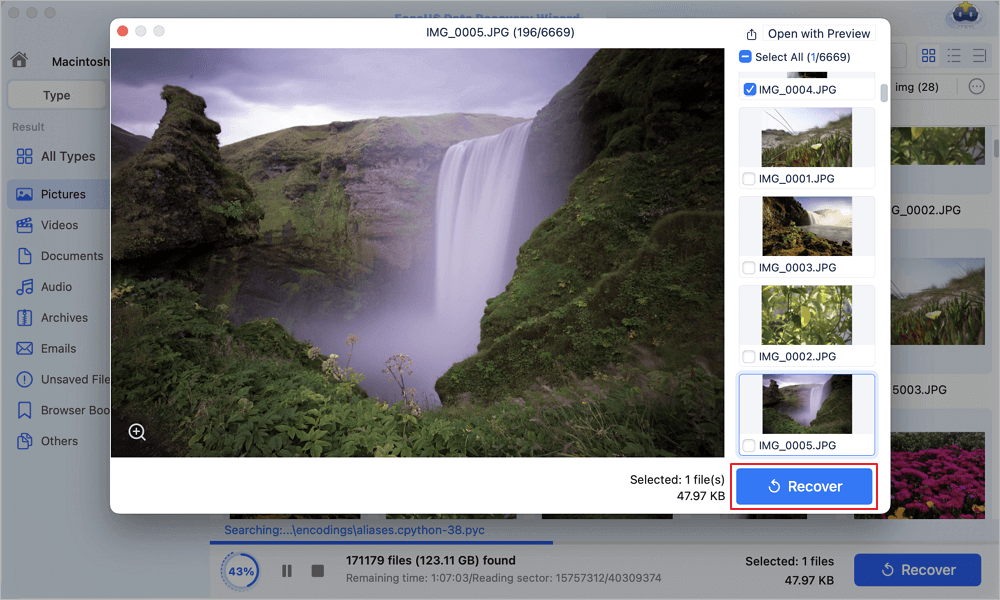 Make sure your data and files are in a secure location before trying the following 6 ways to repair the issue with Mac Recovery Mode not working.
6 Ways to Solve Mac Recovery Mode Not Working
After providing the reason why your Mac Recovery Mode and Command + R cannot work and the method to recover your data, we now discuss the 6 evident solutions to fix the Command + R not functioning issue. Here is a video tutorial about it.
00:12 - Fix Recovery Mode With Time Machine
00:29 - Choose the recovery drive to launch your Mac
01:08 - Create a bootable installer
01:34 - Open Finder and go to applications
01:59 - Type in sudo and press the space key on your keyboard
02:53 - Connect the USB with a bootable installer to your Mac
03:03 - Click on Reinstall macOS and then on Continue
Solution 1. Ensure using the correct Recovery command on an M1 Mac
As we mentioned before, you may give your Mac the incorrect Command. Follow these instructions to launch Recovery mode if you have an M1 Mac:
Step 1. Shut down the Mac.
Step 2. Keep Pressing the power button.
Step 3. When the Apple logo displays, you can select to access startup choices after a message on the screen.
Step 4. At some point, you can choose Options > Continue, which can successfully launch Mac Recovery Mode.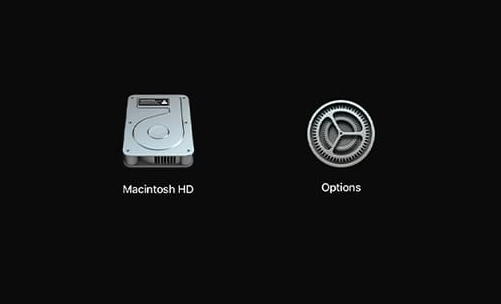 Solution 2. Check and alter your keyboard
If Command + R isn't working on your Mac, ensure the keyboard isn't faulty.
To fix it, you can unplug your present keyboard from your Mac and plug in a different keyboard to rule out this option. You may then test the procedure by trying to open Mac Recovery Mode.
If everything returns to normal, the keyboard issue should be the cause. A new keyboard should replace the broken one.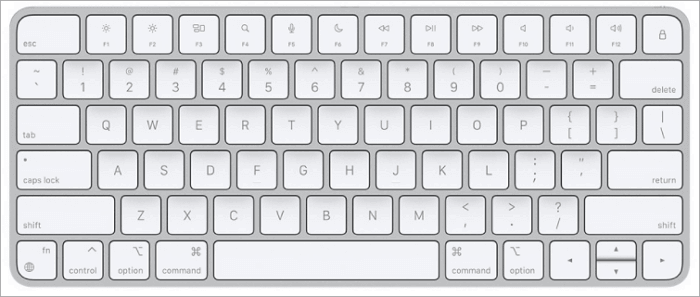 Solution 3. Use a bootable installer to reinstall macOS
As previously stated, the Recovery partition first appeared in 2011. If your Mac is too old, running Snow Leopard or an earlier version, the Recovery partition won't exist.
You should install macOS from USB if you wish to fix the problem. You may make a bootable installer and use it to reinstall macOS on your Mac. After that, you may switch your Mac to the latest macOS update by going to the Mac App Store.
Step 1. Select the USB drive to reinstall macOS.
Step 2. Format the USB drive and prepare to install the program.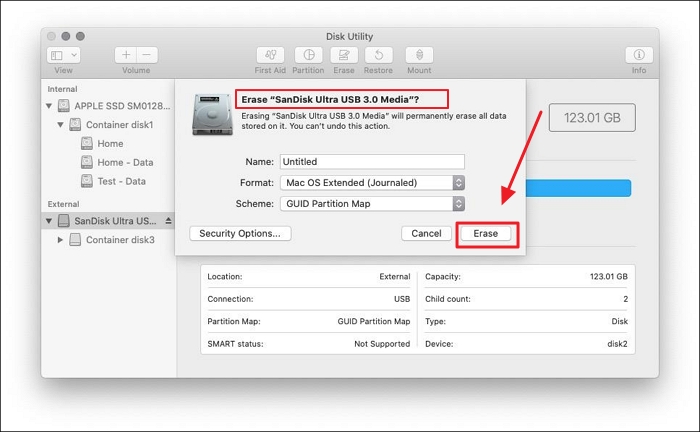 Step 3. Download the macOS installer from System Preference - Software Update to the USB drive.
Step 4. Create a bootable USB disk by Terminal Command.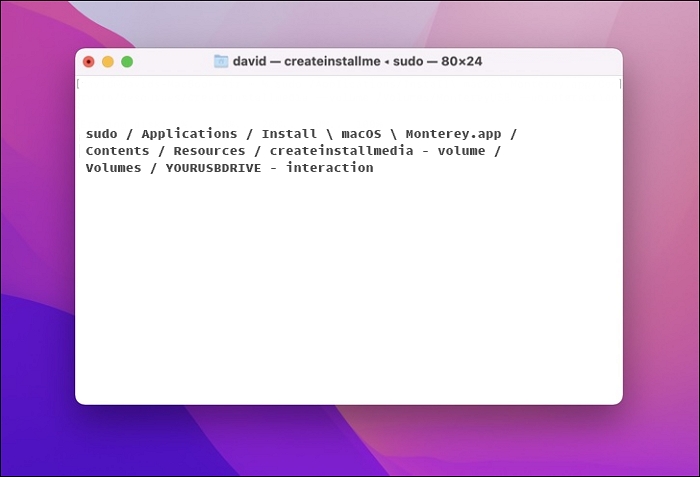 Step 5. Enter your admin password.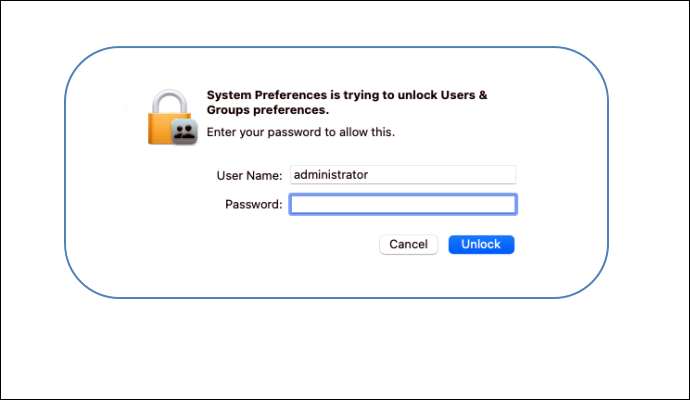 Step 6. Boot your new macOS from a USB drive. When you accomplish the procedure of reinstalling the macOS, check whether the Mac Recovery Mode can work.
Solution 4. Use Internet Recovery Mode
Mac Internet Recovery Mode is highly similar to Recovery Mode and provides the same functionality; the only difference is that it loads recovery choices from Apple's servers over the Internet rather than your hard drive. So you can use Mac Internet Recovery Mode to fix this issue.
Step 1. Hold down the "Command-Option/Alt-R" or "Shift-Option-Command-R" keys when restarting your Mac.
Step 2. After seeing a globe pattern and the message "Starting Internet Recovery," let go of the keys.
Step 3. The screen will display the macOS Utility window after loading.
You may restore your Mac with Mac Internet Recovery, reinstall the operating system, then use Disk Utility to check for disk issues.
Solution 5. Reset SMC
SMC. (System Management Controller) controls feature like temperature and battery. Therefore, resetting SMC might be effective if your Mac Recovery Mode doesn't work.
Step 1. Press the power button while simultaneously holding the "Shift + Control + Option" keys.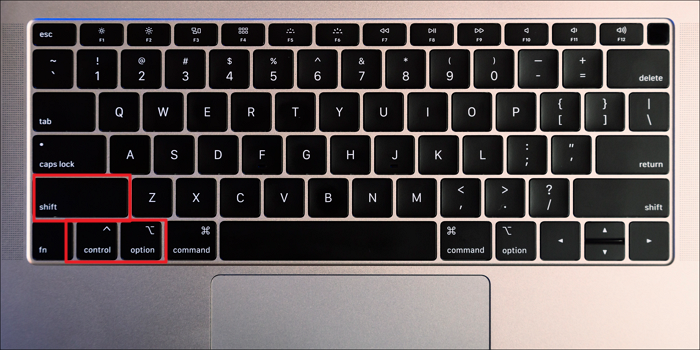 Step 2. Release all of the keys after 10 seconds.
Step 3. Turn on your MacBook
Solution 6. Reset NVRAM/PRAM
PRAM and NVRAM save settings like system volume and the startup-disc option.
Hold down the Keys: "Command + Option + P + R" at startup to reset PRAM/NVRAM so you can turn on your Mac and fix your Mac Recovery Mode not working problem.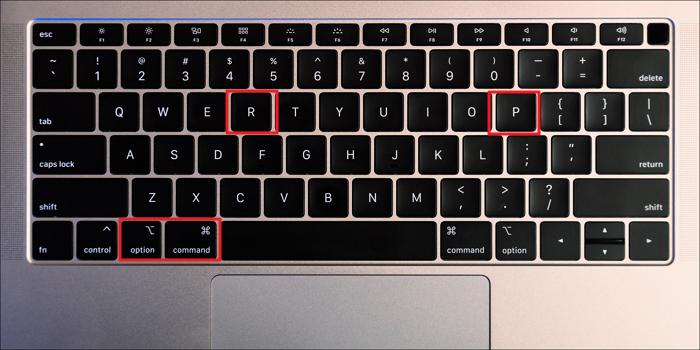 To Wrap It up
You may fix your Recovery Mode after following the above 6 solutions without losing your data. The only thing you need to keep in mind is to back up your data or restore it as soon as possible. EaseUS Data Recovery Wizard for Mac might be of great assistance for you to protect your data safety.
Mac Recovery Mode Not Working FAQs
Here are 4 additional questions and answers to help you know more about Mac Recovery Mode not working.
1. What happens when Recovery Mode doesn't work?
Instead of the macOS Utilities window, you will get the standard login window, black, or just a blank screen if your Mac Recovery Mode doesn't work. You may utilize the troubleshooting methods on practically all Mac devices.
2. What to do if Command + R isn't working?
If your Command + R doesn't work, you can follow the advice:
Check and alter your keyboard
Reinstall macOS
Use Internet Recovery Mode
3. What do you do when your Mac doesn't go into recovery mode?
You might have trouble make Mac go into Recovery Mode, then you can:
Check keyboard connections
Boot Mac in Safe Mode.
Use a Bootable Installer to reinstall macOS.
4. Will Command + R wipe my Mac?
No, the keys will not erase anything. It just boots into the Recovery Mode while pressing those keys during a restart.

Cedric Grantham is one of the senior editors of EaseUS who lives and works in Chengdu, China. He mainly writes articles about data recovery tutorials on PC and Mac and how-to tips for partition management. He always keeps an eye on new releases and loves various electronic products.

Written by Dany 
Dany is an editor of EaseUS who lives and works in Chengdu, China. She focuses on writing articles about data recovery on Mac devices and PCs. She is devoted to improving her writing skills and enriching her professional knowledge. Dany also enjoys reading detective novels in her spare time.