Quick Navigation:
Workable Solutions
Step-by-step Troubleshooting
3 Steps to Clean Install macOS

Step 1. Download macOS...Full steps

Step 2. Create the bootable installer after...Full steps

Step 3. Install macOS from the bootable...Full steps
To upgrade and install the latest macOS update on your Mac machine, you can easily get it within the system's Software Update option. That's no problem. But sometimes, we may require a clean install of a macOS version for hardware/software troubleshooting, or to be able to install the same macOS system on multiple devices at the same time. In this regard, you need to install macOS from an external drive or USB. 
Some Basics of macOS install from a bootable USB Drive
Installing a Mac operating system in this way can be challenging, as the whole process is involved with the application of Terminal command lines and creating a bootable installer. Nonetheless, we're trying to make the entire procedure simple to follow, and ensuring you not make mistakes. Now let's begin with some of the most frequently asked questions that many users are trying to get an answer.
Q1: Why do you install macOS from USB?
The benefits of installing macOS from USB compared with the automatic software update option include:
It's for clean install so you can get rid of junk apps and files that are piled up on your Mac.
It's useful to troubleshoot the Mac startup issues, fix corruption, or recover files.
It can save time and effort when you need to install macOS on multiple systems and machines.
Q2: How do I create a bootable installer for macOS?
All the available installer can be found on the Mac App Store, including macOS Monterey, macOS Big Sur, macOS Catalina, macOS Mojave, or macOS High Sierra and OS X El Capitan. You need to create the installer using correct Terminal commands for different macOS versions. 
Q3: Can I install macOS from USB without the internet?
A bootable installer doesn't download macOS from the internet, but it does require an internet connection to get firmware and other information specific to the Mac model.

Step 1. Download macOS
Click the download link for the desired macOS version you want to install.
Each macOS download is going to send to the Applications folder as an app named Install macOS [version name]. If the installer opens after downloading, quit it without continuing installation. To get the correct installer, download from a Mac that is using macOS Sierra 10.12.5 or later, or El Capitan 10.11.6. Enterprise administrators, please download from Apple, not a locally hosted software-update server. 
Pay attention. OS X El Capitan is quite different from the other five. This download is presented in a disk image format named InstallMacOSX.dmg.
Step 2. Create the Bootable Installer After Download
First of all, a vacant 16GB USB drive is essential. If you want to use an old USB drive for installation, make sure that you've copied the data and saved it as a backup. The installer creation process will format and erase all data on the external USB to take effect. Also, the USB drive needs formatting as Mac OS Extended (HFS+).
In the Finder, find the Applications/Utilities folder, then double-click Terminal.
Each macOS installer needs an exclusive command line in the table. We suggest you copy one of the following commands and paste it in Terminal. (You may require to replace MyVolume in all the command lines with the real name of your own USB flash drive.)
Monterey:
sudo /Applications/Install\ macOS\ Monterey.app/Contents/Resources/createinstallmedia --volume /Volumes/MyVolume
Big Sur:
sudo /Applications/Install\ macOS\ Big\ Sur.app/Contents/Resources/createinstallmedia --volume /Volumes/MyVolume
Catalina:
sudo /Applications/Install\ macOS\ Catalina.app/Contents/Resources/createinstallmedia --volume /Volumes/MyVolume
Mojave:
sudo /Applications/Install\ macOS\ Mojave.app/Contents/Resources/createinstallmedia --volume /Volumes/MyVolume
High Sierra:
sudo /Applications/Install\ macOS\ High\ Sierra.app/Contents/Resources/createinstallmedia --volume /Volumes/MyVolume
El Capitan:
sudo /Applications/Install\ OS\ X\ El\ Capitan.app/Contents/Resources/createinstallmedia --volume /Volumes/MyVolume --applicationpath /Applications/Install\ OS\ X\ El\ Capitan.app
After typing the command in Terminal, press Return to enter the command. Afterward, it's time to respond all the confirmation warnings by tying Y, including confirming erasing the USB volume, approving the Terminal to access files on the volume and allowing the copy to proceed.
After all the operations are complete, the USB drive will have the same name as the installer you downloaded such as Install macOS Monterey. Quit Terminal and disconnect the USB drive. You should then move on to the final installation procedure now.
Step 3. Install macOS from the Bootable Installer
To boot Mac from the bootable USB drive, the operation varies from the Intel-based Macs and Apple Silicon-based Macs. 
Intel Macs
Apple Silicon Macs

2020 27-inch iMac
2019 Mac Pro
The overall requirements of 3DS
2018 Mac mini

MacBook Pro (14-inch, 2021)
MacBook Pro (16-inch, 2021)
iMac (24-inch, M1, 2021)
Mac mini (M1, 2020)
MacBook Air (M1, 2020)
MacBook Pro (13-inch, M1, 2020)

1. Press and hold the Option (Alt) ⌥ key immediately after turning on or restarting your Mac.
2. Release the Option key when you see a dark screen showing your bootable volumes.
3. Select the volume containing the bootable installer. Then click the up arrow or press Return. 
4. Choose your language, if prompted.
5. Select Install macOS (or Install OS X) from the Utilities window, then click Continue and follow the onscreen instructions.

1. Turn on your Mac and continue to hold the power button until you see the startup options window, which shows your bootable volumes.
2. Select the volume containing the bootable installer, then click Continue.
3. When the macOS installer opens, follow the onscreen instructions.
Closing Words
The three steps to download macOS, create a bootable installer to an external USB and then clean install macOS from USB should be clear and simple to follow. The process requires you to use the Terminal command lines to erase the USB drive, format it with a proper file system, and save the installer to it. Though the chance is little, use EaseUS hard drive recovery software to recover files while reinstalling macOS. 
EaseUS Data Recovery Wizard for Mac
Recover lost or deleted files, documents, photos, audio, music, emails effectively
Recover emptied Trash bin, memory card, flash drive, digital camera, and camcorders
Support data recovery for sudden deletion, formatting, hard drive corruption, virus attack, system crash under different situations
Step 1. Search for lost files
Select the disk location to search for lost files (it can be an internal HDD/SSD or a removable storage device) on macOS Sierra, High Sierra, Mojave, Catalina, Big Sur, Monterey and the latest Ventura. Click the "Search for lost files" button.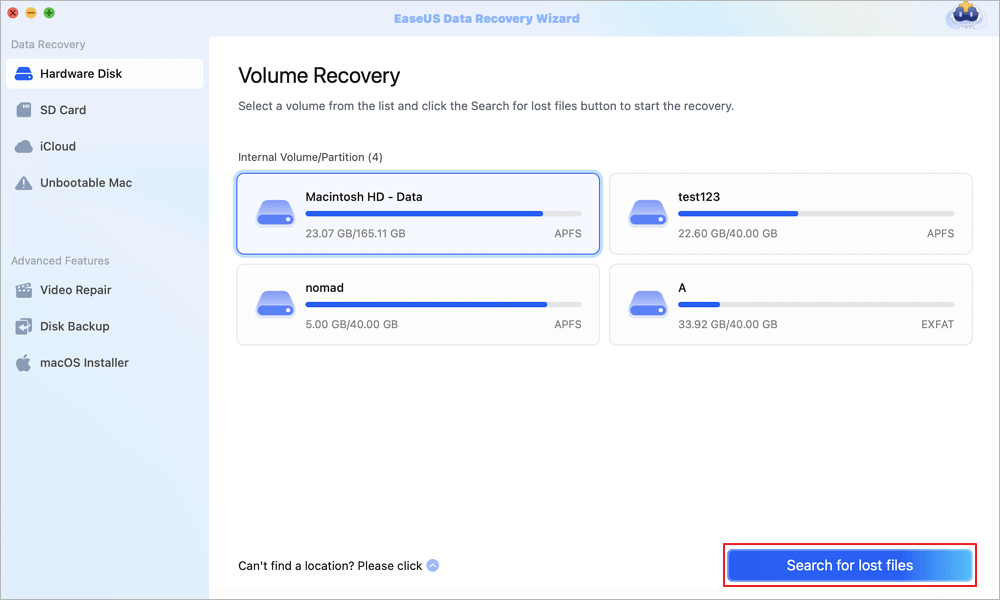 Step 2. Go through the scanning results
EaseUS Data Recovery Wizard for Mac will immediately scan your selected disk volume and display the scanning results.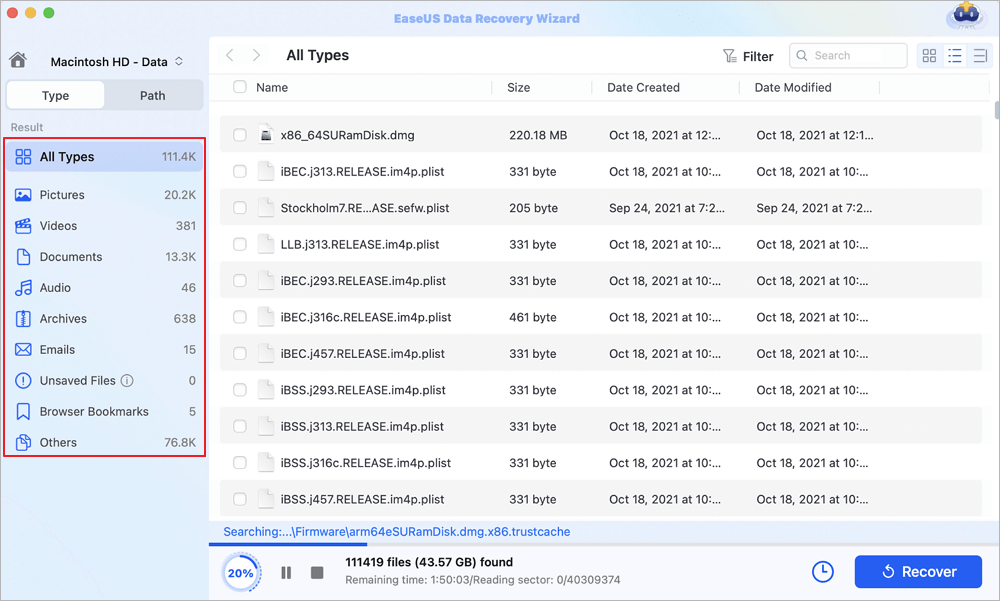 Step 3. Select the file(s) and recover
In the scan results, select the file(s) to preview and click the "Recover" button to have them back.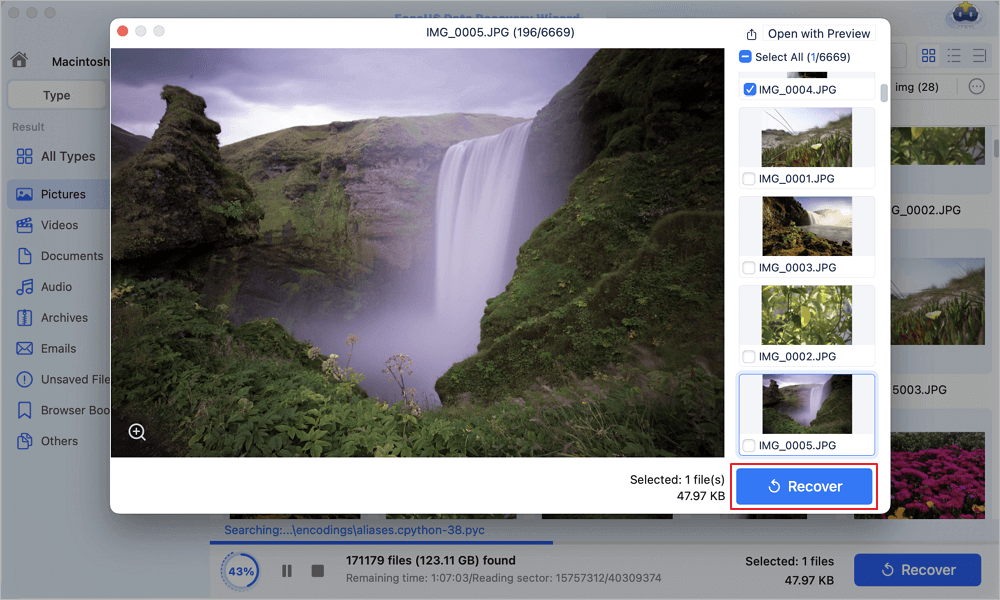 Dany is an editor of EaseUS who lives and works in Chengdu, China. She focuses on writing articles about data recovery on Mac devices and PCs. She is devoted to improving her writing skills and enriching her professional knowledge. Dany also enjoys reading detective novels in her spare time.

Jean has been writing tech articles since she was graduated from university. She has been part of the EaseUS team for over 5 years. Her special focuses are data recovery, disk partitioning, data space optimization, data backup and macOS. By the way, she's an aviation fan!