At times, out-of-date software may be a real concern since it might be buggy or pose a security risk. Keeping your Mac software up to date is essential for this reason.
On the other hand, how can you ensure that your computer is always updated? So, let's look at the most recent macOS update and how to enable updates for your Mac. And since there's no one-size-fits-all maintenance option, let's take a look at different MacOS updates and what suits you the best.
What is the Latest Version of macOS? 
On October 25, 2021, Apple published macOS 12.0 Monterey, the most recent operating system version. While MacOS 13 is expected to arrive in October 2022. About once a year, Apple releases a new major version. The Mac App Store offers these updates for free. Known as macOS Monterey, the latest version of Apple's Mac operating system is macOS 12.0. OS X 10.8 is Mac's eighteenth major version.
Following are some of the new features that the new macOS update offers:
Universal Control lets you utilize a single mouse, trackpad, and keyboard to move information across Macs and the iPad. The Mac may be used as a speaker for multiroom music and can AirPlay movies, games, photographs, and more from an iPhone or iPad.
Safari features an optional new tab bar style that fades into the background and Tab Groups for combining active tabs to make switching between jobs easier. Tab Groups may be shared between devices.
FaceTime offers spatial audio, so voices sound like they're coming from the screen, while Voice Isolation takes out background noise. Multiple call participants may use the Wide Spectrum sound mode. Portrait Mode blurs your backdrop like iPhone images.
With SharePlay, users may view movies and TV episodes, listen to music, and share their screens via FaceTime and third-party applications. Shared With You in Messages saves material in Photos, Safari, Podcasts, News, and Apple TV.
All iPhone shortcuts (and more) will be accessible on the Mac with macOS Monterey. Apple's Shortcuts software is embedded throughout macOS to launch shortcuts from the menu bar, Finder, Spotlight, Siri, etc.
See More: macOS Version History
People adore Macs and hate them. You may criticize their OS, expensive gear, and slick, elite style. Let's compare these Macs to find the best one for you.
Sierra (macOS 10.12)
Apple renames Sierra "macOS" Apple Watch unlocks a Mac, among other iOS advantages. A new Storage Optimization function provides a complete storage overview and space-saving tips. Siri!
High Sierra (macOS 10.13)
macOS High Sierra introduces HEIC and Apple File System (APFS), an enhanced replacement to HFS+. There are minor improvements to Safari, Mail, and Photo.
Mojave (macOS 10.14) 
This update lets mac users change the screen colors to match their day-to-night schedule. iOS has additional applications like Stocks, News, and Home.
Catalina (macOS 10.15)
macOS Catalina splits iTunes into Music, Podcasts, and Movies. Sidecar lets you connect an iPad screen to your Mac, and developers can convert iOS programs to macOS.
Monterey (macOS 12.0)
macOS Monterey adds Shortcuts to automate your workflow using applications. Universal Control, a fluid transition between Mac and iOS devices (you can transfer your pointer between Mac and iPad), updated Safari with tab groups, and amazing FaceTime features.

MacOS Comparison: Monterey vs Big Sur
Do you want to upgrade your macOS to Monterey? What are the main differences between macOS Big Sur vs Monterey? Learn all about the new features and advancements of Monterey than Big Sur.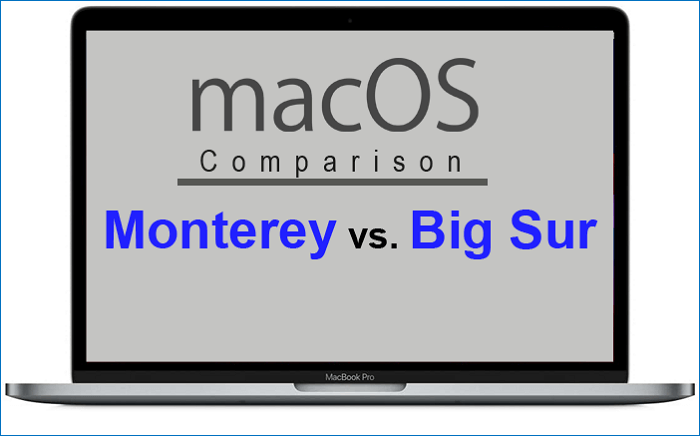 Why Should You Upgrade Your macOS to the Latest Version?
Apple releases a new version of its macOS operating system every year, and these upgrades are free to download and install. There are many good reasons to upgrade your macOS to the latest version. Whether you're looking for better performance, new features, or compatibility with newer devices and software, upgrading is often a good idea.
First, newer versions of macOS usually include performance improvements and bug fixes. Upgrading your macOS to the latest version can help your Mac run more smoothly and efficiently.
Additionally, new versions of macOS often introduce new features that can make your life easier or help you be more productive. So if you're looking for a reason to upgrade, performance and new features are two good ones.
Finally, upgrading to the latest version of macOS helps ensure that your Mac will be compatible with the latest software and peripherals. If you're using an older version of macOS, you may find that some newer apps and devices don't work properly. Upgrading to the latest version can help solve this problem. 
How to Upgrade to the Latest macOS?
Update or upgrade macOS and built-in programs like Safari using the Software Update feature.  Back up your Mac before starting. Follow these instructions to install software updates.
Step 1: Choose System Preferences from the Apple menu.
Step 2: Select Software Update in System Preferences.
Step 3: Click Update/Upgrade Now:

If you want to know more solutions to upgrade macOS, please read the following article.
Everything You Should Know about macOS Update
Will Upgrade macOS Cause Data Loss? 
In general, updating macOS doesn't destroy user data. Preinstalled programs and settings are preserved. When a new major macOS version is introduced, many people upgrade.
However, upgrading macOS causes data loss can also occur if you have incompatible third-party software or peripheral connected to your computer during the upgrade process.
If there are unexpected circumstances during the upgrade process: for example, the computer runs out of power and suddenly crashes, causing the system upgrade to be unexpectedly interrupted. And if the upgrade takes too long, it may also cause data loss.
How to Recover Lost Data After macOS Update?
If you experience any data loss after upgrading your macOS, the first thing you should do is check for backups. If you don't have any backups, you may be able to use data recovery software to recover lost files.
EaseUS Data Recovery Wizard is a powerful file recovery tool that's simple. It's packed with functionality, looks excellent, and requires no work. EaseUS Data Recovery Wizard is an amazing Mac data recovery alternative with an aesthetically beautiful and user-friendly UI. Not just appearances. The software can retrieve data from Time Machine backups.
It also has a file filter that helps you limit results, a bootable DVD option that lets you recover data even if your OS doesn't start, and a "Recover to Cloud" tool that saves recovered files straight to Cloud storage.
Step 1. Select the location
Select the disk where you lost data after updating to macOS Ventura/Monterey/Big Sure/Catalina. Then, click "Search for lost files".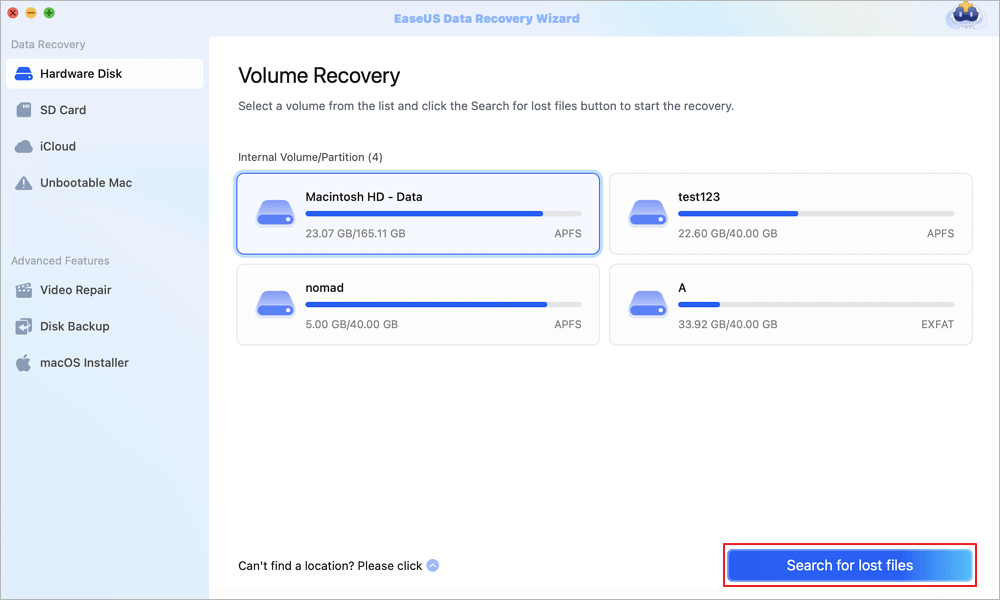 Step 2. Find lost data after the scan
EaseUS Data Recovery Wizard for Mac will immediately scan your selected disk volume and display the scanning results on the left pane. Use the file type and file path to find wanted data on Mac.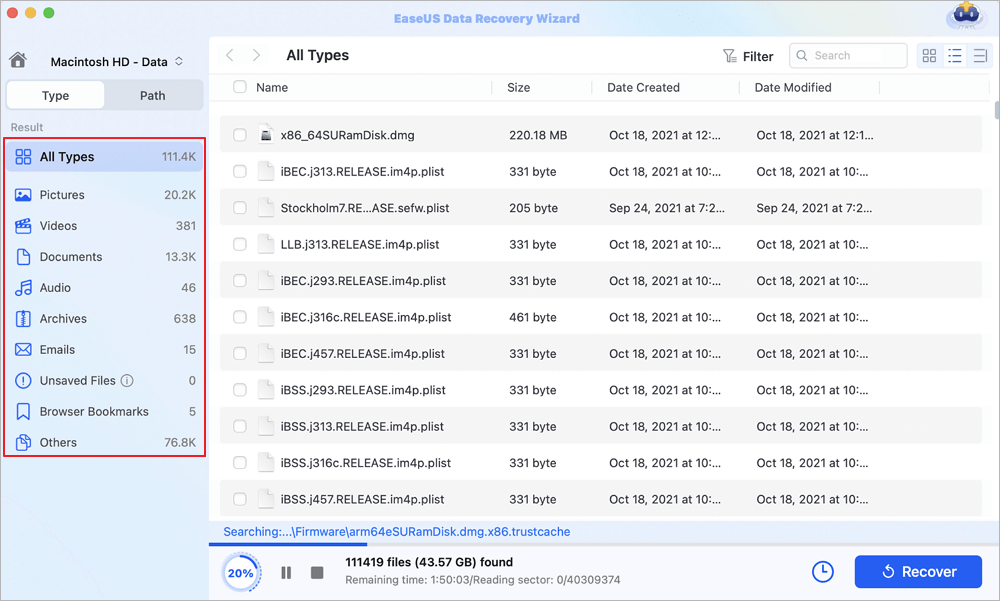 Step 3. Recover data after macOS update
Select the target files that were unknowingly lost during or after the update and click the "Recover" button to get them all back.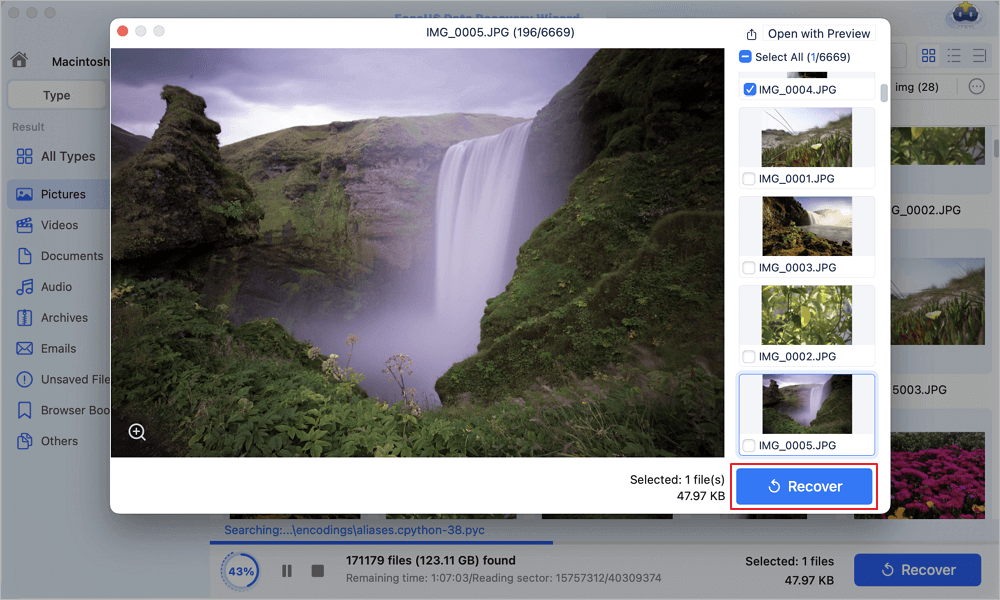 Final Thoughts 
This article introduces you to the latest version of the macOS system and introduces you in detail on how to upgrade to the latest system and how to retrieve lost data. We highly suggest utilizing the EaseUS Data Recovery Wizard to recover lost data during the macOS upgrade. Even if you want to recover data from a formatted hard drive, EaseUS Data Recovery Wizard can also help you to do so.

Cedric Grantham is one of the senior editors of EaseUS who lives and works in Chengdu, China. He mainly writes articles about data recovery tutorials on PC and Mac and how-to tips for partition management. He always keeps an eye on new releases and loves various electronic products.
Written by Gemma
Gemma is member of EaseUS team and has been committed to creating valuable content in fields about file recovery, partition management, and data backup etc for many years. She loves to help users solve various types of computer related issues.