Page Content:
Apple's latest version of macOS, released in October 2021, was Monterey and considered one of the most important and packed with a host of new features. The Apple Monterey is set to replace the macOS Big Sur. But wait. Should you update yourself to the latest version? Is it worth it? Does Monterey have enough features to make it an excellent option to upgrade? Let us try undertaking a Monterey vs. Big Sur comparison. That should help you find out whether it is the right time to update macOS or if you need to wait.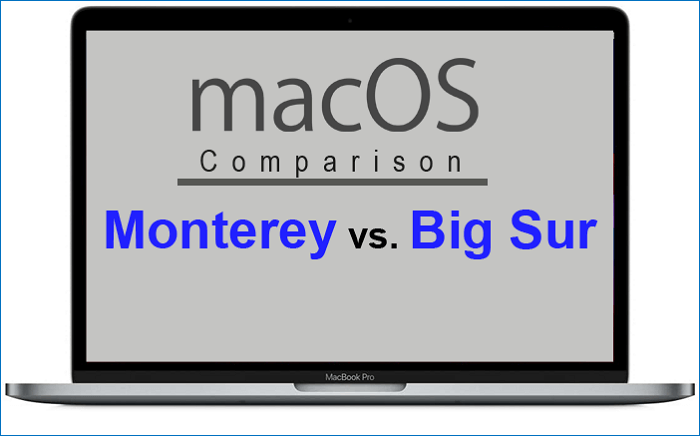 The macOS Big Sur
The macOS Big Sur had a lot of issues concerning instability when it was initially launched. However, the issues were soon fixed with the right degree of optimization. The Big Sur update was initially launched on 12th November 2020, and it was the first update that supported both Intel Macs and the new "Apple Silicon" Macs. The update does offer you access to an OS version that is quick, stable, and aesthetically pleasing.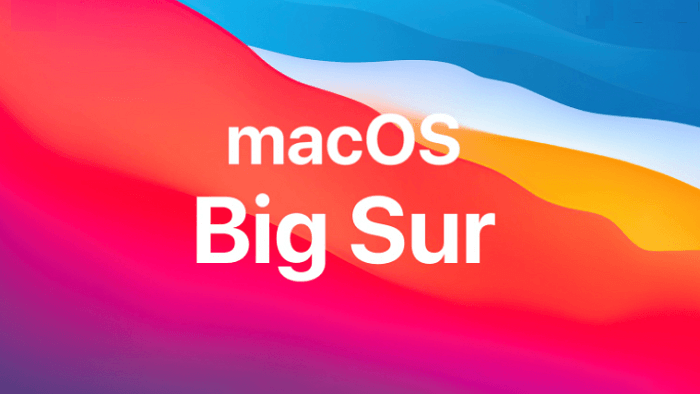 The Big Sur update brings you subtle and significant improvements to your macOS system. The huge change that you would come across on the Big Sur update is that it has changed the interface to a greater extent. The interface has now turned more convenient and intuitive when compared to what it was before.
The improvements have been in the following realm: 
A neat and beautiful look. 
A few new feature additions to Safari, Messages, Maps, and others.
An improved Notification Center. 
A complete redesign of the operating system. 
The new features apart, you would perhaps find the update suffering from a few disadvantages. There are no contrast and transparency controls currently worthy of noticing. A few improvements have been designed to the touchscreen, but there is no touchscreen option yet.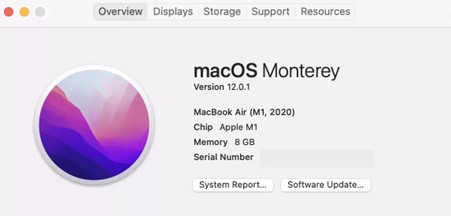 The macOS Monterey
The macOS Monterey was launched in June 2021 and is now the current version for most of the mac devices. When you compare it to the Big Sur update, you will find that the Monterey Update is minor in size. However, it comes with plenty of new features worthy of attention.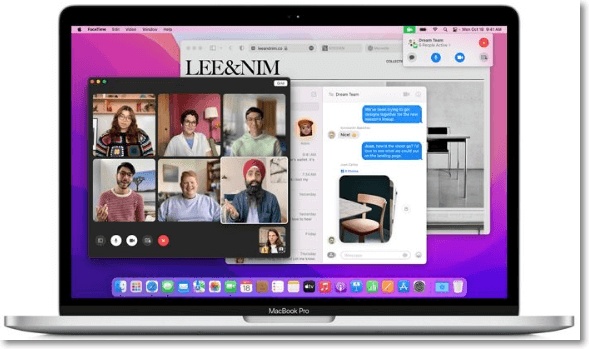 One of the enormous improvements introduced with the Monterey update would include Universal Control. With this, you can use a single mouse, trackpad, and keyboard across several mac devices. FaceTime now offers support for spatial audio. The update is about making it a very streamlined experience and turning your Mac operating system smoother. The excellence delivered with interconnectedness, functionality, and other features would make it stand apart as one of the most unique a realistically perfect flows of options and features. 
Some salient features can be summarised as: 
Facetime updates that cover SharePlay, spatial audio, and more.
Universal control access functionality.
A revamping of Safari browser. 
Privacy enhancements.
macOS Monterey vs. Big Sur - Should You Upgrade?
Now that we have learned about the performance improvement on Monterey and Big Sur updates, let us check if updating to Monterey is advisable or if you should wait. We will check out the feature comparison of the two updates one by one.
Compatibility
| | |
| --- | --- |
| macOS Big Sur | macOS Monterey |
| Any Mac Pro or iMac Pro | MacBook 2016 or later |
| MacBook Pro and MacBook Air 2013 and later  | MacBook Air and Pro 2015 or later |
| iMac and Mac mini 2014 and later | Mac mini 2014 or later |
| MacBook 2015 and later | iMac late 2015 or later, iMac Pro, Mac Pro 2013 or later |
User Interface
The visual changes in Big Sur were perhaps significant. The Control Centre now shows up if the microphone is in use and lets you find which apps are using it. There is also a Focus mode that you would find quite impressive and unique. That would make the Monterey update relatively modest. 
FaceTime 
FaceTime receives one of the excellent updates on Big Sur. In Monterey, these updates take a newer look and performance. The latest update is all about introducing the best possible social fun. You can now invite even those who do not have an Apple device. 
Notes App
The Notes app is yet another great feature that is found to have a significant upgrade in Monterey. You will add notes to the Notes app from different applications—an option to add tags to the Notes section. 
Performance
In terms of performance, there is not much of a difference between Big Sur and Monterey updates. There is not much of a difference between the two options. If you are looking to upgrade to a new update aiming for performance enhancement, updating may not be a preference.

MacOS Update VS. Clean Install: Which One to Choose?
Any OS gets slow with time, and when there is time to update, you always wonder if a clean install is a better idea. In this guide share the difference between a macOS upgrade vs. a clean install and which one you need to choose.
Bonus Tip: Prevent Data Loss after macOS Update
Updating your operating systems may prove to be a little tough choice. If something goes wrong, you may face a few issues, such as data loss. If you want to prevent any such problems, it may be necessary to back up the important data before the update so that there is no data loss of any nature. 
Time machine is a built-in backup tool on your Mac. The feature automatically backs up your necessary data, including apps, music, photos, email, and documents.
You can back up the data using Time Machine by following the steps: 
Pick Time Machine backup using the Apple menu > System Preferences, then click Time Machine. 
Select backup Disk.
Select Use Disk. The Time machine begins backing up the data at regular intervals. 
If you have not backed up your Mac and have unfortunately lost the data when updating, you can use a tool such as EaseUS Data Recovery Wizard for Mac to recover your lost data. 
Step 1. Select the location to scan
Launch EaseUS Data Recovery Wizard for Mac and choose the hard drive, SSD,  SD card, USB flash drive, or TF card where you lost data. Click "Search for lost files" to start scanning.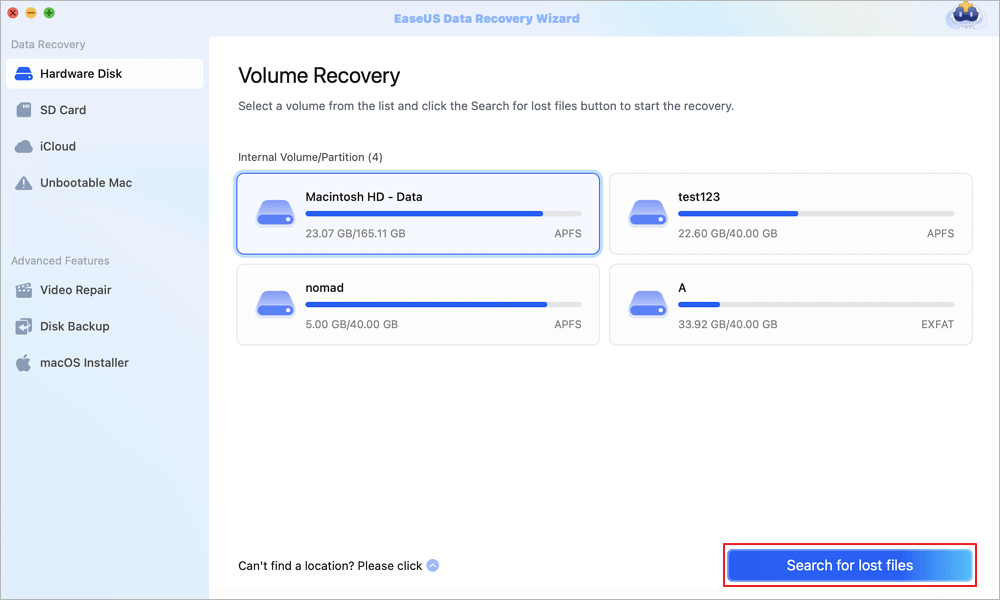 Step 2. Filter lost Mac data
The software will automatically scan for lost data on MacBook/iMac. When the scan completes, filter wanted data through the "Type" and "Path" buttons.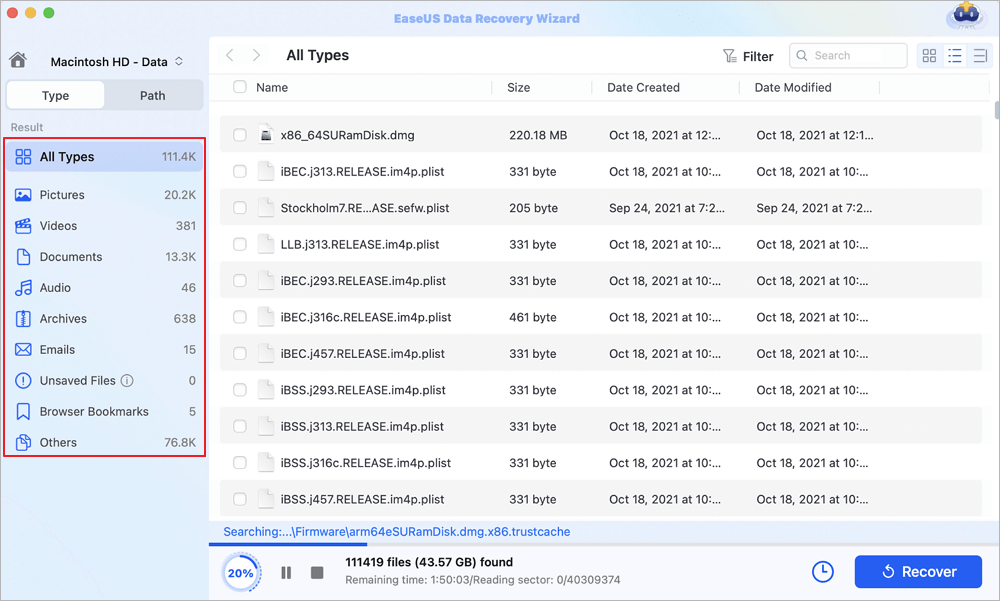 Step 3. Recover lost data or files
Double-click a file to preview it. Then, click the "Recover" button to restore the lost data to another place.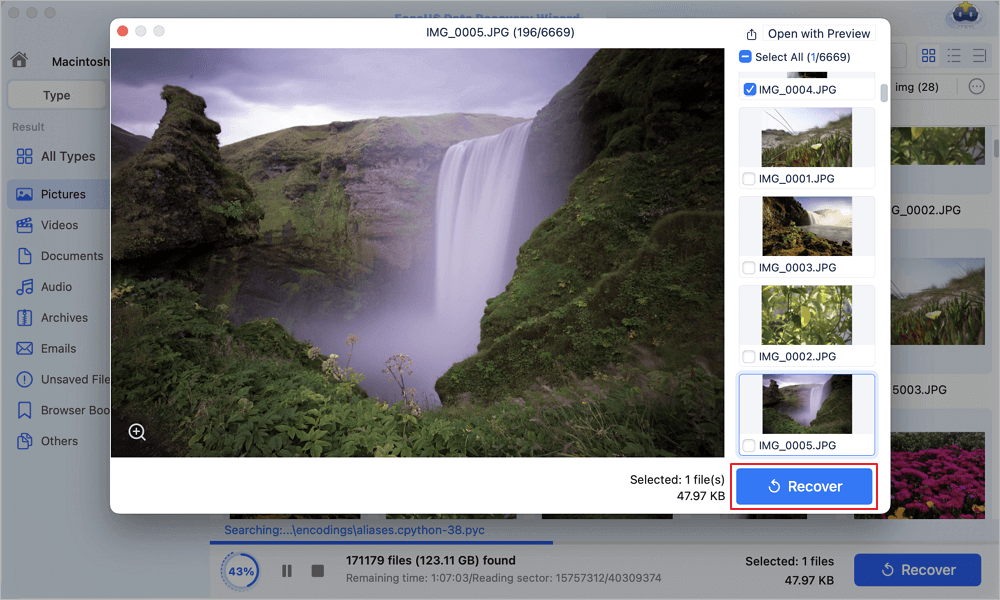 It is your one-stop solution for efficient data recovery. It should be one of the prominent options that you would find extremely important and helpful in recovering the lost data from the emptied Trash Bin, accidental deletion, or other causes. 
Some impressive features can be included:
Mac data recovery options can solve almost all data loss issues.
It can handle every data loss issue, including deletion without a backup, format, virus attack, system crash, hardware failure, unexpected shutdown, or human error.
It can work with every data recovery choice, including Mac photo recovery, video recovery, and Mac audio recovery.
An effortless, quicker, and free choice for recovering your data.
Supports a wide range of formats that include DOC, XLS, XLSX, PPT, PPTX, JPG, JPEG, TIFF, TIF, PNG, AVI, MOV, MP4, MP3, etc.
Conclusion
If you have used macOS, you should find it one of the excellent choices for enjoying a truly enhanced experience in achieving the most compelling and unique experience ever. But, the million-dollar question is should you update to Monterey or stay on Big Sur? The best move would be to update to the latest version. 
And in case you face any data loss as part of your update process, it would be ideal to rely upon an efficient data recovery solution such as EaseUS Data Recovery Wizard for Mac. 
macOS Big Sur VS Monterey FAQs
What if you still have problems? Read the questions and answers below to get additional help for macOS Big Sur or Monterey.
1. What is the latest version of macOS?
macOS Ventura is the 13th and the latest version of macOS. It is the newest version of macOS.
2. Is macOS Monterey better than macOS Ventura?
Monterey vs. Ventura: In terms of raw performance, both versions offer good results but Ventura does have an edge over Monterey due to its optimized hardware support.
3. Does Monterey slow down Mac?
Yes. Updating your Mac to the macOS Monterey build may slow down the performance as the new build is in Beta and has some bugs and other issues.
4. Do I need both macOS Big Sur and Monterey?
If you're using an older macOS version, you should update to Monterey. macOS Monterey has a few improvements over Big Sur. For example, if you're using a third-party antivirus application, you may want to consider updating to a new version of Monterey.

Brithny is a technology enthusiast, aiming to make readers' tech life easy and enjoyable. She loves exploring new technologies and writing technical how-to tips. On her spare time, she loves sharing things about her favorite singer - Taylor Swift on her Facebook or Twitter.
Written by Gemma
Gemma is member of EaseUS team and has been committed to creating valuable content in fields about file recovery, partition management, and data backup etc for many years. She loves to help users solve various types of computer related issues.