A Brief Introduction about Macbook M1 Chip
The M1 chip was the first System on a Chip (SoC) created by Apple specifically for use in Macs. It represented Apple's first step away from the Intel processors that the Cupertino company had used in Macs since 2006.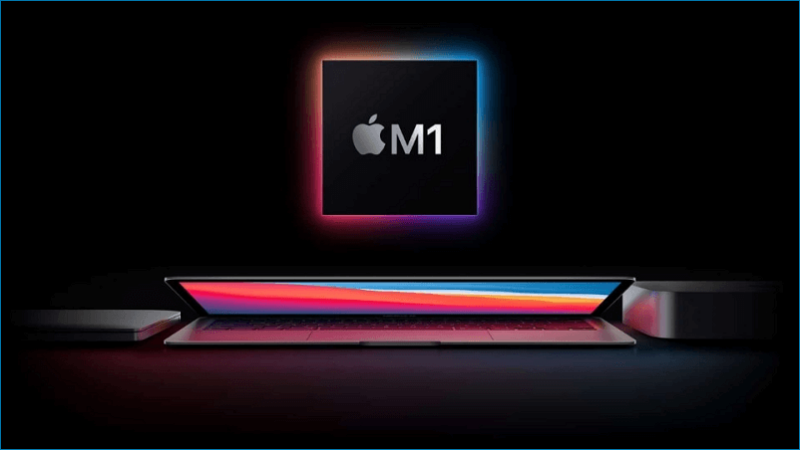 The M1 chip powers the various features in the Mac as a "System on a Chip" by integrating some different components, including the CPU, GPU, unified memory architecture (RAM), Neural Engine, Secure Enclave, SSD controller, image signal processor, encode/decode engines, Thunderbolt controller with USB 4 support, and more.
Apple's efforts to integrate these processors are why the M1 Chip is much faster and more effective than earlier Intel CPUs.Before Apple silicon, Macs utilized numerous CPU, I/O, and security chips. The M1's unified memory architecture, which Apple has incorporated, is also significant since it allows all technologies to access the same data without switching between different memory pools. We will learn more specific information in the following passage.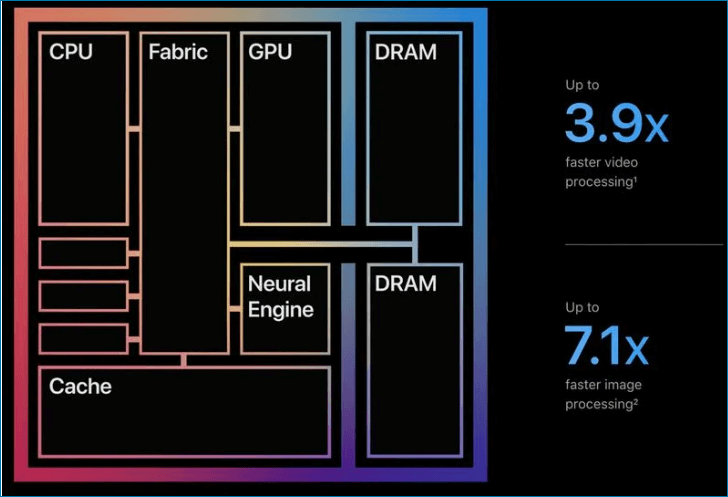 The Design of Apple Silicon M1 Chip
What kind of design makes m1 Chip stand out from many similar products? Next, we will explain the reasons in detail for its design. The design includes CPU, GPU, Memory, and other features.
CPU
An 8-core CPU with four high-performance cores and four high-efficiency cores is part of the M1 Chip. The high-performance cores provide the best performance for power-intensive single-threaded workloads.
The M1 Macs can outperform even the most expensive 16-inch MacBook Pro versions because of the four powerful cores' outstanding multithreaded performance.
Four high-efficiency cores use a tenth of the power for jobs that are less demanding and don't need as much energy, such as web browsing, to prolong battery life.
These cores, according to Apple, perform comparable to the dual-core MacBook Air of the previous generation but consume a lot less power. When significant influence isn't required, these cores can operate independently, but all eight can simultaneously be active for demanding tasks.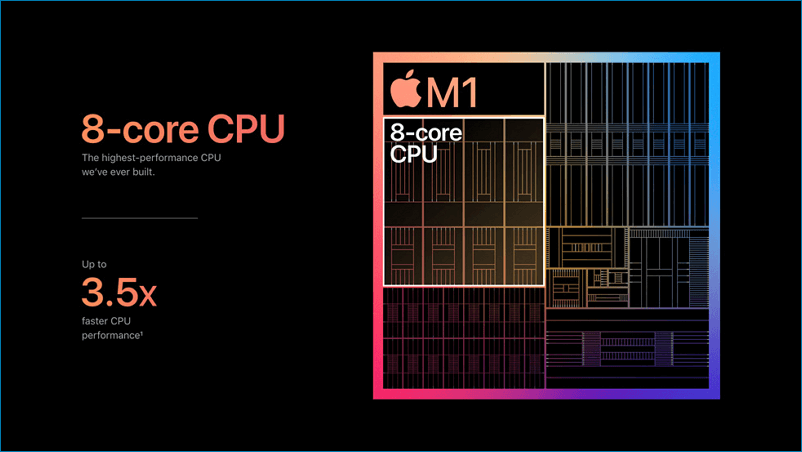 GPU
The M1 includes an eight-core (or seven in specific base variants) graphics processor created by Apple (GPU). Eight Arithmetic Logic Units make up each of the 16 Execution Units that make up each GPU core's GPU (ALUs). Apple claims that the M1 GPU can run up to 24,576 threads simultaneously and has a maximum floating point (FP32) speed of 2.6 TFLOPs. It has up to 128 Execution units, or 1024 ALUs, in total.
Memory
The processor's components share the M1 and employ a single 128-bit LPDDR4X SDRAM. A system-in-package (SiP) design can mount the RAM and SoC chips side by side. There are variants with 8 GB and 16 GB memory.
Battery Life
The M1 Chip boasts remarkable speed increases, but it also uses less battery power than any other Mac chip that Apple has yet to produce.
An M1 Mac's battery life can last up to twice as long as Macs from earlier generations. The 13-inch MacBook Pro has the most remarkable battery life of any Mac, lasting up to 20 hours. The battery life is now twice as long as the previous model.
macOS Big Sur is engineered, down to its core, to take full advantage of all the capability and power of M1, delivering a massive boost in performance, extraordinary battery life, and even stronger security protections. 
Apple M1 Speed
Compared to the Intel CPUs used in previous-generation computers, the M1 Chip offers up to 3.5x faster CPU speed, 6x faster GPU performance, and 15x faster machine learning capabilities. The M1 boasts 2x quicker CPU performance than the most recent PC laptop CPUs while consuming only 25% of the electricity. The M1 Chip is packed with several powerful custom technologies. 
Macbook M1 Chip vs. M1 Pro Chip vs. M1 Max Chip 
Apple's MAC notebooks use Macbook m1 chip, m1 pro chip, and m1 max. These three chips ensure that it has an unparalleled advantage over other notebooks. But do you know the difference between these three chips? We will use a table to show it clearly.
M1 vs. M1 Pro vs. M1 Max - Specifications
| Design | M1 Chip  | M1 Pro Chip  |  M1 Max Chip |
| --- | --- | --- | --- |
| CPU Cores (Total)  | 8 | 8 or 10 | 10 |
| GPU Cores  |  7 or 8 | 14 or 16 | 24 or 32 |
| Neural Engine Cores | 16 | 16 | 16 |
| Transistors  | 16 billion | 33.7 billion | 57billion |
| Foundry process  |  5nm |  5nm |  5nm |
| Unified Memory | 8GB | 16GB  | 32GB |
| Capacities | 16GB | 32GB | 64GB |
| Memory Bandwidth | 68.25GB/s | 200GB/s | 400GB/ |
Apple now purchases its M-series processors from Taiwan Semiconductor Manufacturing Company (TSMC), the same foundry partner that makes its A-series chips. Its performance increases in turn, M1 MAX > M1 Pro Chip > M1Chip. The price of using the corresponding product also increases with its performance. 
Which Apple Products Use the M1 Chip
Apple's major products widely use Apple's earliest Chip, the M1 Chip. Next, we will introduce the Apple series products using the M1 Chip.
Products using M1 Chip are more cost-effective than products using M1 Pro Chip and M1 MAX. the above products are a good choice if you want a smooth and cost-effective Apple 
Conclusion:
Now you have a fundamental understanding of the Macbook M1 chip, M1 Pro Chip, and M1 MAX. You can refer to this guide if you want to buy related products.