Some users may get troubled in finding the locations of media files they love a lot, so this guide will help you dig more information. Let's keep moving:
PAGE CONTENT:
What Is an M3U8 File?
M3U8 are playlist files used by video and audio players to store the location of media files. The stored information is in plain text in M3U8 files, which helps the user to play media files quickly. These files may use URLs or absolute paths to refer to a specific media file or a folder.
M3U8 files can also contain the stored information of online media files of the internet radio stations. The major media players like iTunes, VLC Media Player, and Windows Media Player are compatible with M3U8 files. As the stored information is in the form of plain text, you can also use a text editor like Microsoft Notepad and Apple TextEdit to open your media files.
How to Open and View M3U8 File?
To open and read M3U8 files, you can use a reliable text editor. For instance, on Windows, you can use Notepad to read the M3U8 files. However, the text editors cannot assist you in playing the media files stored in the M3U8 file. The reason is that text editors don't function like media players or any media management software. Thus, you can use a text editor only to open and read the M3U8 files.
However, there are various media players on the platforms of Windows, Mac, and Linux that can help you to play media files stored in an M3U8 file. Here is the list of media players supported by major operating systems that can open and view M3U8 files easily.
Windows
Vidmore Player
KMPlayer
Windows Media Player
GOM Media Player
MediaMonkey
Mac
RealNetworks RealPlayer
Songbird
Vidmore Player
VideoLAN VLC Media Player
Clementine
Linux
XMMS
Clementine
VideoLAN VLC Media Player
Steps to Open M3U8 File Through VLC Media Player
Step 1. Open the VLC media player on your PC and head to the "Media" tab displayed on top. From there, tap on the "Open File" option.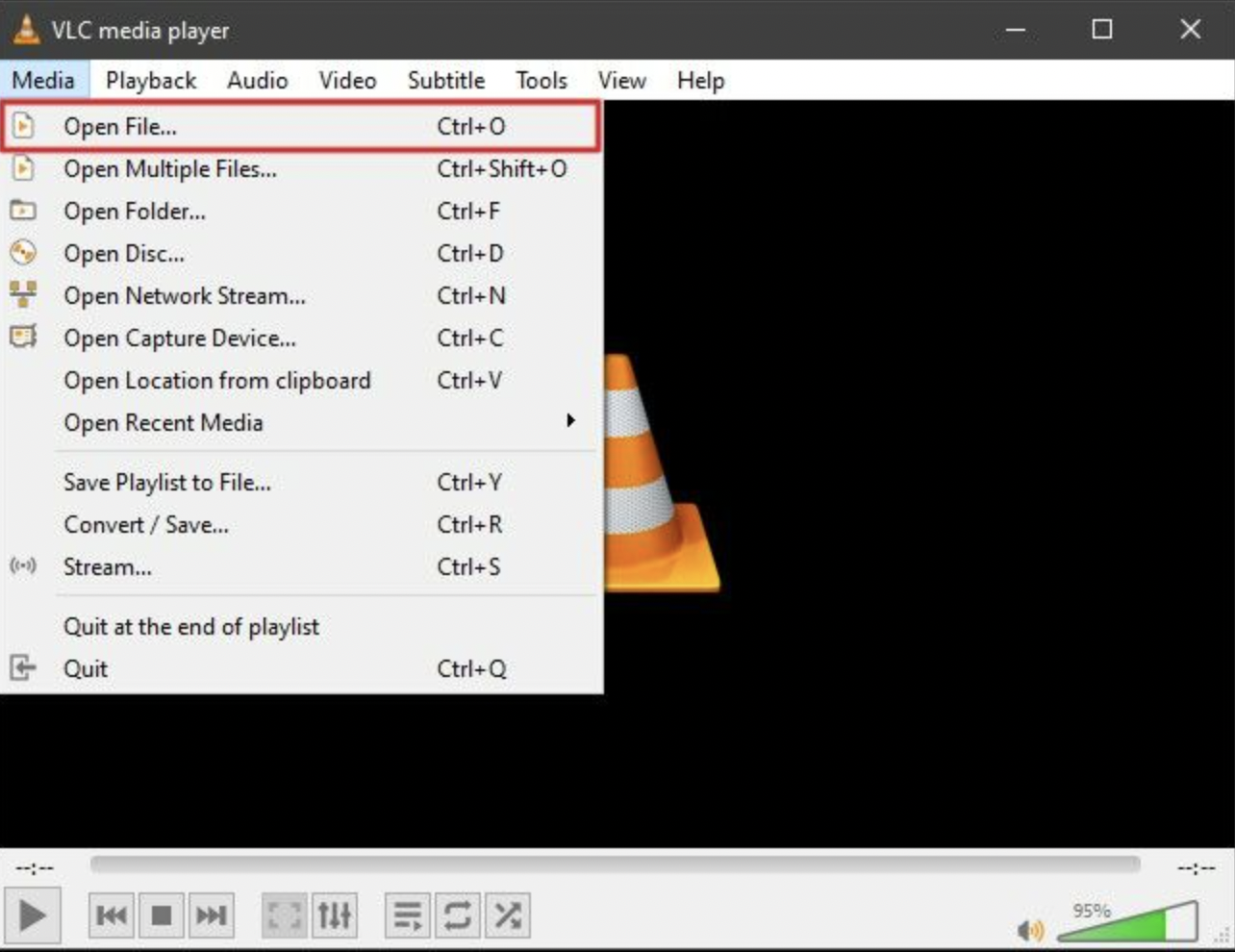 Step 2. On the browsing window, change the "File Type" to "Playlist Files." Now locate your M3U8 file and click on "Open" to upload it to the VLC media player successfully.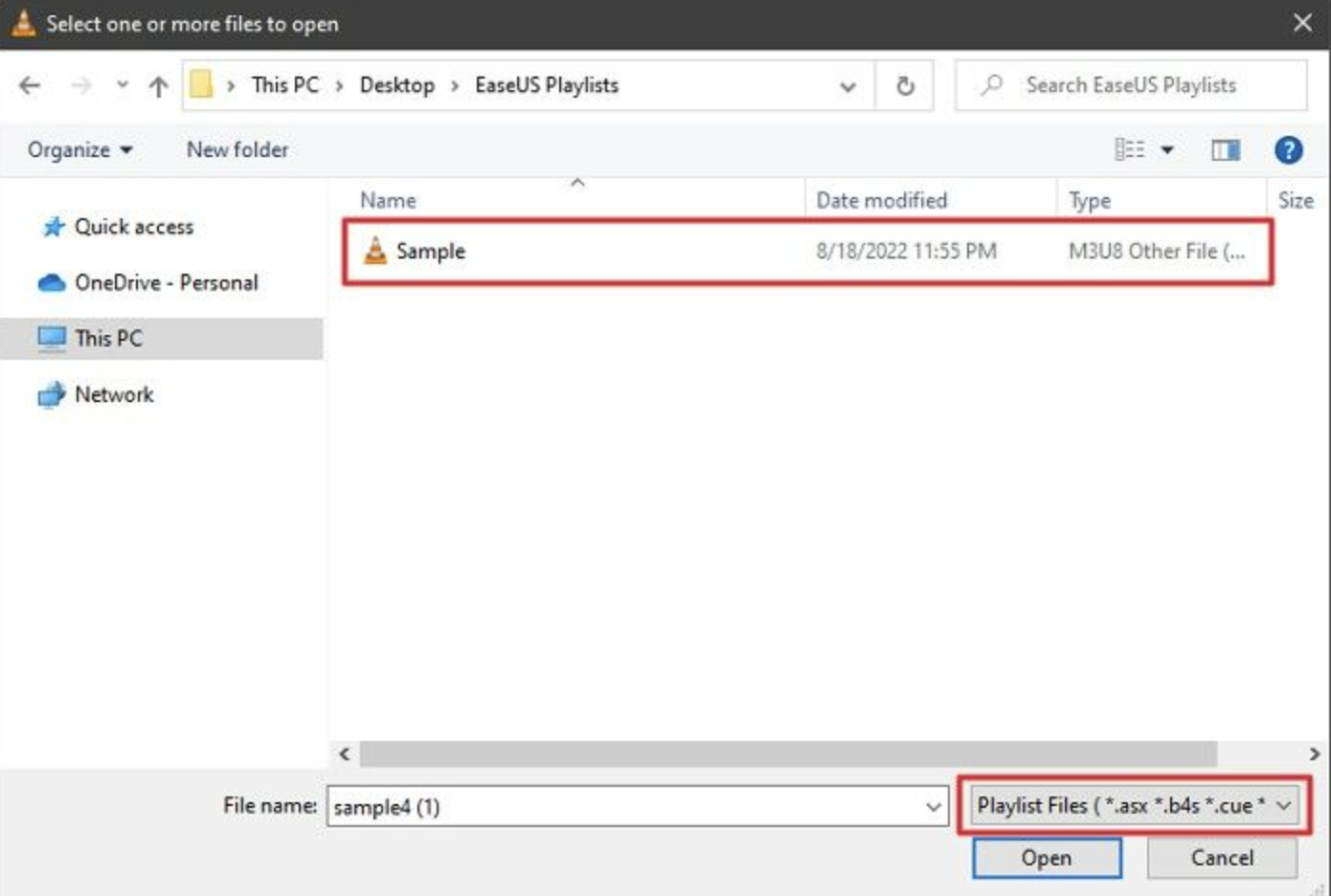 How to Convert M3U8 to MP4 or Other File Formats?
In various circumstances, you may need to convert the M3U8 file to other file formats like MP4. However, you cannot directly convert the M3U8 files to other formats as they are only plain text files. For this, you would require a reliable file converter tool that can instantly convert M3U8 files to other formats.
However, there is a problem that needs to be addressed before converting the M3U8 files. The issue is that the media files stored in M3U8 are saved in different locations on your computer, such as internal drives, floppy disks, etc. For this, you would require to gather all the media files at a single location to use the file converter tool. The manual procedure of copying all the media files in a single place can be time-consuming. That's why you can consider using M3UExportTool to gather all the media files stored in an M3U8 file.
Once this tool copies all the media files in a single location, you can use any appropriate converter tool that fits your need.
Final Thoughts
M3U8 files store our playlist files in their original quality in the form of plain text. Through these files, we can locate our saved media files and can play them through a compatible media player. This article has briefly shed light on the significance of M3U8 files in an organized manner. If you wish to convert the M3U8 files to any file format instantly, you can use EaseUS Video Converter to obtain the best results in an efficient way.