With progressive advancements in the tech sector, software solutions have gained more prominence. One of the most well-known tech giants, Microsoft, has launched twelve editions for its proprietary Windows 10. It is mainly done to meet the needs of different users in various environments. 
The different Windows 10 include Windows 10 Pro, Pro N, Home, Pro Workstation, etc. You need to choose the one that suits your needs the best. 
Are you wondering about Windows 10 Pro and Windows 10 Pro N? There is not much difference, but you must still know to choose the right operating system. 
What Is Windows 10 Pro

One of the most popular operating systems right now is Windows 10 Pro. It offers the feature of Windows 10 Home, along with the inclusion of other capabilities. For instance, you will get Windows Defender Device Guard, Active Directory, Remote Desktop, etc. That makes the operating system more suitable for business environments. 
Windows 10 Pro System Requirements
Some parameters must be fulfilled to use Windows 10 Pro on your system. Take a look at these factors listed here –
OS: You need the system's latest version to upgrade to Windows 10 Pro.
Display: 800 * 600
Processor: 1 GHz (gigahertz) or faster. 
Hard disk space: 20 GB for 64-bit OS. If it is a 32-bit OS, 16 GB is enough.
RAM: 2 GB for 64-bit OS. For 32-bit OS, 1 GB is fine
Graphics card: DirectX 9 or the later versions. WDDM 1.0 driver is needed
Connectivity: Internet connection
Windows 10 Pro Features 
Windows 10 Pro comes with a wide array of features. Here are some mentioned. Check them out –
Device encryption
Windows Hello
Internet protection
Windows Defender Antivirus
Mobile device management
Enterprise state roaming with Azure
Group Policy
Dynamic provisioning
Assigned access
Microsoft Store for Business
Kiosk mode set-up
Support for Azure Active Directory
Support for Active Directory
Windows update for Business
Firewall and network protection
Parental controls
Windows Information Protection
Secure Boot
Digital pen and touch
BitLocker device encryption
Mobile
Cortana
Microsoft Edge
Battery saver mode
Virtual desktops
Domain Join
Microsoft Passport
Continuum
Snap Assist
What Can I Do With Windows 10 Pro
You might wonder why you need to upgrade to Windows 10 Pro when you have Windows 10 Home. Well, this particular operating system is designed to help out business settings. That is why features such as domain join, client Hyper-V, BitLocker, etc., have been integrated. 
Windows 10 Pro has features created especially for the business sector. That is why it makes perfect sense for enterprises to opt for this version. However, it is only helpful if you use advanced features. Otherwise, it is a wasted investment. 
What Is Windows 10 Pro N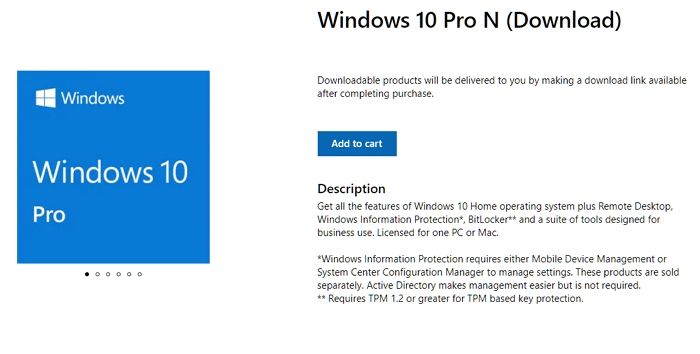 The Windows 10 Pro N is Windows 10 Pro without multimedia integration. The "N" stands for "Not with Media Player." It is the Windows 10 Pro version where users will find no media-related technologies such as Voice recorder, Music, Skype, Teams, Video, etc. 
Windows 10 Pro N System Requirements
These are the system requirement to use Windows 10 Pro N:
Memory: 2 GB for 64-bit, but 1 GB RAM is enough for the 32-bit
Video card: Screen resolution of 800 * 00 or more. Graphics processor of DirectX® 9 with WDDM driver
Processor: 1 GHz or faster
Hard Disk Space: Up to 20 GB must be available
Connectivity: Internet access 
Other requirements (system): You will need a Microsoft Account to use some features. 
Windows 10 Pro N Features 
The Windows 10 Pro N has the features present in Windows 10 Pro minus the media-related features. Here are some features that are excluded from the N edition –
Windows Media Player ActiveX control: This feature exposes properties and methods to change or manipulate multimedia playback from an application. 
Windows Media Player user experience: With this feature, you can enable the various Windows Media Player aspects like playing media files, managing these files, etc. 
Media Foundation: This feature offers support for video quality, audio quality, content protection, etc. 
Movies & TV: With this feature, one can play digital videos. If you want to use the app, you will need to install it. 
What Can I Do With Windows 10 Pro N?
One can use Windows 10 Pro N for the same purposes as that Windows 10 Pro. However, the N edition of Windows 10 was mainly designed for Europe. That is because Europe has previously banned the Pro version. The main reason for the restriction was the presence of the in-built media software. 
In Europe, competition between different tech corporations is encouraged. Moreover, the government aims to offer users the freedom to opt for the software they want. For example, windows 10 pro was banned, as it came with integrated media features. 
What Is The Difference between Windows 10 Pro and Windows 10 Pro N
There are some differences between Windows 10 Pro and Windows 10 Pro N. The most notable is the lack of media functions in Windows 10 Pro N. 
Take a look at the table listing the differences between these two versions –
Windows 10 Pro
Windows 10 Pro N

There are numerous pre-installed applications. 
It takes more time to install.
The performance speed is less than that of the N version
It is available globally

There is no pre-installed software. You can always download it from the app stare. 
It takes less time to install compared to Windows 10 Pro.
The performance speed is more than that of the Pro version.
It is made explicitly for Europe
Conclusion 
To meet the needs of varied users, Microsoft has released twelve different Windows 10. Now, users can choose the best one that aligns with their environments. The Windows 10 Pro and Windows 10 Pro N don't have many differences. 
However, the most noteworthy is that the Windows 10 Pro N version doesn't have multimedia features. But that is no reason to worry! Users can easily download the applications from the app store and use them.