Steam Deck is the latest console in portable gaming devices and is considered among the best. Steam Deck is the answer if you want to play high-quality PC games on a handheld device. Because the top-class games usually have large sizes, you will have storage space issues even if you use the 512GB version of Steam Deck. That leads you to use external SD cards to increase storage space, so you need to know the best Steam Deck SD card format.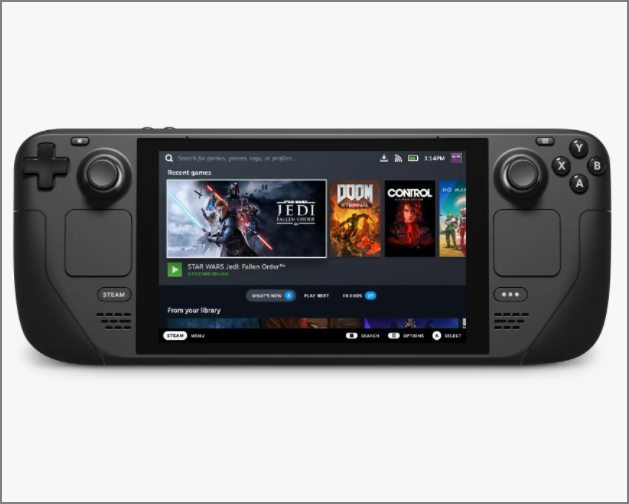 By reading this article, you will know the best Steam Deck SD card format and how to set your SD card in a suitable format.
What Is the Suitable Steam Deck SD Card Format
Micro SD cards are commonly used to increase data storage space in handheld devices. Although you might not be fully aware, the SD cards must be in a specific file system format for their usage on different devices. Similarly, the SD cards you need to use in Steam Deck are required to be in EXT4 file system format. 

Extended File System or ext2/3/4 is the file transfer system primarily used in Linux systems. The latest version of it is EXT4 and is far superior to its predecessors, it incorporates many modern requirements. EXT4 uses the allocate-on-flush technique to improve its performance, but it is also lightweight and provides backward compatibility.
In the next part, you can find different methods to format your Steam Deck SD card format with EXT4.
How to Set the Best Steam Deck SD Card Format
The process required to format your SD cards with EXT4 is not difficult. Formatting the SD card will delete everything, you should back up SD card before formatting to avoid unnecessary data loss. Afterward, you can follow one of the following methods that we discuss below:
Method 1. Format Steam Deck SD Card on PC
When using a Windows system, you cannot normally format your SD card using the EXT4 format required in Steam Deck. You need a third-party tool to help you format your SD card with EXT4 on Windows. While many widgets and tools are available for this purpose, our recommendation is EaseUS Partition Master Free. It is the best disk management tool that will simplify the process of formatting SD cards or any other drives.
Do you want to learn how to format the SD card according to the Steam Deck SD card format? Read the instructions mentioned below to perform the SD card formatting easily:
Step 1. Launch EaseUS Partition Master, right-click the partition you intend to format and choose "Format".
Step 2. In the new window, enter the Partition label, choose the FAT32/EXT2/EXT3/EXT4 file system, and set the cluster size according to your needs, then click "OK".
Step 3. Then you will see a warning window, click "Yes" in it to continue.
Step 4. Click the "Execute 1 Task(s)" button in the top-left corner to review the changes, then click "Apply" to start formatting the partition to FAT32/EXT2/EXT3/EXT4.
 Tip

If your SD card belongs to NTFS format, you can easily convert NTFS to EXT4 via EaseUS Partition Master.
Other Benefits of EaseUS Partition Master
EaseUS Partition Master breaks the limitation of Windows built-in tools and you can easily set the Roku SD card format. As a good disk partition helper, it has more features. It can:
Convert NTFS to FAT32 without losing data
Check disk and fix the corrupted file system
Download it, and you can enjoy the benefits to manage your SD card better.
Method 2. Format Steam Deck SD Card on Steam Deck
Since the best format for SD cards to be used in Steam Deck is EXT4, you can't format your SD cards to EXT4 in Windows normally. Valve allows you to format your SD cards using EXT4 directly on Steam Deck. It is a simple and easy process that you can perform by following these steps:
Step 1: To start the format process, first, insert your SD into Steam Deck using the slot at the bottom. Now press the "Steam" button under the left touchpad. It will open the Steam menu on your Steam Deck.
Step 2: Go to "Settings" from the Steam menu and press A to select it. On the next menu, find the "System" option and press A to open it.
Step 3:  Within the System menu, you will see the "Format SD Card" option. Select it by pressing A, which will ask you for a confirmation to start the formatting process.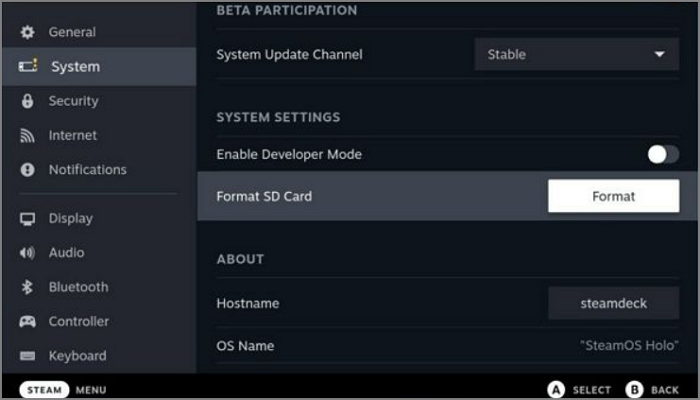 Step 4: The format process will take a few minutes depending on your card size and the data inside it. After formatting, you can use the SD card to download and play games in Steam Deck.
Conclusion
Hopefully, this article has helped you understand the SD card format most suitable for Steam Deck and how to format your SD cards. Storage issues in Steam Deck will not go away soon, and even if Valve Corporation releases a version with higher storage, it will be expensive. SD cards are a cheap way to increase storage, and with a tool like EaseUS Partition Master, you can easily format Steam Deck SD card format with the desired file system.
FAQ of Steam Deck SD Card Format
We have explained all the major details about the Steam Deck SD card format. If you still have any further questions, we have answered most FAQs from the internet on Steam Deck SD card format:
1. How long does it take to format the SD card Steam Deck?
The time an SD card formatting process in Steam Deck takes depends on many things. It will be affected by the quality of the SD card, its size, and the data volume in it. Steam Deck will take approximately 3 to 6 minutes to completely format an SD card with 512GB size.
2. Can Steam Deck read exFAT?
exFAT is a file system that both Windows and Linux support for read and write functions. So, you can use the exFAT SD card in Steam Deck to read and transfer files. Although when using an exFAT SD card on Steam Deck, you might face limitations, so use the EXT4 SD card for optimum performance.
3. Does Steam Deck support NTFS?
NTFS is a file system used primarily by Windows. Since Linux also supports it, you can use NTFS drives to transfer games between a PC and Steam Deck. NTFS is supported natively by Windows and Linux systems and provides read-only support by macOS.
EaseUS Data Recovery Services
EaseUS data recovery experts have uneaqualed expertise to repair disks/systems and salvage data from all devices like RAID, HDD, SSD, USB, etc.