Reinstalling macOS is usually the next step if your Mac experiences a severe problem that regular troubleshooting cannot resolve. You can choose to reinstall macOS without losing data, as opposed to deleting the internal storage and installing macOS from scratch. Let's learn about how to complete it.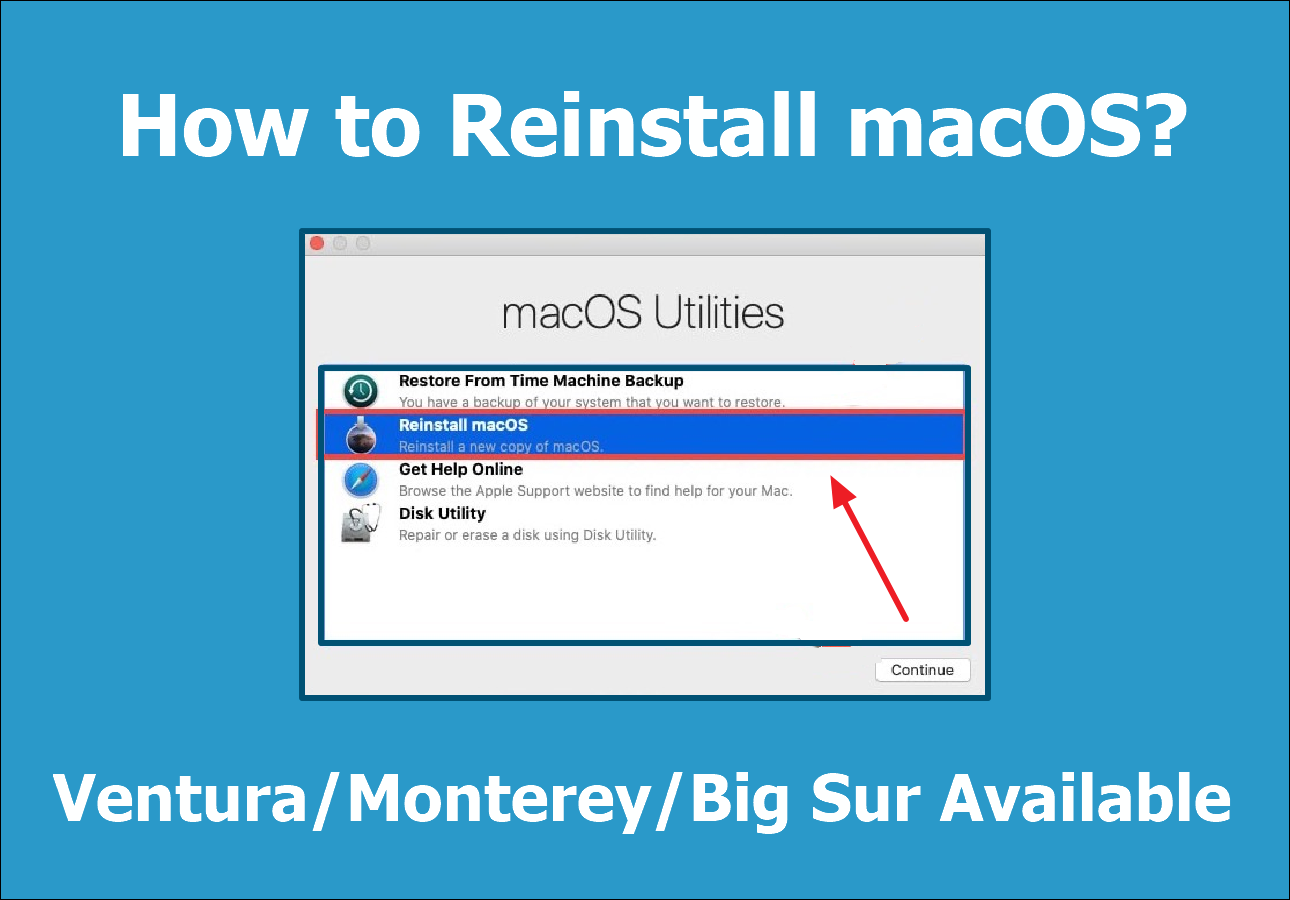  Tip

The methods in this article apply to macOS Ventura, macOS Monterey, macOS Big Sur, macOS Catalina, macOS High Sierra, or earlier Mac operating systems. Here we take Monterey as an example.
When Should You Reinstall Your macOS
You might wish to reinstall macOS for a few reasons. Maybe your Mac is acting wrongly, or you want to remove any possible mistake due to previous installation updates. Don't forget to ask yourself will reinstalling macOS deletes files. Thus, reinstallation of the Mac operating system could solve the problems.
Firstly, getting rid of potentially corrupted files is the most obvious reason. Update installations might occasionally corrupt files. You might have to reinstall macOS to fix the issues if this occurs and try to recover lost files after the macOS update.
Another reason is that if you intend to sell your Mac, you might also decide to reinstall macOS. Considering your privacy safety, force delete Mac and reinstalling the operating system can prepare the device for the following user.
How to Reinstall macOS Without Losing Data
An upgrade or reinstallation of your macOS is necessary due to your Mac's poor performance or a hardware issue. Many users are worried that if they reinstall the operating system, they may lose all of their data. Here are two methods for you to fix this problem.
Procedure 1. Use a data recovery tool to help reinstall macOS
Before reinstallation, if you had backed up your Mac, you might have retrieved your data from an external hard drive or another location, such as iCloud storage, which depends on how you had done it.
Suppose you haven't made any backups of your Mac. In that case, you'll need the expert Mac data recovery software tool, EaseUS Data Recovery Wizard for Mac, to quickly recover deleted files on Mac during a macOS reinstallation with the use of this tool.
EaseUS Data Recovery Wizard for Mac
Recover lost or deleted files in installation effectively, including documents, photos, audio, music, and emails.
Recover files from formatted hard drive, emptied Mac's Trash bins, external drives, digital cameras, and camcorders.
Support data recovery for sudden deletion, formatting, hard drive corruption, virus attack, and system crash if reinstallation fails.
Following the steps below will help you recover lost data utilizing EaseUS Data Recovery for Mac if you run into an issue with data loss after the macOS reinstallation.
Step 1. Search for lost files
Select the disk location to search for lost files (it can be an internal HDD/SSD or a removable storage device) on macOS Sierra, High Sierra, Mojave, Catalina, Big Sur, Monterey and the latest Ventura. Click the "Search for lost files" button.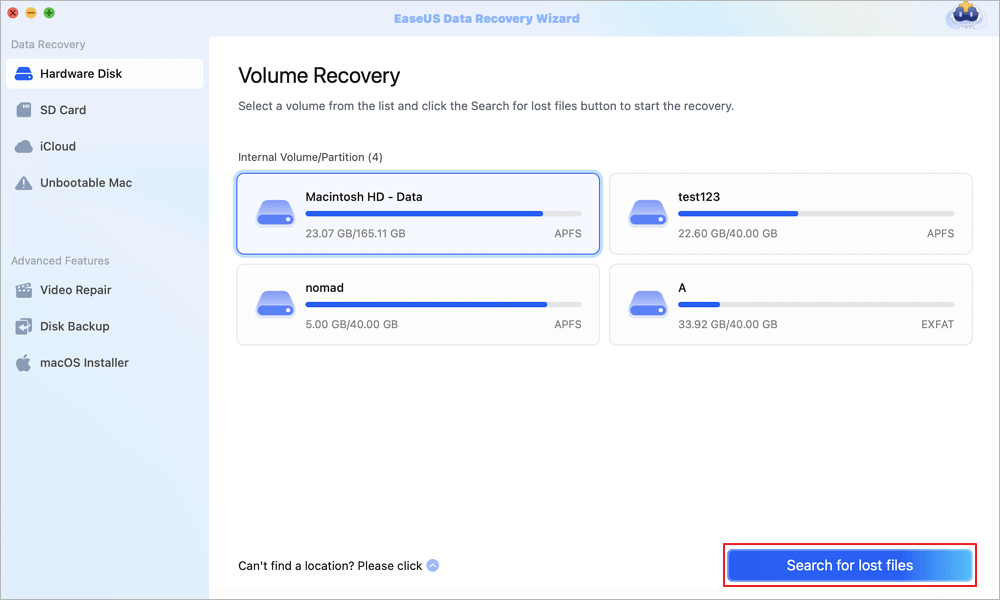 Step 2. Go through the scanning results
EaseUS Data Recovery Wizard for Mac will immediately scan your selected disk volume and display the scanning results.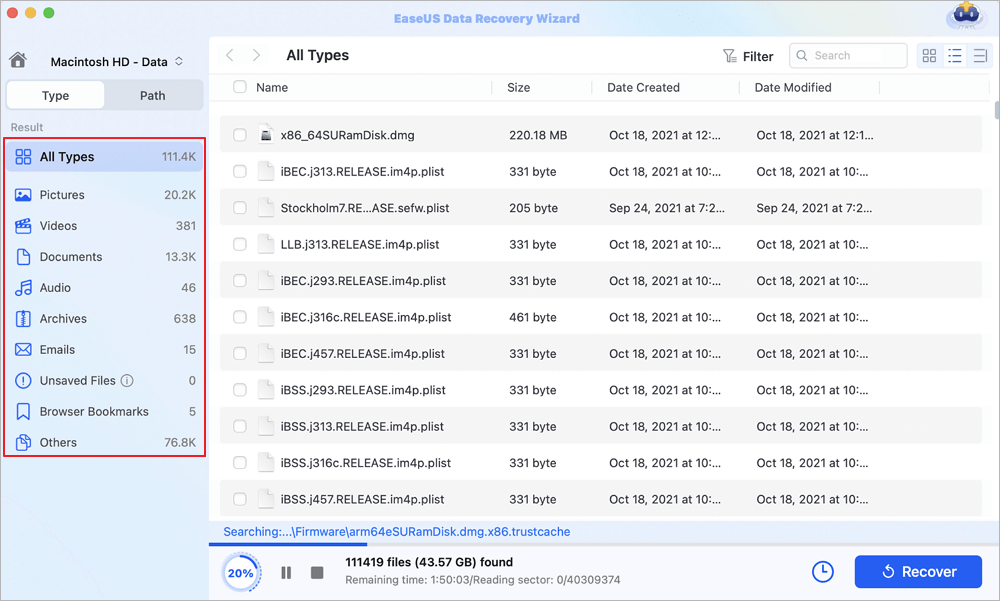 Step 3. Select the file(s) and recover
In the scan results, select the file(s) to preview and click the "Recover" button to have them back.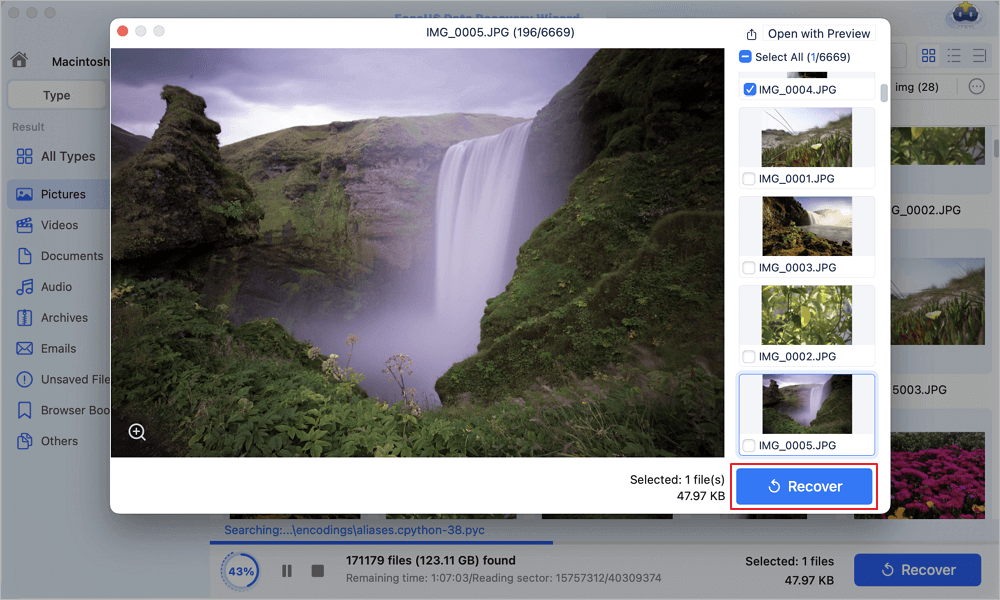 Procedure 2. Reinstall macOS via macOS Recovery mode
Reinstalling macOS can launch macOS Recovery, your Mac's built-in recovery system. Here is a video for your reference to reinstall macOS on different devices.
00:00 - introduction
01:38 - reinstall macOS on any Mac laptop (Intel) Or Intel Mac with a wired keyboard
02:51 - reinstall on Intel iMac, Mac mini, or Mac Pro without a wired keyboard
03:53 - reinstall macOS on Apple silicon Mac (M1, m1max, M2, etc.)
You may easily reinstall the macOS or restore your current OS using the Recovery Mode on your Mac. To enter the Recovery mode, press the "Command" and "R" buttons simultaneously during startup until you hear the startup bell and see an Apple logo. Here are the complete steps:
Step 1. Restart your Mac device.
Step 2. Press and hold the Command and R keys while your computer restarts. Once you see the Apple logo on your screen, release them.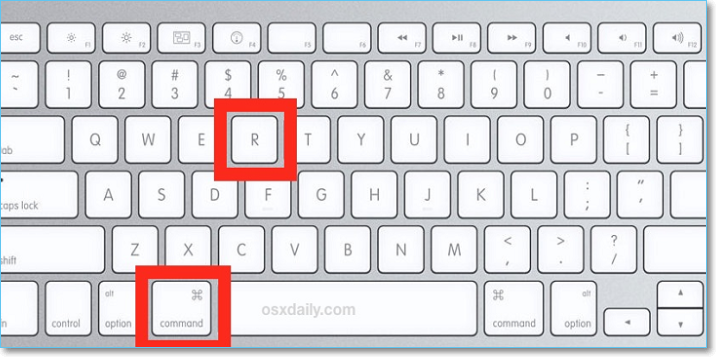 Step 3. Choose "Reinstall macOS" from the tools window in macOS Recovery.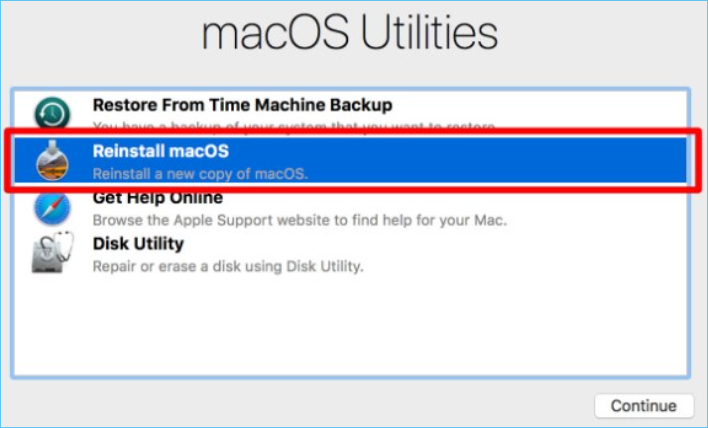 Step 4. Then click "Continue" and follow the instructions on the screen.
Step 5. After clicking "Agree", select your hard disk in the next window.
Step 6. Click Install to get your macOS reinstallation started.
How to Reinstall macOS from USB
However, we may need to reinstall a macOS to perform hardware or software troubleshooting or reinstall the same macOS system on numerous devices simultaneously. In this case, you may install the macOS from USB. If you already have the installation files downloaded and don't want to spend hours waiting for Recovery to download the files, this might be the best approach.
 Before you start the steps, you need:

1. A removable USB flash drive is at least 15 GB in size.

2. Ensure the USB drive doesn't contain vital information before we erase it.

3. Mac admin rights are required.

4. In case something goes wrong, a backup of files.
Step 1. Format the external drive
1. Go to "Applications" – "Utilities".
2. Choose "Disk Utility" and then select the drive.
3. Click Erase. (The USB drive needs to be renamed so that we can use Terminal commands to activate it.)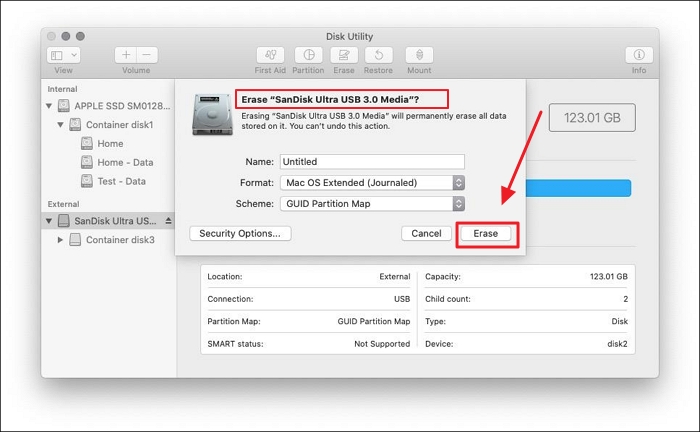 Step 2. Download the macOS installer
1. Open System Preferences.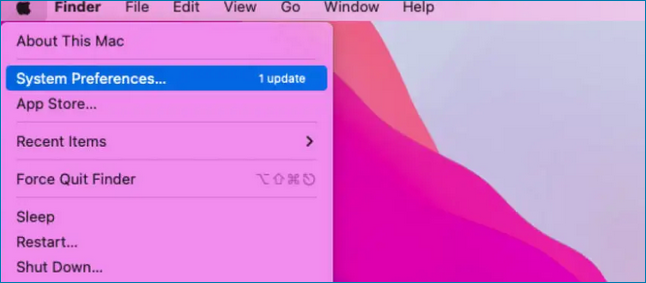 2. Choose "Software Update".
3. Download the macOS installer files.
Step 3. Create a bootable USB disk
1. Open the "Utilities folder" in the Finder, then double-click "Terminal".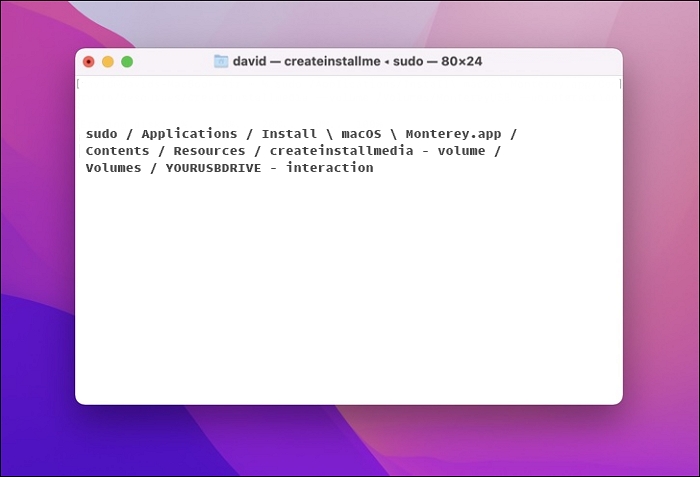 2. Type the following text into the Terminal:
"sudo /Applications/Install\ macOS\Monterey.app/Contents/Resources/createinstallmedia --volume /Volumes/YOURUSBDRIVE" (here YOURUSBDRIVE is the name of the bootable USB drive you are using)
3. Press "Return".
4. Enter your admin password.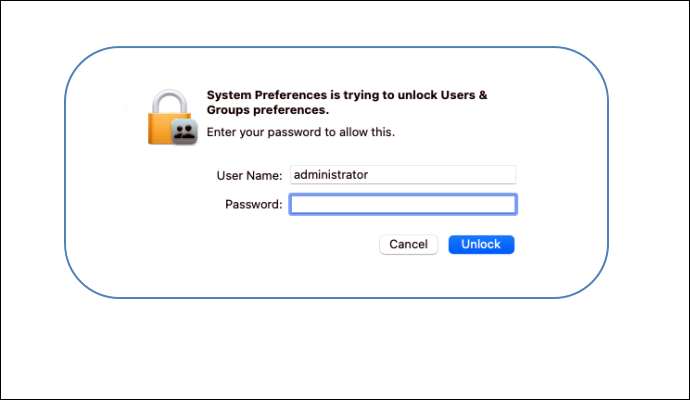 Eventually, Terminal will delete your USB drive and turn it into a bootable one that you may use to reinstall macOS.
Step 4. Boot your Mac from a USB drive
The option to choose your USB drive as a startup disk should now be available. When you select it, your computer will boot from your USB drive into macOS Recovery and display the installer for macOS on your screen.
How to Reinstall an Older Version of macOS
If a higher version of macOS is causing your Mac to run slowly, you can reinstall it by learning how to get old versions of macOS. A Mac device typically uses the OS that was pre-installed on the device when you bought it or later versions.
Step 1. Check to see if the macOS or Mac OS X version you want to install is compatible with your Mac.
Step 2. Then download the installer for the Mac OS X or macOS version you choose to install.
Step 3. After downloading the installer, your Mac will be installed or degraded when you click to install it.
Please note that you may delete your data before installing an older version of macOS.
Conclusion
To reinstall your macOS, you can choose to perform it without losing any of your data. You can also delete the internal storage and reinstall macOS from scratch. No matter your choice, you might pay attention to protecting your data security by making a backup plan or recovering your data in time. EaseUS Data Recovery Wizard for Mac can be your good helper.
Reinstall macOS FAQs
Here are 4 questions that you might be interested in. Check here for the answers.
1. How do I reinstall my Mac completely?
Before Monterey, you had to either make a bootable USB device or utilize Recovery Mode to wipe your disk completely. With Monterey, Apple has made it simple to obtain a brand-new installation. You can restore your Mac to its default settings with Monterey's System Preferences menu.
2. How do I reinstall macOS from a USB drive?
Step 1. Choose the USB drive to reinstall macOS.
Step 2. Format the USB drive.
Step 3. Download the macOS installer to the drive.
Step 4. Restart your machine in recovery mode to reinstall macOS.
3. How long does it take to reinstall macOS?
Installing in place is faster than totally wiping your computer and starting over. It will probably take no more than 45 minutes.
4. How to reinstall macOS without Internet?
Even without an online connection, you may reinstall macOS by creating a bootable installer with a USB device.

Brithny is a technology enthusiast, aiming to make readers' tech life easy and enjoyable. She loves exploring new technologies and writing technical how-to tips. On her spare time, she loves sharing things about her favorite singer - Taylor Swift on her Facebook or Twitter.

Written by Dany 
Dany is an editor of EaseUS who lives and works in Chengdu, China. She focuses on writing articles about data recovery on Mac devices and PCs. She is devoted to improving her writing skills and enriching her professional knowledge. Dany also enjoys reading detective novels in her spare time.