Summary
'The device is not ready' is a common Windows 10/8/7 error message related to a flash drive, CD/DVD media, external hard drive, internal HDD, virtual disk manager or Diskpart. All the involved cases are analyzed on this page, and the troubleshooting methods are included as well. If you have very important documents or photos on the drive, download EaseUS hard drive recovery software to access and recover your data.
"After a major Windows 10 update, I found that I can't open USB flash drive as well as some other external hard drives. The error message is about 'the device is not ready'. But the hard drive's light is blinking, I can also see the drive letter in Disk Management. What should I do to access data and quickly fix the error?"
How to fix "the device is not ready" error?
'The device is not ready' is a common Windows 10/8/7 error message related to a flash drive, CD/DVD media, external hard drive, internal HDD, virtual disk manager or Diskpart. Despite solutions to 'the device is not ready' on different devices vary, the reasons behind the occasions are similar to each other. This NOT READY error implies primarily a damaged digital device, hardware failure, compatibility issues, connection issues, or sometimes Windows file system corruption. For instance:
1. Flash drive or external hard drive - Location is not available. The device is not ready
If it's happening to a removable disk, like a USB stick, flash drive, memory card or an external HDD, when you try to open it, this device not ready error indicates that the Windows system cannot connect to it. We will usually tell users to check the connection problem in the first place.
2. Internal hard drive - Location is not available. The device is not ready
Displaying the same error message, but if it's on a local hard drive installed on your computer, it's likely that something goes wrong with the present drive. Bad sectors, in most situations, are accused of being the key reason to cause the hard drive 'the device is not ready'.
3. Virtual Disk Manager - The device is not ready
The device not ready error emerges on Virtual Disk Manager when you don't have the correct permissions or there is a problem mapping the drives between the OS and the VM manager.
4. Diskpart - Dsikpart has encountered an error. The device is not ready
In case your hard disk failed, or the storage controller on the main board is corrupted, you will receive the exact error.
All the discussed situations involving 'the device is not ready' error would cause the present internal or external disk inaccessible. As we've already analyzed, both hardware and software issues could cause a Windows computer being unable to read your connected hard drive normally, though it is recognized and showing up on the computer. Do not worry when such an error occurs. Take the right steps to recover data and rectify the problem by following the given troubleshooting methods with ease.
# 1. Recover data from the inaccessible hard drive or flash disk
When a hard drive or USB stick is showing the "device is not ready" error, you can no longer access the hard drive data as usual. When this happens, do not hesitate to download EaseUS hard drive recovery software. It's the most qualified recovery software that supports to access hard drive without formatting and recover data.
Step 1. Launch EaseUS Data Recovery Wizard on your computer. Select the hard drive which becomes inaccessible on your PC. Click "Scan" to let this program scan and find your hard drive data.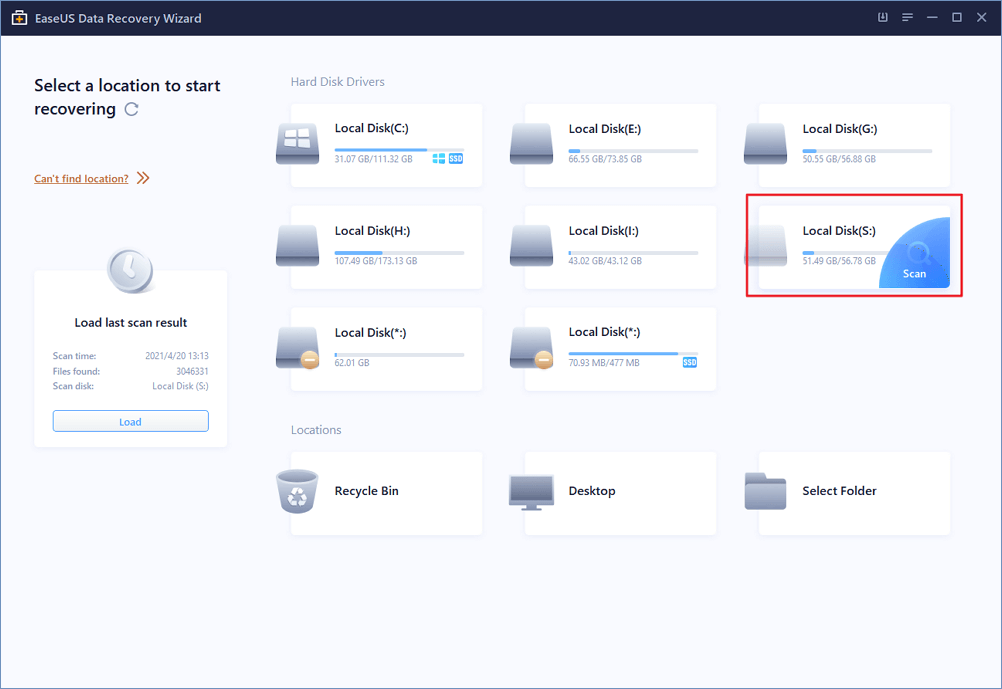 Step 2. After the scan, you can preview and check found files on the scanning result window. Click "Filter" to quickly find a specific type of file. You can preview the file by double-clicking it.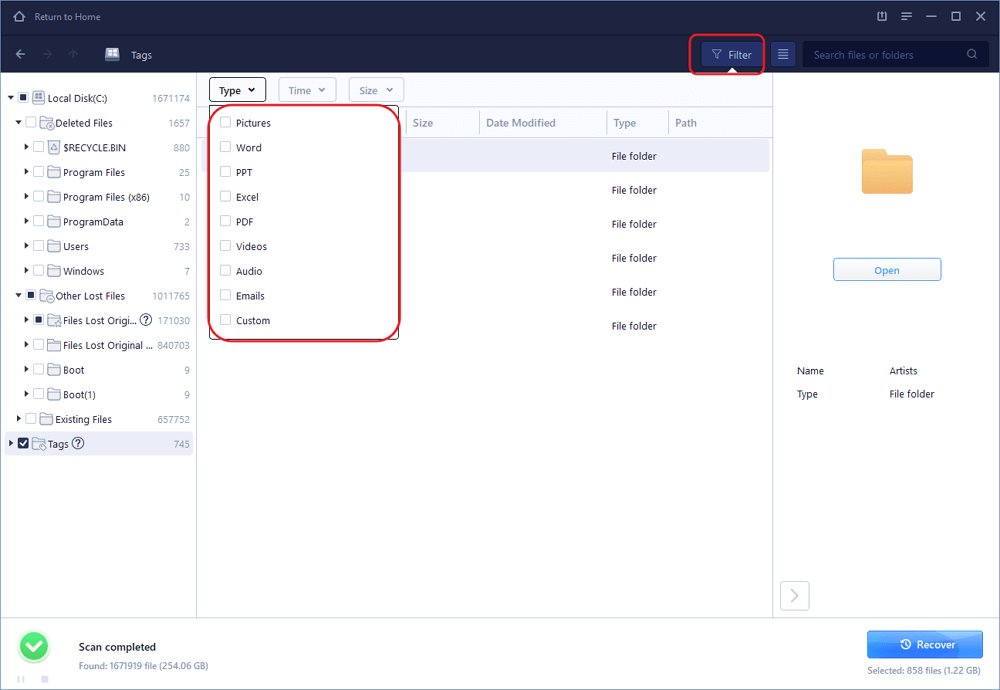 Step 3. Finally, select the items you want to get back and click "Recover". Choose a secure location (second hard drive partition on your PC or another external storage device). And then click "OK" to start recovering all lost data from your inaccessible hard drive.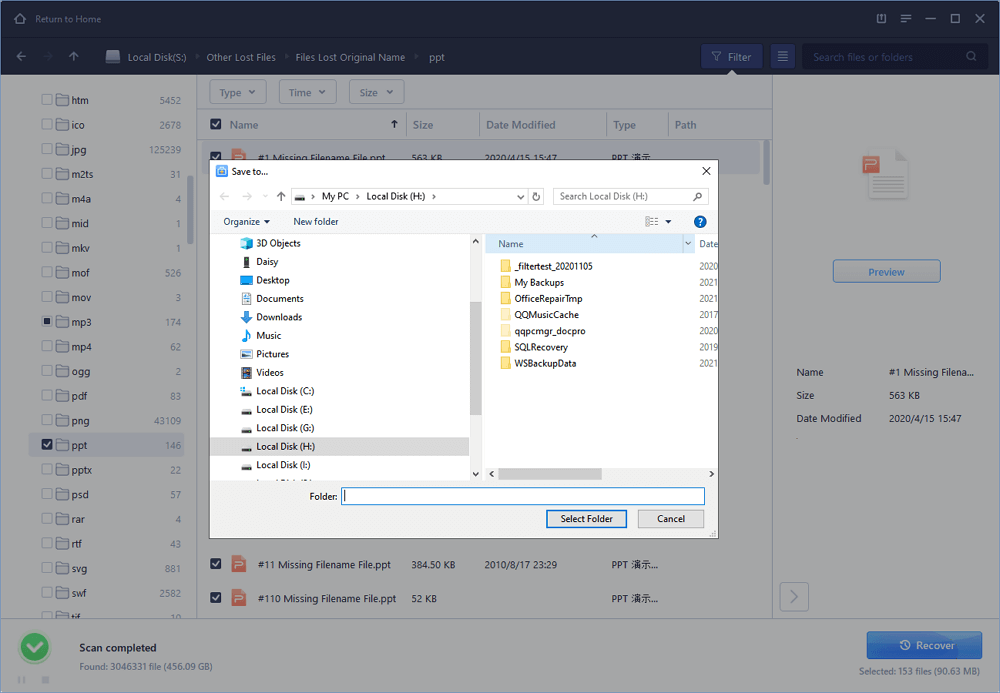 #2. Try every way to check the connection
Unnecessary mistakes concerning a loose or poor connection should be avoided in the first place. When you encountered any hard drive stuck in not working properly at the moment, try every way to exclude the connection factor.
1) Plug out the device. After a few seconds, plug it in all the USB ports in turn until the external device appears normal in the operating system again.
2) Otherwise, change a USB cable that matches the device and connect to the OS again.
3) Take the storage device to another computer. If the problem solved, you should repair the not working USB ports on your own computer.
# 3. Re-install your device driver
On Windows 10/8/7, a common software problem is "the device driver is not installed, is corrupted or missing". Try to re-install the device driver and fix the "device is not ready" warning.
1) Go to Device Manager, right-click the name of your device, select Uninstall.
2) Keep your device connected. Restart the PC and Windows will attempt to re-install the driver.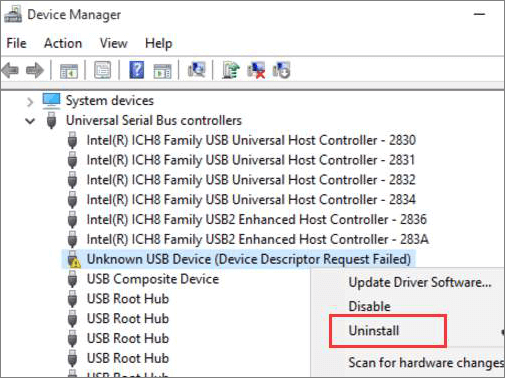 # 4. Run disk check to fix hardware issues
Do not forget to perform a disk check to examine disk errors. The "device is not ready" error is very likely resulted from a file system errors or bad sectors on the drive, so let the Windows disk check utility to help.
1) Right-click on the drive which you wish to check and select Properties.
2) Click on the Tools tab. Under the Error checking, click on the Check button. This option will check the drive for file system errors.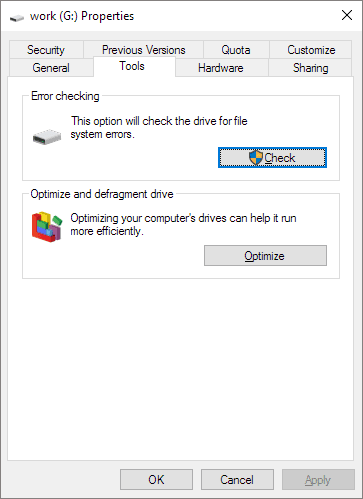 3) Follow the wizard to complete the disk error check and restart your computer to repair the errors that were found.
4) You can also use CMD to remove bad sectors with administrator privilege.
5) In addition, there is a more user-friendly option for you to check and repair bad sectors, meanwhile, with more powerful capabilities. Give it a try.
If you don't have any technical know-how and want to minimize data risks, using third-party software could be a better choice. The Command line is suitable for computer professionals since wrong commands can cause severe problems. Therefore, we strongly recommend you to try an automatic command line alternative.
EaseUS Tools M is a practical computer fixing tool that is safe and light-weighted. It's a perfect alternative to CHKDSK command. Use this one-click tool to solve your computer issues.
To fix file system error or disk error:
Step 1:  DOWNLOAD EaseUS Tools M for Free and install it.
Step 2: Open the software and select "File Fixing" on the left pane.
On the right pane, choose the drive and check off the box at the bottom - "Check and fix file system error". Then, click "Fix" to start repairing the error.
Step 3: Wait until the operation completes. Wait until the operation completes. After the operation completes, click the "View" button to check the drive.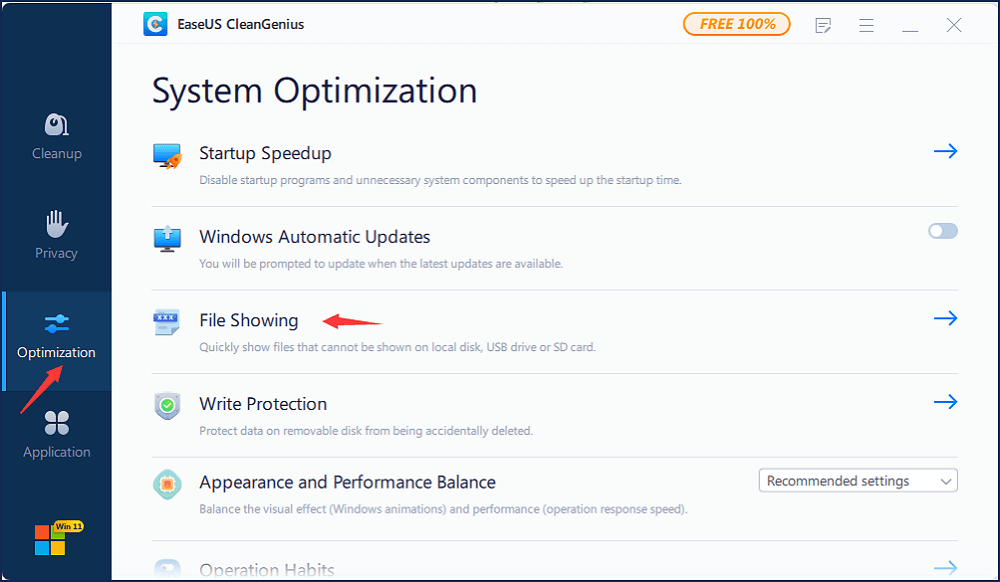 # 5. Run Sfc scan to check for corruptions
Essential systems files are responsible for connecting a drive to the OS. It turns out that some incorrect connection and detection problems result from damaged or corrupted system files, and Windows has the System File Checker (SFC) for you to remedy the error addressed here.
1) Press Windows + X keys to bring up the menu and choose Command Prompt (Admin)
2) In the Command Prompt, type sfc /scannow and hit Enter.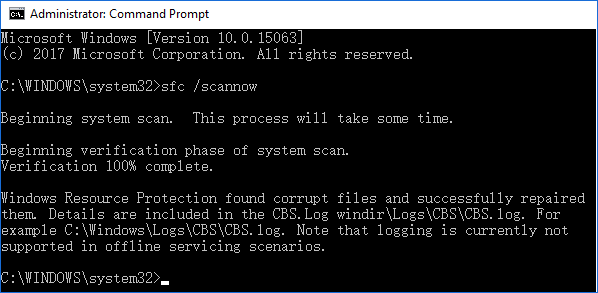 # 6. Run Hardware and Device Troubleshooter
As controller issues are one of the mentioned culprits, you must go through this step to check and repair the bad registry values and any controllers that are not working properly. Windows Hardware and Device Troubleshooter is an inbuilt auto troubleshooting program for you to detect any discrepancies in the hardware and attempt to fix it.
1) Navigate to Control Panel > Troubleshooting.
2) Click View all on the left pane, and then "Configure a device" under the Hardware and Sound on the right pane.
3) Follow the onscreen wizard to let the program to check problems.
4) Choose "Apply this fix" or "Skip this fix" of your choice. You may require to restart the computer for the fixes to take effect.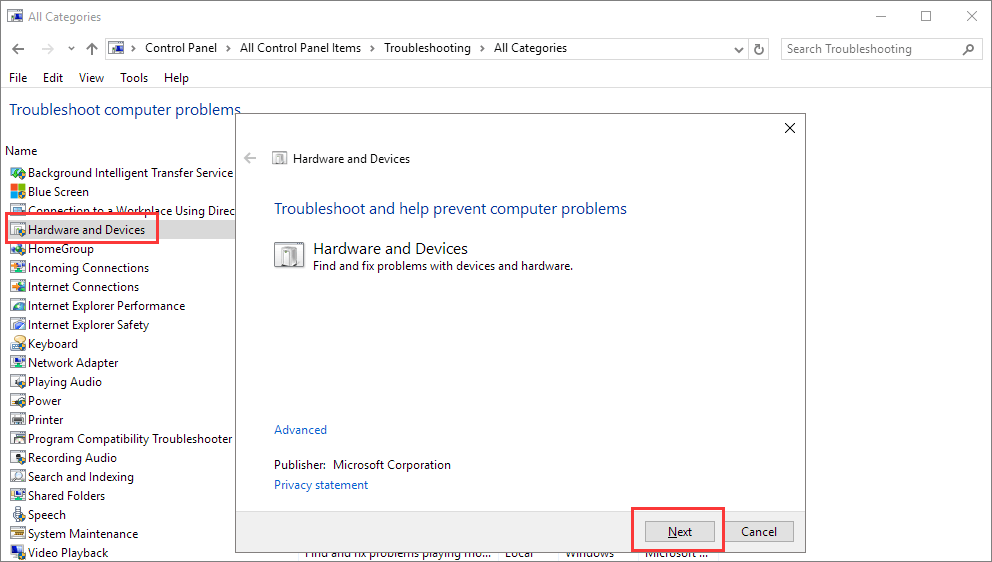 # 7. Other doable methods regarding 'the device is not ready'
As long as the hard drive is marked as 'Not initialized', ' unallocated' and 'Raw' in Windows Disk Management guided by the error 'The device is not ready', the next coming three methods could probably help you out.
1) Not initialized: Right-click on the drive partition and choose "Initialize Disk" > Select a GPT or MBR partition style and click "OK".
2) Unallocated: Right-click on the unallocated volume and choose "New Simple Volume" > follow the wizard to specify a file system and drive letter to it.
3) Raw: Right-click on the Raw drive and choose "Format..." > Choose a proper file system and perform a quick format.
Conclusion
"The device is not ready" is usually accompanied by different heading error messages in various kinds of storage devices. Nevertheless, as we've peeked into the fundamental factors, it's related to very typical hardware and software malfunctioning issues, leading to the same consequence of a not working hard drive.
According to what we outlined in the body part, you got over seven ways to get rid of 'the device is not ready' error, and beforehand data recovery on an inaccessible hard drive is especially recommended in the beginning.
Have you tried all the collected solutions to fix the not ready device in Windows 10, 8 or 7? We hope that at least one of the given methods has eliminated your worries.
1. Recover data from the not ready device
2. Try every way to check the connection
3. Re-install your device driver
4. Run disk check to fix hardware issues
5. Run Sfc scan to check for corruptions
6. Run Hardware and Device Troubleshooter
7. Fix not initialized/unallocated/Raw status in Disk Management
100% of people found this article helpful.
Frequently Asked Questions
1. Why choose EaseUS Data Recovery Wizard?

"EaseUS Data Recovery Wizard is the best we've seen. It's far from perfect, partly because today's advanced disk technology makes data-recovery more difficult than it was with the simpler technology of the past, but it's fast and efficient..." —PCMag

"The first thing you'll notice about EaseUS Data Recovery Wizard Pro is that its interface is very clear and uncluttered, with only a small collection of self-explanatory controls. You won't find lots of extra options hidden in a system of hidden menus, either; what you see really is what you get." —techradar

"Recover lost files, even after deleting a partition or formatting your drive." —Macworld
2. Why cannot I recover 2GB data for free?

It is recommended to check the version installed is Free or Trial because they are different versions.

Trial has data preview function but cannot save any files, while the Free version enables to recover 2 GB files. The default free space is 500 MB and you may share the product on social media to get another 1.5 GB.
3. Why cannot the recovered files be opened?

A file is saved as 2 parts on the storage device: directory info (which is comprised by file name, time stamp and size info, etc.) and data content.

If the files with original file names and folder structures cannot be opened, one possible reason is the corrupted directory info. There is still a chance to recover the data content with the RAW Recovery method in our software.
4. Why isn't it suggested to recover the files back to the original drive?

The storage structure of the lost files would be altered or damaged by any changes on the drive. If you save the recovered files back to the same drive, the original data structures and data content would be corrupted or overwritten, which causes permanent data loss. So you should prepare another disk to save the files.
5. How can I check whether my data is recoverable or not before purchase?

The Free version helps you save 2GB files to better verify the recovery quality of our product before purchase.
6. How long does it take to scan the drive?

It strongly depends on the capacity of your hard drive and the performance of your computer. As reference,most drive recoveries can be completed in around 10 to 12 hours for a 1-TB healthy hard drive in general conditions.
About Data Recovery Wizard
It's super easy to recover 250+ types of files after deletion, disk formatting and virus infection. Click the links and compare the difference of each version.