"Hello, I have a dead Sandisk 4GB USB flash drive on which I have over two years of valuable files. When I insert the stick into a USB port, Windows finds the stick and says it is ready for use. However, I am not allowed to access the files on the USB drive. Is there any dead USB drive recovery solution that can help to recover data from failed USB flash drive?"
Overview of dead USB drive recovery
Before introducing how to recover data from a dead or failed USB flash drive, you need to figure out whether the dead flash drive recovery is possible. When your USB flash drive, external hard drive, or SD card is not detected or recognized due to PHYSICALLY broken, it is almost impossible to retrieve the data. But sometimes, your flash drive is NOT actually PHYSICALLY broken but fail to work and become inaccessible due to other reasons like a raw file system, not formatted error, etc. And your computer can usually recognize it and assigns it a drive letter. In this situation, you can try powerful third-party data recovery software which supports the data recovery from a dead hard drive to rescue your files.
Download the best software for dead/failed USB drive recovery
To recover data from a USB flash drive, you should find a reliable data recovery tool. Here EaseUS file recovery software is recommended as your best choice. It offers efficient and easy flash drive recovery solution that helps you find and recover data from a dead, failed, formatted, corrupted, virus infected, or inaccessible USB drive with no hassle. Being able to recover data from hard disk which is not detecting, you can try it to retrieve files including pictures, documents, music, videos, and others effectively in three steps.
 Important

In order to fully restore the lost data from your dead or failed USB drive, please don't do any further operations to it because that may result in the overwriting of the lost files.
Step 1. Plug the USB flash drive into your computer.
Please do not use your USB flash drive once you lose or delete files on it. The sooner you take actions to restore lost data, the bigger chance you'll have to restore all of them.
Step 2. Run EaseUS data recovery software and scan flash drive.
Launch EaseUS Data Recovery Wizard and choose your flash drive under External Devices.
Click Scan to start finding your flash drive files.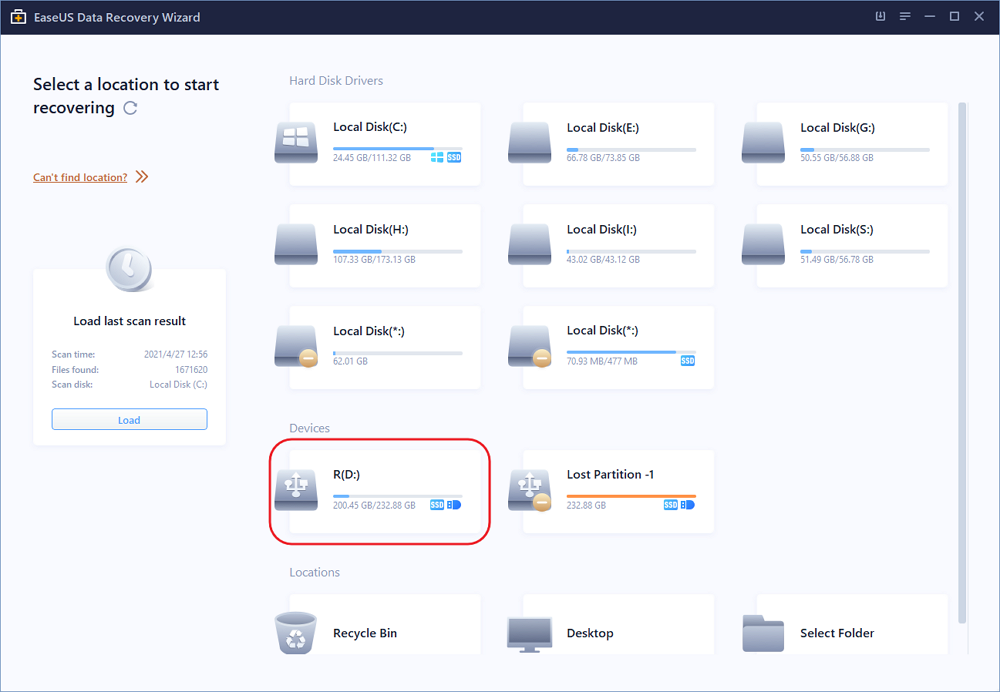 Step 3. Check and preview found flash drive data.
You can double click to preview found files.
Delete Files: List your deleted files there.
Drive: It loads all the found data there.
Lost Partition Files: Check first if it's for formatted recovery.
Extra Files: Finds files that lost names or paths.
Filter: A quick way to your wanted files.
Search: e.g. File name/file extension.
Step 4. Restore flash drive data.
After checking and finding lost flash drive files, select them and click Recover to restore.
Please save the found files into a safe location on your PC rather than to your flash drive.