How to Move Programs from HDD to SSD in Windows 11/10
Q: How to move apps from HDD to SSD without reinstalling them?
"I added a new SSD to my laptop. And I assumed that it would be as normal as before but with a good performance and an increase in speed. But after I turned on the laptop, everything was new as found on a new laptop. All my apps were gone. The HDD is still there on the laptop and only includes all of the files in it. Now I want to know, is there a way that I can move my apps from the HDD to SSD without reinstalling, without affecting any of the files? Hoping for a solution to this asap." - A user from superuser.com
If your computer gets full very soon after installing the necessary apps, programs, and software, you may want to move them to another SSD or HDD to free up space. Or you may try to move favored applications and programs from HDD to SSD for better performance and faster speed.
For users who are looking for a way to move your installed apps, programs, and software from HDD to SSD or from SSD to HDD without reinstallation, you are at the right place. Here in this article, we'll introduce you a highly effective PC transfer software to transfer programs from HDD to SDD directly.
Meanwhile, you can also learn manual ways to move Windows 11/10 programs to another drive with Windows built-in utility. Let's get started.
How to Move Programs from HDD to SDD With an App Migration Tool
As we know, when you want to transfer programs from HDD to SSD, a simple file-move operation won't be successful. Because program files are distributed in dozens of locations on your hard drive. Moving any of them will cause the application to fail.
Then, how to transfer installed programs from one drive to another without start-up problems? The simplest way is applying an app migration tool, and EaseUS Todo PCTrans is the one you can't miss.
EaseUS Todo PCTrans offers one-stop solutions for all your data transfer needs, including files, apps/programs, user account, and settings. It provides three optional PC transfer modes.
Move applications from one drive to another: Support most popular programs like Microsoft Office, Adobe software, Google Chrome, Steam games. Copy installed programs between hard drive partitions. For example, transfer programs from C drive to D drive.
Transfer data between two PCs: Transfer applications, data, accounts, and settings to a different computer by network connection. You can share files between two laptops using WiFi in Windows 11/10.
Transfer by backup-and-restore: Transfer files from the source PC to the target PC by backup and recovery when there is no internet connection. Create images of your files, programs & account.
Now, free download this PC transfer software and use it to move apps, programs, and software from one drive to another in Windows 11/10.
Step 1. Connect new SSD or HDD to your PC and Run EaseUS Todo PCTrans
1. Connect the new SSD or HDD to your computer and initialize it to make the drive accessible.
2. On the main screen of EaseUS Todo PCTrans, click "App Migration" and click "Start" to continue.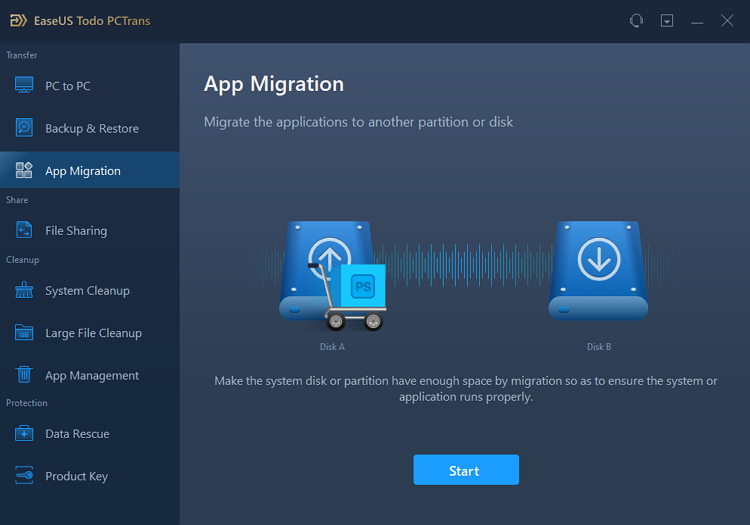 Step 2. Select apps, programs on the source disk and select SSD or HDD as target disk to transfer
1. On the source partition where you installed apps, tick desired programs (marked as "Yes") that you'd like to transfer to your SSD or HDD.
2. Click the triangle icon to select the new SSD or HDD as the destination and click "Transfer" to move the selected programs.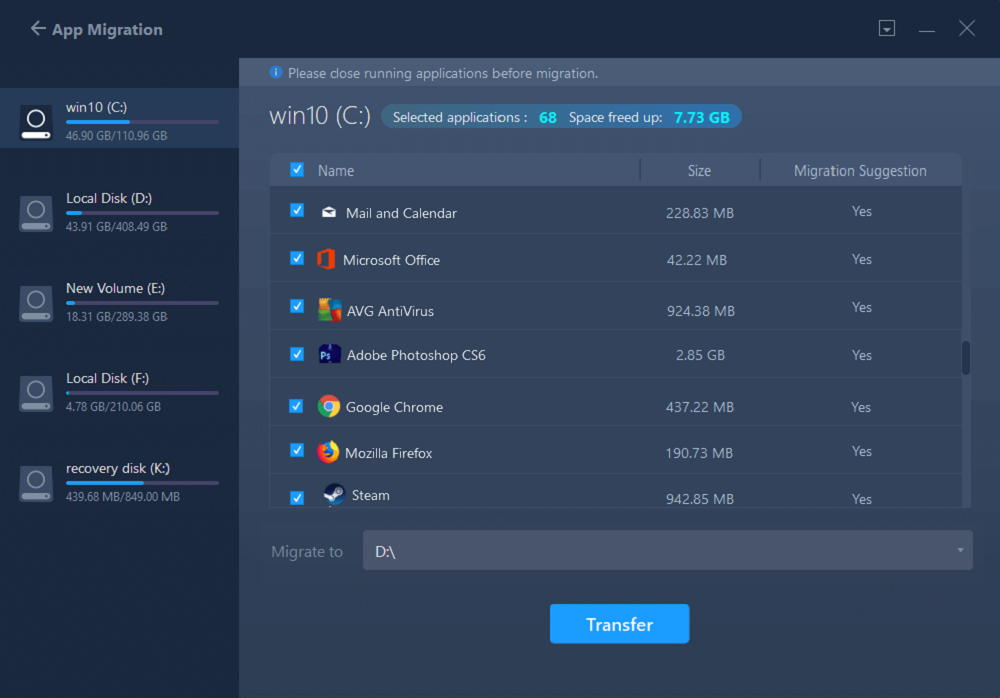 Step 3. Wait for the transferring process to finish
When the process finishes, click "OK" to complete. 
Then you can restart your PC to keep all the changes and you can run the transferred program on your new SSD or HDD again.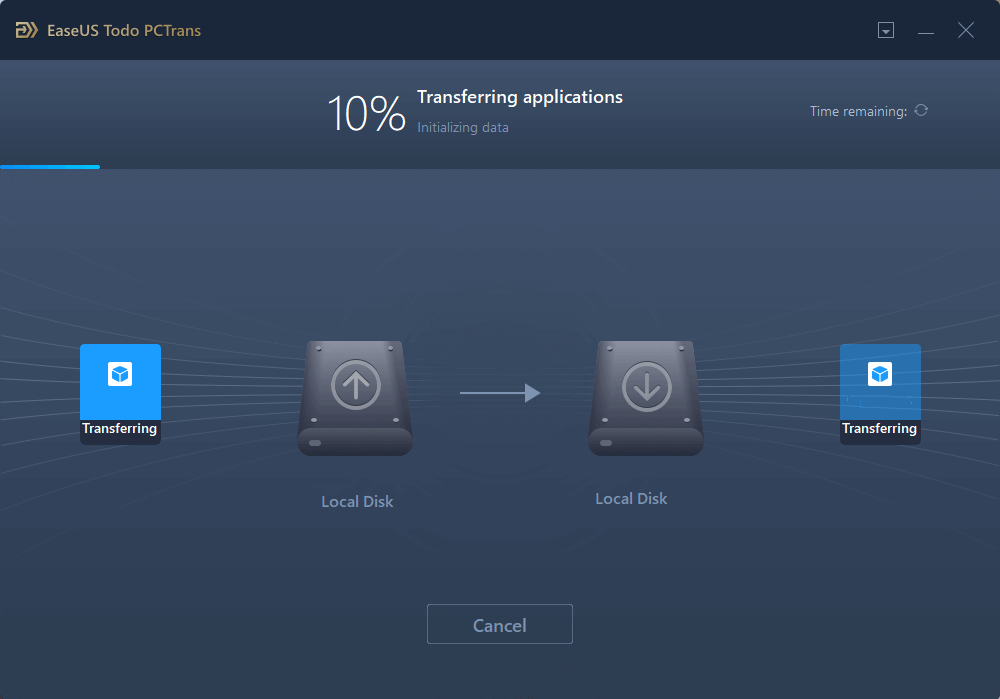 After this, you can reboot the PC to keep all changes, and then you can run your apps, software, and programs without any problems now.
How to Move Apps from HDD to SDD in Manual Ways
In this section, we will show you two ways to move apps from HDD to SSD or from SSD to SSD in two manual methods. Both of these approaches have obvious drawbacks. Let's take a look.
1. Transfer Programs from HDD to SSD with the Windows Apps Move Feature
The process displayed below only works for apps that you have installed from the Microsoft Store. 
 Notice:

1. To move a third-party program or traditional desktop programs to SSD without re-installing, you need to use the PC data transfer software posted above.
2. Microsoft does not recommend moving the installed program's file location because it may cease to run. The safe way is to use EaseUS Todo PCTrans or uninstall and re-install the program.
Step 1. Press Windows + I keys to open "Windows Settings". Click "System" > "Apps & features".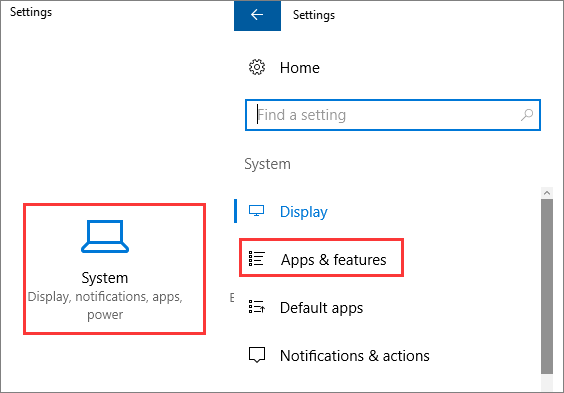 Step 2. Choose the app you want to move. Click "Move".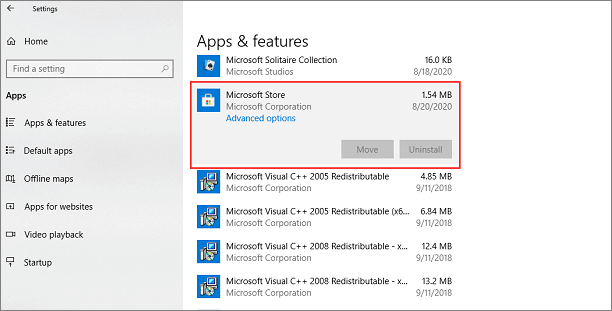 Step 3. Select the new drive and click "Move" again.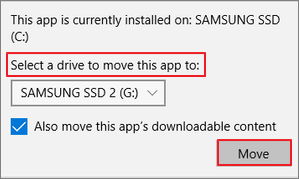 2. Move Apps to SSD by Uninstalling and Reinstalling
The last way to transfer programs from HDD to SSD is by uninstalling and reinstalling them. If it is a large software, it takes a lot of time to download and install from the internet, wait patiently.
Step 1. Open Control Panel and select "Programs and Features".
Step 2. Choose the program you want to move and "Uninstall."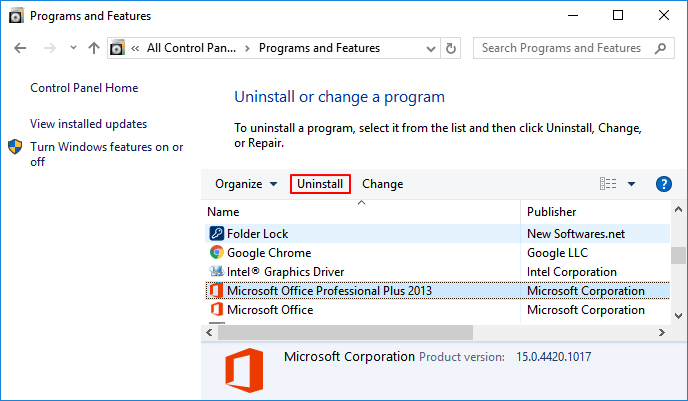 Step 3. Click "OK" to confirm the uninstallation.
Step 4. Re-install the software through installation media or download it from the internet. You can change the installation drive and path to the new SSD or HDD.
How to Change the Default Location Path of Programs in Windows 11/10 
If you want to change the default install location of apps and programs on Windows 11/10, that's simple. Follow the steps below to do it. 
Step 1. Press Windows + I to open Windows Settings. Click "System" > "Storage".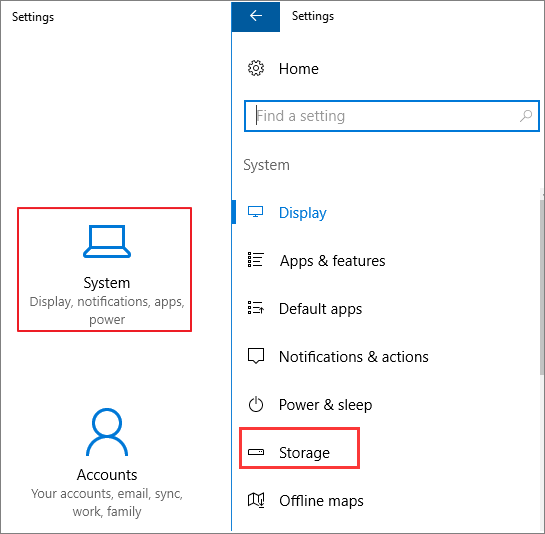 Step 2.  Find Save locations. Set the storage path to save apps.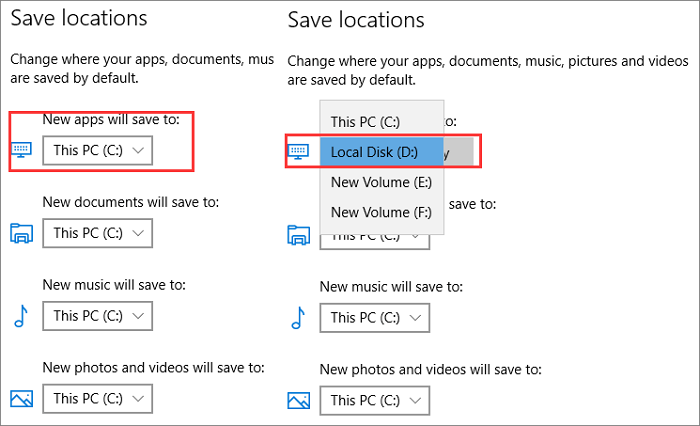 Conclusion
In this post, we cover three ways to move programs from HDD to SSD:
Locally transfer installed apps from one drive or disk to another with EaseUS Todo PCTrans. There are no restrictions with this method. You can move any software unlimited.
Move software downloaded from the Microsoft Store to SSD or HDD with the Apps Move feature of Windows.
Manually uninstall and reinstall applications with new installation location on SSD.
Comparing the three methods, the most effective one to move programs from HDD to SSD is definitely the first one. With EaseUS Todo PCTans, you can set up a new hard disk drive or new computer instantly and easily.
Updated by Tracy King 
Tracy joined in EaseUS in 2013 and has been working with EaseUS content team for over 7 years. Being enthusiastic in computing and technology, she writes tech how-to articles and share technical solutions about Windows & Mac data recovery, file/system backup and recovery, partition management and iOS/Android data recovery.
EaseUS Todo PCTrans Free is a useful and and reliable software solution created to serve in computer migration operations, be it from one machine to another or from an earlier version of your OS to a newer one.

 Read More

EaseUS Todo PCTrans is by the folks at EaseUS who make incredible tools that let you manage your backups and recover your dead hard disks. While it is not an official tool, EaseUS has a reputation for being very good with their software and code.

Read More

It offers the ability to move your entire user account from your old computer, meaning everything is quickly migrated. You still get to keep your Windows installation (and the relevant drivers for your new PC), but you also get all your apps, settings, preferences, images, documents and other important data.

 Read More
About EaseUS Todo PCTrans
EaseUS Todo PCTrans can transfer settings, applications and data between PCs and HDDs. Your all-round PC transfer and migrate software to upgrade devices without re-installation.