Cloud storage is the need of today, and no matter if the files and data are personal or professional, it is always a safer option to keep them on cloud storage. However, one common practice observed among people is shifting the data from one cloud space to another every now and then.
Several reasons could compel people to transfer data, including better space, add-ons offered by cloud space and user-friendliness. Nowadays, the two most common cloud storage platforms that have gained a significant level of popularity are MEGA and OneDrive.
Why Move Files from MEGA to OneDrive?
When a user holds a vast amount of data stored on MEGA and wants to shift those files to OneDrive, there could be several reasons to do this. Although both platforms are suitable for keeping your files online, people may still be compelled to switch from MEGA to OneDrive.
The most important reason to choose OneDrive is that it supports uploading files remotely from anywhere, whereas MEGA does not offer this facilitation. On the other hand, since OneDrive is a product of Microsoft, there is a higher reliance on it. There are no limitations on the bandwidth of OneDrive, whereas when it comes to MEGA, there are limitations.
OneDrive is one of the most reliable and secure platforms that holds your data for as long as you want. The downside of MEGA is that some users do complain about missing files. This could be one of the most essential reasons that leads people to opt for OneDrive. Your files on OneDrive are your property and until, and unless you don't delete them on your own, they won't go anywhere.
OneDrive is a user-friendly cloud space that goes well with all kinds of users. Users also wish to shift from MEGA to OneDrive because they find it to be packed with all Microsoft Office Products which is quite beneficial for professional purposes.
How to Transfer Files from MEGA to OneDrive?
When a user has files already uploaded on MEGA, and they wish to transfer them to OneDrive, there are two ways in which this could be done.
It depends upon the amount of files as well as the preference of the user which of the techniques suits them. However, if you wish to transfer files from MEGA to OneDrive, you can choose any of the two options given below:
1.   Manual Way - Download and Upload
One of the methods of transporting your files from MEGA to OneDrive is using a manual technique. This is going to be time-consuming but is very simple as well. However, it is suitable for a limited number of files. If you have a huge amount of data, you might find it time-consuming, but if you have a smaller number of files, it is a suitable approach.
Here, you will find the steps to carry out the process of transferring files from MEGA to OneDrive manually.
Step 1. On the cloud storage of MEGA, you will be holding your files, and first of all, you will need to download them to your PC. So, log in to your MEGA account and download the files you wish to transfer using the download option.
Step 2. To download the required file, you will have to select the file to be transferred and choose the standard download option.
Step 3. The file will be downloaded on your PC in zip or simple format.
Step 4. Now, log in to the OneDrive account you have through its website. Then, start browsing the locations and select where you wish to upload the desired file.
Step 5. Once you have figured out the desired location for the file, click upload and choose the file from your computer that was meant to be transferred.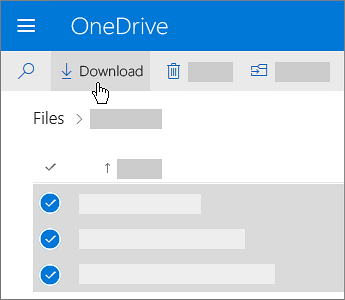 2.   Faster Way - Run A Third-party Software
The above option of downloading and uploading the file is a little slow and time-consuming. However, you can also choose an automated and quick process to do this job for you. There are various third-party software choices that you can make to transfer your files from MEGA to
OneDrive in a faster way.
Choosing such software can resolve the common question people have in their minds about how to transfer files from one MEGA account to another.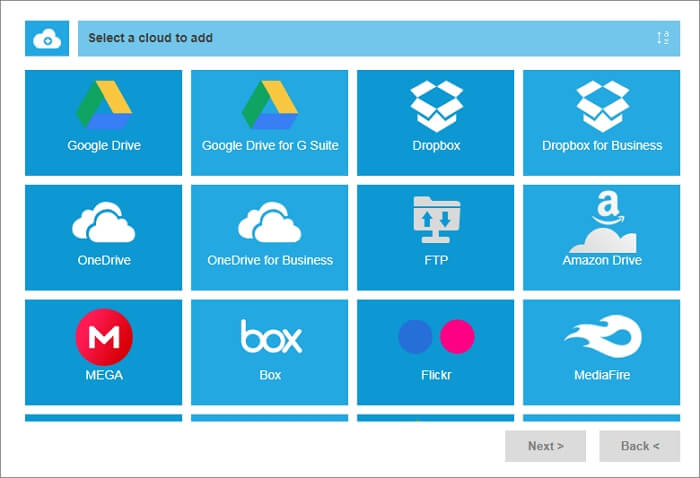 MultCloud is also one of the finest software that may help you make this transfer simple and faster using the below-suggested steps.
Step 1. The first thing you will need to carry out this task is a MultCloud account. If you already have it, you can immediately log in; if not, you can easily create it.
Step 2. Use your credentials and log in to your MultCloud account; on the top left corner, you will see an option of "add cloud" click that and add MEGA into it.
Step 3. Now you will have to add your MEGA account in MultCloud, and for this, you will require your credentials of MEGA, and once you enter them, your MEGA account will be visible in MultCloud.
Step 4. Now, go back to the second step, and this time, you have to add your OneDrive account in MultCloud using its credentials. This way, both your accounts will be visible under MultCloud.
Step 5. Now, go to Cloud Transfer Tab, choose the first box, add MEGA, click the second box, and add OneDrive into it.
Step 6. A window at this stage will appear in front of you where you will be given an option to exclude any file if you want. If you wish to do that, you can exclude and, if not, choose to skip and move forward. Now click the option of "transfer now."
The files from MEGA will be transferred to OneDrive automatically, and in no time, you will have your OneDrive backed with all the files.
Conclusion
Cloud services are very essential to keep your data safe and secure. Also, it helps access the data from anywhere in the world. However, among various options, which one suits you is something only you can decide. Also, if you need to switch the cloud storage by transferring your files from one to another, you can easily choose MultCloud and finish the task in no time.
You May Like: Transfer Files between PCs without Cloud Service
However, on the other hand, if you have switched to a new PC and wish to transfer the data from your previous PC to a new one, you can choose EaseUS Todo PCTrans software. It is an ideal software that will help you transfer all your files in no time from one PC to another with the help of a single click only.
You may follow these steps below to transfer your files from old PC to new PC easily:
Step 1. Launch EaseUS Todo PCTrans on both old and new computers. Click the "PC to PC" on the main screen to continue.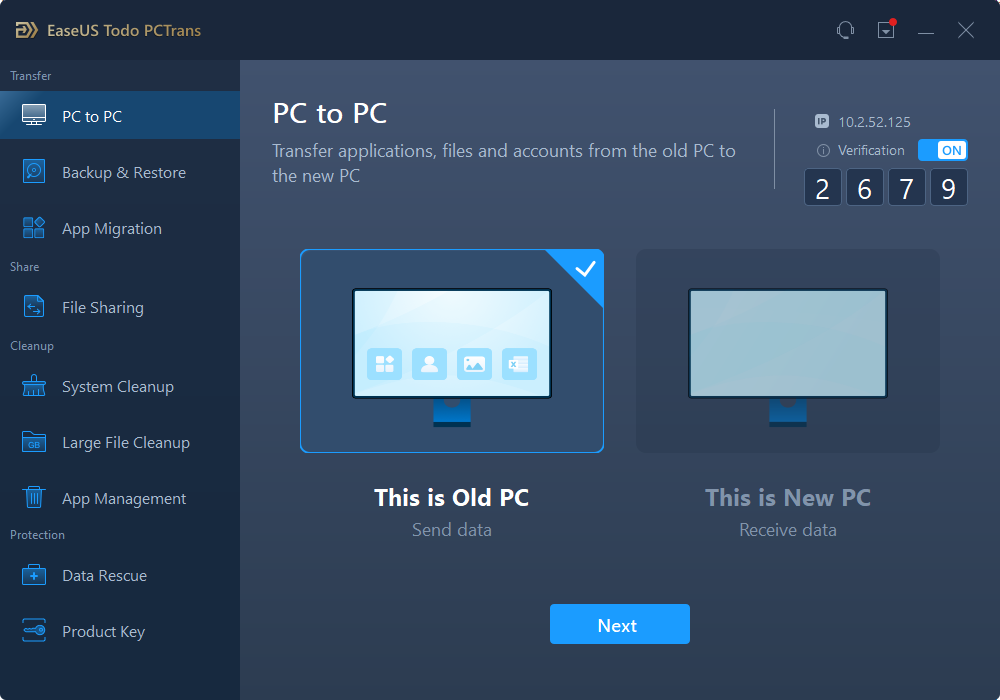 Step 2. Choose the right transfer direction.
"New": Transfer data from old PC to current new PC.
"Old": Transfer data from current old PC to remote PC.
Step 3. Connect the two PCs on the same LAN by entering the password or verification code of the target PC. Choose the right transmission direction and click "Connect" to continue.
The verification code is on the right top of the "PC to PC" main screen on the target computer. Turn on button behind Connection Verification.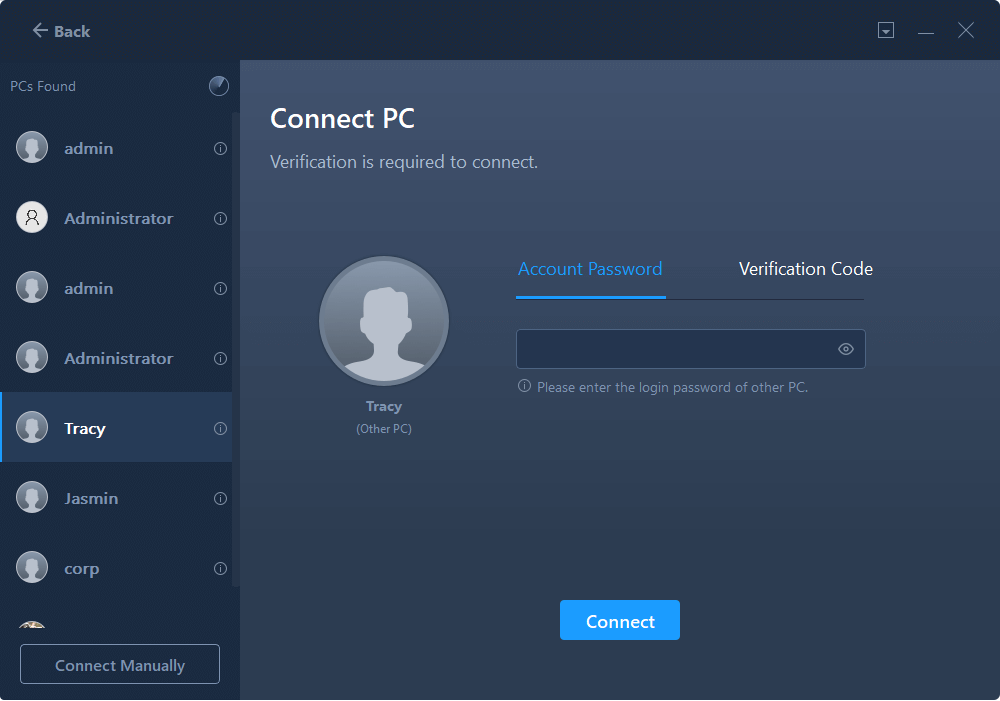 Step 4. Go to "Files" section, select the individual files you need to move.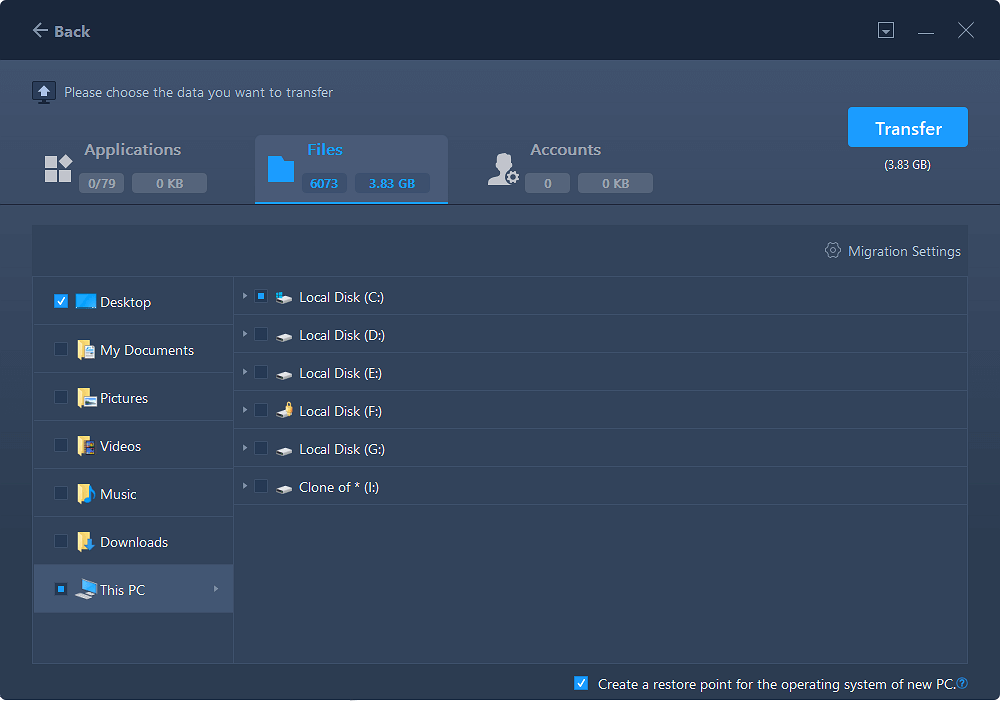 Step 5. And, click the "Transfer" button to begin the data migration. Wait for the transferring finishes. The time of the process varies based on the size of the files.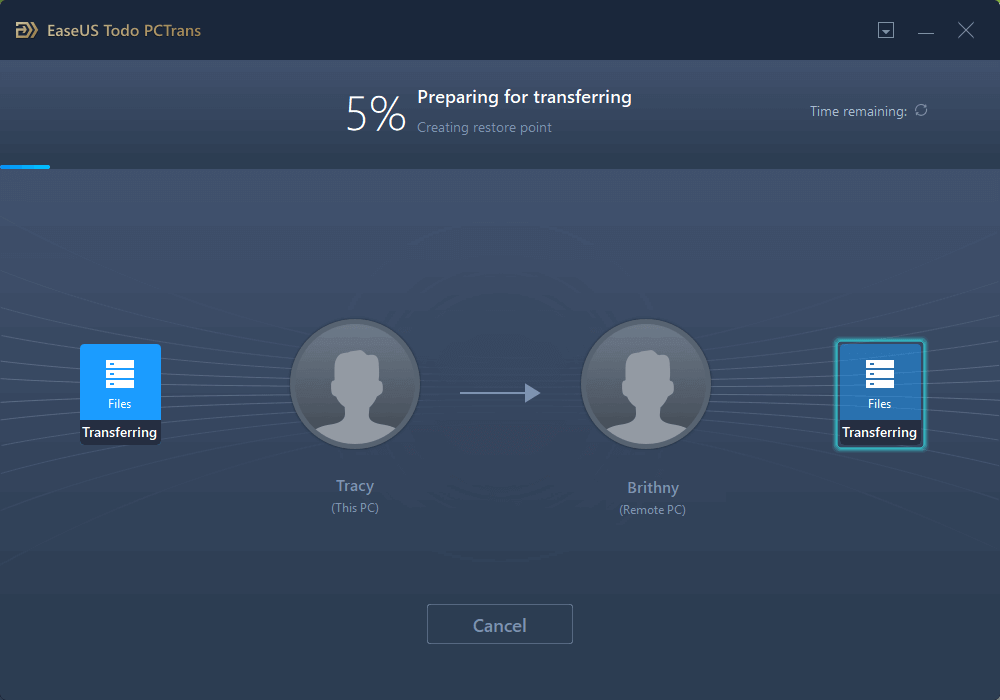 About the Author
Updated by Tracy King 
Tracy joined in EaseUS in 2013 and has been working with EaseUS content team for over 7 years. Being enthusiastic in computing and technology, she writes tech how-to articles and share technical solutions about Windows & Mac data recovery, file/system backup and recovery, partition management and iOS/Android data recovery.
Reviews and Awards
EaseUS Todo PCTrans Free is a useful and and reliable software solution created to serve in computer migration operations, be it from one machine to another or from an earlier version of your OS to a newer one.

 Read More

EaseUS Todo PCTrans is by the folks at EaseUS who make incredible tools that let you manage your backups and recover your dead hard disks. While it is not an official tool, EaseUS has a reputation for being very good with their software and code.

Read More

It offers the ability to move your entire user account from your old computer, meaning everything is quickly migrated. You still get to keep your Windows installation (and the relevant drivers for your new PC), but you also get all your apps, settings, preferences, images, documents and other important data.

 Read More