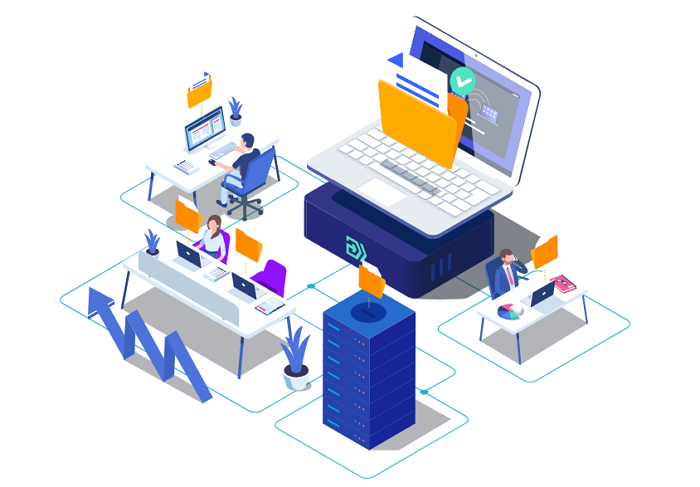 Tags: MSPs, MSP tool, MSP Server migration, MSP Server to Server migration 
Applies to: Windows Server, SQL Server, Exchange Server, etc.
How do MSPs work to provide services to Server managers? What will MSP companies do for their clients when it comes to Server owners upgrading their Server machines? 
This page will discuss how MSPs do and what tools MSPs will apply to migrate Server content to a new Server. If you have this doubt or are looking for an MSP server migration tool, follow this page to get the solution for help.
In this article, you'll learn:
What Is an MSP
How Will MSPs Do for Server Migration
What Is an MSP
When it comes to Server management or IT service providers, MSPs is one of them that most tech companies, small and medium-sized business owners would turn to them for help. So what is an MSP?
MSP, known as a managed service provider, is a service-providing company that offers services to their clients to manage their customers' information, website security, and even company Server management, etc. 
Aside from the above services, what else can MSP do for users? Here is a list of normal services that MSPs provide to their clients:
Manage IT infrastructure
Offer technical support
Manage user access accounts
Handle contract management
Offer compliance and risk management
Server management
Protect cybersecurity service
More
And among these services, Server management is one of the top services that most small and medium-sized companies need. And in Sever management, Server upgrade and data migration is also top request that many MSPs need to help their clients while switching Server machines or disks. 
How Will MSPs Do for Server Migration
So how will MSPs help companies manage and migrate their Servers? Do they have some handy tools that help with Server migration? 
Here, we simplified how MSPs serve their clients in helping migrate Server content to a new one. Let's see:
Can you do this on your own to migrate a Server's computer data to another new Server? Yes, sure! 
Suppose that you've set up a new Server computer in advance, and now, you can follow the detailed two guidance below to migrate the Server to a new Server like a professional MSP. So let's get started here.
#1. MSP Server Migration Tool Free Download
MSPs are professionals and geeks in computing and Server management. They are good at efficiently managing multiple computers and deploying tasks on target machines. 
So when it comes to moving Server content between two Server computers, MSPs will turn to a reliable Server Migration tool for help. EaseUS Todo PCTrans Technician, with its automated features like PC to PC, App Migration, Data Backup & Rescue, etc., can efficiently help.
MSPs can apply EaseUS PC transfer software to migrate files, applications, domain accounts, and settings, Server database, profiles, etc., from Server to Server within some simple clicks. And now, this tool is free for all Windows Server users to download for free and apply for Server content migration.
EaseUS Todo PCTrans Technician
 ☆ Deploy & install Todo PCTrans on multiple PCs.
 Transfer unlimited files, programs, apps between Servers.
 Transfer account, domain account, and settings.
 Data rescue, find product key of installed programs.
 One license for multiple PCs.
Applies to: All Windows Servers including Windows Server 2022/2019/2016/2012/2008, etc.
#2. MSP Server Migration Step-by-Step Guide
So how do you perform an efficient MSP Server migration? Follow the guidelines below, and you can successfully transfer content from Server to Server with the help of EaseUS server migration software:
1. Migrate Database Content from Server to Server
Step 1. Open EaseUS Todo PCTrans on both of your server computers. Choose "PC to PC" to go to the next step.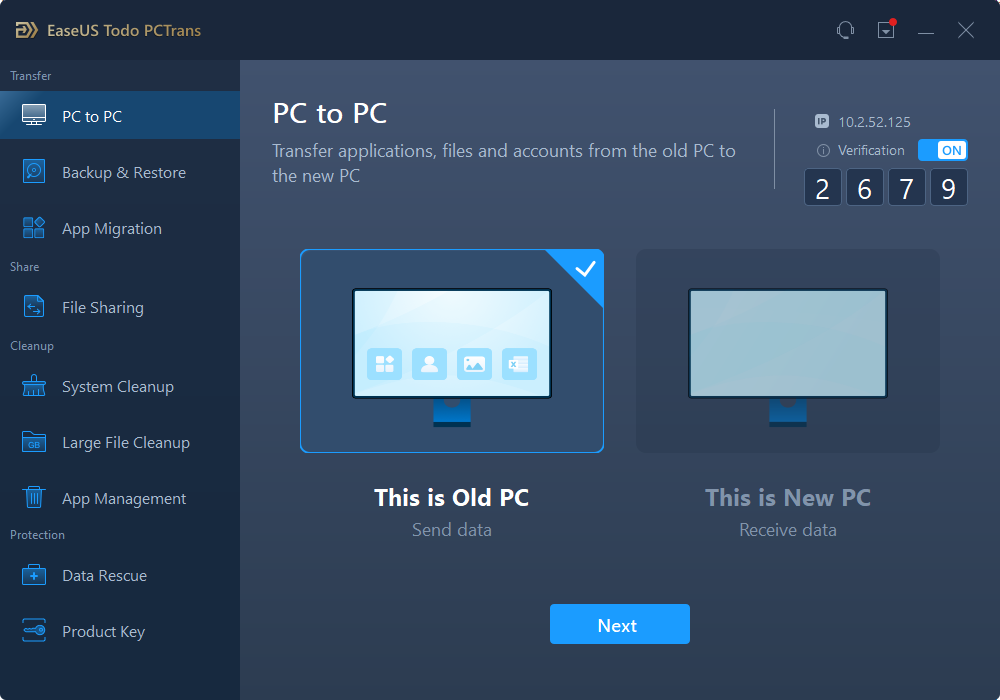 Step 2. Choose the transfer direction  - New PC or Old PC.
"New" - Transfer files from old Server to current new Server.
"Old" - Transfer files from current old Server to a new Server.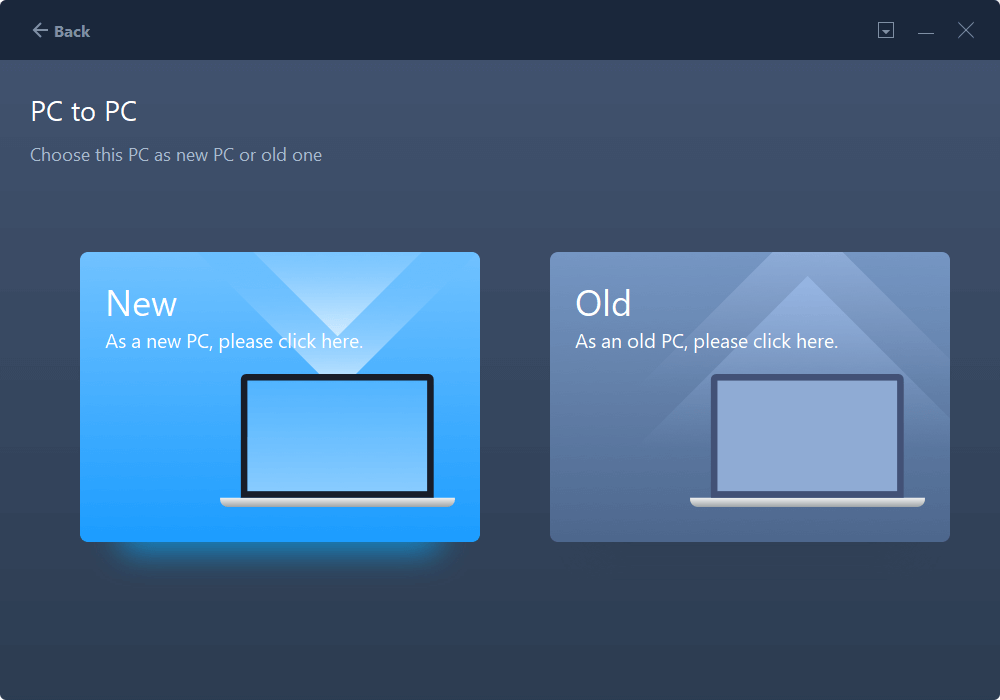 Step 3. Connect the current PC to the target PC by entering the target computer's account password or its verification code. You can turn on the "Connection Verification"on the right top of the "PC to PC" mainscreen on the target computer.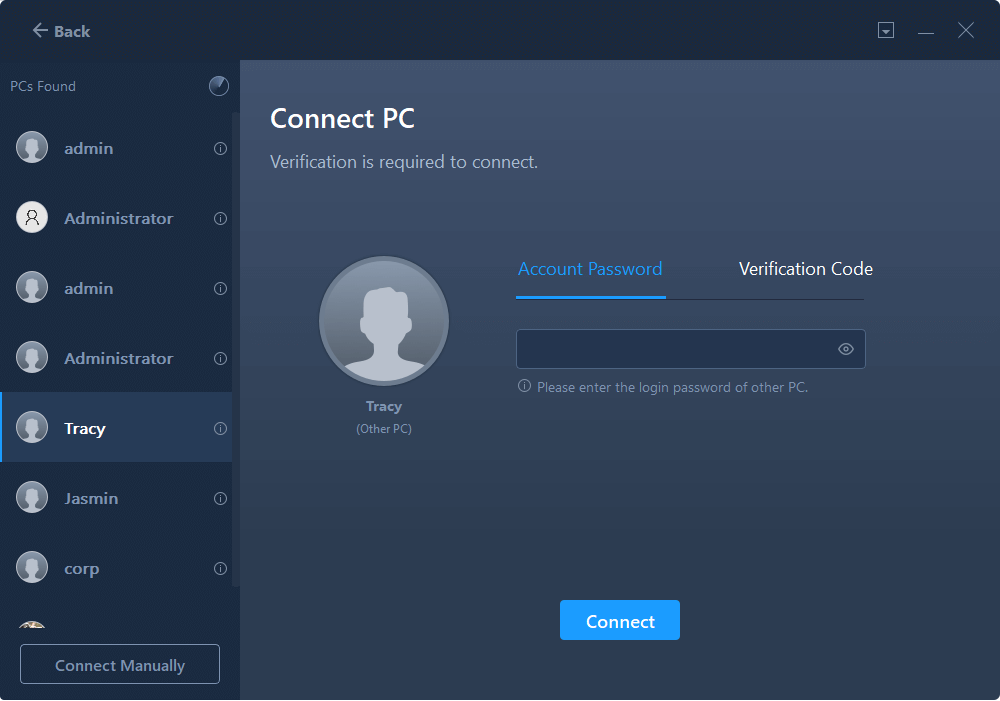 Step 4. Click "Files" > "Transfer" to check all the files you want to transfer to another Server computer. Then click "Transfer" to migrate specific data you have chosen.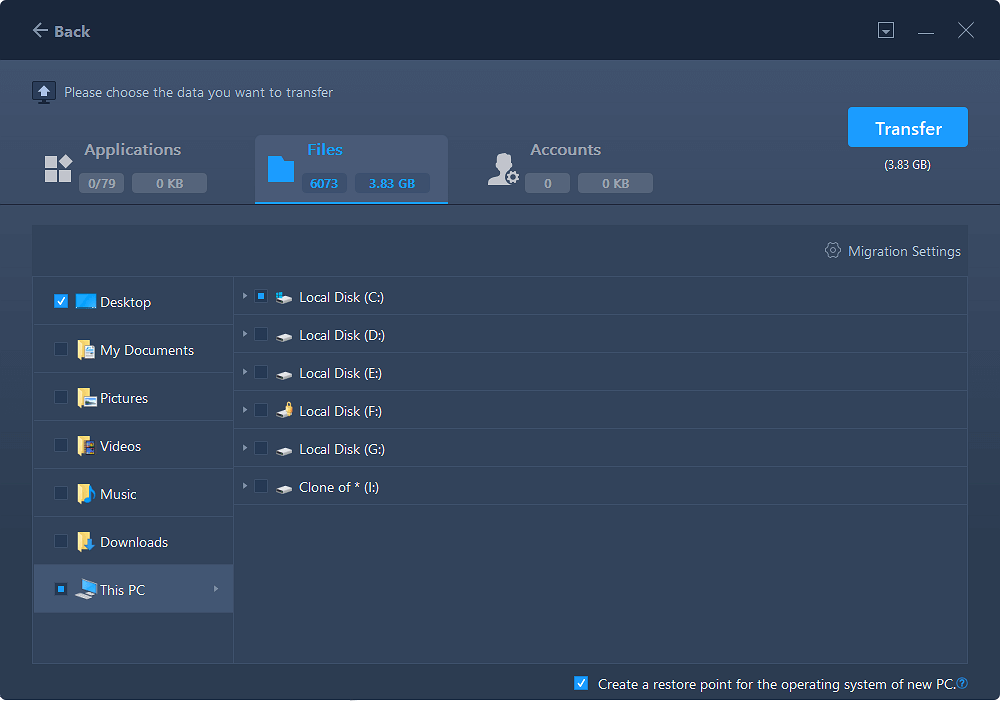 Step 5. Wait for the process finishes. PCTrans will transfer files at a fast speed. It won't take too long.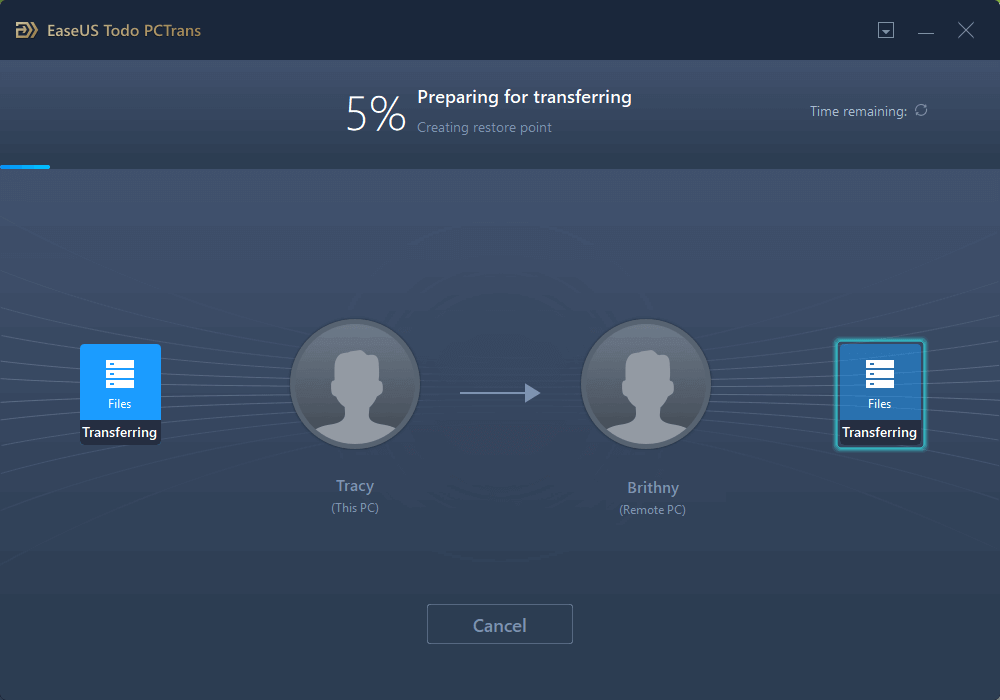 2. Transfer Domain Account and Settings to New Server
Step 1. Install and launch EaseUS Todo PCTrans on both two devices. On the source PC, select "PC to PC" to continue.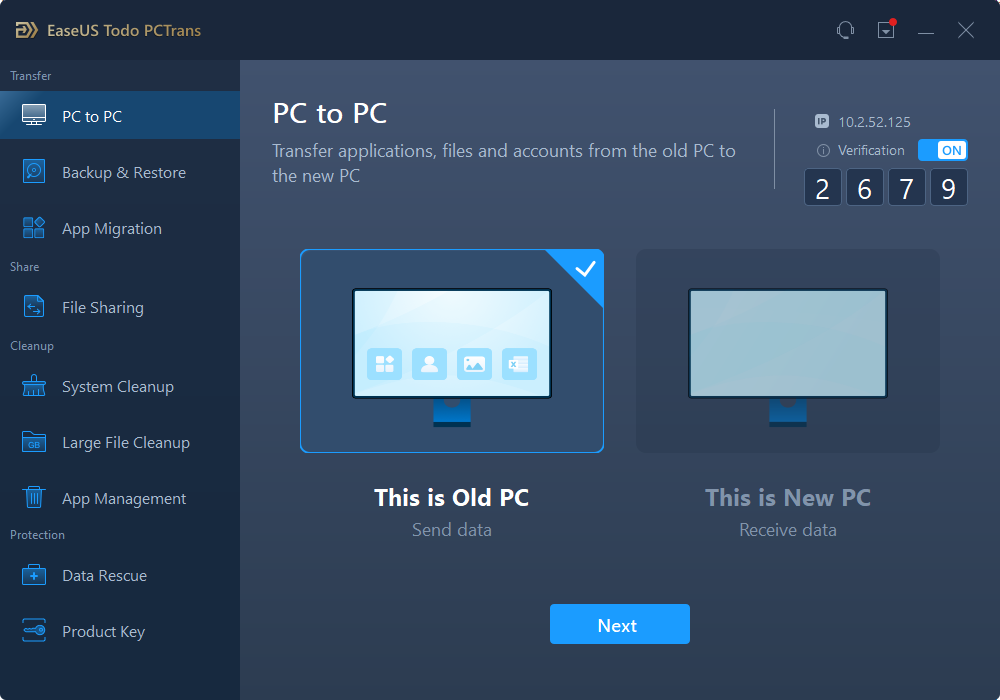 Step 2. Select the transfer direction - as an Old PC or a New PC.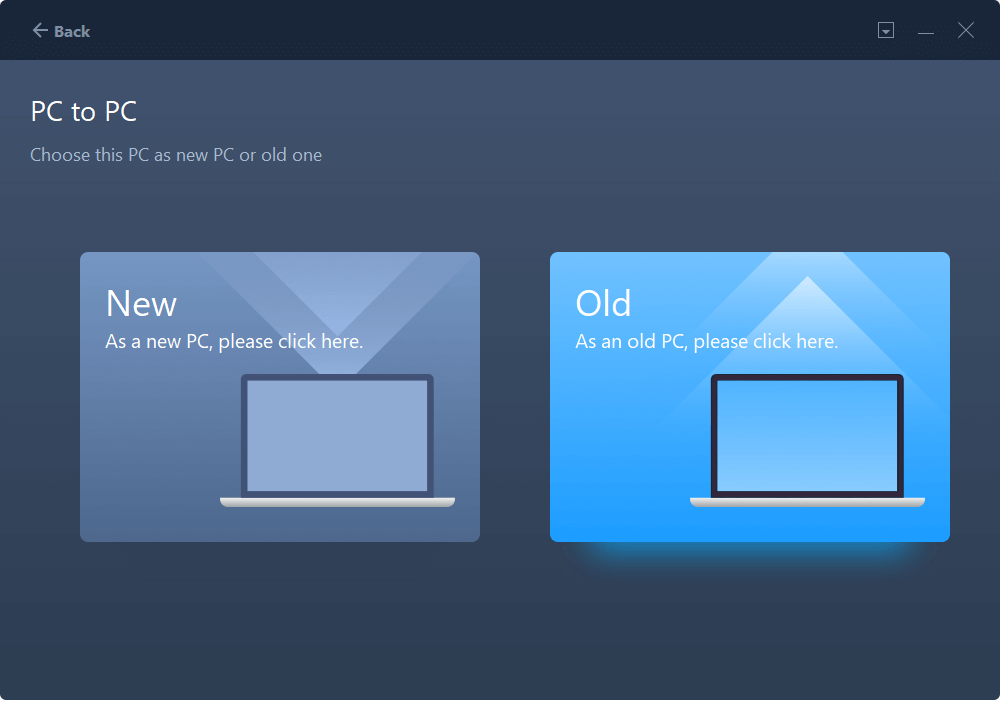 Make sure the two PCs are on the same LAN. Connect to the target PC via its IP address or adding it manually. Enter the login account and password of the target PC and link two PCs by clicking "Connect".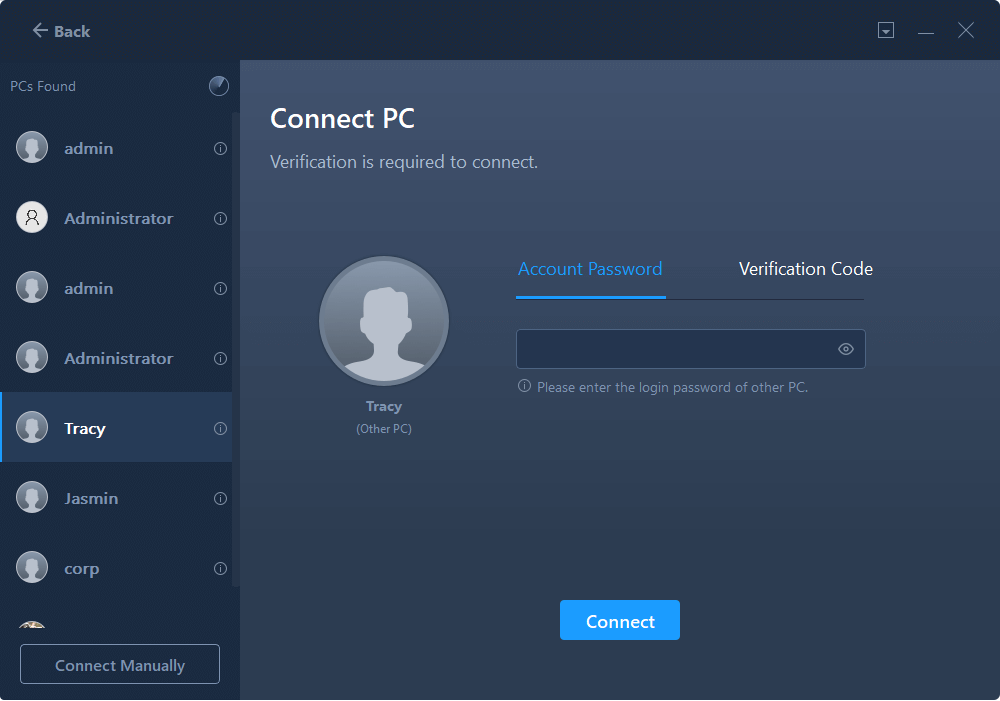 Step 3. Click at the "Accounts" section to specify User Accounts and Settings for transferring.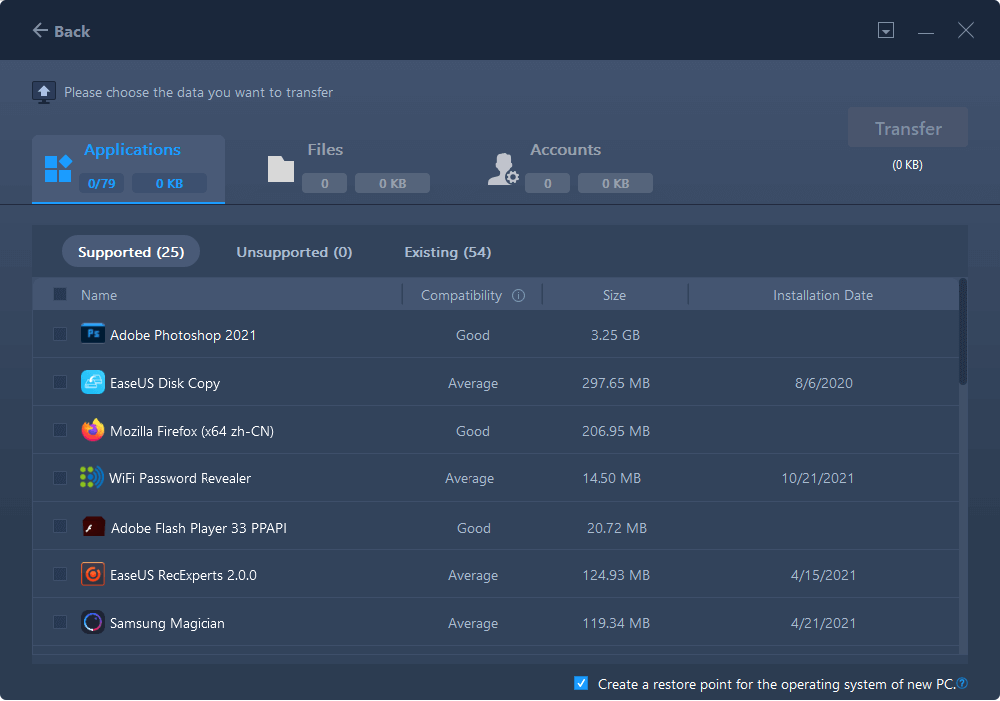 Step 4. Enter the user account and password of the source computer, select the User Account Settings, User Data and other settings that you want to transfer.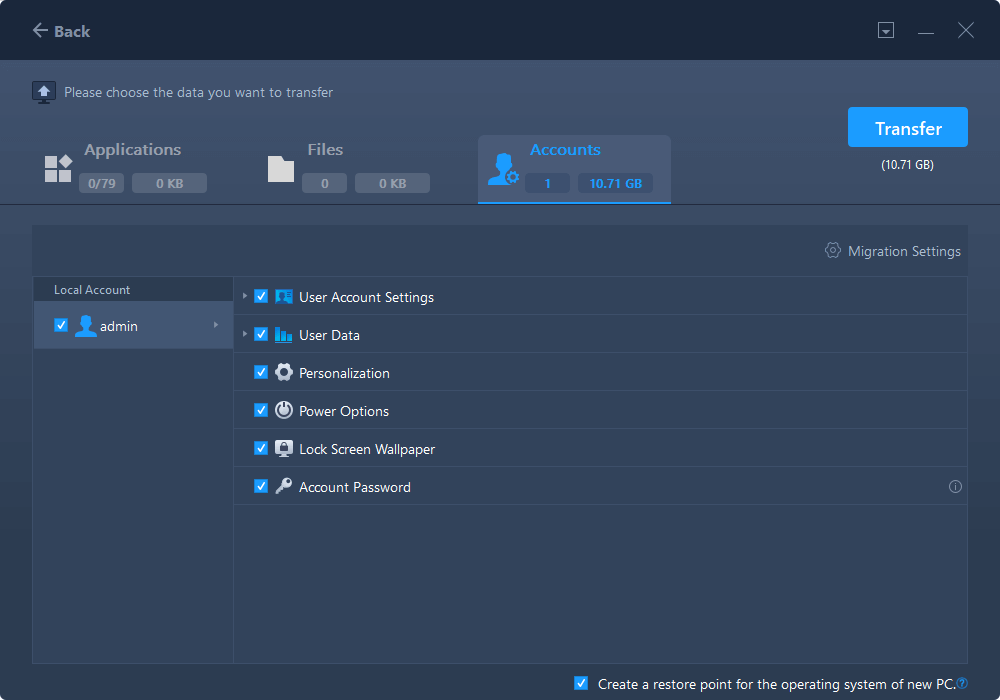 Step 5. After selection, click "Transfer" to start to transfer user accounts and settings.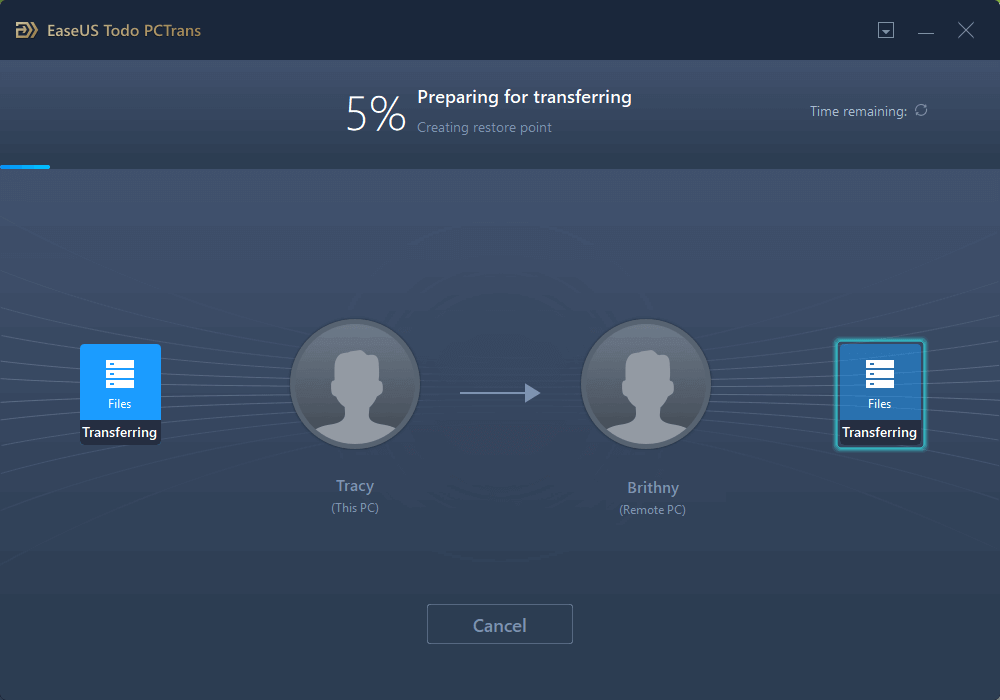 3. Move Server Applications to the Other Server Machine
Step 1. Run EaseUS Todo PCTrans on both PCs
On the source PC, select "PC to PC" on the main screen of EaseUS Todo PCTrans and move on.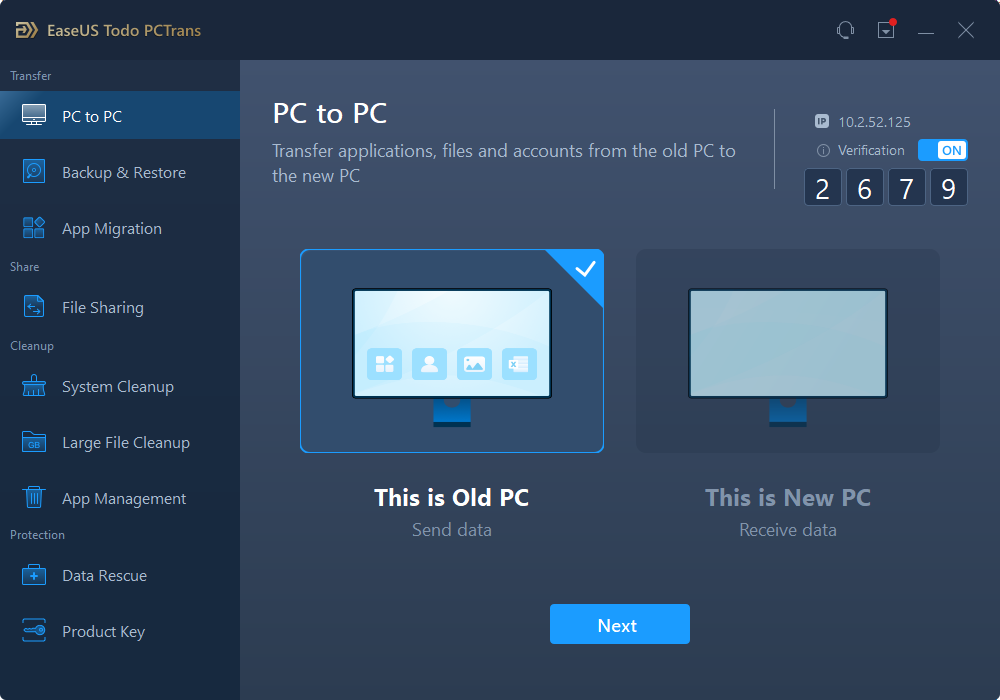 Step 2. Choose transfer direction - Old or New Computer
"New" - Transfer all data from remote old computer to current new computer.
"Old" - Transfer all data from current old device to a new computer.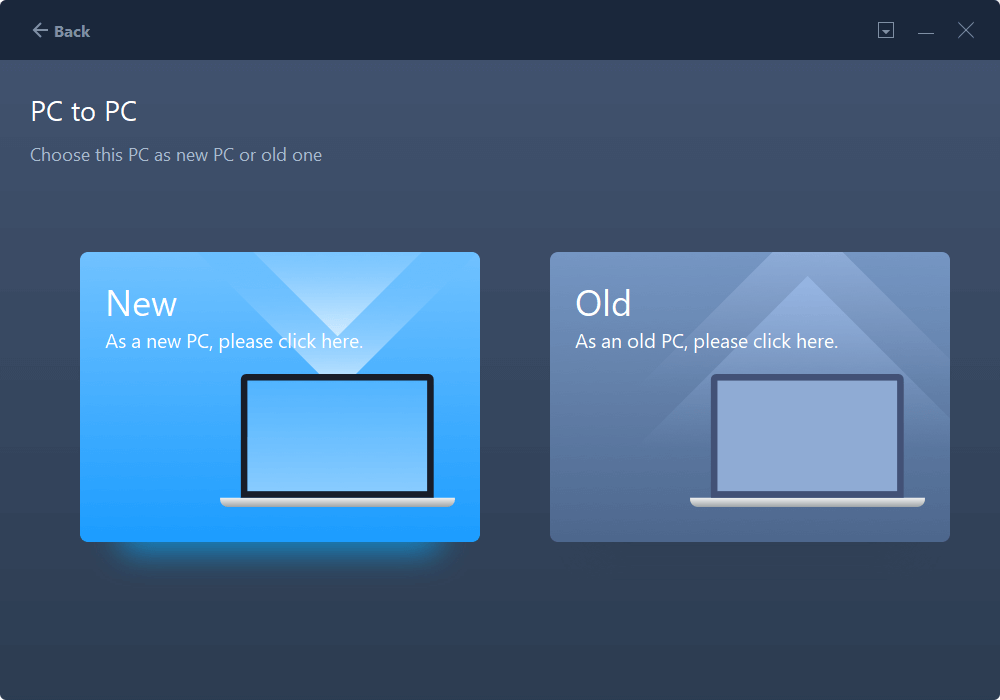 Step 3. Connect two computers
1. Select your target PC to connect via its IP address or device name and click "Connect".
2. Enter the login password of your target PC and click "OK" to confirm.
If you didn't see the target PC in the listed devices, you can also click "Add PC" to manually connect the target PC by inputting its IP address or device name.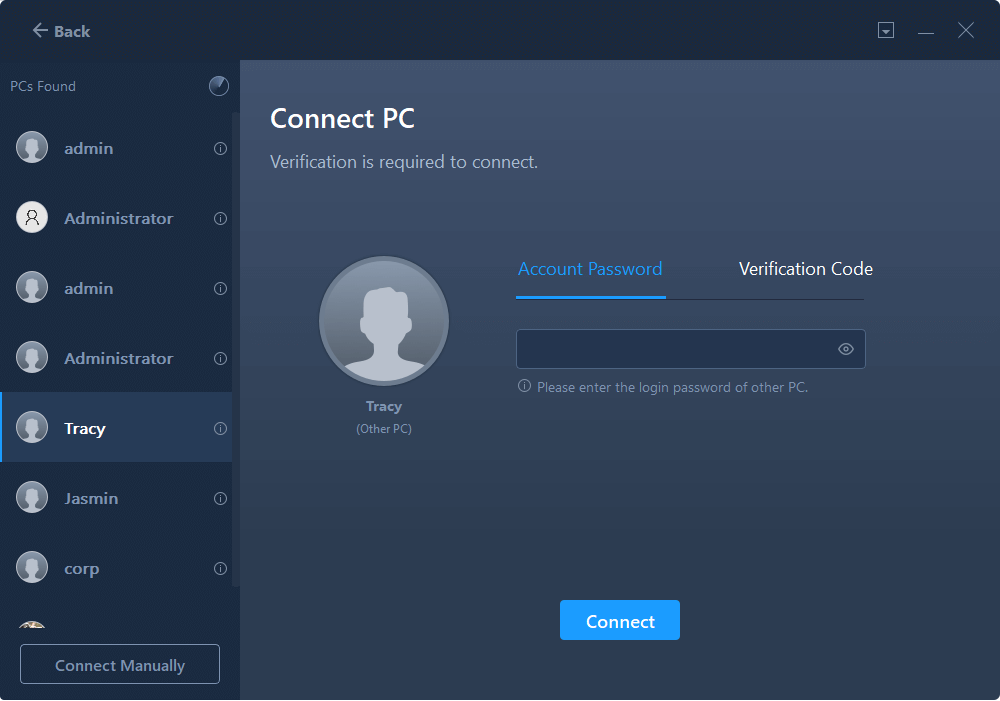 Step 4. Select apps, programs, and software and transfer to the target computer
1. You can select and choose what you want to transfer from the current computer to the target PC.
2. After selecting desired applications and programs, click "Transfer" to start the transferring process.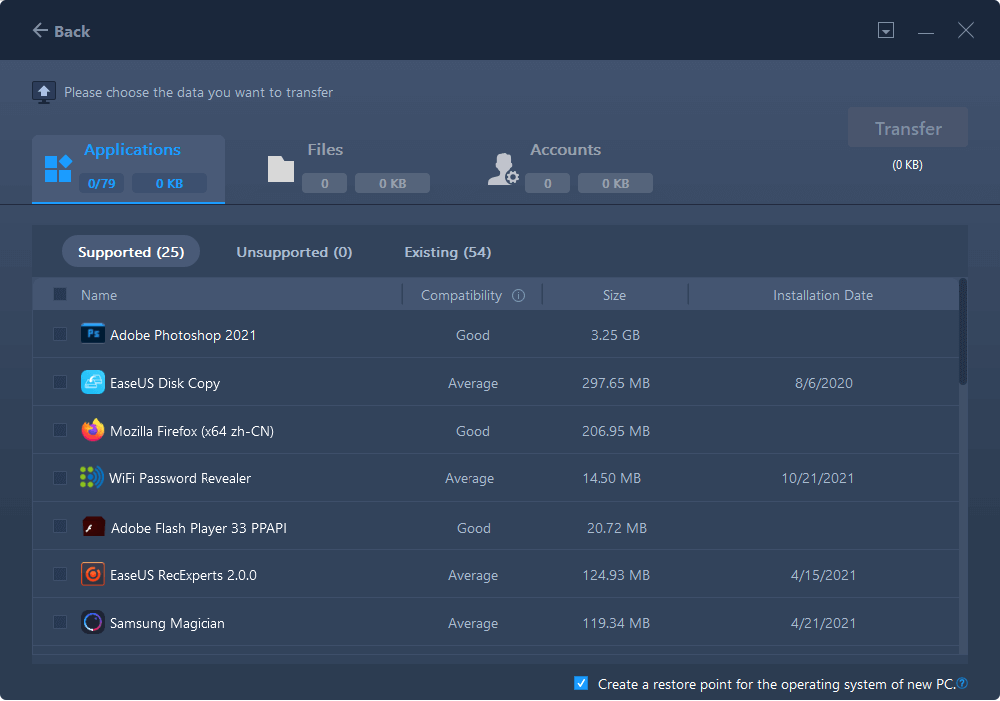 When the procedure completes, you can then reboot the target new Server computer, and there, your files, content, and even apps will all run on the new Server machine without any issues.
What Else Can MSPs and Server Owners Do with EaseUS MSP Server Migration Tool 
So what else can MSP and Server owners do with the EaseUS MSP Server migration tool here? Aside from migrating Server data from Server to Server, you can also apply this tool to:
Backup Server database with its Backup & Restore feature.
Transfer Server applications to a new Server or from C drive to another drive.
Restore data from an unbootable Server drive.
Regularly clean up system c drive with its System Cleanup feature.
Or, you can also move big files/folders to another local drive with Large File Cleanup.
The last thing you may feel like is the Product Key feature.
Server users can apply this feature to find the product key of the installed Windows Server system and some installed applications.
MSPs Server Migration Can Be Easy With The Right Tool
On this page, we discussed what MSPs are and what services they often provide for their clients. And we also recommended an MSP Server migration tool that both professionals and normal Windows Server users can apply for upgrading and moving Server content to another Server computer.
Note that many professional and more powerful tools can manage Servers. However, for most Windows Server beginners, those tools could be complex. Fortunately, MSPs Server migration can be easy with the right tool like EaseUS Todo PCTrans Technician for help.
About the Author
Updated by Tracy King 
Tracy joined in EaseUS in 2013 and has been working with EaseUS content team for over 7 years. Being enthusiastic in computing and technology, she writes tech how-to articles and share technical solutions about Windows & Mac data recovery, file/system backup and recovery, partition management and iOS/Android data recovery.
Reviews and Awards
EaseUS Todo PCTrans Free is a useful and and reliable software solution created to serve in computer migration operations, be it from one machine to another or from an earlier version of your OS to a newer one.

 Read More

EaseUS Todo PCTrans is by the folks at EaseUS who make incredible tools that let you manage your backups and recover your dead hard disks. While it is not an official tool, EaseUS has a reputation for being very good with their software and code.

Read More

It offers the ability to move your entire user account from your old computer, meaning everything is quickly migrated. You still get to keep your Windows installation (and the relevant drivers for your new PC), but you also get all your apps, settings, preferences, images, documents and other important data.

 Read More