Since the outbreak of the Covid-19 pandemic, business organizations and the government has resorted to holding meetings virtually. Different software has been developed to ease the transitioning from engaging in physical to virtual meetings.
Zoom meeting has risen to become the official software for many firms during the pandemic. It is gradually becoming a valuable and practical way to converse with customers, employees, colleagues, and suppliers.
The Zoom software enables users to meet through video conferencing, share the screen during presentations, or conduct training. A beautiful feature is that you can record whatever proceeding is going on for reference purposes.
Occasionally, as a user, you might need to attend different Zoom meeting sessions scheduled probably at an equal time interval, which would require you to download and install the software on other devices. 
In this article, we'll discuss ways in which you can move the Zoom application to another drive using the right tool without having to reinstall it all over.
| Workable Solutions | Step-by-step Troubleshooting |
| --- | --- |
| Move Zoom to Another Drive with EaseUS Todo PCTrans | On the main screen of EaseUS Todo PCTrans, go to "App Migration" section and click "Start" to continue...Full steps |
| Install Zoom on a Different Drive Manually | Login into Zoom Client > Select Meetings. Click the tab named Record and select "Open"...Full steps |
Move Zoom to Another Drive with EaseUS Todo PCTrans (Free)
The EaseUS Todo PCTrans Free is a software that transfers files from a PC to another Pc in an all too easy process. The software migrates files from PC to PC automatically without losing any information.
The exquisite feature of EaseUS Todo PCTrans is to migrate information to a new PC. In the free version of the application, Zoom is placed on the migration list so that you can migrate it to another drive without reinstallation.
To begin the migration, all you need to do is download the EaseUS Todo PCTrans and run it on both computers. Please change the location of the recordings to the external device before migrating Zoom to the other device.
Guidelines to Moving Zoom:
Step 1. Launch EaseUS Todo PCTrans and select transfer mode
On the main screen of EaseUS Todo PCTrans, go to "App Migration" section and click "Start" to continue.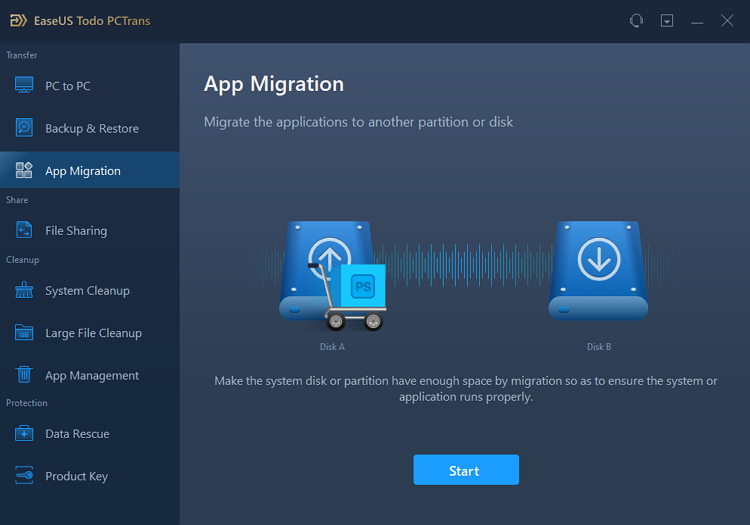 Step 2. Select apps and another drive to transfer
1. Select the source partition and tick applications, programs and software (marked as "Yes") that you'd like to migrate.
2. Click triangle icon to select another drive or disk as your target device and click "Transfer" to start the migration.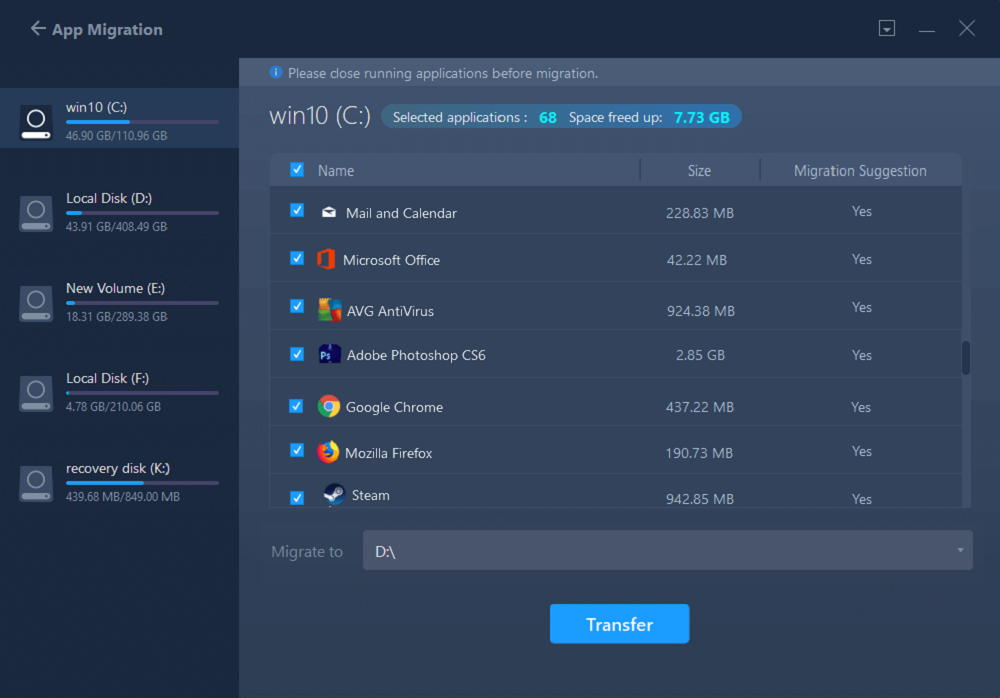 Step 3. Finish the migration process
When the transferring process finishes, click "OK" to complete.
You can restart your PC to keep all the changes, and you should be able to run your migrated apps on the other drive again.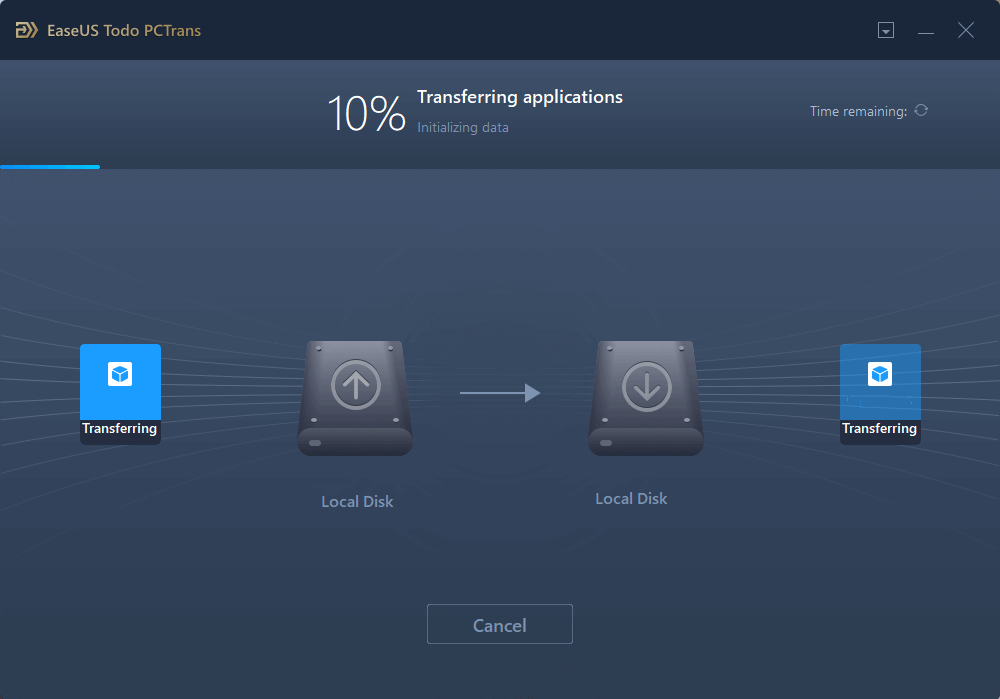 Once the transfer process is completed, you've automatically migrated your Zoom software to the new PC. Connecting the systems on the same Local Area Network (LAN), the 'PC to PC' mode allows you to transfer applications at a go.
Aside from migrating files from one computer to the other, the EaseUS Todo PCTrans has other beneficial features such as:
Data Rescue: If you have a malfunctioning computer with loads of veritable and valuable information inside, the EaseUS Todo PCTrans can function as a data recovery application to aid you in rescuing all files from the crashed PC into the new one.
Extensive File Cleanup: EaseUS Todo PCTrans helps clear large chunks of files that are not required on your PC, thereby creating tangible space in your PC.
Technical Support: Should you need to levy complaints or make inquiries about the product, the application allows your voice to be heard with the EaseUS support feature present in the app. Finally, it will enable you to export program keys from one device to another and backup files on your computer.
How to Install Zoom on a Different Drive Manually
If you want to install the Zoom application on a new drive without losing records of meetings, webinars and recordings can be done manually following these primary procedures:
Login into Zoom Client
Select Meetings. Click the tab named Record and select open. After selecting open, the recording files on the app folder are displayed. 
Transfer the files to the cloud, which can be a Dropbox or Google Drive.

Finally, download the application on their website.
Concluding Thought 
The Zoom software has birthed a new dimension to the dealings in many sectors of the economy today, and it wouldn't be fair to lose vital records from proceedings you carried out using the app because you had to change your computer or it crashed.
The EaseUS Todo PCTrans is available to take over your needs to transfer loads of files from a device to another with no data loss. It offers a reliable, fast, and easy method of performing these functions and recovering seemingly lost data in a specific computer.
You get to be at peace knowing there is a tool that can keep your Zoom recording safe and allows you to multitask on a single app without reinstalling it on devices.  
About the Author

Roxanne is one of the main contributors to EaseUS and has created multiple posts on digital devices like PCs, Mobile phones, tablets, Mac, etc. She loves to share ideas with people of the same interest.
Written by Tracy King 
Tracy joined in EaseUS in 2013 and has been working with EaseUS content team for over 7 years. Being enthusiastic in computing and technology, she writes tech how-to articles and share technical solutions about Windows & Mac data recovery, file/system backup and recovery, partition management and iOS/Android data recovery.
Reviews and Awards
EaseUS Todo PCTrans Free is a useful and and reliable software solution created to serve in computer migration operations, be it from one machine to another or from an earlier version of your OS to a newer one.

 Read More

EaseUS Todo PCTrans is by the folks at EaseUS who make incredible tools that let you manage your backups and recover your dead hard disks. While it is not an official tool, EaseUS has a reputation for being very good with their software and code.

Read More

It offers the ability to move your entire user account from your old computer, meaning everything is quickly migrated. You still get to keep your Windows installation (and the relevant drivers for your new PC), but you also get all your apps, settings, preferences, images, documents and other important data.

 Read More